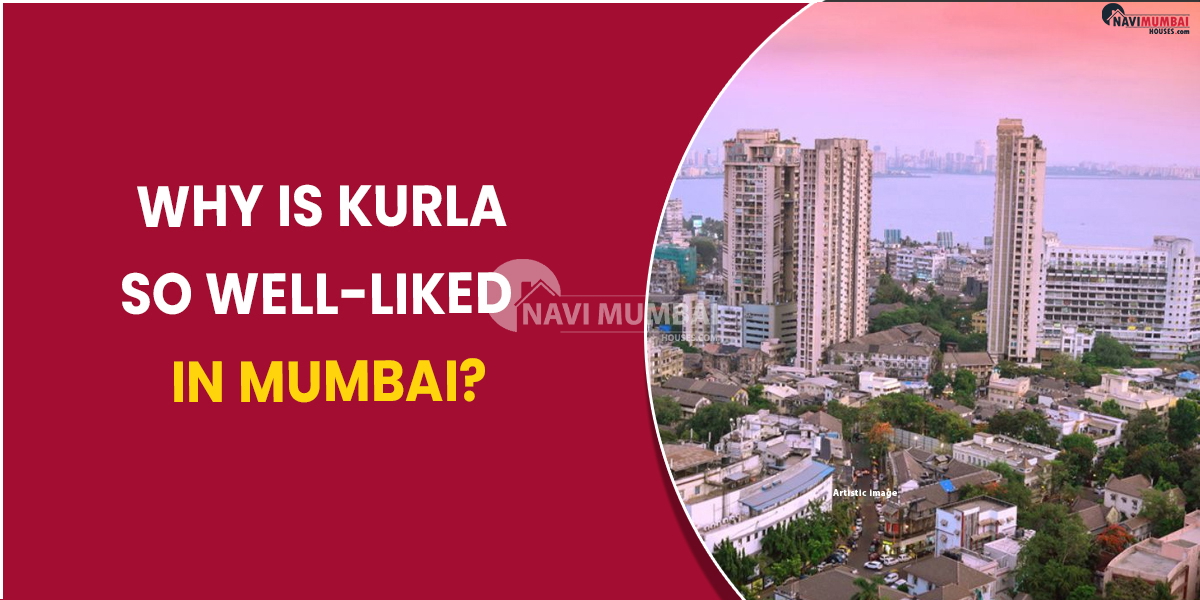 Why is Kurla so well-liked in Mumbai?
Mumbai
With the construction of the Metro rail, the Mono rail, the SCLR, the eastern express motorway, as well as the enlargement of LBS Marg. Kurla, as a real estate destination, faces fewer preconceived notions and scepticism over the realisation of these infrastructure projects.
Most analysts agree that Kurla did not see the necessary expansion, however, because of its closeness to an airport that generates noise pollution and is inappropriate for habitation. In addition, being in an aircraft's flight path limits the height of buildings, making it unprofitable for developers to start a project there. As a result, Kurla has not seen much of the phenomenal boom in residential real estate that Mumbai has experienced.
---
Are you looking flat for rent in Kharghar?
---
Newcomer to development
Kurla and LBS Road in general were never favoured travel destinations, according to Gulam Zia, national director of research and advisory for Knight Frank India.
It was like a scrap yard for Mumbai, full of industrial activity and slums that had encroached illegally.
Kurla was essentially the last neighbourhood in Mumbai to experience development, with the majority of the area's industrial development commencing to make way for residential and commercial development. Despite being close to one of the most significant commercial districts, BKC, this is the case. Kurla's surroundings, such as Ghatkopar, Mulund or Thane, and Andheri-Kurla Road, among others, have undergone significantly greater growth.As a result, even now, prices in Kurla continue to range between Rs 11,000 and Rs 13,000 per square foot, in contrast to Ghatkopar, which is outside of Kurla and not as near to BKC. Furthermore, despite being only 10 minutes from BKC, the neighbourhood trades for less than half of what it is worth. According to him, the average rent in BKC is Rs 270 per square foot while it is only Rs 130 in Kurla.
Actually, according to Ravi Ahuja, executive director of Cushman & Wakefield, builders started office buildings with the intention of luring tenants with considerably lower rents than the nearby Bandra-Kurla Complex (BKC).
With people eating, working, and playing all within walking distance of one another, Kurla will soon resemble Times Square in Mumbai. People buying residential homes to relocate closer to their places of employment in Kurla or for investment purposes will follow this trend. As property prices in the area will increase as a result of infrastructural developments that benefit the area.
Industries paving the road for growth
The majority of the area's developers have acquire sizable land parcels, primarily industrial ones, from a site that is currently largely disregard by developers. These parcels have been gradually transform into a mix of residential, business, or retail complexes.
For instance, the Mukand Engineering factory was converted into Phoenix Market City. and top developers acquired the CEAT factory and Premier Automobile. After areas between Ghatkopar and Thane ran out, this development happened. "At first, scrap dealers accounted for the majority of tenants in the neighbourhood; however, they had trouble conducting business in cash. Additionally, regulatory obstacles to slum redevelopment have existed, as Zia notes.
Raising the stakes
Ramesh Nair, COO – business, JLL India, comments on the current market in Kurla, saying. "Most occupiers consider Kurla as a tenant focused market as compared to BKC where landlords have greater leverage. On the macro level, however, developments like Phoenix Market City, Kohinoor City. and Equinox stand out and will undoubtedly boost this market's reputation. In the medium term, projects with high visibility, like Phoenix and Zillion, are expected to gain traction. Despite being well-plan, Kohinoor City is on an interior road. which makes us think there won't be as much demand there. Denny Simon, director of VAS for Colliers International, "Gated community developments have been crucial in raising a location's stature. In Kurla, demand for standalone projects is very low or nonexistent. Additionally, sprawling mixed-use projects on former mill grounds like Phoenix Market City and Kohinoor City have improved Kurla's overall impression.
But as HDIL's VP of finance and investor relations, Hariprakash Pandey recalls, "People were originally wary about the location. We were optimistic about the suburb's potential, nevertheless. We were aware that changes to the region's infrastructure would significantly affect the local population. Kurla also benefits from the strategic benefit of its central location. It is the only neighbourhood, after Dadar, that contains stations on both the central line and the harbour line of two different railways.
Preparedness of the infrastructure
The elevate route from BKC to Eastern Express Highway. Which should be finish in around 3 years. could be a relief if traffic congestion has discourage many corporations from leasing space here. Sathe mentions the benefits that the current physical infrastructure provides. Stating that it has become simpler for people to move from east to west since the Santacruz Chembur Link Road (SCLR) project was inaugurated for commuters. Commuters who formerly needed an hour to get to Kurla from the eastern suburbs now do it in less than 15 minutes. However, after Mono Rail phase II is finish, commuters will be able to leave Jacob Circle in about 25 minutes. The Metro Rail would make it simple to commute from the western suburbs in just 20 to 25 minutes. Which will be yet another benefit to Mumbaikars.
Another lifeline for residents of the Central Line is the Eastern Express Freeway, which has made it possible to commute from CST to SCLR in 30 minutes. Finally, the long-awaited widening of LBS Marg Project would enable commuters to go from Powai to Kurla in 20 minutes and from Bandra-Kurla Complex in just 5 minutes.
The BKC's effect
"We anticipate several commercial endeavours, the opening of shops/offices in Kurla in the near future," continues Pandey. These businesses will prefer to have local residents as staff. Furthermore, the commercial establishments won't expand unless there is a boom in housing in the area. Therefore, commercial development will follow residential development in a parallel fashion. Consequently, Kurla will also become a popular residential area in the not too distant future.
The vice president of Kohinoor City Project. Atul Modak, claims that a site is more "favourite" if it has more amenities.
This area has been improve by Kohinoor Hospital, American School of Bombay, National Stock Exchange, Tesco, etc. Residents can stroll to employment, school or college, healthcare facilities, and other amenities thanks to all the conveniences, he claims.
Final words
"In the future, there exists significant potential for Kurla to develop as a prominent real estate destination in Mumbai .If slum rehabilitation projects are carried out at a faster pace and the city's traffic congestion is addressed," Ahuja writes.
---
You're looking for Buy Home In Sion we have the Best Buy Properties In Mumbai Like Ready to Move & Nearby possession: https://navimumbaihouses.com/property/search/buy/sion/ 
If you want daily property update details please follow us on Facebook Page / YouTube Channel / Twitter
Disclaimer:
The views of this expressed above are for informational purposes only based on the industry reports & related news stories.
Navimumbaihouses.com
does not guarantee the accuracy of this article, completeness, or reliability of the information & shall not be held responsible for any action taken based on the published information.
Also Read
Buy Properties in Navimumbai