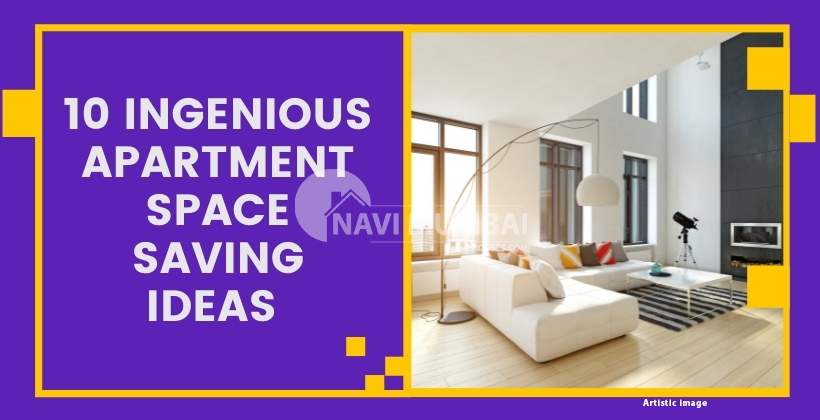 10 Ingenious Apartment Space-Saving Ideas
Whether you've just relocated from the suburbs to the city or are moving out of your parents' house for the first time, Apartment Space Saving Ideas, you're probably looking for a modest 1 or 2 bhk apartment for sale in Kharghar with a few space limits rather than a two-story villa.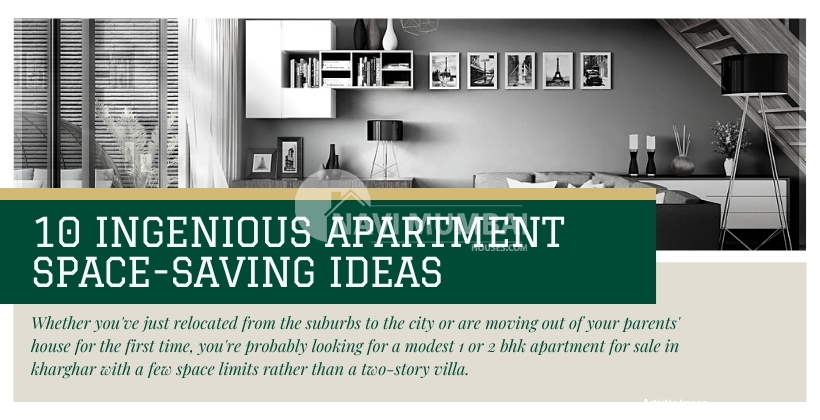 Every living area has its own set of advantages and disadvantages; if you're having trouble making the most of your new house because it feels and looks crowded, here are 10 guaranteed methods to make the most of it.
Take a look at these ten home renovation tips for tiny homes and flats.
– Make Room for Your Entrance
The section of your home's entryway that greets visitors should be useful, functional, and free-flowing, with enough room for rapid and efficient maneuvering. Place a bench or a resting area where children may take off their shoes and hide their bags. If you don't have room for a bench, use wall-mounted hooks and open knick-knack shelves instead. Another excellent way to create the sense of a larger home is to hang a huge mirror on the wall that mimics the lighting of a much larger space.
– Make Cooking a Lot Easier
The kitchen is the heart and soul of your home. It's also the busiest since the entire family will be using the room on a daily basis. As a result, spending time here must be practical, accommodating, and fun. If the area isn't created with the family's requirements in mind, it'll quickly become a mess. To make the most of your pantry's vertical storage space, use drawer organizers for dry items and food storage containers. Add overhead pot and pan storage to free up room underneath your countertop. Install wall hooks to organize and reach your tiny kitchenware while freeing up cupboard space for shopping. Remember to incorporate the kitchen space while looking for home interior design ideas for tiny residences.
– Increase the amount of storage space in the bathroom
The bathroom is rarely thought of as a multipurpose area, but when you're low on storage in other areas, it might be a useful place to find some additional space. Open shelf and baskets beneath the sink can be used in bathrooms. To conserve room elsewhere in the house, the wall mirror may be used as a medicine cabinet. A shoe organizer can hold lipstick, combs and brushes, jewelry, and even scarves and belts, making it a space saver for life. This is one of the most important ideas for living in a tiny place!
– Increase the amount of "room" in public spaces!
Friends stopping by, family watching TV, and you sprawled out on the sofa playing a game bring the greatest traffic to the living room. You may make the most of the space here by using versatile furniture like ottomans that keep video gaming accessories and coffee tables with drawers and open shelves underneath. You'll appreciate having a concealed spot when your busiest rooms are filled. A fantastic technique to expand the space in a tiny home!
– Invigorate Rooms for Children
Whether your child is a baby or a teenager, their bedroom should represent their goals. The room must be versatile for learning, playing, and daydreaming! Maximize space by hanging artwork and assignments on bulletin boards, art wire, or other organizational items to keep workstations and adjacent areas clutter-free. Choose bunk beds if you have tiny children. The bunk bed's frame and ladder may be used as a bookcase or storage shelf.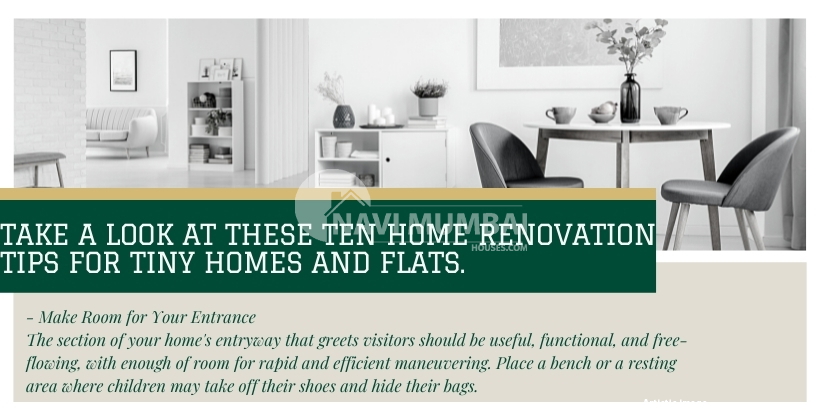 – Make the Most of Your Bedroom Space
Every bedroom in your house should be a safe haven where you can relax and unwind. Avoid bedroom clutter by making effective use of your closets; ideally, wall closets that are integrated into the wall should be used. Invest in closet organizers that segregate clothing kinds, accessories, shoes, and more, and store out-of-season clothes in under-bed storage bins. Use mild colors like blue and white to create a relaxing atmosphere.
– Set Up A Mini-Office At Home
If you don't have enough room in your house for a separate office, you may make an office nook out of a part of your bedroom. Instead of taking up room, use shelving that goes up. For improved cable management, use retractable or foldable furniture, as well as organizers. Zip ties, office clips, and even rubber bands may be used to keep all of your connections and cords in place.
– Make the Most of Your Laundry Storage
While it may be the least-loved room in the house, optimizing your laundry storage might save your life! Counter space for folding, shelves or cabinets for detergents at arm's reach, and a hanging place for drying, ironing, and other chores are some of the simplest methods to do so. To free up space in your bedroom closets, you may also keep any non-essential items here, such as spare towels and bedsheets.
– It's a No-No to Hide Things in the Garage
Contrary to popular belief, the garage isn't just for keeping stuff you don't want to see again. Your garage area may be maximized by getting rid of old furniture, damaged appliances, and other clutter. To make the most of your space, install overhead ceiling racks for baggage, recreational equipment, seasonal decorations, and lawn equipment.
– Incorporate plants into the mix
If you've come from a large suburban home with a garden and a lawn, moving to an apartment might feel like a death sentence. Aside from typical outdoor spaces, you may use space-saving plant arrangements to give a splash of plant life to corners inside your house. To freshen up the room, you can use wall hanging pots with hooks, vertical hanging, creepers, or even Plant walls (Moss/Grass is grown on the wall space).
---
We are the online real estate portal to buy sell and rent properties in Navi Mumbai, Mumbai, and Thane. We can help you buy properties at affordable prices at your desired location. For more information call us on +91 8433959100
If you want daily property update details please follow us on Facebook Page / YouTube Channel / Twitter
Disclaimer:
The views of this expressed above are for informational purposes only based on the industry reports & related news stories.
Navimumbaihouses.com
does not guarantee the accuracy of this article, completeness, or reliability of the information & shall not be held responsible for any action taken based on the published information.
Also Read
Buy Properties in Navimumbai