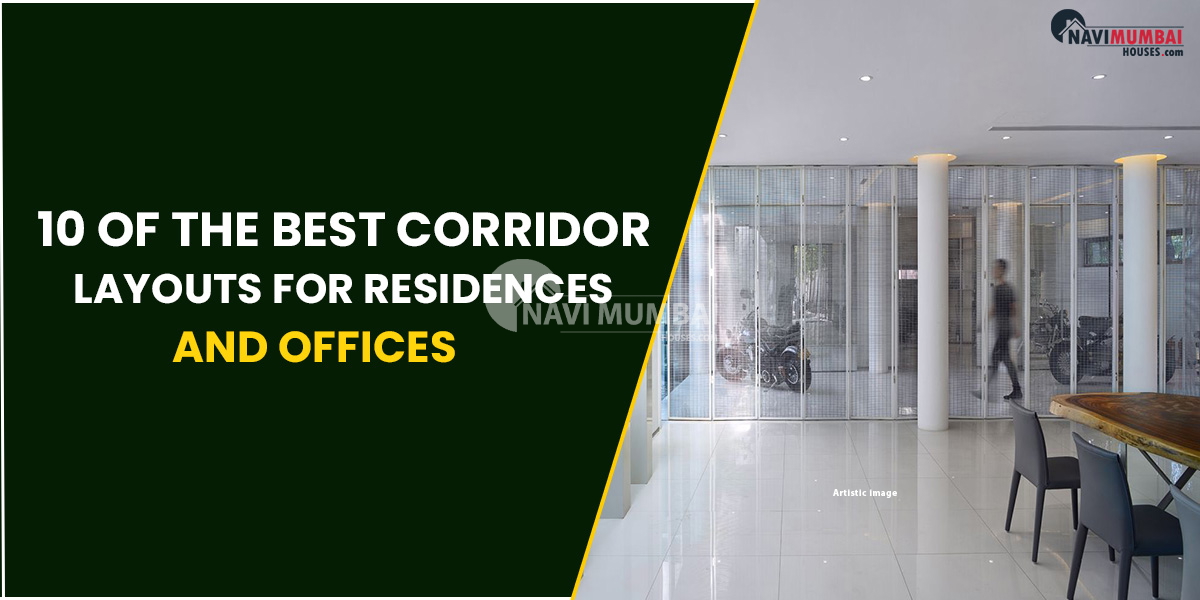 10 Of The Best Corridor Layouts For Residences & Offices
Best Corridor Layouts: Your corridor does not have to be an uninteresting route that is only taken while moving from one location to another. If you are prepared to invest some time and a lot of love in the process, it may become one of the most attractive and useful rooms in your house. All that is needed is a tremendous bit of affection and some mild care.
---
Are you Looking Flat for Sale In Kharghar? 
---
Things we covered for you
Incorporate Bricks into your Design
Make Use of Vertical and Horizontal Chevron Stripes
A Museum or Art Gallery-inspired Corridor
Convert One of the Pre-existing Hallways into a Library
Adding Wall Panels to the Corridor
Use Mirrors as a Decorative Accent
Include Both a Colour and a Pattern in Your Design
Open Arches Corridor Design
Passage Between Courtyards Corridor Design
Corridor Design with a Practical Storage
There may be some design issues to cope with, such as the absence of windows or their narrowness, but there are methods to get past these drawbacks, so do not be discouraged.
Here are 10 different interior design techniques that might be used to give your home's corridors a facelift if they need one. Continue reading to learn how to make the most of this area, which can be underutilised, by utilising corridor design, which is typically disregarded.
Best Corridor Layouts : Bricks may be used in your design.
This long, narrow entry hall has one wall built of rough red brick, which stands out against the walls painted a basic grey, and the floor is light wood, creating a stunning contrast. The area appears smaller since there is only texture on one side, although this would not be the case if both sides had the same finish.
A measurement of perceived length is visual length. One way to give the impression that the room is smaller overall is to keep the texture on just one side of the space. The stationary bicycle mounted to the wall serves as the room's centre point, while the long console unit to its right contains different objects like keys and shoes.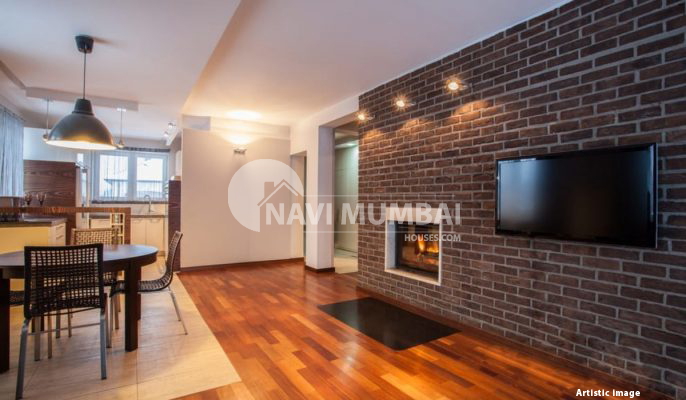 Use both horizontal and vertical chevron stripes
This hallway ceiling design makes excellent use of the vibrant graphic wallpaper, which is a great way to draw attention because it is so striking. The wallpaper's bold zigzags provide the room a healthy dose of vibrant colour as well as the appearance that it is flowing in a certain direction. The linen closet is located in a tiny storage cabinet and is shared by the bedrooms on each side of it.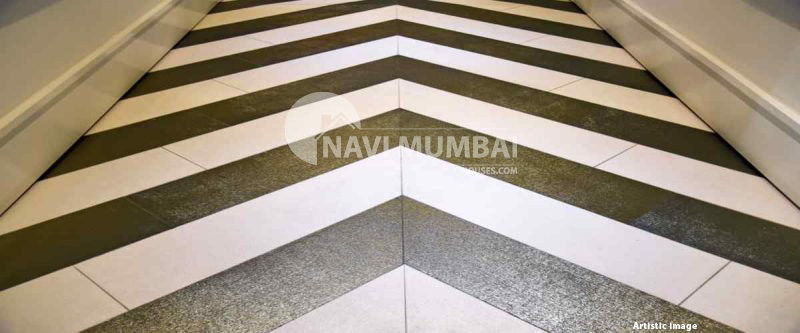 A corridor that is modelled as a museum or gallery
A little corridor ceiling that isn't being used for anything else is the perfect place for hanging paintings and other works of art. Better still, why not create a personalised gallery wall with images of your family, vacation snaps, and priceless childhood mementos? You may always look at anything that holds a special meaning for you as you go along the wall.
You will always have the ability to see this. Always hang pictures at eye level for maximum impact, and use frames that match to bring a uniform look to the room.
Your collection of priceless books would look lovely along the narrow hallway interior design ideas of your house. Since an open bookshelf only needs one foot of width to function, it may be positioned in even the smallest halls.
You have two options for installing bookcases: you may instal as many free-standing shelves as your room demands, or you can build a bookcase that rises from the floor to the ceiling.
Picking up a book might suddenly add colour and excitement to a chapter, making it interesting when it would have otherwise been boring. If your bedroom door is conveniently placed right next to the bookshelf, you won't have to travel far to pick up a well-liked book to spend a few leisurely minutes of reading before turning in for the night.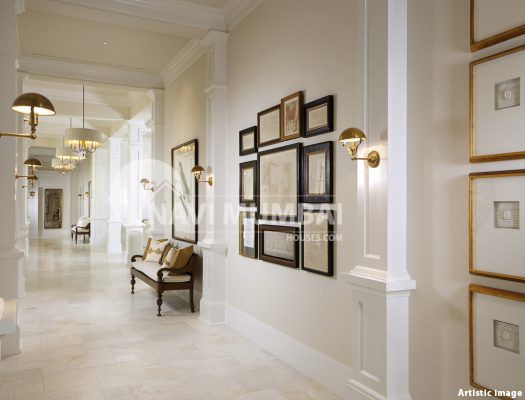 Best Corridor Layouts: Wall Paneling for the Corridor
This once plain entrance passage design now has much more personality and flair thanks to the inclusion of these colourful wall panels. The green panels, which serve as the focal point and add a sense of liveliness, add a few dashes of colour to the otherwise all-white interior design. You are allowed to experiment with a number of various colour schemes, so if it seems like fun, go for it!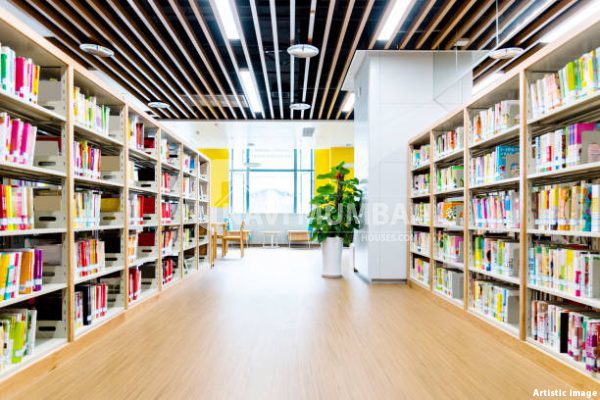 Best Corridor Layouts: Mirrors may be used as decorative accents.
Ornamental mirrors may have a big impact, even in the tiniest places, by creating the illusion of more space than there actually is. A corridor with mirrors installed throughout its length will not only give the impression that it is bigger than it actually is, but they will also serve the dual goal of reflecting light down the walls and illuminating a room that was previously dark.
The silver-grey panelled walls in this room's circular mirror's superbly adorned stainless steel frame not only makes a statement but also heightens its elegance.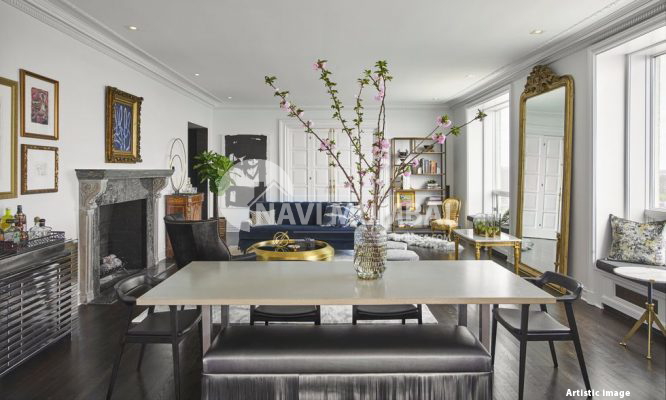 Include a pattern and a colour in your design.
The installation of black and white checkerboard tile on the floor and the painting of two walls in a vivid shade of candy pink have elevated this tiny corridor just outside the front door from ordinary to stunning. It's astonishing how the little, cramped passageway has been transformed.
The storage cabinets along one wall with mirrors attached give the impression that the area is much larger than it actually is. The door that leads to the opposite side of the room has glass inserts in it so that enough light may enter the room.
This Spanish-style hacienda-style house has several open arches that go out into a courtyard on one side. As a result, this corridor receives an abundance of natural light and fresh air. Please observe the mirror's placement to reflect the magnificent garden view that can be observed from here.
The area is given an exotic sense by placing plants in tall pots and arranging them all along the modern corridor ceiling design. The wood ceiling beams in the hallway not only serve to define the area but also to add aesthetic appeal.
Best Corridor Layouts: Courtyards Passage Corridor Design
This fantastic false ceiling design for a hallway makes full use of all the advantages that come with having a traditional courtyard layout since it was created in that way. A walkway that connects two courtyards is designed to pass straight between two areas of a meticulously maintained landscape.
The walls and floor of the building are made of yellow Jaisalmer stone, and the outside perimeter is surrounded by a pebbled border that prevents dirt from being carried in from the outside.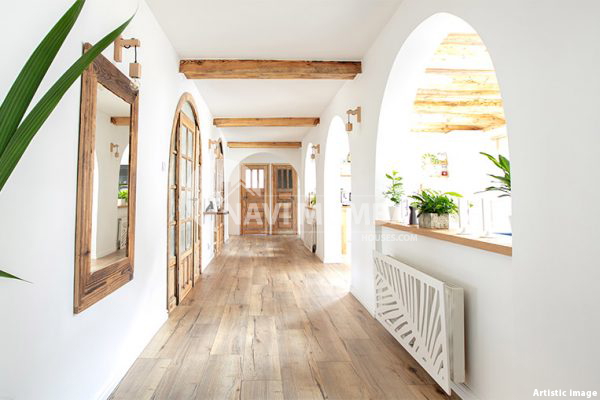 Best Corridor Layouts: Design for a Corridor with Useful Storage
There is a space for storing shoes beneath the continuous long bench that runs down one wall in this corridor pop design at the front of the house, which serves as both a foyer and a mudroom. As soon as you enter the structure, there is enough room on the wall above the chairs to hang jackets and umbrellas. An open console with wicker baskets for organising and exhibiting artwork and artefacts is located on the other side of the room. Please note how the combination of white paint and vertical wall panels draws attention to both the breadth and the height of the room.
---
You're looking for Buy Home In Navi Mumbai we have the Best Buy Properties In Navi Mumbai Like Ready to Move & Nearby possession: https://navimumbaihouses.com/property/search/buy/navi-mumbai-all/
If you want daily property update details please follow us on Facebook Page / YouTube Channel / Twitter 
Disclaimer:
The views of this expressed above are for informational purposes only based on the industry reports & related news stories.
Navimumbaihouses.com
does not guarantee the accuracy of this article, completeness, or reliability of the information & shall not be held responsible for any action taken based on the published information.
Also Read
Buy Properties in Navi Mumbai