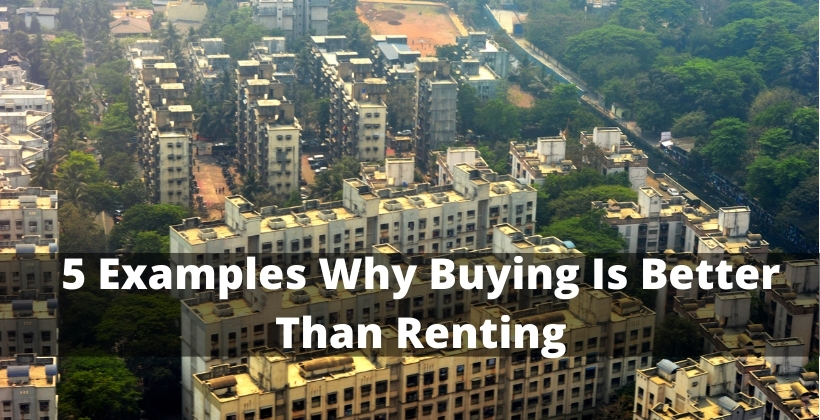 5 Examples Why Buying Is Better Than Renting
Purchasing a home is a major undertaking. Why Buying Is Better Than Renting? it is a significant cost that often necessitates significant investment on your part. However, buying a home is an unforgettable feeling that continues to be aspired to by millions of people. Nothing beats coming home to a warm and welcoming home that you can happily call your own.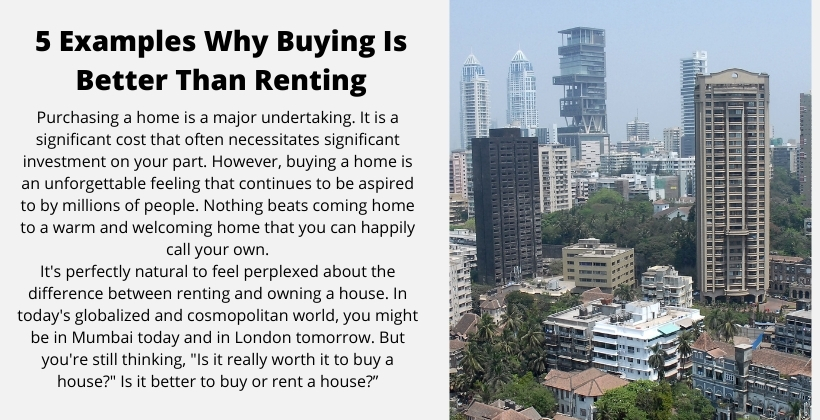 It's perfectly natural to feel perplexed about the difference between renting and owning a house. In today's globalized and cosmopolitan world, you might be in Mumbai today and in London tomorrow. But you're still thinking, "Is it really worth it to buy a house?" Is it better to buy or rent a house?"
Here is a more detailed breakdown of this quandary to assist you in making a more informed decision. Here's what you need to know about renting vs. owning a home, as well as why buying a house is the best option.
---
Are you looking for a 2 BHK Apartment on sale in Kharghar Navi Mumbai? Then you may contact Navimumbaihouses.com the biggest portal to Rent / Sale / New Projects properties in Kharghar and Navi Mumbai.
---
The Benefits of Purchasing a Home
If you can see, renting a house has many advantages; however, there is a growing appetite for purchasing a house. Purchasing a home has some irreplaceable advantages that only increase over time. So, if you're still debating whether to rent or purchase a home, consider the following reasons why buying a home should be high on your priority list:
– Appreciation:
Despite the ups and downs of the real estate industry, historical and current trends indicate that a house is an appreciating commodity whose worth only grows with time. If you take the risk of purchasing a home now, you should be confident that it will be much more valuable in the future.
The value of a home is determined by a variety of factors, including its location, current condition, and neighborhood amenities. You will increase the appreciation value even more by investing in upgrades and home improvements. A leased property has little value in terms of appreciation. This is one of the most significant advantages of purchasing rather than renting a house.
– Long-term saving:
Purchasing a home is a great long-term investment. Investing has many advantages. A savings account will pay you 4% interest every year. Until taxes, an FD account will give you about 6% and an RD account will give you 7-8%. A mutual fund investment, on the other hand, would earn you a return of 10-15% depending on market conditions.
This will alleviate the cost of purchasing a home and enable you to do so comfortably. Even, after you've signed the final check, the house is yours. It is an opportunity in the future as well as future generations. Renting a house is not a good long-term project. In reality, it isn't really an investment; it's just a sale. This is also another benefit of purchasing rather than renting a house.
– Simple home equity and tax breaks:
Owning your dream home is now more affordable and simple than ever. To get a home loan, you no longer need to sell ancestral land or go through a time-consuming approval process. Leading banks and financial services also have home loans with extremely low interest rates, as low as 7%, and a generous payback time. In reality, people have about 30 years to repay their loans. So, taking out a loan isn't such a big deal these days. When your wealth grows, you'll be able to easily repay your debt without having to think about property taxes.
When you have a home loan, you will even get tax breaks. Section 24 of the Income Tax Act allows you to deduct up to 2 lakhs of home loan interest per year. You may also demand up to 1.5 lakh on the principal sum under section 80C. Buying a home is not cheap, but it is also beneficial to your finances as a tax-paying resident. So, the next time you're debating whether to buy or rent a home, consider how much money you'll save!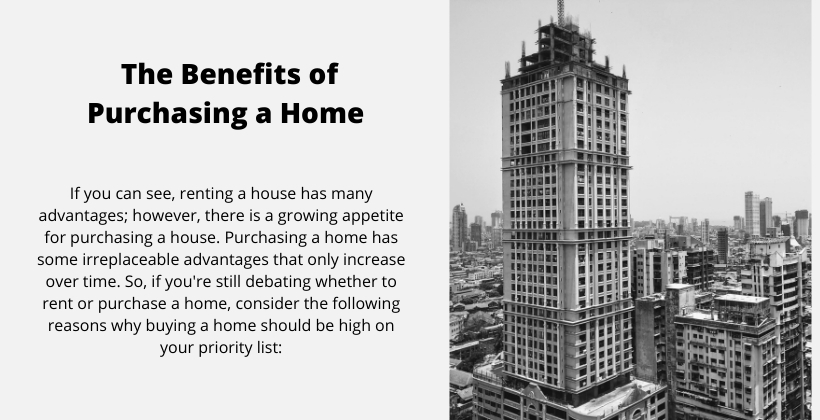 – Emotional stability and certainty:
There is no guarantee that you can remain in a rental house. You could be evicted at any time, and looking for a new home is time-consuming and painful. Finding a suitable rental house is often difficult. Rents are high in many prime areas, especially in Mumbai, and finding a suitable house is difficult.
Owning a home, on the other hand, is entirely beyond your control. You have complete control of everything. And there is no danger of being evicted from your home. You should be assured that this is a secure commodity that will not disappear. We just want certainty and continuity in our lives, and having a safe home makes us feel a lot happier and more peaceful than living a nomadic life.
---
If Your Looking for a home in Navi Mumbai We Have the Best Option For You 2 BHK Flat for sale in Kharghar Navi Mumbai: https://navimumbaihouses.com/2-bhk-flats-for-buy-in-kharghar/
---
– Ownership pride:
A house is something more than a spot to return to after a long day's work. It's where you spend most of your time. It is where you can grow up with your family and begin a new life. It's a portal to a veritable cornucopia of all things entertaining. And having a house gives you a feeling of accomplishment. You are free to build your own house.
You can paint the walls as you like and make your home an extension of your personality. You get to experience wonderful services while still developing positive, long-term relationships with your neighbors. This right of choice is clearly not available in a rental home. You are at the hands of the landlord.
The decision between renting and owning a house does not have to be this tough. In the long term, a home of your choosing has incomparable advantages such as increased land value, tax benefits, communal life, mental harmony, and security. Especially in today's world, where working from home has become the new standard, a safe home is required to live comfortably and happily.
At navimumbaihouses, we have a diverse selection of homes with the best facilities in the best residential areas of Mumbai, Navi Mumbai, and Thane. Our access to the right resources, transparency, and on-time delivery on commitments guarantee that you have the best home-buying experience possible.
Furthermore, you can buy a postpaid home, which allows you to move in now and pay later! What you have to do is pay 10% now and the rest when you move in. Postpaid homes in many prime locations in Navi Mumbai, Mumbai, and Thane are GST-free and ready for occupancy.
---
Navi Mumbai Houses are the biggest real-estate property portal (website) in Navi Mumbai, Mumbai, and Thane. Do you want Buy / Sell / Rent a house, flats in Navi Mumbai our portal helps you to find a home (Flat) to your budget so please visit n find it?
If you want daily property update details please follow us on Facebook Page / YouTube Channel / Twitter
For more information please visit: https://navimumbaihouses.com/
Disclaimer:
The views of this expressed above are for informational purposes only based on the industry reports & related news stories.
Navimumbaihouses.com
does not guarantee the accuracy of this article, completeness, or reliability of the information & shall not be held responsible for any action taken based on the published information.
Also Read
Buy Properties in Navimumbai