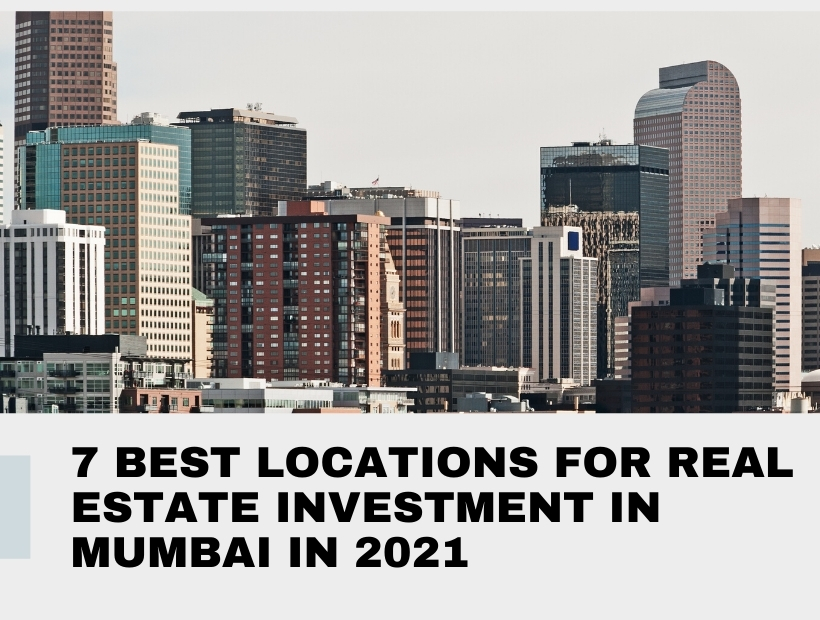 7 best locations for real estate investment in Mumbai in 2021
Mumbai real estate has been on the rise for quite some time now, and it's set to get even better in 2021. You might be wondering what areas of real estate will increase the most in value. In this blog post, we're going to discuss 7 potential real estate investment locations that are on track to have increased values by 2021. We'll go over why these properties are perfect real estate investments as well as how much they're predicted to increase in value. So if you won't find out which area is going to give you the best return on your property investment then keep reading!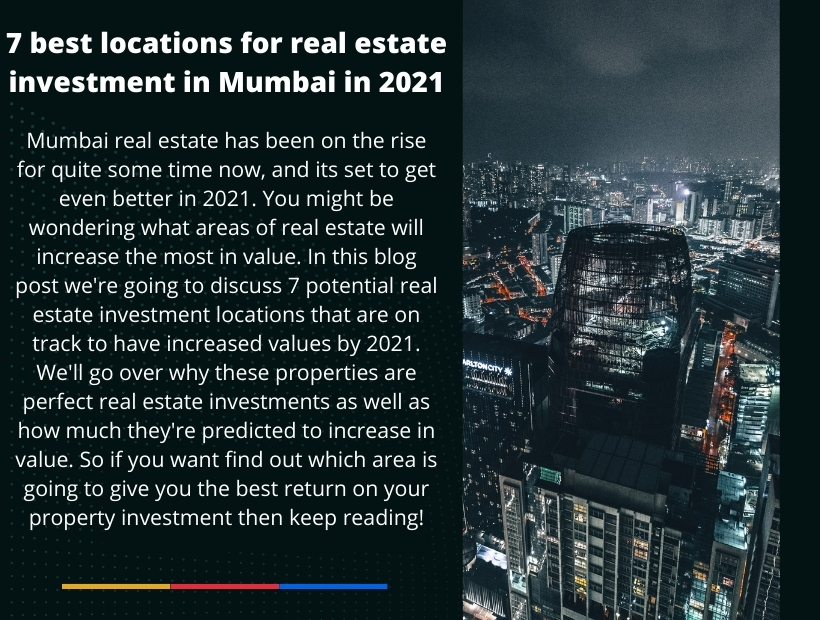 To make things easier, we've determined that these spots are among the top 7 in Mumbai
– Goregaon:
Goregaon, which is located between Andheri and Borivali, is an excellent choice for people searching for luxury houses in Mumbai. It connects to the Jogeshwari–Vikhroli Link Road (JVLR), the Western Express Highway, and the Mumbai International Airport. The Metro line from Versova to Andheri to Ghatkopar stimulates property demand and allows investors to make high rental income from 1 and 2 BHKs. The construction of Mumbai Metro Phase 2 (which links Dahisar-Bandra-Charkop-Mankhurd) and Line 3 (which connects Colaba-Bandra-SEEPZ) would enhance connection with other sections of the city while also driving up property prices and demand.
Top 2 New Projects in Goregaon:
1: Gulraj Trinity in Goregaon
Gulraj Trinity in Goregaon West New Link Road provides subtle elegance. Gulraj Trinity is a wonderful place to live because of its attractive exterior, multi-level podium parking with a gym on the platform level, and meticulous layout. These distinctive residential buildings leave an indelible imprint on Goregaon West, bringing a new dimension to the city's most coveted neighbourhood.
Reliable Gulraj Trinity is a residential development by Reliable Group in Mumbai's Goregaon West neighbourhood. The project intends to provide residents with a comfortable living environment by including Power Backup, Gymnasium, Lift, and Indoor Game Room Billiards/Snooker Table, Carom Board, Table Tennis in addition to its numerous current facilities.
Gulraj Trinity offers the finest of city life adjacent to nature, at a pace dictated by the noteworthy individuals that live here. The development is a one-of-a-kind combination of features that go beyond concrete and steel to ensure a lively community thrives here.
– Gulraj Trinity Specification
Community Hall
Sewage Treatment Plant
Rain Water Harvesting
Gated Community
24/7 Water Supply
Landscape Garden
Lift(s)
Car Parking
– Gulraj Trinity Highlights
Jogeshwari Railway Station 3.2 km
Malad Railway Station 3.2 km
Four Bungalow Terminal Depot Metro Station 3.5 km
2: DELTA HOUSE in Goregaon
Right, Delta House is a residential development by Right Channel Constructions in Mumbai's Goregaon East neighbourhood. The project seeks to provide inhabitants with a comfortable living environment by embracing and expanding on its current many features. The project is Vastu compliant this is a RERA project with the registration number P51800003828. It is a construction project with a completion date of December 20, 2021.
Right Channel Delta House is a residential project by Right Channel Constructions in Goregaon (East), Mumbai Andheri Dahisar. Right Channel Constructions is a well-known name in the construction business. It is involved in the building and development of a variety of residential and commercial projects. For more than two decades, the company has been in the real estate sector, gaining extensive expertise and understanding of the industry's know-how.
Reform Realty's Delta House is a pre-launched residential property. It provides a quality living experience with spacious 1, 2 BHK apartments. The royal residences make you feel like a monarch of your own royal kingdom, with their magnificent design, air-conditioned apartments, high-class services, and the city's most accessible location.
– DELTA HOUSE Specification
Gym
Senior citizen area
Kids Play Area
Gazibo
Landscaped Garden
– DELTA HOUSE Highlights
Goregaon railway station – 1.3 Km
Oshiwara railway station – 400 m
– Thane:
Thane, as we all know, has become a prominent site since it connects the neighbouring suburbs via the Central and Trans-Harbour railroads. For over a decade, Thane has seen an increase in infrastructure. Because of the increased business demand, there has also been an increase in residential constructions. MMRDA's plans to build Metro 4 (Wadala-Thane-Kasarvadavali) and Metro 10 (Gaimukh-Shivaji Chowk) would increase real estate demand and cost per square foot in Thane. As a result of the great connectivity, Thane has long been a buyer's favourite as well as a preferred location for top builders such as Hiranandani, Piramal, Kalpataru, Lodha, and Dosti.
Top 2 New Projects in Thane:
1: Puranik Grand Central in Thane
Puranik Grand Central is a vast luxury enclave of beautiful Apartments in Thane that elevates the modern lifestyle. Puranik Grand Central in Vartak Nagar by Puranik Builders Pvt Ltd is painstakingly built with unrivalled convenience and the greatest of facilities and is an easy combination of modernism and elegance.
– SPACIOUS ROOMS
Puranik Grand Central's builders appreciate the aesthetics of a perfectly harmonised environment called 'Home,' which is why the floor plan of Puranik Grand Central offers a unique combination of spacious and well-ventilated rooms.
– BEST INVESTMENT
Puranik Grand Central's location is a key benefit for those wanting to invest in Thane property. It is one of Thane's most prominent addresses, with various amenities and services surrounding Vartak Nagar.
2: Bhagwati Belmont by Bhagwati Group in Thane West
Bhagwati Belmont by Bhagwati Team is a popular real estate job in Thane West. It has lavishly yet meticulously built 1 Tower and 205 houses. Bhagwati Belmont by Bhagwati Team is a premium property project that is currently under construction in Thane West, Mumbai.
Bhagwati Group has carved out a distinct place for itself in the Navi Mumbai real estate and commercial buildings markets. They are well-known for their high-quality constructions, high-level performance, and on-time project completion. Thane West is a prominent and affluent neighbourhood in Mumbai. It is around 4 kilometres from the Eastern Freeway and near to the NH-3 and NH-4 highways.
It is centrally positioned in Mumbai and is home to several well-known tourist attractions such as Kanheri Caves, the Gateway of India, and the Kelwa Coastline. It is well linked by road and train to other popular neighbourhoods of Mumbai such as Borivali, Dadar, and Vashi.
Bhagwati Belmont is located in a great location and spans 1.01 acres of land. The flats have been skillfully designed to be contemporary and pleasant while providing all basic services. It also features an open recreation area, as well as a device for strong waste management, treatment, and the disposal of sewer and sullage water, as well as rain harvesting, demonstrating its attention on building environmentally friendly living problems.
– Kanjurmarg / Powai:
Powai, known for IIT Bombay and Powai Lake, has been one of the hotspots attracting house buyers. Because of its proximity to the western suburbs through the JVLR and Central Mumbai by rail and highways. With easy proximity to SEEPZ IT hubs, Vikhroli, Airoli, and Mahape IT Hubs, Powai and its surrounding areas have grown in appeal among people.
Top 2 New Projects in Kanjurmarg / Powai:
1: Runwal Bliss in Kanjurmarg Mumbai
The Runwal Group has announced the pre-launch of another residential property, "Runwal Bliss," in Kanjurmarg, Mumbai. This project is being constructed on 36 acres of land. The Runwal Bliss Mumbai project is being constructed in stages. The Runwal Pre Launch has 8 acres of land, 3 acres of greenery, 6 high-rise towers, and a triple-height lobby.
Runwal Bliss, a Runwal Homes Pvt. Ltd. project, is located in Kanjurmarg, Mumbai. The property provides 2 and 3 bedroom homes ranging in size from 592 to 1,249 square feet. Tennis and squash courts, an amphitheatre, a library, a swimming pool, and a children's play area are among the notable features.
2: Kalpataru Woods in Powai Mumbai
Kalpataru has unveiled a new residential complex in Mumbai's Powai neighbourhood. It sells 2 and 3 bedroom flats. These units are only offered via the developer. Powai is a suburban neighbourhood in Mumbai's northeast that is home to numerous business behemoths. Powai Lake is a well-known feature in this area.
It is well connected by highways such as the Eastern Expressway and the LB Road. This region is also served by the Jogeshwari-Vikhroli Link Road. The Mumbai International Airport is not far away. Powai also has a number of reputable schools, retail malls, and hospitals.
Kalpataru Woods Ville is an exceptional residential development in Powai, Mumbai. The project has several advantages, including a premium location, a pleasant and opulent lifestyle, excellent amenities, a healthy environment, and a high return.
Kalpataru Woods Ville is ideally placed and has direct access to almost all important places in and around Mumbai. It is one of the city's most prestigious addresses, with convenient access to numerous renowned schools, retail centres, hospitals, leisure places, public gardens, and other public facilities.
Kalpataru Developers constructed Kalpataru Woods Ville. It is a prominent group in Mumbai's real estate industry. This building group's staff is well-known for its outstanding work and on-time delivery of high-end Residential Apartments built precisely in line with the pre-defined requirements.
– Kharghar:
Kharghar is located in Navi Mumbai, adjacent to the Central Business District (CBD) of Belapur, and is bounded by two main roads and the picturesque Kharghar Hills. Taloja industrial estate and Taloja stream have resulted in residential constructions in this area. Kharghar is largely a residential township, but it also contains numerous educational institutions, which makes it popular among property purchasers. The Navi Mumbai Metro, which will run from Belapur to Pendhar through Kharghar, will soon add value to the investments by improving connectivity even more. The whole Kharghar node, as well as neighbouring industrial Taloja, will be linked to the upcoming international airport, providing opportunities for enterprises in this area.
Top 2 New Projects in Kharghar:
CLEAR TITLE CIDCO PROJECT & G + 11 RESIDENTIAL PROJECT
Everyone fantasises of owning a house in one of the very exquisite, high-rise buildings, and Oxyfresh (Anandam) in Kharghar is one of such.
Owning an apartment in Oxyfresh (Anandam) is a dream come true since Oxyfresh is a gorgeous and well-planned township with everything desirable and mind-blowing. From modern services to well-structured homes, you will undoubtedly find all you might want.
This well-planned digital metropolis is sprawled across 7.5 acres of land and is situated in the true prime location of Navi Mumbai, namely Kharghar. Today, Global Developers Anadam, now known as Oxyfresh homes in Kharghar, can guarantee you the most effective as well as a modern way of living.
Oxyfresh, as the name indicates, is Kharghar's first township inspired by a healthy lifestyle. This municipality is made up of oxygen-producing plants and green vertical gardens. This garden functions as a pre-installed air purifier. As a result, our project guarantees you eco-friendly living with luxurious facilities.
This opulent land is surrounded by stunning flora and towering hills. The community is an enticing combination of contemporary conveniences and natural tranquillity.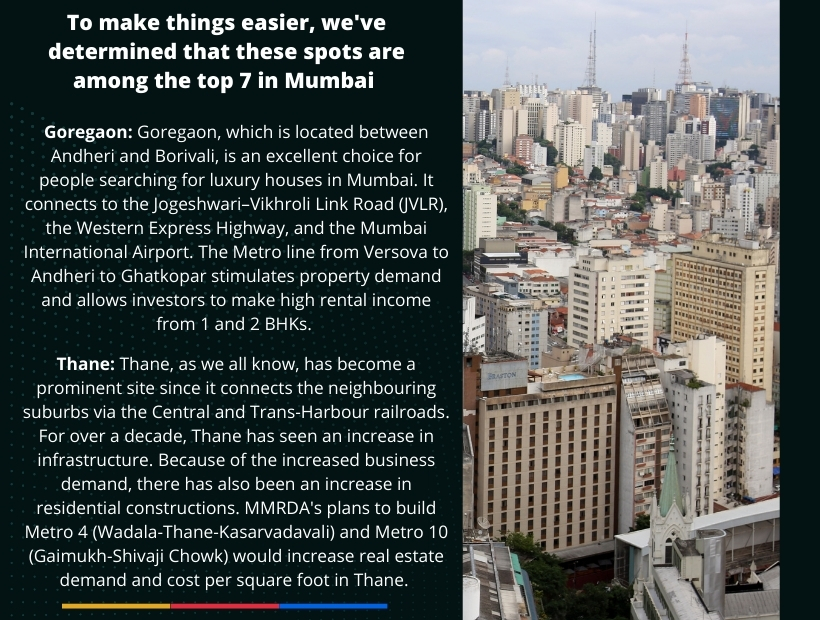 2: PRE-LAUNCHING ADHIRAJ CODENAME COUNTDOWN
Adhiraj Capital City, Kharghar is a 40-acre mixed-use complex planned and managed by foreign specialists such as ILC (International Leisure Consultants), AO Landscape, and Aedas, Singapore, to mention a few. The multi-acre, vehicle-free Capital Park is four stories above ground and one of the largest private parks on a platform in the Mumbai Metropolitan Region. It has a bio-river, a cricket ground and futsal court, tree-lined walking trails, and mounds and undulations throughout a verdant environment that create visual poetry.
Meandering Bio-river
Alfresco dining area
Party lawn
Kids play area with soft fall mounds, play equipment, sandpit and petanque court
– Panvel:
Panvel has grown in prominence as a result of its inexpensive housing sector. This neighbourhood attracts a large number of Mumbai residents who do not want to sacrifice space. Furthermore, the planned international airport has increased the number of residential developments. In Panvel's proximity, projected infrastructure commitments such as Navi Mumbai International Airport, Trans-Harbour Sea Link, and several Indian industrial heavyweights such as Larsen & Toubro Limited, Reliance, Hindustan Organic Chemicals Ltd, ONGC, and IPCL are giving mass employment and development. Panvel prices are expected to rise over the next five years, so why not make a wise investment in this area?
Top 2 New Projects in Panvel:
1: Suncity in Panvel
Sun City, a lovely project by JMJ Projects, offers a well-planned living environment that is the trademark of intelligently set out flats at moderate pricing. With its magnificent residences at Rasayani, Sun City offers a lifestyle fit for royalty.
Sun City in Rasayani will make you forget that you are living in the middle of the city, so your house will now serve as the ideal getaway after a long day at work. These Rasayani residential flats provide magnificent houses that are conveniently located away from the city centre. The lovely vistas and cross ventilation make your house a tranquil haven.
Aside from that, there are a lot of advantages to living in flats in a good location. Sun City is strategically placed in Rasayani to give unrivalled connection to all significant landmarks and locations of everyday use such as well-known hospitals, educational institutions, super-marts, parks, entertainment areas, recreational centres, and so on.
Welcome to the realm of Utsav City in Panvel Navi Mumbai, where every day is celebrated as if it were a festival, and the festivals are celebrated even more enthusiastically. Utsav City's facilities are distributed throughout 2.5 Acres of open space, ensuring that every passing minute at Utsav City is filled with enjoyment and vitality.
The youngsters would simply give up their digital devices in order to develop lifetime meaningful companions who will support each other through the thick and thin of life's problems! Utsav City offers the ideal combination of amenities thoughtfully planned for every age group in your family! We invite you to join us in this festival known as life. Today Global Builders' Utsav City is a residential and commercial development in Navi Mumbai.
The property is surrounded by a tranquil green landscape, hills, a breathtaking vista, and a refreshing wind. It provides large 1BHK and 2BHK homes as well as commercial stores with 360-degree air circulation. It is well-built and equipped with all contemporary conveniences, and it has been certified by Maharashtra RERA. It is well connected to the Mumbai-Pune expressway, the Navi Mumbai airport, and the Mumbai International airport. Navi Mumbai Houses are the top real estate business that can assist you in finding your ideal house.
– Chembur:
The Santa Cruz – Chembur Link Road (SCLR), the Eastern Freeway, and the Monorail are among the main infrastructure improvements that have raised and solidified Chembur's real estate fortunes (from Chembur to Wadala). There was never any doubt about Chembur real estate's potential, and it was only a matter of time until that promise was realised in the market. Chembur, Mumbai's silent spectator acquiring the greatest significance, has been on real estate developers' radar for a very long time, and the reasons are crystal apparent. If you want to work in the famous office marketplaces of BKC and Lower Parel, Chembur is the best area to seek for a 1 BHK flat in Mumbai. Despite rising property prices in Chembur, the ordinary family may still locate really elegant flats in a reasonable price range.
Top 2 New Projects in Chembur:
1: Atmosphere O2 in Chembur, Mumbai.
Atmosphere O2 in Chembur, Mumbai, is an ideal representation of the urban stylish lifestyle. The project includes uniquely designed Residential Apartments, each of which is the ideal of beauty and simplicity. Atmosphere O2, located in Mumbai's Chembur district, is awe-inspiring in terms of design, stirring in terms of luxury, and surrounded by lush greenery. Atmosphere O2 collaborates with numerous well-known schools, hospitals, retail malls, technology parks, and any municipal amenity necessary.
Internationally recognised architects designed Atmosphere O2. The Group has worked on a variety of residential and commercial buildings with wonderfully constructed interiors and exteriors. Apartments are among the world-class amenities available at Atmosphere O2. Aside from that, adequate safety equipment is implemented to ensure that you and your family may live securely and joyfully in our Chembur flats.
Atmosphere O2 consists of 3 BHK Apartments that have been carefully designed and are devoted to providing residences of unrivalled quality. The apartments are well-ventilated, large, and Vastu compliant.
2: buildtech heights in  chembur mumbai
G + 26 Storey Residential Development
Buildtech Heights is a residential development by Build Tech Group in Mumbai's Chembur neighbourhood. This development has 1 and 2 bedroom flats. The project includes a jogging track, swimming pool, indoor gaming facility, gymnasium, children's play area, and restricted parking for residents.
Furthermore, due to the well-planned location of Buildtech Heights, all required amenities such as hospitals, ATMs, schools, supermarkets, pharmacies, and restaurants are within walking distance.
Because public transportation is within walking distance of this project, it provides great connectivity.
– Wadala:
Wadala will be the next BKC! Yes, you read that correctly. Because of its proximity to the Eastern Freeway, the Eastern Express Highway, the Monorail from Chembur to Wadala, and the metro-4 corridor that connects it to Thane, it is quickly becoming a commercial centre. The travel time has been cut from 30 minutes to 10 minutes. Another infrastructure development that has piqued buyers' interest is the proposal to connect work and housing, creating Mumbai's first walk-to-work centre, which has been making headlines in Mumbai's real estate market.
Top 2 New Projects in Wadala:
1: Siddha Sky in Wadala Mumbai
#WADALA-Heart Mumbai's
With an exceptional connection to every corner of Mumbai, it offers enviable access to the finest that Mumbai has to offer in terms of business, health, and leisure, as well as an unrivalled transit network and infrastructural hubs.
– Siddha SKY
Siddha Sky in Wadala Mumbai is the embodiment of the lifestyle transformation that Mumbai so requires today. Each 2, 3 & 4 BHK (466 to 1280 sq ft) apartment in the 1100+ homes is intended to stimulate the senses.
– LIVE THE SKY LIFE
The appeal of Sky Living has been developed to inspire the senses, and create an elevated life that is remarkable from the moment you step in, with efficient and well-designed residences as well as a range of lifestyle facilities that residents may enjoy at the Rooftop Skywalk.
2: Bombay Dyeing Mill in Wadala Mumbai
MHADA Bombay Dyeing Mill, which is loaded with world-class amenities and strategically placed, is an address reserved for those who are destined for greatness in life. Residents of these Mumbai Residential Apartments enjoy a lifestyle that is desired by many but experienced by few. MHADA Bombay Dyeing Mill in Wadala West provides you with the best lifestyle you have always desired. MHADA Bombay Dyeing Mill in Mumbai provides 4 BHK luxury Apartments.
---
We are the Real Estate Web Portal to Buy Sell and Rent properties in Navi Mumbai, Mumbai, and Thane. We can help you Buy Properties at Affordable Prices at your desired location. For more information Call Us On +91 8433959100
If you want daily property update details please follow us on Facebook Page / YouTube Channel / Twitter
Disclaimer:
The views of this expressed above are for informational purposes only based on the industry reports & related news stories.
Navimumbaihouses.com
does not guarantee the accuracy of this article, completeness, or reliability of the information & shall not be held responsible for any action taken based on the published information.