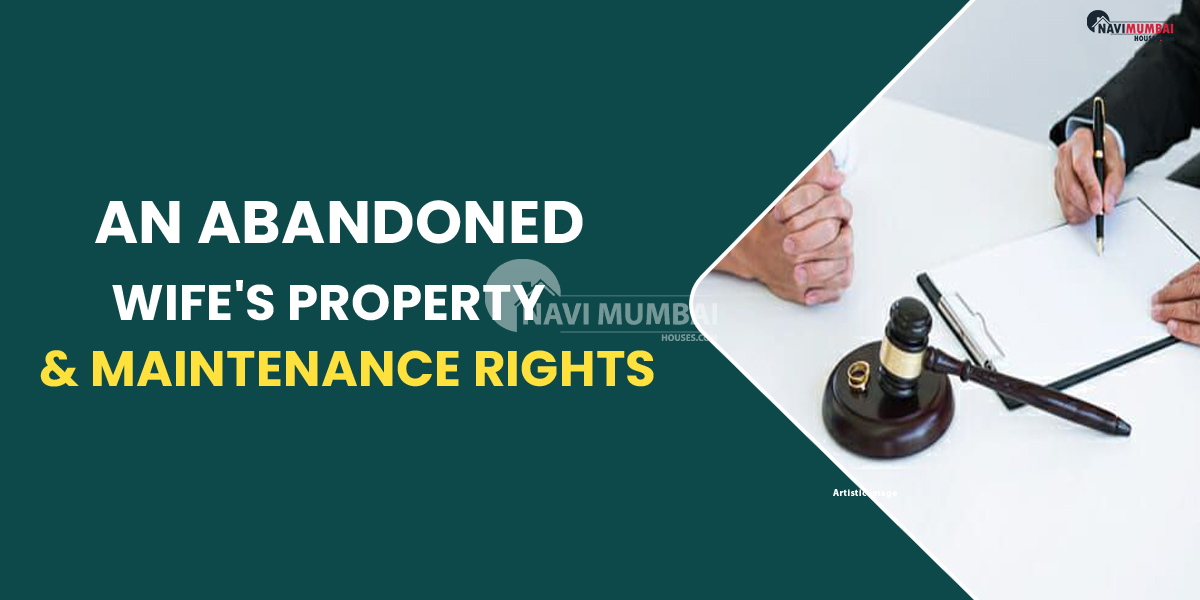 An Abandoned Wife's Property & Maintenance Rights
Married couples frequently begin living apart without seeking a divorce as cases of marital unhappiness rise. Due to the shame associated with divorce in India, most couples do not choose to get divorced as their first option very often. However, if the separation is not formally legalized, a number of issues may occur. Finding a legal solution in such a scenario may be challenging for both parties due to the numerous property and maintenance-related conflicts that result from informal separation. In this section, we'll look at Indian women who have been deserted or abandoned and their property and support rights.
---
Are you searching for rent flats in vikhroli?
---
Children and the abandoned wife's maintenance rights
The Supreme Court of India ruled in November 2020 that abandoned spouses. And their children are entitled to alimony/maintenance from their husbands as of the date they file a court application. The order as well as decree of maintenance may be enforced like a decree of a civilian lawsuit. Through the provisions that are available for enforcing a money decree. The apex court stated in its 67-page judgment. Despite the fact that women who have been abandoned by their husbands are often left in dire straits. And reduced to destitution due to a lack of means to support themselves and their children.
Even though maintenance disputes must be addressed within 60 days, they frequently take years to resolve in India. The argument that a husband lacks a steady source of income does not relieve him of his moral obligation. To support his wife and children, the highest court further stated.
The SC ruled that an abandoned wife should receive alimony that corresponded to the quality of living she was accustomed to in the married house. And that the rising cost of living and spiralling inflation rates must be taken into account when determining the maintenance. Children's educational costs must often be covered by the father. The expenses may be split proportionally between the parties if the wife works and earns enough money.
What counts as marital desertion?
The SC defines desertion as the deliberate abandonment of one spouse by the other without the other's agreement and without a good explanation. The deserted spouse must demonstrate that there is a factum of separation. And that the deserting spouse intended to cease the relationship permanently.
When is a deserted wife ineligible to receive support?
A wife who is living in adultery is not entitled to maintenance from her husband under Section 125 of the Code of Criminal Procedure. The same holds true if the wife rejects her husband's proposal to live together without good reason. The Supreme Court dissolved a marriage in February 2022 on the grounds of desertion since the woman had failed to establish a valid justification for her absence from the marital residence. The spouse who left their partner should have animus deserendi. The deserted spouse must not have consented to the separation. And the deserting spouse must not have a legitimate basis to depart the marital residence as a result of the deserted spouse's actions.
If the husband and wife are living apart with their permission, the wife cannot make a maintenance claim. It should be noted that Section 125 of the CrPC covers unmarried couples who have been living together for a number of years.
Property rights of the abandoned wife and her kids
A deserted woman and her kids are legally entitled to reside in her husband's home. A deserted wife is prohibited by existing Hindu law—which also applies to Sikhs, Jains, and Buddhists—from requesting the split of her husband's self-acquired or ancestor property.
Hindu woman who is abandoned may reside in her husband's rental home: SC
The Supreme Court explicitly said in a 2005 decision that the abandoned wife and children have the right to reside in her husband's rented home.
What happens if the husband passes away?
A deserted wife may or may not inherit her husband's self-acquired property in the event of his death.
His self-acquired property would be split among his legal heirs in accordance with the requirements of the Hindu Succession Act in the event that he passed away without making a will (referred to as dying intestate in legal terminology). As the husband's Class 1 heir in this situation, the wife will receive her portion.
What if the abandoned wife files for divorce while her husband is away?
Keeping in mind that should she choose to pursue a divorce. An abandoned wife would have significantly different property and support rights. The divorce order would take precedence if such a lady divorced her spouse while her court case for property rights & support was still underway.
The top court has made it clear in its judgment on rental housing that a divorced wife cannot claim tenancy. Because she no longer belongs to her husband's family. The wife will need to claim tenancy of this rented residence in her own name if it is included in the divorce settlement.
---
You're looking for Projects in Vile Parle we have the Best Properties In Mumbai Like Ready to Move:https://navimumbaihouses.com/properties/search/bandra/
If you want daily property update details please follow us on Facebook Page / YouTube Channel / Twitter
Disclaimer:
The views of this expressed above are for informational purposes only based on the industry reports & related news stories.
Navimumbaihouses.com
does not guarantee the accuracy of this article, completeness, or reliability of the information & shall not be held responsible for any action taken based on the published information.
Also Read
Buy Properties in Ambivali