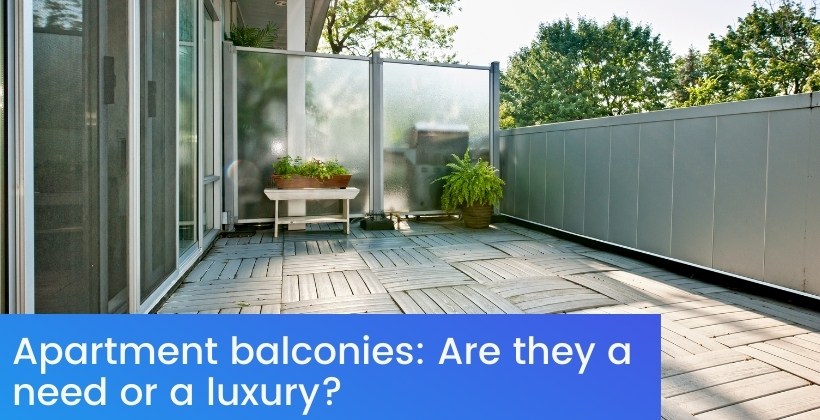 Apartment Balcony Benefits: Are they a need or a luxury?
In major cities, homes with balconies are generally more expensive, Apartment balcony benefits.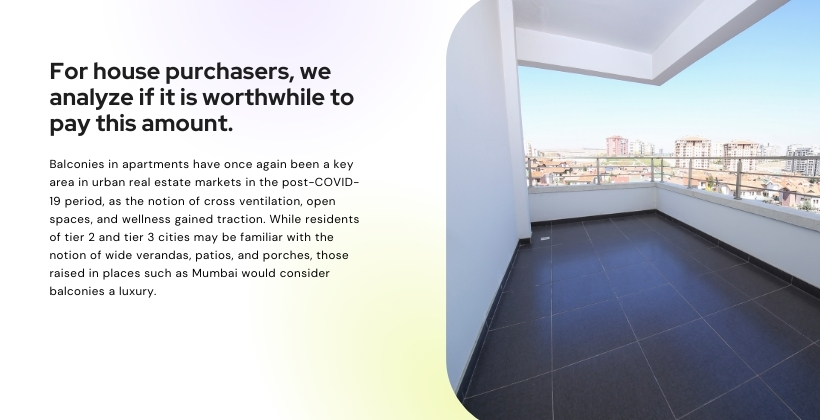 For house purchasers, we analyze if it is worthwhile to pay this amount.
Balconies in apartments have once again been a key area in urban real estate markets in the post-COVID-19 period, as the notion of cross ventilation, open spaces, and wellness gained traction. While residents of tier 2 and tier 3 cities may be familiar with the notion of wide verandas, patios, and porches, those raised in places such as Mumbai would consider balconies a luxury.
---
Are you looking for a 4 BHK Rent Home in Kharghar Navi Mumbai? Then you may contact Navimumbaihouses.com the biggest property portal to Rent / Sale / New Projects properties in Kharghar and Navi Mumbai.
---
Is a balcony considered part of the floor area?
Local construction rules and towns determine whether or not a unit's balcony is included in the carpet area of the home. Only the air-conditioned or heated space is taken into account in most municipal estimates. The balcony is not included in the carpet area under the provided definition of open space.
Every city in India has its own set of laws that builders must follow. States such as Uttar Pradesh, Haryana, Delhi, Madhya Pradesh, Himachal Pradesh, and Rajasthan allow balconies that are three to six feet deep (1.5 meters in most areas) (floor area ratio).
In these states, however, there may be some requirements that the builders must follow. West Bengal and Maharashtra, on the other hand, rarely allow balconies with no FAR. Mumbai has instead placed a premium on balconies through fungible FSI, with the premium reaching as high as 60% of the carpet area.
Decks, balconies, and terraces have long been a feature of North Indian real estate, while apartment living is a relatively new idea that emerged from independent homes, kothis, or bungalows. The size of the balcony is usually proportional to the size of the home.
Every residence in this region of the globe must have at least one large balcony, usually outside the living room. As you move up the pricing scale, the number of balconies and their sizes increase.
People nowadays want each bedroom to have its own balcony, as well as a utility balcony right outside the kitchen/washing area, to allow for plenty of natural light and air. Yes, there is a cost aspect because of the input prices, time, and labor involved in the process, but as you move up the value chain of pricing, this is also an extra incentive and selling point for the developer.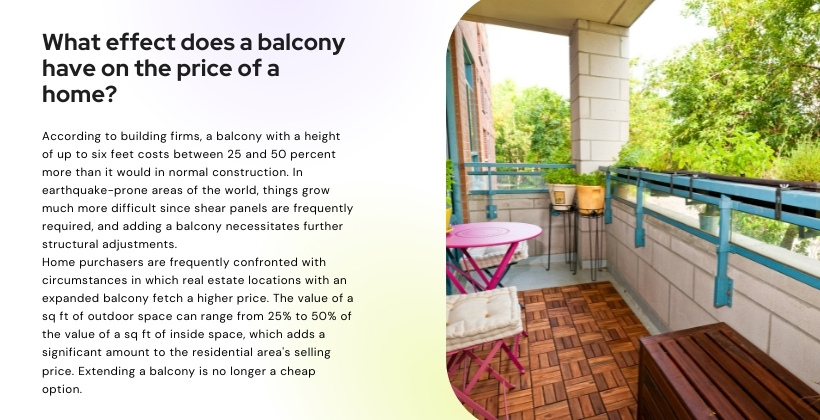 What effect does a balcony have on the price of a home?
According to building firms, a balcony with a height of up to six feet costs between 25 and 50 percent more than it would in normal construction. In earthquake-prone areas of the world, things grow much more difficult since shear panels are frequently required, and adding a balcony necessitates further structural adjustments.
Home purchasers are frequently confronted with circumstances in which real estate locations with an expanded balcony fetch a higher price. The value of an sq ft of outdoor space can range from 25% to 50% of the value of an sq ft of inside space, which adds a significant amount to the residential area's selling price. Extending a balcony is no longer a cheap option.
Prospective house buyers are still more likely to choose a 600-square-foot two-bedroom apartment over a 550-square-foot property with a 50-square-foot expanded balcony. The price is also determined by important aspects such as the height, size, materials, and finishes utilized.
Aside from the financial aspect of adding a balcony, "making modifications, such as adding a balcony to an existing structure, necessitates meticulous planning. Before beginning work on it, it would also be necessary to examine the structural provisions. As a result, it is totally dependent on the project's current state.
In the case of new structures or projects in the works, including balconies may be easier, and the project may even turn out to be superior.
Would it be difficult to justify the additional expense of balconies now that the RERA requires disclosure of carpet area and many localities provide free FSI for balconies? Some developers, according to industry watchers, incorporate these additional expenditures in the primary building cost.
The developers' reasoning is that, even though there is no additional FSI cost for offering balconies to house purchasers, balconies have a construction cost and are an optional amenity, depending on what is available.
While low-cost homes may feature one or two balconies, a high-end property may have balconies for each bedroom. To provide cross ventilation, air movement, and natural lighting, luxury apartments may feature large decks that span the length of the residence, both at the front and rear.
Industry stakeholders agree that, in order to provide a fair comparison, developers should include the cost of balconies in the total super area.
---
We are the Real Estate Web Portal to Buy Sell and Rent properties in Navi Mumbai, Mumbai, and Thane. We can help you Buy Properties at Affordable Prices at your desired location. For more information Call Us On +91 8433959100
If you want daily property update details please follow us on Facebook Page / YouTube Channel / Twitter
Disclaimer:
The views of this expressed above are for informational purposes only based on the industry reports & related news stories.
Navimumbaihouses.com
does not guarantee the accuracy of this article, completeness, or reliability of the information & shall not be held responsible for any action taken based on the published information.
Also Read
Buy Properties in Navimumbai