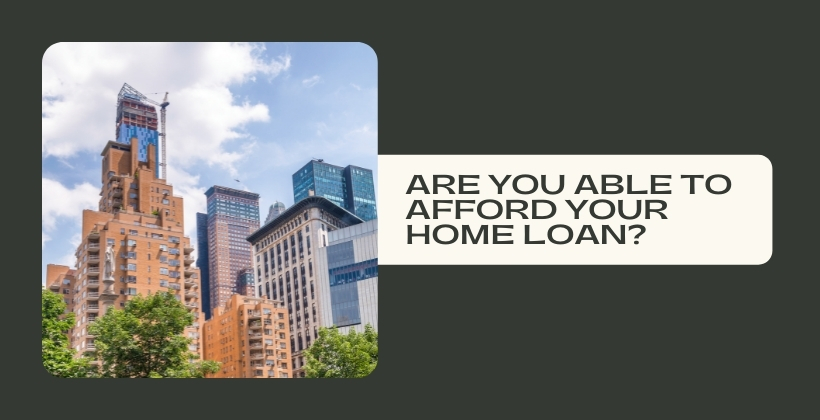 Are you able to afford your home loan?
Purchasing a home is a major financial commitment for many people. Before taking on the financial load, home loan, go over the following checklist to make sure your house loan doesn't become a noose around your neck.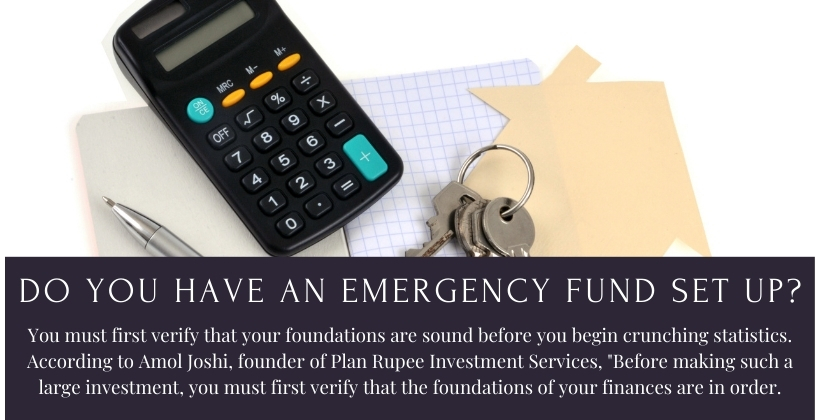 Do you have an emergency fund set up?
You must first verify that your foundations are sound before you begin crunching statistics. According to Amol Joshi, founder of Plan Rupee Investment Services, "Before making such a large investment, you must first verify that the foundations of your finances are in order.
You should insure your family with a term plan and medical insurance in addition to building an emergency cash cushion." The emergency fund should be sufficient to cover all of your costs for the next year. The additional EMI commitments on the house loan should also be considered.
This is to offer an instant financial cushion in the event of a job loss, an accident, or a protracted sickness. In the last 18 months, having this buffer when paying down a large house loan has been invaluable.
Is your down payment excessively high?
Before agreeing to authorize a loan for the remaining amount, banks need applicants to pay 20% of the property value up advance. You can, however, put in a larger sum if you like. For a home worth *90 lakh, the maximum loan amount is 72 lakh, which means you'll have to pay 18 lakh as a down payment. You'll also have to pay a few lakhs in stamp duty and GST, the latter only if you're buying a house that's still under construction.
For most people, this spend is a magnificent fortune. Even yet, most financial advisors advise making the largest down payment feasible. Joshi maintains that a smaller loan component not only attracts lower interest rates and lowers the EMI load, but it also decreases overall interest outgo and allows for speedier payback.
Borrowers should not, however, put all of their money into the down payment. Don't forget about your retirement and other important life objectives when calculating how much money you have set up for a down payment.
Don't take money from a savings account set up for these purposes. Include any costs for remodeling or furnishings for your new house. Then, after providing for the emergency corpus, the remainder may be used toward the down payment. A high down payment, on the other hand, will place a strain on your finances, so prepare appropriately.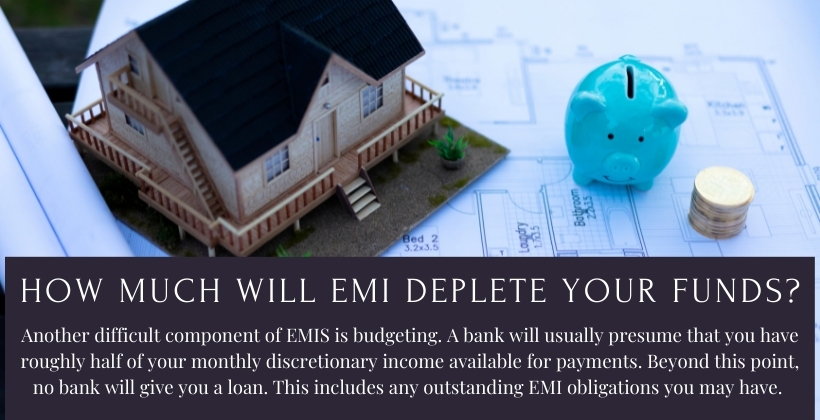 How much will EMI deplete your funds?
Another difficult component of EMIS is budgeting. A bank will usually presume that you have roughly half of your monthly discretionary income available for payments. Beyond this point, no bank will give you a loan. This includes any outstanding EMI obligations you may have. According to Rohit Shah, CEO of Getting You Rich, "certain banks have gotten aggressive and are prepared to go over 40 percent EMI provided the borrower satisfies specific requirements." However, the lender's internal EMI cap may not be feasible for all borrowers.
For example, if you earn 1 lakh per month and have 60,000 in monthly costs, a 40,000 EMI is simply unaffordable. In such a situation, you'd be living on the edge. If you are purchasing a house that is still under construction, you will most likely be paying rent in addition to your EMI. Even if the bank is willing to grant you a hefty loan, make sure you can afford it. Stretching your budget is acceptable up to a degree, since your income will rise but your EMIs will not. But don't overdo it.
According to Joshi, presuming that the EMI becomes a reality the following day is a smart method to tackle the problem. "Assume that money will begin to flow out of your bank account right away. To test your comfort level, run the scenario in your head or on a worksheet "He admonishes. Some borrowers are simply attracted to the tax advantages that a house loan provides under IRS guidelines.
These deductions, which effectively lower the loan's cost over time, frequently tempt borrowers to take on large EMI obligations. However, Shah points out that these benefits are only available up to a certain degree. "The tax savings are diminished while paying off high-interest house loans."
Individuals can deduct up to 2 lakh in interest payments on their home loans each year. If a 75 lakh house loan is paid off over 20 years at 7% interest, the interest expense will be substantially more than *2 lakh for several years. Even if you take up a combined house loan with your spouse, where both of you may claim a deduction of 2 lakh each year, the deductions will fall well short of the real interest expense in the first few years. So don't just prolong your house loan EMI for tax reasons.
Are your objectives being 

jeopardized

?
There is no escape the fact that taking on house loan EMIs would put other financial ambitions on hold for the time being. You might go years without investing for your own retirement or your children's higher education. "Given the reality of today's housing market, most families won't have a choice," Shah notes. This does not, however, imply that you should abandon other objectives.
If you are unable to contribute to other important life goals, attempt to priorities among these objectives. Selectively pursue them, such as non-negotiable objectives such as further education. Alternatively, you might temporarily reduce your donations. Start contributing to other goals in earnest after a few years, when your income has increased enough to provide some breathing room.
Source from – Economic Times
---
We are the Real Estate Web Portal to Buy Sell and Rent, Flats on Sale in Kharghar Navi Mumbai, Mumbai, and Thane. We can help you Buy Properties at Affordable Prices in Navi Mumbai at your desired location.
If you want daily property update details please follow us on Facebook Page / YouTube Channel / Twitter
Disclaimer:
The views of this expressed above are for informational purposes only based on the industry reports & related news stories.
Navimumbaihouses.com
does not guarantee the accuracy of this article, completeness, or reliability of the information & shall not be held responsible for any action taken based on the published information.
Also Read
Buy Properties in Navimumbai