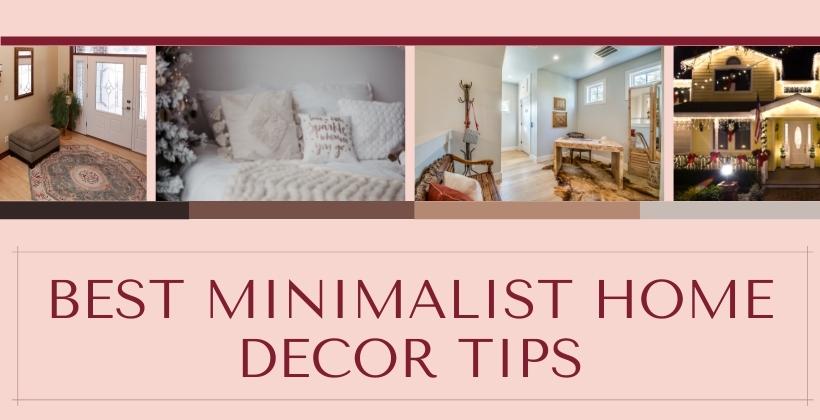 Best minimalist home decor tips
The trend in contemporary home decor is for decluttered, minimalist living spaces. The idea is to be more selective with your home decor and less wasteful.
The minimalist interior design is the result of a desire for a simpler way of life. Lighting, space, and objects are all cleverly incorporated into the design. But how do you strike a balance between minimalism and a relaxed, luxurious appearance?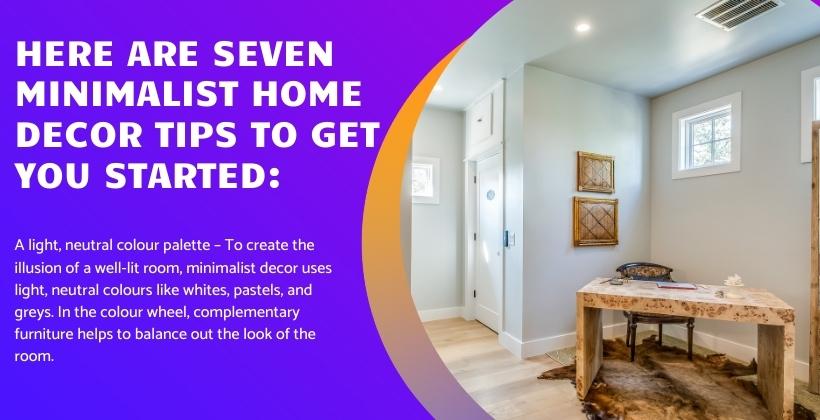 Here are seven minimalist home decor tips to get you started:
A light, neutral colour palette – To create the illusion of a well-lit room, minimalist decor uses light, neutral colours like whites, pastels, and greys. In the colour wheel, complementary furniture helps to balance out the look of the room. For example, furniture and curtains in beige tones can be added to a white room. Instead of using bold colours as the main theme, use them as accents.
Spaces that aren't cluttered – Flat surfaces, fine lines, and plenty of open space define a clutter-free environment. Clean lines and surfaces appeal to the senses as well. Remove the clutter instead of adding more. This includes aspects of your home's design, such as kitchen cabinets. Kitchen cabinets with no handles are a modern, minimalist style.
---
Are you looking for a 4 BHK Flat for Rent in Kharghar?
---
It also implies that you must deal with the trash in your home. Organize your home like Marie Kondo and toss out anything that doesn't serve a purpose. Getting rid of extra items is also environmentally friendly and will reduce the amount of waste you produce.
Selective, curated decor items – Minimalism emphasises restraint. What does this imply for you personally? Simply put, you must collect high-quality items for your home. Rather than splurging on multiple artefacts, focus on a few high-quality items. Rather than squandering money on fads, invest in timeless pieces that will last for years. Vintage items, indoor plants, and neutral colours never go out of style. Coffee table books, as well as books in general, are a great way to keep your home's carefully designed minimalist aesthetic.
Different textures, similar tones – experimenting with textures is a great way to add interest to a minimalist home. It adds variety and allows you to try new things, such as textured wallpaper or rugs. These can be timeless classics that remain fashionable and stand the test of time (think wooden furniture). You can create a creative, minimalist space by layering different textures in similar tones. This keeps the decor from being too busy or too sparse.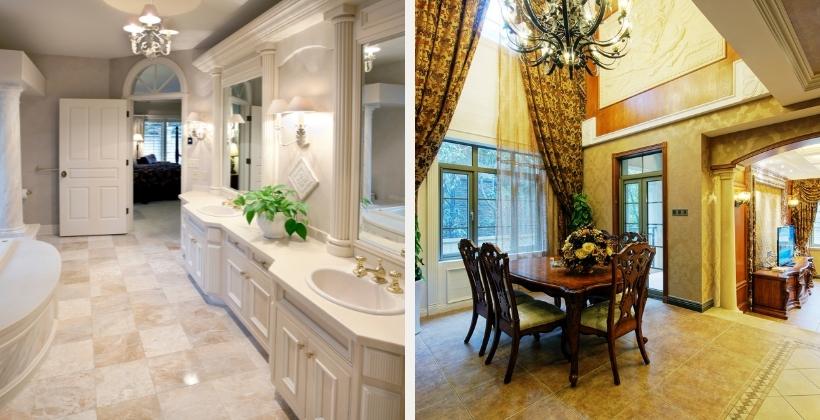 Inventive storage solutions – Minimalism emphasises organization and storage. When it comes to minimalist homes, the clutter is kept hidden. As a result, you'll need to create storage areas that don't register on the viewer's radar. Adding divan beds to your room is a great way to add extra storage.
Because minimalism emphasises functionality, storage must be both stylish and functional. Storage space, for example, could be used as home decor if it had aesthetic value. If you want to live a minimalist lifestyle, you should invest in clever storage.
More natural elements – In a minimalist home, natural elements are essential. It could be a lack of natural light or a lack of indoor plants. The addition of these natural elements is environmentally friendly and does not waste resources. Natural materials, such as wood or woven baskets, could also be used. Indoor plants provide a number of advantages, as well as a pleasing and cost-effective aesthetic. Larger windows, open spaces, and light, sheer curtains can all help to bring more natural light into the home. A blind is also a great way to bring more natural light into your home.
Simplicity and focal points – Living simply and slowly is at the heart of a minimalist home. That isn't to say you can't experiment with colours. In minimalist homes, bright splashes of colour can be found. These are what you might refer to as focal points. They draw attention to particular areas of the house. Restraint is the key to creating a cosy, minimalist home.
For example, consider colourful paintings or art. In a neutral, bare background, you can experiment with themes and accents that stand out.
Finally, minimalist home decor ideas place a premium on quality over quantity. It gives the room a breathable feel, rather than being cold and uninviting. Play with well-defined shapes and spaces, and delete anything that isn't useful in your life.
---
You're looking for Rental Homes in Navi Mumbai we have the best 4 BHK Flat for Rent in Kharghar:  https://navimumbaihouses.com/4-bhk-flats-for-rent-in-kharghar/
If you want daily property update details please follow us on Facebook Page / YouTube Channel / Twitter
Disclaimer:
The views of this expressed above are for informational purposes only based on the industry reports & related news stories.
Navimumbaihouses.com
does not guarantee the accuracy of this article, completeness, or reliability of the information & shall not be held responsible for any action taken based on the published information.
Also Read
Buy Properties in Navimumbai