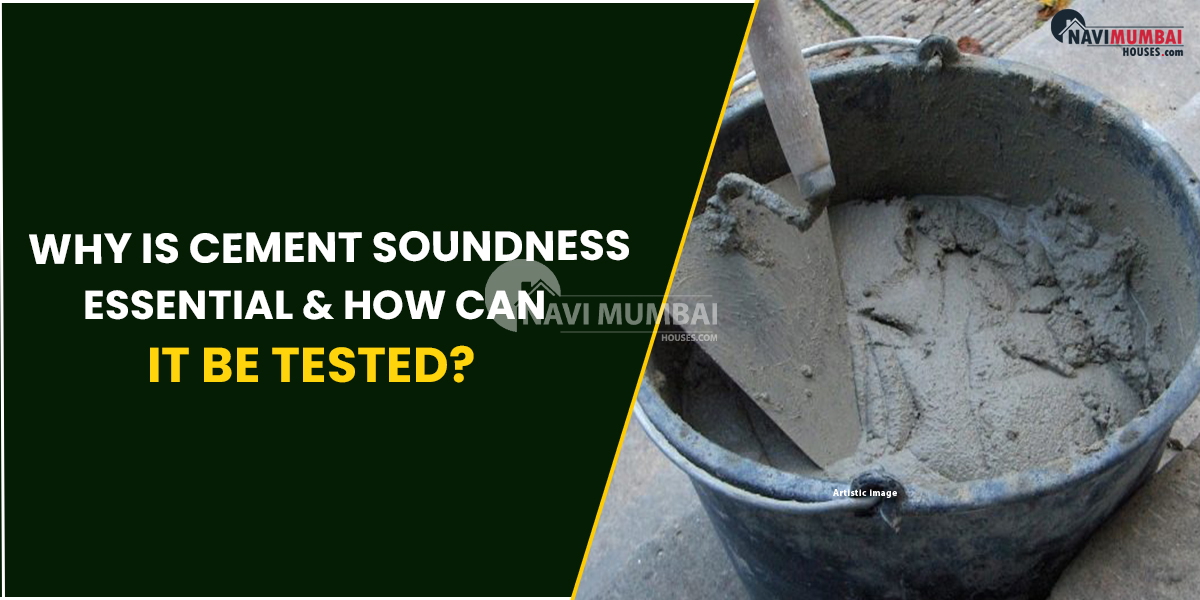 Why Is Cement Soundness Essential & How Can It Be Tested?
Kharghar Cement Soundness Essential : Cement's soundness contributes to cement's durability. Learn more about the significance of cement stability and what it means.
The soundness of cement serves as a reliable indicator of its durability during the curing and solidifying processes. When the cement's bulk shifts, this happens. When the cement's bulk shifts, this happens. A concrete component would crack if the volume change in the cement is unsteady after it has hardened and set, a situation known as poor dimensional stability. The quality of the building may suffer as a result, and serious mishaps may occur.
Both the autoclave test (ASTM-C151, 2015) and EN-196 (1995), which are based on the Le-Chatelier test method, are used to evaluate the soundness of cement.The material is added under pressure during the autoclave test (ASTM-C151, 2015).
---
Are You Searching 2BHK Flat For Sale In Kharghar? 
---
What does cement stability mean?
The characteristics of hardened mortar or concrete are influenced by the different qualities of cement. Ideally, there should be no contraction or growth as the concrete dries. This indicates that when masonry or concrete settles, their bulk does not change. The capacity of cement to regain its initial volume following the hardening process is referred to as soundness. Concrete structures fracture as a result of this process' unstable volume change, which lowers the structure's quality. It is known as having weak dimensional consistency. Any cement product that does not have adequate structural integrity is discarded and is not used in any projects.
Measuring the soundness of cement: Le-Chatelier test
Here's all you need to know about testing the soundness of cement using the Le-Chatelier test.
Testing soundness of cement: Apparatus needed
Le-Chatelier mould
Cement
Glass sheets
Mixing pan
Trowel
Weigh
3BHK Flat For rent In Kharghar
Procedure for evaluating the cement's stability
Both the mold and the glass plates are coated with oil before the stability of cement test is conducted.
Take 400 grams of cement as a sample.
We require constant quality cement in order to conduct this test. Water is assumed to be 0.78 times what is needed to make the mixture the proper viscosity.
For example, if the normal consistency is 30% water, then 0.78 times 30% would equal 23.4% when determining the water percentage for soundness.
Therefore, 93.6 milliliters of water should be used to mix with 400 grams of cement.
After making a completely mixed cement paste, gingerly ladle it into the Le-Chatelier mold, being careful to gently press the mould's sides together as you go.
Set a small weight on top of the cover plate after cleaning the area and making it as flat as you can.
This component should be placed in water that is kept at a constant 27 degrees Celsius + 2 degrees Celsius and left there for the entire day.
Eliminate the mold from the water, and using Reading-1 as a reference point, calculate the separation between the indicator lines.
(Assume it is 2 millimeters)
Kharghar Cement Soundness Essential
Place this assemblage in hot water once more for the next 25 to 30 minutes, and then keep it there for the following 3 hours. The mould should be immersed in boiling water during this period.
Let the water cool to room temperature before using it after removing the mold from it.
Reading-2 should be converted to the number of feet between each indicator point. For example, if the measurement is 10 millimeters, the integrity of cement is equivalent to 10 – 2 millimeters, or 8 millimeters.
The variation in the needle's measurements reveals details about the cement's grade.
The soundness limit shall be greater than 10 mm for standard, rapid-hardening, and low-heat Portland cement.
The cement is regarded as being unsound if it swells by more than 10 millimeters, as determined by the previous test.
The Le-Chatelier test for the soundness of cement has the drawback of being able to detect unsoundness caused by lime.
This method does not evaluate the volatility that results from the presence of too much magnesia.
The autoclave test for stability is required by the Indian Standard Specification for cement with a magnesia content of more than 3%.
The stream's continuous pressure ultimately accelerates the hydration of both lime and magnesia.
For the goal of the cement soundness test, the expansion of cement once it starts settling has been recorded. It has been observed that after setting, some kinds of cement experience considerable expansion, which disturbs the bulk that has already hardened and set. When using such cement, the growth of the cement could pose serious problems for the long-term durability of the structures.
Kharghar Cement Soundness Essential: Testing stability of cement: Precautions
Unburned lime and magnesium cause cement blocks and concrete to grow in volume.
The Le-Chatelier device is used to conduct an unburnt lime test.
Unburnt lime raises cement volume, which leads to cracks in the building.
Water also causes a reaction between lime and magnesia that increases the amount of cement and causes fractures in buildings.
Importance of the cement's stability test
The ingredients silica, lime, sulphur trioxide, magnesia, alumina, alkaline, calcium sulphate, and iron oxide are combined to create cement. Between 60% and 70% of all these cement ingredients are lime. Lacking the ideal proportion of lime in cement causes it to form too rapidly and degrades the cement's quality. An inadequate quantity of line renders the cement unsound and has a detrimental effect on the completed cement job. After cement has been spread, its effects do not become immediately obvious for a considerable quantity of time. Because of this, cement must first pass a stability test before being applied. With the aid of this test, you can make sure that the cement you use won't expand and affect the construction's quality.
3BHK Flat For Sale In Kharghar
Unsound cement's effects on concrete buildings
Using cement that is not solid can lead to a number of serious issues, such as:
Kharghar Cement Soundness Essential: Loss of power
Concrete structures built with poor cement are more likely to break and crack, which lowers the structure's total strength and makes it more vulnerable to harm from outside factors.
Decreases resilience to the elements
Concrete produced from unsound cement is more prone to harm due to the impacts of weather, like freeze-thaw cycles that cause surface spalling and scaling.
Kharghar Cement Soundness Essential : Increased permeability
Increased porosity of concrete due to weak cement can make it more vulnerable to water damage and corrosion of the steel supports.
Reduced resilience to chemical harm
Ineffective cement is more vulnerable to chemical harm, such as that brought on by acid assaults, which can deteriorate and impair the concrete.
2BHK Flat For Sale In Kharghar
Kharghar Cement Soundness Essential : Causes of unsound cement
A surplus of lime, which may create an unstable compound when combined with acidic oxide in the kiln and found in the soundness test of cement, is the main cause of the unsoundness.
This is a result of inappropriate burning, inadequately fine grinding, or insufficiently thorough combining of the raw materials, which can be seen in the cement's soundness test.
Additionally, an excessively high magnesium concentration or a high calcium sulphate amount can both add to cement being unsound.
An excessive amount of lime, an excessive amount of magnesium, or an excessive percentage of sulphates are the main reasons of unsoundness in cement.
Kharghar Cement Soundness Essential: How can cement integrity be avoided?
It's critical to keep in mind that calcium sulphate is added to the clinker during grinding to prevent flash settling. As a consequence, there is a 6 percent limit on the quantity of magnesium that can be present in cement.
Gypsum will be introduced in amounts ranging from 3 to 5 percent, depending on the level of C3A present.
Gypsum will be left over in the cement if the quantity introduced to it in the free form is greater than the amount that might couple with C3A.
The cement paste expands as a result of the high gypsum content, making it harder for the paste to solidify.
---
You're looking for Rental Home In Kharghar we have the Best Rental Properties In Kharghar Like Ready to Move & Nearby possession: https://navimumbaihouses.com/property/search/rent/kharghar/
If you want daily property update details please follow us on Facebook Page / YouTube Channel / Twitter
Disclaimer:
The views of this expressed above are for informational purposes only based on the industry reports & related news stories.
Navimumbaihouses.com
does not guarantee the accuracy of this article, completeness, or reliability of the information & shall not be held responsible for any action taken based on the published information.
Also Read
Sale Properties in Kharghar