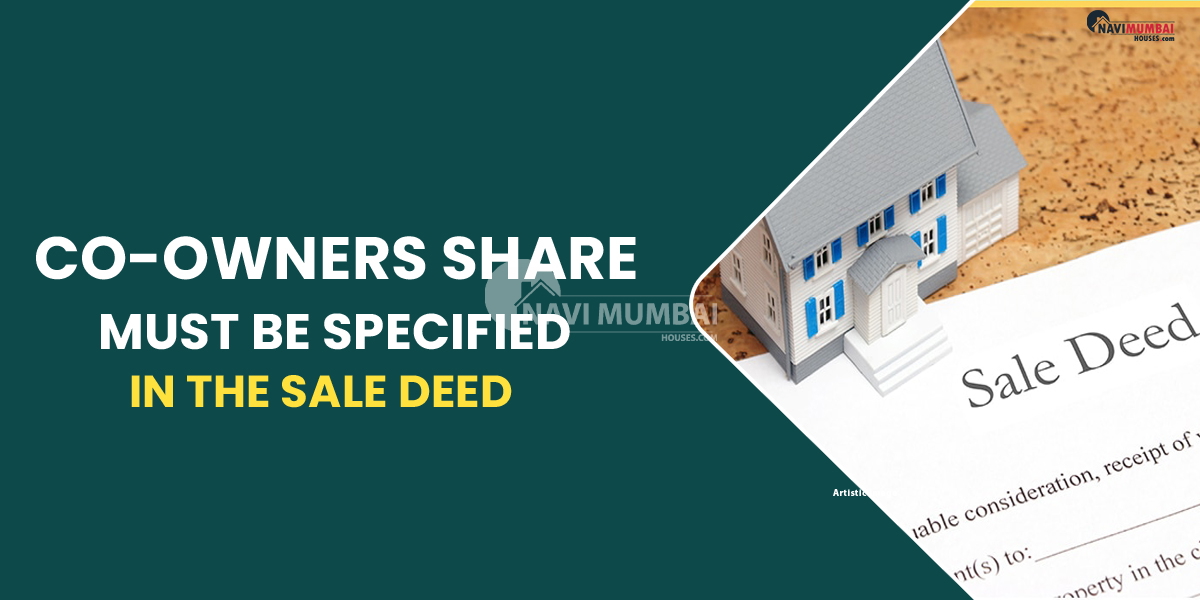 Co-Owners Share Must Be Specified In The Sale Deed
To avoid future disputes over co-ownership shares, the form of co-ownership should be specified in a property sale agreement. Due to the nation's rising real estate prices, it is becoming increasingly difficult for middle-class purchasers to find a property in a desired neighbourhood. Many homeowners are choosing co-ownership shares as a solution to the escalating cost of real estate.
---
Are you searching flats for rent in Kharghar?
---
Real estate can be bought and owned by numerous persons jointly. All property owners are collectively referred to as "co-owners" in this phrase. Even while it would seem simple to share the costs, you should be informed of the many legal ramifications of joint ownership to prevent future issues. A typical illustration of this is when a couple pools their money to buy a house together. By pooling their salaries, they are also eligible for a greater loan amount.
Co-owners Shares: A Process Overview
When two or more persons buy a property without defining how much of the property each owns, a "tenancy-in-common" is created. As a result, all co-owner shareholders have access to the property and are seen to own an equal share of it.
The interest instead goes to the decedent's lawful heir or a specified beneficiary named in their will when one of the co-owners passes away rather than to the shares owned by the remaining co-owners. The remaining shares of the co-owners make this person a "tenant-in-common" with them.
By pooling their funds, two or more persons can buy a piece of property. Unless the parties have a written agreement to the contrary, each co-owner shall have a stake in the property equal to the amount of money contributed to its acquisition. So the sale deed paperwork must specify if two or more people jointly own a plot of property.
There should be a clear indication of the names, shares, and proportions of co-ownership for each co-owner. If the property makes any money or gains from a sale, the returns can then be divided according to the ownership stake.
According to the Transfer of Property Act, co-owners have a proprietary right to the entire property. Therefore, every co-owner who is involved in the sale must give their consent. For instance, approval must be acquired from each co-owner of a dwelling.
A selling deed can be executed if someone later decides to add a co-owner. In this situation, the other individual will be listed as a co-owner shareholder of the land in the new deed. An alternative is to perform a gift deed. You must create a gift deed for this, have a notary public sign it, and then file it with the registrar's office.
Shares of Co-Owners: Tax Advantages
Both owners are eligible for tax benefits. There are two distinct categories of tax incentives that are accessible, as per the Income Tax Act of 1961, namely:
| | |
| --- | --- |
| Section 24 | Until the loan is paid off, each co-owner is qualified for a tax deduction of up to Rs. 2 lakh per year on the loan interest. To be eligible for this tax incentive, co-owners must live on the property. |
| Section 80C | Until the loan is paid off in full, each co-owner is eligible to deduct 1.5 lakhs from their taxable income each year for the principal portion of the loan. |
5 Sale Deed Provisions: Co-Ownership Shares
Before purchasing any jointly held property, it is essential to verify the specific terms of ownership & agreements between parties in order to reduce any property claim disputes. The following list outlines the four requirements for your sale deed.
Co-Owners Shares – Ownership Ratio
Case 1: In 2018, Amol Gupta partnered with his brother to purchase a home. In addition to his own 40% contribution, his brother also paid the remaining 60%. Amol thought he was the owner because he had paid about 40% of the entire price. Unfortunately, his brother tricked him, which led to an endless legal battle.
Ownership percentages in the sale deed are occasionally forgotten. If each owner obtains 50% of the ownership, there is no space for argument. The ownership ratio automatically equalizes, nevertheless, if it is not recorded. You should therefore specify in your deed that you contributed 60% of the total value and the other party contributed 40%.
Without expressing any specific ownership rights, simply sharing the title to a piece of property would imply that all co-owners had an equal stake in it. Thus, features like co-ownership shares or the ownership split between the parties must be specified in the property paperwork in explicit terms.
Co-Owners Shares: Always Consider an Exit Strategy
Case 3: Roshan Patel retired in 2020 and bought a house with his son using retirement funds. They decided on a 50 lakh rupee property in Delhi. Raman then made a contribution of Rs 25 lakh, and his son was granted a mortgage for which the bank named Raman as a co-applicant. Raman was left with the burden after his son lost his job three months into making EMI payments. He had previously paid his contributions, but he paid anyhow.
So it makes sense to disclose the mortgage default in the sale deed provision. The proceeds from the sale of the property might then be used to settle the debt. With the remaining amount being split equally between the two parties.
Shares of Co-Owners with Self-Occupation of Real Estate
Case 4: Akashy & his brother Abhay bought a joint Noida house to earn rental income. When Akashy & his brother made the decision to purchase a property, they were already residing in Delhi. They so decided to equally split the rent. After some time, Abhay relocated to Noida and started living there without paying the landlord's rent.
A co-owner has the right to ownership, use, & disposal of his share of the property if it is specifically stated in the deed. Therefore, make sure the selling deed has a clause that covers the case where one of the joint owners wants to exploit the property for personal gain. Akashy's brother is responsible for covering half the rent.
Conclusions Regarding Co-Owners Shares
You shouldn't be reluctant to bring up topics that can cause a future argument as a co-owner. It is therefore preferable to state all of these problems along with any additional solutions that can be reached by both parties in the selling deed. The names, shares, and percentages of co-owners' shares should all be clearly stated.
---
You're looking for Projects in Tilak Nagar we have the Best Properties In Mumbai Like Ready to Move:https://navimumbaihouses.com/properties/search/tilak-nagar/
If you want daily property update details please follow us on Facebook Page / YouTube Channel / Twitter
Disclaimer:
The views of this expressed above are for informational purposes only based on the industry reports & related news stories.
Navimumbaihouses.com
does not guarantee the accuracy of this article, completeness, or reliability of the information & shall not be held responsible for any action taken based on the published information.
Also Read
Buy Properties in Mumbai