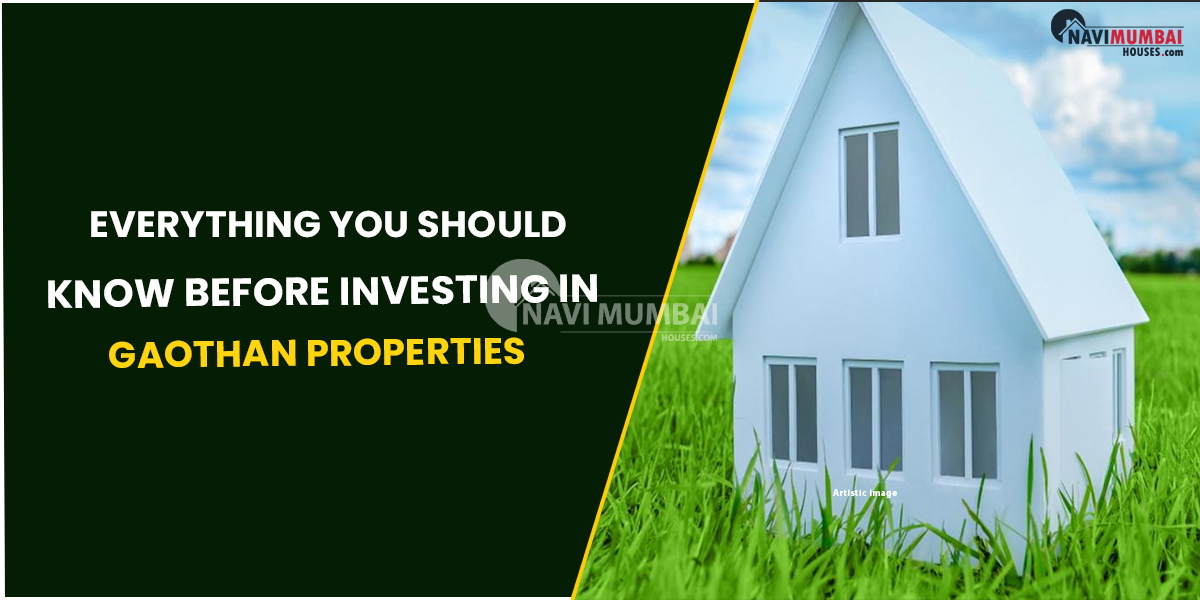 Everything You Should Know Before Investing In Gaothan Properties
Several rumours and misunderstandings surround the Gaothan property in Maharashtra. Many people believe that owning or purchasing one of these homes is a bad idea because of the numerous risks involved. Because Gaothan properties are more affordable than urban properties, people who cannot afford high-priced homes but still want to live in the city frequently choose this option. Because of the high real estate prices in Maharashtra, particularly in Mumbai, the only affordable property for people to purchase is in the Gaothan area.
Gaothan Properties :
This allows them to address the issue of wanting to live in the city near their workplaces. Even so, some people choose to get a home loan for their Gaothan property. Travel may be required, which is not always feasible because the only houses available at reduced prices frequently appear to be in outlying city sections. Let's take a closer look at the benefits and drawbacks of Gaothan property!
---
Are you looking flat for sale in kharghar? 
---
Things we covered for you
What is a Gaothan Property? Meaning & History Explained
Gaothan Property in Navi Mumbai: Are They Legal?
What Documents are Needed to Buy a Property in Gaothan?
Explaining The Gaothan Expansion Scheme
The Key Angles of Gaothan Properties
What exactly is a Gaothan Property? Definition and History
The Marathi term Gaothan means "place in the village" ("gao"-village, "then"-place). Gaothan are the land portions that make up a hamlet, town, or city. Gaothan is a place that belongs to a village, town, or city, according to Section 122 of the Maharashtra Land Revenue Code. It implies that, in addition to a hamlet, the Gaothan can refer to a location in a town or metropolis. When certain conditions and circumstances are met, certain city neighbourhoods are considered Gaothan.
Now that you know what Gaothan property is, let's go over some history:
The majority of the time, Navi Mumbai builders build the apartments purchased on the "SADE BARAH TAKKA" plot, also known as the 12.5% Gaothan expansion project. In this case, CIDCO first gave the land to a local villager (the gaonwala) in exchange for his farming, which CIDCO then took over. Who will benefit from this arrangement is determined by land revenue documents and a document known as 7/12 (saat baaraah 7/12). These are available in the villages of Talathi, Tehsildar, Patwari, Collector, and so on.
If the properties are covered under state programmes such as the 12.5% Gaothan Scheme (GES) of CIDCO, where they are transferred on payment of transfer fees to third parties, the transferee obtains a clear, legal, and marketable title from the authority to sell or transfer the property to potential buyers.
Are Gaothan Properties Legal in Navi Mumbai?
According to the typical purchase procedure, the owner of the Gaothan property should sell their plot to the CIDCO, who will then sell it to the developer. The developer can build an apartment complex on Gaothan land before selling it to an individual.
If this approach is followed, there is no risk in purchasing properties from a professional builder who has built homes in Gaothan locales. However, there are some properties that were built directly in the Gaothan region without the assistance of CIDCO; in these cases, there may be a risk; as a result, you must carefully review the specifics. These features are not illegal, despite the fact that specific steps must be taken to make them legal. Because if you purchase the property directly from the landowner, it is possible that it is owned by more than one sibling or several co-owners.
To ensure the secure transfer of property from the Gaothan landowner to your name, certain approvals and procedures must be followed. Because Gaothan property issues are so complex, it is best to seek legal advice from a lawyer or other authority who has experience with this type of property transaction.
What Documents Are Required to Purchase a Home in Gaothan?
Gaothan Properties: Documents pertaining to Gaothan property include:
The award copy, which grants the allottee 12.5 percent of the land, is a major issue for the development authority. The name of the allottee and the specifics of the plot will be included.
Letter of Allotment: This record proves that the landowner was allotted the plot.
The letter of intent (LOI) is a document issued by the development authority to allottees who have received the award copy.
Lease Contract: Gaothan Properties are essentially leasehold properties between developers and their owners. This lease agreement is another important document.
Receipt of Transfer Charges: As previously stated, buyers are responsible for paying transfer fees to the appropriate authority.
Final Order: This document is issued to the allottee and transfers ownership of the property to him.
A tripartite agreement is a contract between the development authority, the villager, and a third party (developer/builder) that contains all information regarding the transfer rights and specifics.
Remember, before making a deal, inquire about the gaothan properties' registration fees.
Gaothan Properties: The Gaothan Expansion Scheme Explained
Despite a significant increase in population, growth authorities are seen promoting metropolitan development across the country by utilising land adjacent to city, community, and town boundaries. The Maharashtra Gaothan Growth Plan is based on the same ideas. Landowners with agricultural land within 200 metres of an existing gaothan's boundaries may purchase these systems under Section 44 of the MLR Code. If their application is approved, the land will no longer be used for agriculture. It is recommended that the gaothan expansion system be approved by the city's collection agency.
The following are some of the activities permitted by the Gaothan Expansion plan:
Making housing
Retailers, restaurants, financial institutions, personal care clinics, and repair shops
Furthermore, other social institutions and community centres.
Worship spaces serve as storage areas for crops, manure, feed, and other necessities.
Playgrounds and parks
Fishing, boat storage, boat maintenance and repair, and gasoline storage Fish and nets drying
Public restrooms
Service industries
Cold storage and warehouse on plots no larger than 0.20 hectares.
Centers, pharmacies, and healthcare facilities
Local government organisations, for example, are critical public resources and services.
Domestic animal stables, with a maximum of five pets per story.
Traditional housing sectors
Gaothan Properties' Key Angles
Experts in development frequently sell off Gaothan properties. Buyers should exercise caution when confronted with such claims. If possible, use a legal master to ensure the agreement is legal and free of any nefarious elements. As previously stated, the Gaothan property loan approval does not constitute legality.
Accepting offers that appear impossible and low-effort may be a ruse.
You will need to rely on your own resources to purchase Gaothan estates.
These foundations are unlikely to be on par with those found within urban boundaries.
In August 2019, the Bombay High Court temporarily barred the BMC from acquiring any Gaothan properties. This implies that there are no plans for additional Gaothan improvements in the district in the near future. The Bombay High Court requested that the BMC be barred from acquiring any Gaothan properties after an appeal was filed claiming that Gaothans were being considered "ghettos" and were being formed under the guise of ghetto reconstruction endeavours. With the help of legal experts, you can decide whether the Gaothan property registration in Navi Mumbai is lawful or illegal.
After carefully reviewing all paperwork, conducting background checks, and asking questions about the Gaothan property loan at your chosen bank branch, one should purchase properties directly from the Gaothan Properties' direct owner. A loan on the Gaothan property in Navi Mumbai may be available from several banks. But you must make an informed decision before applying.
---
You're looking for Buy Home In Mumbai we have the Best Buy Properties In Mumbai Like Ready to Move & Nearby possession: https://navimumbaihouses.com/property/search/buy/mumbai-all/
If you want daily property update details please follow us on Facebook Page / YouTube Channel / Twitter
Disclaimer:
The views of this expressed above are for informational purposes only based on the industry reports & related news stories.
Navimumbaihouses.com
does not guarantee the accuracy of this article, completeness, or reliability of the information & shall not be held responsible for any action taken based on the published information.
Also Read
Buy Properties in Mumbai