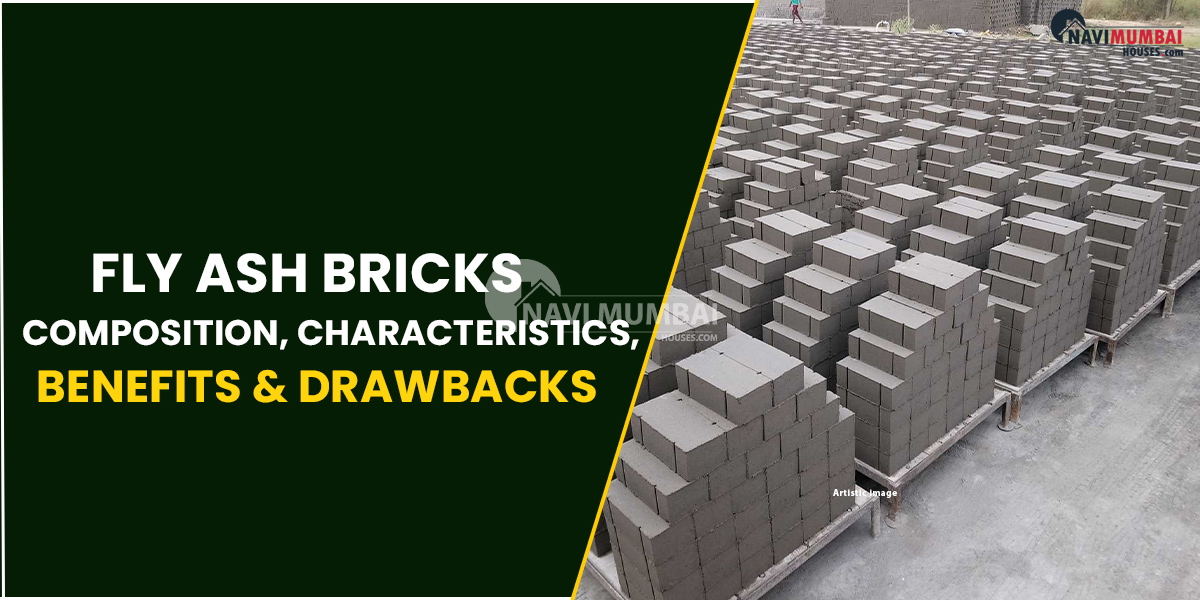 Fly Ash Bricks : Composition, Characteristics, Benefits & Drawbacks
Kharghar Fly Ash Bricks : Fly ash bricks are used in building endeavours instead of burnt clay bricks. Find out more about the production of fly ash tiles and the uses for them.
Fly ash, a byproduct of power plants, is used in concrete as a partial substitute for cement. Specifically, fly ash bricks are used as a construction material to create buildings using masonry pieces. They act as a premium, cost-effective construction substance.
Fly ash bricks are used in building endeavours instead of burnt clay bricks. Fly ash bricks are produced using fly ash, grit or stone, and ordinary Portland cement. Among the experiments carried out on fly ash blocks are those for efflorescence, water absorption, and compressive strength.
---
Are You Looking 2BHK Flat For Rent In Kharghar? 
---
If a fly ash block is compacted at a pressure of 28 MPa, cured for 24 hours in a steam bath at 66°C, and stiffened with an air-entrainment agent, it can endure more than 100 freeze-thaw cycles.
Due to the presence of a sizable quantity of calcium oxide in class C fly ash, the block is referred to as "self-cementing." Production of fly ash bricks typically uses 20% less energy, releases 20% less mercury into the environment, and is 20% less expensive than production of conventional clay bricks. Fly ash block is produced using hydraulic pressure devices that are favourable to the environment. They are 28% lighter than typical clay blocks and have a tensile strength of more than 40 Mpa. They can prevent costly construction expenditures and soil runoff, are reasonably priced, and don't need plaster.
Fly ash bricks: Primary constituents
The primary components of fly ash brick are fly ash, stone dust/sand, lime, gypsum and bonding agent. The mixture is carefully formulated to yield bricks with improved strength, consistency, and homogeneity.
| | |
| --- | --- |
| Raw materials | Specification |
| Fly ash | 50-70% |
| Sand | 15-20% |
| Lime and gypsum | 15-20% |
| Cement | 05-08% |
Fly-ash bricks: Specifications
Bricks made of fly ash have the following features:
In terms of appearance, the bricks don't need to be plastered for construction projects because they are smooth and have an appropriate cement hue.
Thermal conductivity: They refract a great deal of light while not collecting heat.
Soundproofing: The degree of soundproofing is adequate.
They have excellent fire resistance and are unfazed by vermin attacks. Resistance to fire and vermin.
Durability and moisture absorption: These bricks are extremely durable and have a moisture absorption rate of 6-12%, which reduces the dampness of the walls.
Toxicity and stability: Because fly ash is made into a non-toxic product when mixed with lime, it has the potential to be a valuable building element.
Fly ash bricks: benefits
The following are some advantages of using fly ash blocks in construction:
Compared to clay bricks, fly ash bricks are lighter, which makes them perfect for multi-story buildings because less weight means less stress on the framework, which guarantees safety.
Fly ash bricks, which absorb less heat than normal bricks and keep your building cold even in the summer, are better adapted to Indian conditions.
Because of its even and regular form, less mortar is used during building. If used for the wall of the enclosure or the godowns, plastering can also be prevented.
Plaster of Paris does not require a backdrop layer of plaster before being applied.
Since fly ash bricks are more compressive than normal bricks, less shipping waste is produced.
Because fly ash bricks are less permeable than burnt clay bricks, they don't collect as much water when they're being built. Using fly ash stones during construction can help you save money on water and even ensure that your building's structural stability during rainy seasons.
The drawbacks of fly ash tiles
Fly ash blocks have the following disadvantages:
Not all fly ash stones can be used for construction. Some may need beneficiation because they are frequently made in power facilities similarly to how concrete is. It's crucial to only use premium fly ash in order to limit the building's harm.
Bricks are unsuitable for use in building if they are not correctly prepped because they lack strength. When concrete is constructed with inferior blocks, it struggles. A building may become more porous as a result, suffering structural harm.
The flat surface of the brick stops a solid connection from developing with the concrete.
Bricks can only be made in various forms. Larger block areas will result in more gaps.
Due to their inability to absorb heat, fly ash blocks are only suitable for subtropical areas or locations with mild temperatures. But when it's chilly, it's pointless.
Kharghar Fly Ash Bricks : Fly ash bricks: Uses
In load-bearing external walls of small to medium-sized structures, fly ash bricks are usually use.
Fly ash bricks are frequently use in place of burned clay bricks, one of the most important building products purchase for the construction of houses and buildings. In virtually every scenario where burnt clay bricks are useless for brick masonry operations, fly ash construction bricks can be use in their stead.
High-rise buildings, businesses, factories, and multi-story constructions are all built with fly ash bricks.
Kharghar Fly Ash Bricks : Fly ash bricks vs red bricks
| | |
| --- | --- |
| Red bricks | Fly ash bricks |
| Not the same colour since the kind of soil and quality control used during manufacture determine the colour of the brick. | The colour of fly ash brick is comparable to bricks made under controlled settings using the equipment. |
| Since they are typically built by hand, clay bricks are not all created equally. | Due to the use of equipment in manufacture, the product is uniform in shape and has a smooth surface. |
| Plastering is require because the surface finish is not smooth or straight. | Plastering is not usually necessary because of the flat surface and thin seams. |
| The weight of clay bricks is heavier. | Fly ash is the main component of fly ash brick; hence it is lighter. |
| These bricks are less permeable than clay bricks. | Almost no pores exist in fly ash bricks. |
| Clay brick is more expensive than fly ash brick. | These bricks cost about 30% less than clay bricks. |
| Continued usage of clay bricks in the building sector will result in a significant loss of rich topsoil. | This was created utilising the leftovers from a thermal power plant which protects the ecosystem from contamination that already exists. |
---
You're looking for Buy Home In Kharghar we have the Best Buy Properties In Kharghar Like Ready to Move & Nearby possession: https://navimumbaihouses.com/property/search/buy/kharghar/
If you want daily property update details please follow us on Facebook Page / YouTube Channel / Twitter
Disclaimer:
The views of this expressed above are for informational purposes only based on the industry reports & related news stories.
Navimumbaihouses.com
does not guarantee the accuracy of this article, completeness, or reliability of the information & shall not be held responsible for any action taken based on the published information.
Also Read
Rent Properties in Kharghar