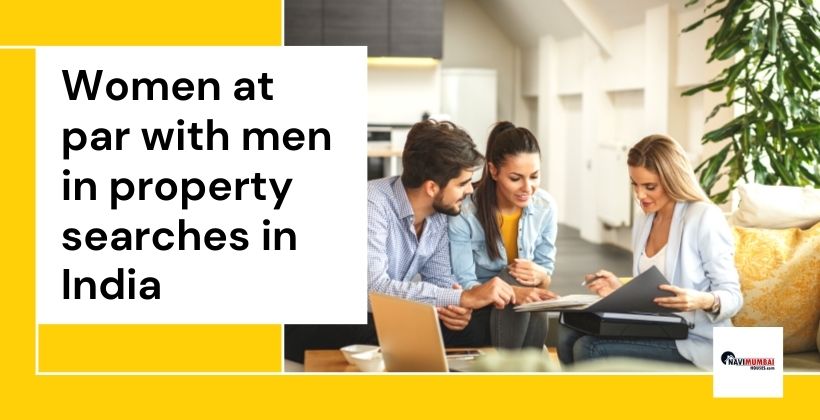 How Much Percent Women searches the property in India
According to a recent study by Navimumbaihouses, a property quest & advisory site, women are as active as or more active than men when it comes to looking for and studying properties, women search property in India.
Think again if you think men rule the real estate market. We looked at a sample of the traffic coming to the website for property searches at Navimumbaihouses and discovered that when it comes to home buying and related decision-making, women can be just as involved as men.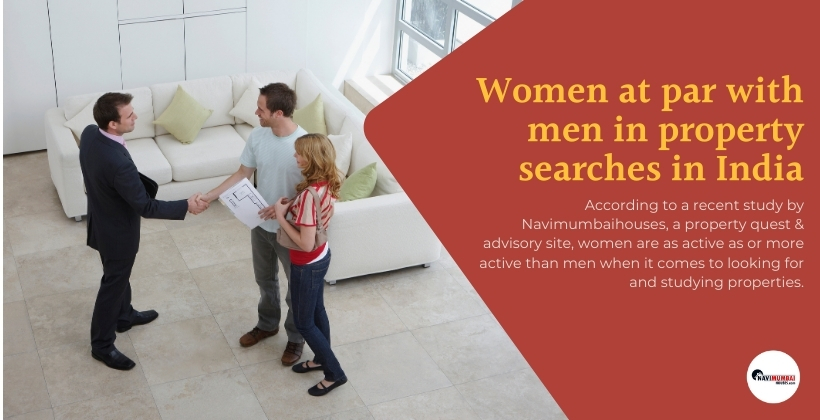 Women aged 25 to 34 years old made up 34% of the website's active users, compared to 32% of men in the same age class. Around 20% of men and women between the ages of 34 and 44 are participating on the website.
Women are getting more involved in Buying Property.
In 2018, we repeated the research over a longer period of time and discovered that, while women between the ages of 25 and 34 were the most successful in their property quests, those between the ages of 18 and 24 were the most active.
Now that consumer attention has caught up, we've discovered that, after the COVID-19 pandemic & its consequences, the 35+ demographic group has been much more involved than before. This applies to both men & women. Women also made a significant jump in terms of property hunting from 12 percent in the 35-54 age bracket in 2018 to 32.5 percent in January 2021.
---
Are you looking for Kharghar new projects ready to move? Then you may contact Navimumbaihouses.com the biggest portal to Rent / Sale / New Projects properties in Kharghar and Navi Mumbai.
---
Men vs. Women: A Look Back at 2018 Trends
| Age Group | Male | Female |
| --- | --- | --- |
| 18-24 | 26% | 24% |
| 25-34 | 57% | 58% |
| 35-44 | 7% | 8% |
| 45-54 | 3% | 4% |
| 55-64 | 4% | 4% |
| 65+ | 2% | 1% |
According to Suhana Prajapati, a 39-year-old Mumbai resident, the transition will become more apparent in the future. "By your late 30s, you have a good understanding of your financial commitments, marital status, and future plans. Property investing can be daunting for younger women.
Should they be putting money aside for marriage, children, or a home?
Men, on the other hand, will be very clear about a property purchase as early as 25-26 years old, so society wants them to buy a house, marry, and settle down. Women, on the other hand, are forced to move into or return to their husband's workplace, so property acquisition plans are placed on the back burner.
Staying single was still an option for Priyanka Patil, a graphic designer by trade. "I made it very clear that I wanted to stay single. I bought a studio apartment in Mumbai a long time ago and am now renting it out. Women, regardless of their marital status, should invest in assets that they can afford, in my opinion. It doesn't have to be a 3BHK – it may be a 1RK, 1BHK, or a studio – but investment should be on the list.
When it comes to property purchases, women should exercise caution.
In January 2021, we looked at a sample population and their quest behavior on Navimumbaihouses. Surprisingly, females made up 28% of users, and they were responsible for almost 30% of the sessions. Women have spent 8.3 percent more time on the navimumbaihouses.com website than men, visiting 13 percent more sites and spending 13 percent more time.
According to a survey conducted by Navimumbaihouses, there were 8% more new female users than male users. Women were also much more likely than men to return to the website for a property check, with 33% doing so. This suggests that women are more interested in analysis and due diligence than men.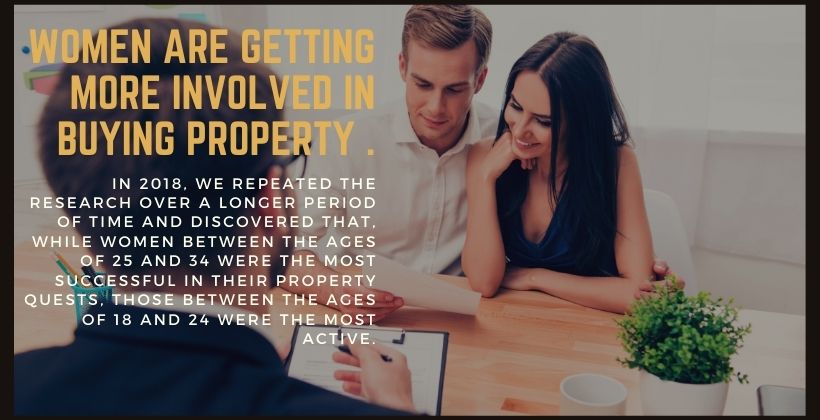 For real estate, more women equal more company.
If your real estate company has attracted the attention of women, you're in luck! Yes, a woman has an 11% higher risk of dropping a lead than a male. In comparison to 83 percent of men, they are more likely to use their cell phones to look for a house.
Mumbai women are much more interested in real estate scouting than men.
When it comes to women looking to buy real estate, we found that Mumbaikars are leading the way, led by Bangalore and Delhi women.
---
If you want a Kharghar new projects ready to move then please visit: https://navimumbaihouses.com/properties/search/kharghar/
---
Following COVID-19, women and real estate investment
Men and women alike were affected by the Coronavirus pandemic, but potential customers see an advantage. According to reports, COVID-19 has not dampened enthusiasm in purchasing real estate, with more than half of female respondents preferring real estate to the stock exchange, fixed deposits, or gold.
"After COVID, I am more eager to buy a home," says Chandni Bhargava, 42. She continues, "The value of home and security has only increased in the last year, and although I kept deferring this decision, this year, I am armed with my research into property options in Pune, where I live." In February 2020, Bhargava claims she was pressured to find a new rental home. "The owners decided to return to this property and inhabit it so their Mumbai-based son could now work from home. It was a nightmare for me because people are hesitant to rent their property to a single woman," Bhargava remembers.
What are the expectations of women who are looking to purchase a home?
Women are more interested in real estate than men are: According to data shared with the public, 64 percent of women said they would be interested in purchasing a home after COVID-19, although just 54 percent of men said the same.
Women can purchase real estate for their own use: Compared to 68 percent of respondents, more women (82 percent) said they would save for end-use.
Buyers who are optimistic: 70% of women believe now is the right time to buy.
Interested in properties under Rs 90 lakhs: About 66 percent of women said they were interested in properties under Rs 90 lakhs.
Larger houses are more appealing: Women, on the other hand, enjoy the luxury of space. Around 46% of the sample population suggested that 3BHKs were their preferred choice.
What draws women to a home: About 31% of women cited protection and protection as the most significant factor, while 28% cited lower home loan interest rates as a major factor. Another 22% said they would be interested in sales and exclusive deals.
Navi Mumbai Houses are the biggest real-estate property portal (website) in Navi Mumbai, Mumbai, and Thane. Do you want Buy / Sell / Rent a house, flats in Navi Mumbai our portal helps you to find a home (Flat) to your budget so please visit n find it?
If you want daily property update details please follow us on Facebook Page / YouTube Channel / Twitter
For more information please visit: https://navimumbaihouses.com/
Disclaimer:
The views of this expressed above are for informational purposes only based on the industry reports & related news stories.
Navimumbaihouses.com
does not guarantee the accuracy of this article, completeness, or reliability of the information & shall not be held responsible for any action taken based on the published information.