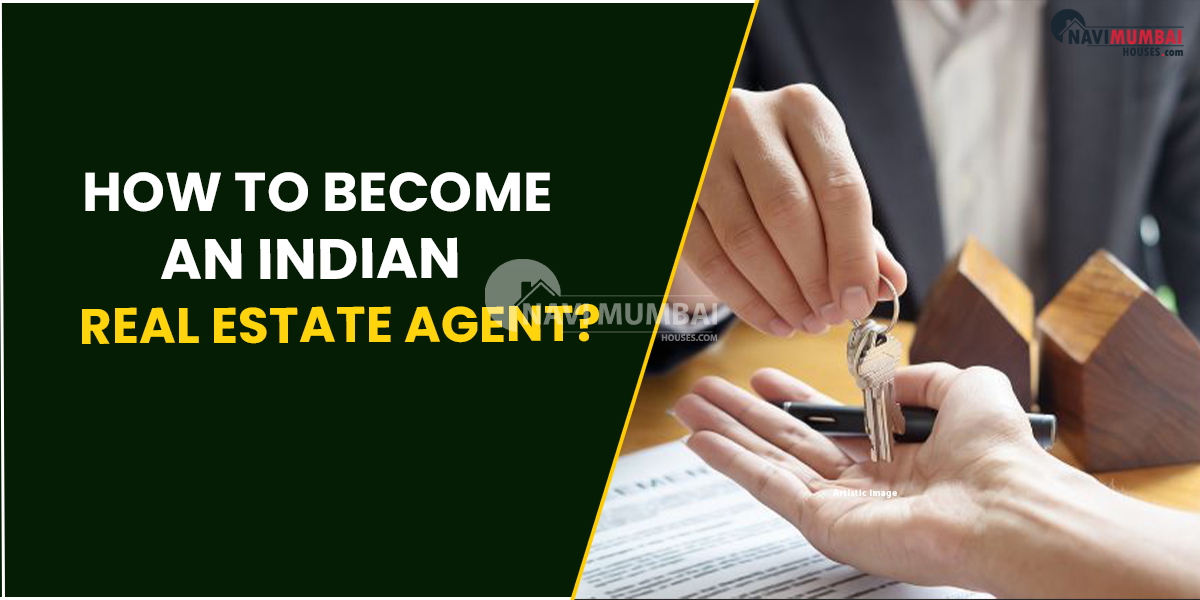 How To Become An Indian Real Estate Agent?
Indian Real Estate Agent : Real estate agents serve as the intermediary between a property buyer and seller. If you are wondering how to become a real estate agent in India, qualities such as communication, negotiation skills, and networking are all necessary.
---
---
What exactly is a Real Estate Agent?
A real estate agent is someone who connects buyers and sellers and acts as a mediator or representative in their negotiations. Real estate agents are licence professionals who work for a real estate broker (either a brokerage firm or an individual) with a specialised licence and more experience.
A real estate agent will assist you in closing the deal while keeping all of your requirements in mind, whether you are selling or buying property. He or she will assist you at every step of the process, from property research to closing the real estate transaction. In most cases, the agent's fee is a percentage of the property's sale price. Before learning how to become a real estate agent in India, consider the following list of general real estate agent duties, which includes research, administrative work, and marketing:
Indian Real Estate Agent
Make appointments and presentations.
Determine the client's financial capabilities and requirements.
Property listings should be update.
Respond to emails and phone calls
Find properties by searching open listings.
Conduct a comparative analysis of the real estate market
Draft and deliver documents (such as leases, closing statements, deeds, and contracts).
Keep abreast of real estate trends, markets, and best practises.
Make connections with local businesses and potential clients.
Create and disseminate promotional materials
Execute advertising campaigns
Manage their online and social media presence
Create a business website or blog.
How does one go about becoming a real estate agent?
To become a property dealer in India, you must first register with RERA (Real Estate Regulatory Authority). The Real Estate (Regulation and Development) Act of 2016 regulated and organised real estate businesses to make transactions easier for home buyers and agents alike. The RERA registration process and fees differ by state.
The agent should apply for Professional Tax Registration in addition to RERA registration (PTR). PTR refers to the tax imposed by each state on professional services performed in the region. The state tax department charges the agent a fee (the fee varies by state), and this registration certificate must be renewe annually.
Indian Real Estate Agent: Why is it require to register?
If you want to learn how to become a real estate agent in India, the first step is to become registered. According to the Real Estate Regulation and Development Act (RERA) 2016, every real estate agent must obtain a registration certificate and a licence in order to conduct business. The main goal is to regulate the real estate industry and make the processes more transparent.
According to RERA guidelines, any agent who does not register will be barred from conducting business. It also states that the agent will be held accountable for any errors in the project and that any misconduct will result in prosecution.
A registered agent will be fully involved in the project and liable for anything that goes wrong, so a client can trust an agent with property transactions without fear of being misled.
RERA Guidelines for Real Estate Agents and Brokers Registration
The Real Estate (Regulation and Development) Act of 2016 established the Real Estate Regulatory Authority (RERA) to improve transparency and accountability in real estate transactions and to organise the entire process. The Act requires all real estate agents to register with their respective state's real estate regulatory authority in order to obtain an RERA registration number/license. The licence will be valid for five years after it is issued.
A RERA registered/licensed real estate agent must follow RERA guidelines.
Not assist in the purchase or sale of any unregistered property
Abide by the Act's provisions.
not engage in any unfair trade practises, such as making a false and misleading statement (orally or in writing) or allowing the advertisement of services that will most likely not be provided.
facilitate the possession of all documents and information to which the homebuyer is entitled when booking any apartment, plot, or building
The RERA Act governs real estate transactions and ensures that home buyers can work with licence, responsible agents without fear of being misled or cheated. RERA ensures security, fairness, authorization, transparency, and quality. It provides numerous advantages to the promoter, buyer, and real estate agent.
Documents Required for RERA Registration in India to Become a Real Estate Agent
RERA registration requires the broker or real estate agent to have a completed application form on hand. Aside from that, the following documents must be submitted:
Authenticated copy of the business's address proof, email address, and phone number.
Copy of the agent's PAN card that has been authenticate.
Name, contact information, a photograph, and the address of the real estate agent as well as the directors or partners.
Income Tax Returns for the previous three years
Documents Required in India for RERA Registration to Become a Real Estate Agent
A completed application form for RERA registration must be on hand by the broker or real estate agent. In addition, the following documents must be submitted:
Authenticated copy of the company's address, email address, and phone number.
An authenticated copy of the agent's PAN card.
The real estate agent's name, contact information, a photograph, and the address of the directors or partners.
Returns on Income for the Previous Three Years
Details about the real estate projects, promoters, and advertisers with whom the real estate agent did business in the previous five years.
Indian Real Estate Agent: How long does RERA enrolment last?
The real estate authority (RERA) licence of each dealer becomes active on the date of issue. After filling out the form 60 days before the expiration date, the permit can be extended for another five years.
Process of Real Estate Regulatory Authority (RERA) Certification
The following stages are involve in the RERA certification process:
Completion of Paperwork: To begin the process, the RERA enrolment form must be completed and the necessary documents attache.
Verification: The submitted information and documents have been verified.
Filling out Registration Forms: Filling out forms based on all of the information provided.
Work Completion: Once the Real Estate Regulatory Authority (RERA) account has been created, the registration number is provided.
What Are the Essential Qualities for Becoming a Real Estate Agent?
To succeed as a real estate agent in the competitive real estate market, it is critical to understand consumer behaviour and the marketing strategies required to grow. Here are some essential characteristics of a real estate agent:
Networking is extremely important in the real estate industry. Maintain constant contact with your peers and fellow agents; they will be able to provide feedback when dealing with difficult clients or projects with unexpected challenges. Additionally, joining organisations such as the National Association of Realtors (NAR), the Association of Certified Realtors in India, and the All India Real Estate Agents Association will help you expand your global network.
Indian Real Estate Agent: Transparency – In order to be successful as a real estate agent in India, it is necessary to follow certain guidelines such as transparency. If you have any questions about the property, are unsure about the builder's track record, or are unaware of the property's details, be honest with your client. Any legal complications or risks associated with purchasing the property must be communicated to the client.
Avoid making assumptions when it comes to documentation, property valuation, legalities, and other critical information. Make certain that you only rely on facts.
Indian Real Estate Agent: Referrals – A good real estate agent has satisfied clients. It is not enough to simply understand how to become a real estate agent in India. You must learn from your colleagues, work hard, deliver your best, and earn your clients' trust. This will result in referrals from your valued clients and will help you establish a name in the real estate market.
Indian Real Estate Agent:
Online presence – In this digital age, where everyone relies on the internet for information, having an online presence is critical to gaining credible customers and growing your business. Have a Google business listing, an active social media page, and/or a basic website where potential customers can learn about your company and connect with you. When prospective clients can easily connect with you, your chances of gaining their business increase.
Indian Real Estate Agent: Consultant role – If you want to learn how to become a successful property dealer in a competitive market, you must focus on more than just selling. Acting as a consultant rather than a salesperson will help you understand client needs, provide appropriate options, and assist them in determining what is best for them. This will not only ensure customer satisfaction, but will also help you gain clients' trust and, as a result, testimonials.
Eligibility Criteria for Becoming a Real Estate Agent in India
Anyone with sufficient knowledge in the field, excellent networking and negotiating skills, and knowledge of market trends can apply to become a real estate agent. While there are no minimum qualifications require to pursue this career path. It is critical to meet the following basic requirements:
The applicant must be at least 18 or 19 years old, depending on the state from which he or she is applying.
He or she must pass the real estate licence examination in the state in question.
Should complete the required pre-license education in accordance with the state's educational qualification requirements to become a licenced real estate agent.
What Are the Consequences of Non-Registration?
Every aspiring real estate agent is interested in learning how to become a real estate agent in India. The first and most important step, as we've seen, is to register with RERA and obtain a professional licence. If a broker or agent continues to conduct business without being registere, he or she will be fine Rs. 10,000 per day for any defaults. The penalty price may also be up to 5% of the selling price of the property.
Real Estate Agent Mistakes to Avoid
Now that you've learned how to become a real estate agent in India. Let's take a look at some of the practises that a real estate agent should avoid in order to be successful and avoid getting into trouble: 
Do not conduct business unless you have first registered with RERA.
Avoid getting registere through deception or fraud.
Saying 'No' to small, last-minute jobs just because they aren't on your job description is a bad idea. Taking care of last-minute tasks may help you close the deal.
Don't set unrealistic expectations for your clients.
Avoid wasting your client's time with poor communication, abrupt cancellation of plans without valid reasons. Failure to return calls, and so on.
Indian Real Estate Agent
Avoid selling unregistered real estate.
Avoid engaging in deceptive or unfair business practises.
Don't be the one who misplaces important client or land documents.
Avoid advertising services that will not be provided to the client.
Avoid having acrimonious relationships with your peers and competitors who are succeeding in business.
Do not file any fee disputes with your client.
Avoid prioritising your own interests over those of your clients, or prioritising one client's interests over those of another.
Avoid clients who are dishonest, unethical, or discriminatory.
The above information should have answered your question about how to become a real estate agent in India. Becoming a property dealer is not difficult if you have expert knowledge of the real estate market and a natural talent for it.
You can proudly call yourself a professional real estate agent if you register under RERA and obtain your license/certificate. Furthermore, with the right strategies and characteristics, you can have a highly successful real estate career.
---
You're looking for Rental Home In Navi Mumbai we have the Best Rental Properties In Navi Mumbai Like Ready to Move & Nearby possession: https://navimumbaihouses.com/property/search/rent/navi-mumbai-all/
If you want daily property update details please follow us on Facebook Page / YouTube Channel / Twitter
Disclaimer:
The views of this expressed above are for informational purposes only based on the industry reports & related news stories.
Navimumbaihouses.com
does not guarantee the accuracy of this article, completeness, or reliability of the information & shall not be held responsible for any action taken based on the published information.
Also Read
Buy Properties in Navi Mumbai