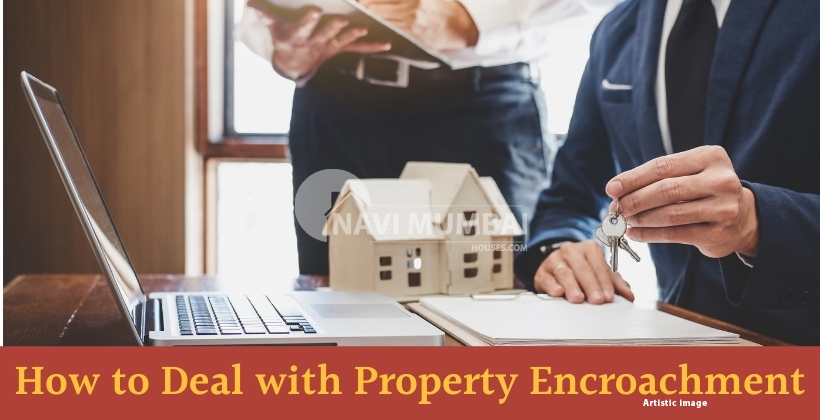 How to Deal with Property Encroachment
In India, property encroachment is a major problem. Here's what the law says about it, as well as how to address it legally or reach an out-of-court settlement.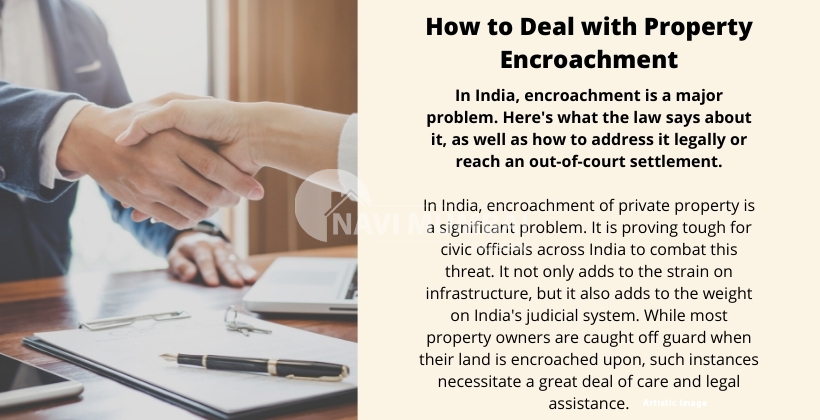 In India, encroachment of private property is a significant problem. It is proving tough for civic officials across India to combat this threat. It not only adds to the strain on infrastructure, but it also adds to the weight of India's judicial system. While most property owners are caught off guard when their land is encroached upon, such instances necessitate a great deal of care and legal assistance.
---
Are you looking for a 2 BHK Rent Home in Kharghar Navi Mumbai? Then you may contact Navimumbaihouses.com the biggest property portal to Rent / Sale / New Projects properties in Kharghar and Navi Mumbai.
---
What does the term "encroachment" mean?
Encroachment occurs when someone infringes on the owner's property rights. It might imply erecting a construction on someone else's land or property. Property encroachers frequently target unoccupied or unattended properties. Encroachment is typically done on purpose when a person chooses to deliberately breach the boundaries of another person's property or land.
Encroachment is one example of encroachment.
Encroachment occurs when one of your neighbors renovates their house in such a manner that a portion of their property extends into your region. It might be a balcony that extends into your parking spot or terrace. It might also be an expansion of any other place that extends over your patio, obstructing or not obstructing ventilation.
In India, there are rules against encroaching on other people's property.
Encroachment occurs when someone illegally enters the property of another person with the purpose to commit an offense or intimidate any person in possession of such property and remains there illegitimately, according to Section 441 of the Indian Penal Code (IPC), 1860. Encroachment is punishable under Section 447 of the IPC, which carries a maximum sentence of three months in jail and/or a fine of Rs 550. If you want to deal with encroachment legally, you should apply to the court for an injunction and damages under Order 39 (rules 1, 2, and 3).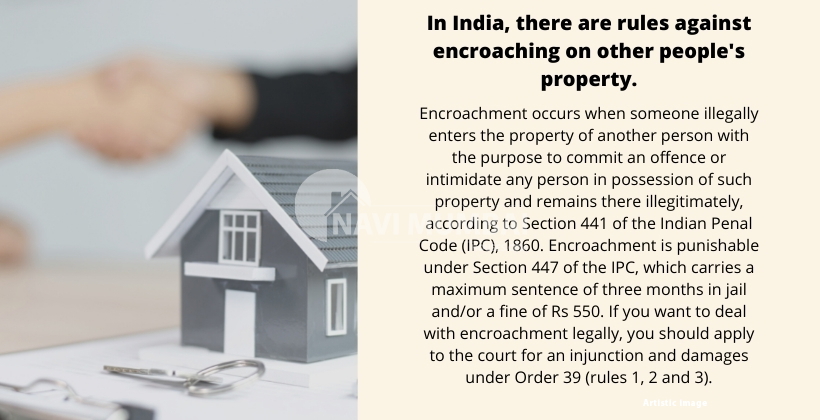 How do you handle encroachment on your property?
You may deal with encroachment on your property in a variety of ways. Here are some of the more straightforward options for dealing with the situation:
Mediation
This is the best and most straightforward solution to the problem. Carry the property paperwork with you throughout the procedure to establish your case and make an amicable point. You might be able to settle the dispute without going to court, saving both parties money on legal expenses.
The property is being sold.
You might consider selling the encroached property to the encroacher in order to recover your investment.
Divide and sell
If an encroacher refuses to leave, the parties can sell the property and divide the proceeds according to their respective shares. In such situations, it is common to seek expert advice.
The region is being rented
You can rent out the area to the encroacher or allow them to use your property for a set length of time in exchange for money if the encroacher does not desire legal possession but only wants to use it for a set period of time. Before something goes into effect, be sure the legal agreement is finalized.
---
If You're Looking for a Rental Property in Navi Mumbai We Have the Best Option For You 2 BHK Flats for Rent in Kharghar Navi Mumbai: https://navimumbaihouses.com/2-bhk-flats-for-rent-in-kharghar/ 
---
The legal process for dealing with encroachment on private property
If you want to go the legal route and deal with land encroachment, you'll need to engage a lawyer to create the necessary paperwork declaring that your property has been encroached upon. This is sometimes referred to as the "quiet title" action.
If you don't want to sell the property, you can file an "ejectment action" to evict the encroacher from your land. The encroacher may be charged with adverse possession, or the court may allow him a restricted usage of the land, known as a "prescriptive easement."
Property owners should be aware that there are three types of trespass:
Individual (when the rightful owner of the property is restricted from doing what he could previously do)
relating to chattel (when a person disturbs the rightful owner of the property, by using the movable property of the owner)
Refers to a piece of real estate or a plot of land.
The court may issue an injunction to stop or restrain the encroacher. You might even take your case to court and ask for compensation for the intrusion. This is generally computed using the land's current value and an estimate of the percentage of loss suffered.
---
We are the Real Estate Web Portal to Buy Sell and Rent properties in Navi Mumbai, Mumbai, and Thane. We can help you Buy Properties at Affordable Prices at your desired location. For more information Call Us On +91 8433959100
If you want daily property update details please follow us on Facebook Page / YouTube Channel / Twitter
Disclaimer:
The views of this expressed above are for informational purposes only based on the industry reports & related news stories.
Navimumbaihouses.com
does not guarantee the accuracy of this article, completeness, or reliability of the information & shall not be held responsible for any action taken based on the published information.
Also Read
Buy Properties in Navimumbai