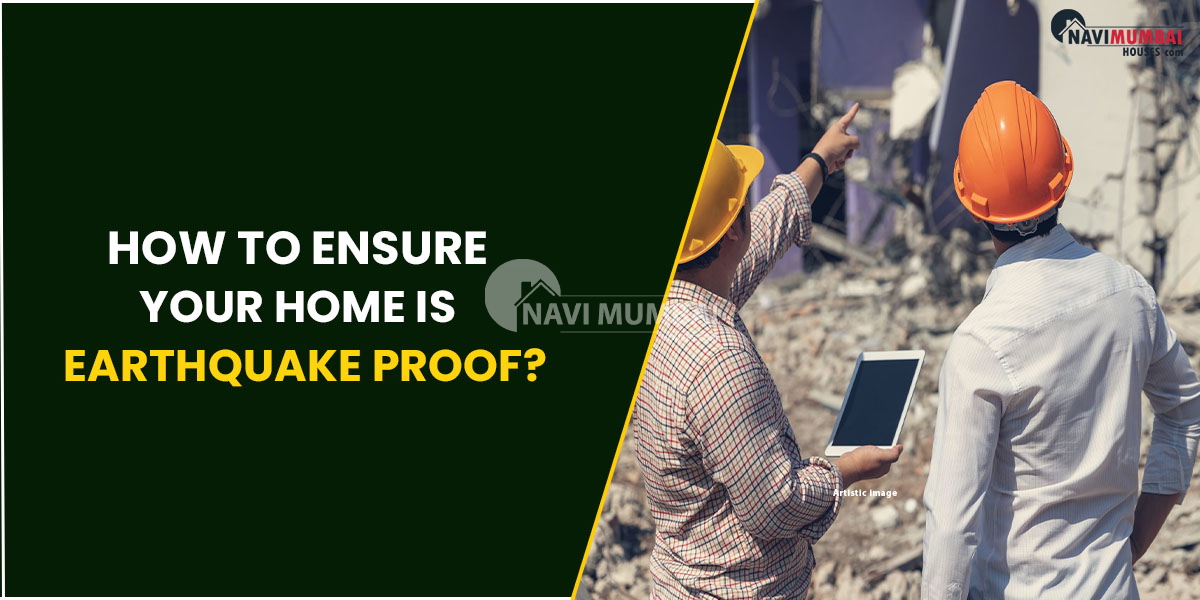 How To Ensure Your Home Is Earthquake Proof?
We look at India's seismic zones and the building codes that a homeowner can use to determine whether his residence is earthquake-proof.
Recent earthquakes
The National Center for Seismology of India recorded a magnitude 3.6 earthquake in Katra, Jammu and Kashmir on February 17, 2023 at 5:01 am, at a depth of 10 km. However, there was no mention of any property harm.
The world's greatest earthquake, measuring 7.8 on the Richter Scale and striking Turkey on February 6, 2023, was follow by another earthquake, measuring 7.7, that occurred nearly 9 hours later. The earthquake was follow by nearly 2,100 aftershocks, and more than 43,000 deaths have been cited.
Nepal was struck by a 5.8-magnitude earthquake on the Richter Scale at 2:28 PM on January 24, 2023, according to a statement from the National Center for Seismology (NCS). Delhi and the region around it experienced powerful earthquake tremors.
---
Are you looking 2BHK flat for Rent In Kharghar? 
---
The centre of the earthquake was located 148 km east of Pithoragarh, Uttarakhand.
Earthquake of Magnitude:5.8, Occurred on 24-01-2023, 14:28:31 IST, Lat: 29.41 & Long: 81.68, Depth: 10 Km ,Location: Nepal for more information Download the BhooKamp App https://t.co/gSZOFnURgY@ndmaindia @Indiametdept @Dr_Mishra1966 @Ravi_MoES @OfficeOfDrJS @PMOIndia pic.twitter.com/y1Ak7VbvFB

— National Center for Seismology (@NCS_Earthquake) January 24, 2023
NCS Twitter as a source
Recent tremors have been felt, among other places, in sections of Rajkot, Gujarat, and even the National Capital Region (NCR) of Delhi. Higher magnitude earthquakes can result in significant loss of life and property, which makes the structural integrity of structures and the need for the finest seismographs essential. As many as 95% of homes in the nation are at risk from earthquakes, according to a 2016 study by the Building Materials Technology Promotion Council (BMTPC) name "Earthquake Hazard Zoning Maps." The BMPTC is an organisation supported by the government that promotes suitable construction technology. Let's learn about India's tectonic zones and how to construct houses that can withstand earthquakes.
The earthquake zones in India
In India, 59 percent of the country's territory is vulnerable to earthquake harm. There are four distinct zones on this territory.
Zone V
Zone V, the seismically most active area, includes portions of the Himalayan border in north and north-east India, the Kutch region in west India, sections of Jammu and Kashmir, Himachal Pradesh, north Bihar, the Andaman and Nicobar Islands, and Uttaranchal. Earthquakes have the potential to cause significant damage in this area.
Zone IV
Includes some of Jammu and Kashmir, Himachal Pradesh, the National Capital Region of Delhi, Sikkim, northern Uttar Pradesh, West Bengal, Bihar, some of Maharashtra (close to the west coast), Gujarat, and Rajasthan. Zone IV is a less busy zone than Zone V, but it can still cause a lot of damage.
Zone III
Includes the residual areas of Uttar Pradesh, West Bengal, Rajasthan, Bihar, Jharkhand, Chhattisgarh, and Maharashtra that are not in Zones IV or V and is, on balance, better than those two zones. Madhya Pradesh, Orissa, Andhra Pradesh, Tamil Nadu, Kerala, Goa, Lakshadweep, and Karnataka are also include in this.
Zone II
This is the safest or technically the least active region and covers parts of India that do not lie in any of the aforementioned zones.
earthquake-resistant home
The Bureau of Indian Standards and building regulations provide guidance for the construction of earthquake-resistant homes and physically sound structures. The necessary internal components for an earthquake-resistant building are depicted in the accompanying image.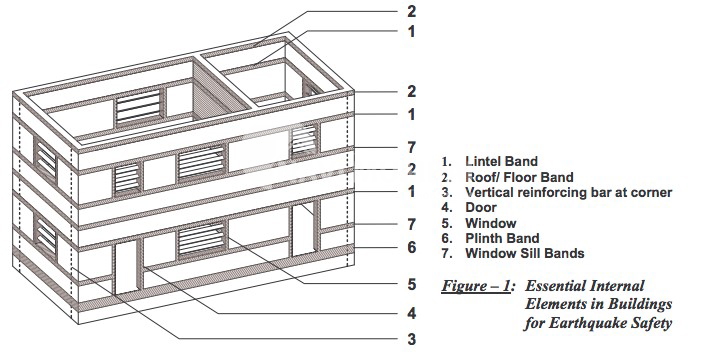 How to build earthquake resistant house: Best materials to use
Construction elements that are immune to earthquakes include wood, concrete, and wood. To create concrete-based houses with steel slabs earthquake-resistant, additional support must be provided.
How to evaluate the safety of domestic brick structures in Delhi using an earthquake proof house?
Includes earthquake-prone and damage-prone regions, the NCT of Delhi is one of them. A maximal earthquake strength of VIII on the MSK Intensity Scale is probable in places like this. Kutcha constructions and stone buildings might sustain harm as a result of this.
According to the National Institute of Disaster Management, structures built in sandy soil with a high water table run the risk of suffering greater harm than those built with high-quality cement mortar.
Here's how to determine whether your home is earthquake-resistant or how much harm it might sustain.
Number of storeys
Buildings with one or two stories and walls that are one block (nine inches) thick will generally be safer than those with three stories. If a fourth storey is built, it will be extremely dangerous and make life in the lower storeys more dangerous.
Thickness of the load carrying walls in each storey
Half-brick weight bearing walls that are 412 inches thick can make a building dangerous. And if they are use in upper levels, they may even have catastrophic effects. Walls that have too many window apertures deteriorate in strength. The danger of devastation will also rise if there are tiny piers use in the gaps between openings that are less than 45 centimetres. The optimal openings' total breadth should be as follows:
| | |
| --- | --- |
| Building type | Combined width of openings (for windows) |
| 3-4-storeyed building | Less than one-third of the length of the wall |
| 2-storeyed building | Less than 42% |
| 1-storeyed building | Not more than 50% |
Earthquake Proof: Used in building as mortar
The structure will be more secure if the mortar is sturdier. One part cement to every six parts grit is the ratio of mortar that is recommended for use in order to maintain safety. The NIDM claims that lime-surkhi or lime-cinder cement is much weaker.
Earthquake Proof: Horizontal seismic bands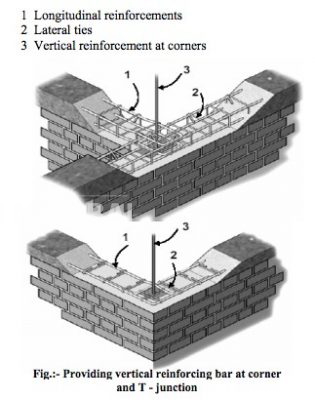 Longitudinal seismic waves
The horizontal bands that are given at the plinth level and lintel level of doorways. Windows, and exterior and interior walls are crucial seismic safety components. These make the walls more resistant to seismic damage and give the house an earthquake-proof structure.
Earthquake Proof: Vertical bar reinforcement
Vertical reinforcing rods should be install from the base to the upper roof slab at every corner and T-junction of the chamber.
Earthquake Proof: Questions about the stability of structures
What is retrofitting?
Retrofitting is the term for fortifying a structure to prevent earthquake-related harm. Because some structures may need to be retrofitted due to outdated construction byelaws. Before upgrading, one should employ a qualified structural engineer to inspect the building.
What is a proof of building safety?
This document attests to the structure's building plan meeting the necessary safety standards in the event of an earthquake or cyclone. After a comprehensive examination, the civic office typically issues the structural safety certificate. The certificate is evidence that the building has been found to be suitable for use after sufficient verification and environmental testing. The Delhi government mandated the building safety certificate as a requirement for real estate filing in 2011.
Earthquake Proof: What is on-site EWS?
The On-Site Early Warning and Security System (On-Site EWS) detects the initial seismic waves and sounds an alert. It can even be set to stop ongoing activities like parking elevators, turning off power, water. And gas, or even closing entrance and exit gates. Both residential and business endeavours may benefit from this.
Earthquake Proof: What to do during an earthquake?
Having an evacuation plan is always a good idea, and you should talk about it with everyone who is accountable in your family or building. The National Disaster Management Section has provided the following seismic response strategy:
Switch off the power fuse box and other services.
If an escape is nearby, quickly run out while holding your arms over your head.
Simply "Drop-cover-hold" or squat and lay down under a piece of solid furniture while covering as much of your upper body as you can if you become trapped in a stairwell or high-rise building.
Avoid utilising the lifts.
If you are on the road, find a spot that is unoccupied and far from any buildings, bridges, subway stops, or power lines.
When driving, you need to halt and transfer to a secure area.
Keep your cool but be ready in case there are any tremors.
---
You're looking for Buy Home In Kharghar we have the Best Buy Properties In Kharghar Like Ready to Move & Nearby possession: https://navimumbaihouses.com/property/search/buy/kharghar/
If you want daily property update details please follow us on Facebook Page / YouTube Channel / Twitter 
Disclaimer:
The views of this expressed above are for informational purposes only based on the industry reports & related news stories.
Navimumbaihouses.com
does not guarantee the accuracy of this article, completeness, or reliability of the information & shall not be held responsible for any action taken based on the published information.
Also Read
Rent Properties in Kharghar