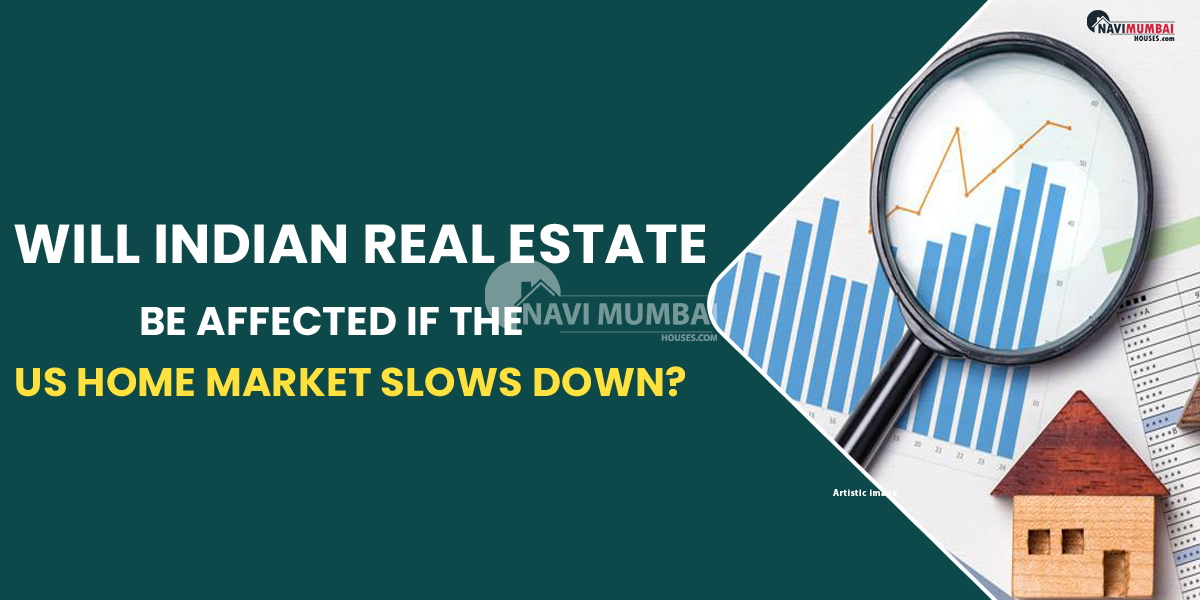 Will Indian Real Estate Be Affected If The US Home Market Slows Down?
Some Indian analysts are concerned about reports of a coming housing recession in the US. According to a survey by the National Association of Realtors, house sales had decreased for six straight months in July 2022, despite stable pricing. Indians are still quite aware of the effects of the previous housing recession, which occurred in 2008. The Lehman Brothers bankruptcy-related housing meltdown and the ensuing global financial crisis also had an impact on the Indian housing sector. Although the Indian housing sector did not experience a bear market as severe as that of the US and several other developed economies, prices there also fell between 10% and 20%.
---
Are you searching for 1 bhk flat in kalyan?
---
Property markets in the US and India: Differences and Similarities
Home sales in the US market have been declining, according to analysts monitoring the economies of both nations. There has been a contraction of nearly 20% over the past 12 months. As a result, the demand offtake has decreased by about 20% while the median sales prices have also decreased by almost 20%. There are various factors to consider, including the looming recession in the US economy as a whole caused by the GDP drop in the previous two quarters. And the remarkable increase in mortgage rates from 3.3% to roughly 6%.
As a result, the EMI and affordability for mortgage property buyers have increased significantly. Clearly, there is a concern of an economic downturn, and as a result, substantial expenditures in new homes are being made cautiously.
When he claims that because costs have increased due to rising commodity prices, home savings have decreased and inflation is at its highest, MD and CEO of Nisus Finance, acknowledges the crisis in the US housing market. But he disagrees that it will have an impact on the Indian home market.
"Unlike the Lehman crisis, which also appeared to impair the Indian housing market, this does not appear to be the case, as the Indian real estate market already began to boom in 2009 and 2010. Unlike the US economy, which suffered for almost three years, Indian real estate was not so negatively affected for more than a few quarters. I don't notice any differences in the atmosphere right now. Prices are stable in both countries since there is less room for error due to rising input costs that are not keeping pace with rising sales prices. Therefore, there hasn't been much room for a price reduction.
Economic crises at Lehman Brothers and Covid
The current situation is quite different from what occurred in 2008 during the Lehman bankruptcy. The failure of some of the biggest financial institutions in the US led to the Lehman Brothers global financial crisis, which was caused by integrated banking institutions. All international markets were directly impacted. This time, during Covid, several economies around the world have chosen various recovery routes. India was much more responsible than the US, which spent trillions of dollars putting money in people's hands. Nothing had been overspent. India understood that if you spend, you'll end up with a deficit and a high rate of inflation.
The Indian housing sector is least affected, according to industry experts. Because the country produces many key raw materials domestically as opposed to the US. Whose economy is mostly dependent on imports. When it comes to building and construction supplies, India is mostly independent. Because there is less available inventory in the US, prices are stable, making it a seller's market. Due to its rapid inventory production, India does not face this problem. The amount of new inventory in this area post-Covid has actually tripled in the past 12 months.
The majority of sales in the US market occur toward the end of the manufacturing cycle, therefore there aren't many off-land sales there either. In India, consumers like buying off-land so they may plan their investment over a three to five-year period. Despite a 100 BPS hike in the repo rate, home purchases have not slowed down in this region of the world. Of course, there is some trepidation today that the ecstasy we experienced in the previous 18 to 24 months may be followed by a slight downturn.
Housing demand in the US and India
However, generally speaking, the Indian housing market cannot be compared to the US market in any circumstance. There are some similarities, but there are also more differences than similarities. For instance, our GDP growth is the highest in the world, companies are growing along with their market capitalization. The IT industry is booming and employees are the biggest segment of consumers. Interest rates have also increased, but they have not doubled. In India, there isn't much of a difference between the 5% deposit rate and the 7% borrowing rate. Thus, there is just a minimal 2% difference between the mortgage rate & deposit rate. Currently, it ranges from 3% to 4% globally.
Due to visa restrictions and penalties placed on some nations, including India. The demand for migrants is also slowing down in the US. In India, city growth and urbanization are occurring more quickly than in the US. In contrast to India, which has traditionally had an asset-heavy economy where the majority of the money has been invested in real estate, gold, and other tangible goods. The US has also always been an asset-light economy where individuals chose to have fewer assets.
2 BHK FLAT FOR RENT IN MUMBAI 
---
You're looking for Homes in Dadar we have the Best Properties In Mumbai Like Ready to Move:https://navimumbaihouses.com/property/search/buy/dadar/
If you want daily property update details please follow us on Facebook Page / YouTube Channel / Twitter
Disclaimer:
The views of this expressed above are for informational purposes only based on the industry reports & related news stories.
Navimumbaihouses.com
does not guarantee the accuracy of this article, completeness, or reliability of the information & shall not be held responsible for any action taken based on the published information.
Also Read
Rent Properties in Sewri