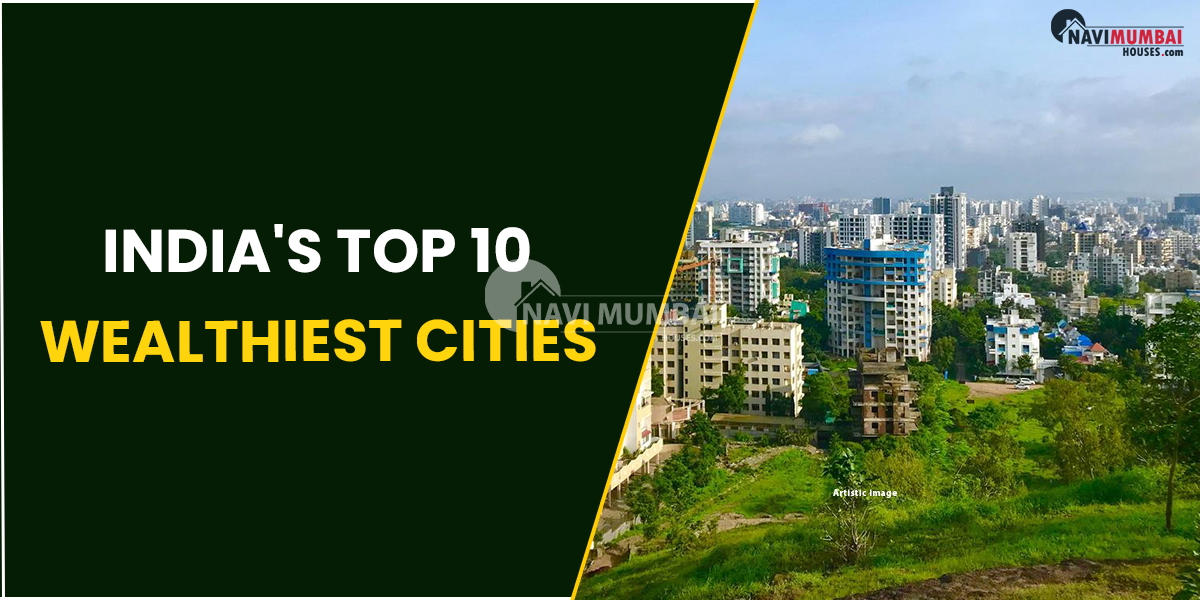 India's Top 10 Wealthiest Cities : Richest Urban Centres In The Nation
India's Top 10 Wealthiest Cities : Are you interested in learning which Indian towns have unmatched riches and prosperity? Have you ever pondered what distinguishes these metropolitan treasures from the vast majority of Indian metropolises? Let's set out on a thrilling journey across India's top ten wealthiest cities and discover the mysteries behind their incredible development tales.
India's Top 10 Wealthiest Cities : Things we covered for you
Criteria for Ranking Cities by Richness
Top 10 Richest Cities in India
In this article, we'll delve deeply into the economic might of these prosperous cities to identify the driving forces behind their success. Along the way, we'll talk about the ranking criteria and sprinkle our journey with intriguing facts and data that highlight these cities' outstanding accomplishments.
---
Are You Looking 2BHK Flat For Sale In navi Mumbai? 
---
Ranking Cities by Richness: Criteria
There are several things to consider when evaluating a city's wealth and success. A thorough study of these elements enables us to get perceptions of a city's economic strength and development potential. We will go through some of the most significant factors used to determine which Indian cities are the richest in this part.
Gross Domestic Product (GDP) :
estimates the monetary worth of all products and services generated in an area over a given time period. It is a key economic statistic. It is crucial for determining a city's economic power, productivity, and growth. A high GDP indicates a robust economy, making it a crucial consideration for determining the wealthiest cities.
Per Capita Income:
The average income that each person in a city makes is shown by the per capita indicator, which is another important statistic. It aids in gauging the level of living and general wellbeing of a city's populace.
greater living standards, access to superior healthcare and education, and a greater quality of life are all characteristics of cities with higher per capita incomes that all add to a city's overall wealth.
Employment Possibilities –
A city's prosperity is greatly influence by the quantity and variety of employment options. Cities with strong employment markets and booming businesses draw in highly qualified workers, which promotes economic expansion.
Similarly, important signs of a city's wealth include a low unemployment rate and plenty of possibilities across numerous industries, including banking, technology, and manufacturing.
2BHK Flat For Rent In Navi Mumbai
Infrastructure:
A city's ability to thrive and prosper economically depends on its infrastructure. A city's total prosperity and attractiveness are influenced by the effectiveness of its public services, utilities, and transportation networks.
Additionally, a city's wealth grows because of its well-developed infrastructure, which fosters economic growth and attracts new investments and enterprises.
Quality of Life–
The general standard of living in a city is crucial to its wealth. This covers amenities for recreation, health care, education, and environmental quality. Additionally, a city's richness is reflected in its great quality of life, which attracts businesspeople, tourists, and professionals, further fostering the city's economic development and success.
Business Environment:
A city's prosperity is greatly influence by how easy it is to conduct business there. A welcoming business climate that is mark by helpful government policies, less red tape, and easy access to resources draws investment and encourages entrepreneurship.
Cities with favourable business environments thus frequently see quick economic growth, boosting wealth and prosperity.
India's Top 10 Richest Cities
Let's reveal the top 10 wealthiest cities in India using the aforementioned criteria.
Mumbai
The Bombay Stock Exchange (BSE) and the National Stock Exchange (NSE) are located in Mumbai, the nation's financial hub. The city's $368 billion GDP is around 6.16% of India's overall GDP. The city has a $4,909 per capita income and a wide range of employment options in industries including banking, entertainment, and information technology.
Mumbai has a well-developed transit system and is well-known for its famous sites, including Marine Drive and the Gateway of India. The city contains upscale suburbs like Malabar Hill and Bandra as well as opulent housing societies like Antilia, Mukesh Ambani's home.
Mumbai is home to upscale malls such as Palladium and High Street Phoenix as well as upscale clubs like Trilogy and Kitty Su. In addition, Mumbai is the pinnacle of elegance and refinement because to its thriving nightlife and fine dining establishments that cater to the wealthy.
Delhi
With a $293 billion GDP, Delhi, the capital of India, ranks second among the richest cities. The city's GDP contribution to the nation's GDP is around 4.94%, and its per capita income is $4,027. As a result, Delhi offers a wide range of employment prospects in industries including retail, information technology, and tourism.
The city is a fusion of history and modernity, with skyscrapers, a busy metro system, and famous landmarks like the Red Fort and Qutub Minar. Delhi is a city of luxury, with posh neighbourhoods like Lutyens' Delhi and Golf Links offering excellent living quarters for the city's elite.
Additionally, rich consumers looking for luxury products and experiences are catered to by high-end retail centres like DLF Emporio and Select CITYWALK. At exclusive Privee and Playboy Club clubs, Delhi's affluent may experience a spectacular nightlife. In addition, the city is home to several fine-dining places offering delectable cuisines from throughout the world.
Delhi's place among India's top 10 richest cities is cemented by the city's people' opulent lifestyle. Which is a reflection of the city's economic might and cultural variety.
Bangalore
Bangalore, India's technical crown gem, has an astounding GDP of $110 billion and makes up 1.87% of the country's total GDP. This booming metropolis, which has a per capita income of about $3,961, is a bustling centre for innovation and draws qualified people from all over the world.
Bangalore's allure is enhance by its nice environment and vibrant nightlife. Bangalore is tucked away in a mesmerising combination of lush vegetation and urban elegance. The affluent areas of the city, such Indiranagar and Koramangala, are home to luxurious houses for the upper class. The city's elite may enjoy special retail experiences at upscale shopping destinations including UB City and Phoenix Marketcity.
Exclusive clubs like Skyye and XU, where Bangalore's elite society mingle in elegance, shine in the city's nightlife. The diversified food scene, which has outstanding fine-dining restaurants and top-notch gourmet pleasures, also tantalises the senses.
The city also offers a wide selection of opulent spas for lavish rejuvenation. Bangalore is among India's top 10 richest cities because to its upscale lifestyle, vibrant IT environment, and alluring attractiveness. But as this thriving city continues to grow, one is left to ponder what heights Bangalore will eventually attain.
Hyderabad
With a $74 billion GDP, Hyderabad, the City of Pearls, makes up 1.24% of India's overall GDP. The city's average per-person income is currently $3,380. Hyderabad is a significant centre for the pharmaceutical, biotechnology, and information technology sectors, providing a variety of work possibilities.
The Charminar and the Golconda Fort are two of the city's well-known historical sites. Hyderabad also contains upmarket neighbourhoods like Jubilee Hills and Banjara Hills, as well as expensive retail centres like GVK One and Inorbit Mall.
The city's aristocracy, who lead a sophisticated lifestyle, are catered to by exclusive clubs like Aqua and Kismet. Top-tier eateries and five-star hotels may be found in Hyderabad, where locals and guests can enjoy delightful experiences.
Chennai
With a $66 billion GDP, Chennai, the charming capital of Tamil Nadu, makes up 1.12% of India's overall GDP. The per capita income in the city is around $3,000. The automotive, information technology, and healthcare sectors help Chennai, a significant economic hub, develop and provide a wealth of employment prospects for qualified workers.
Chennai takes pride in its ageless temples and thriving traditional music and dance scene because of its rich cultural past. Several famous people call the city home, including the actors Rajinikanth and Kamal Haasan, who live in lavish mansions in affluent areas like Boat Club and Poes Garden. For Chennai's elite, these affluent neighbourhoods provide superb living environments that exude exclusivity and refinement.
Chennai's high-end malls, such Phoenix MarketCity and Express Avenue, are where the city's wealthy citizens can indulge in first-rate retail experiences. Additionally, chic nightclubs that serve to Chennai's elite class, such Chip Stead and Blend, provide a glitzy nightlife.
The city's culinary scene is a sanctuary for food lovers, with several fine-dining places offering mouthwatering gourmet cuisine from throughout the world. There is little question that this magical city's brilliant future will be filled with numerous wonders still to be uncovered as it thrives.
India's Top 10 Wealthiest Cities : Kolkata
With a $63 billion GDP, Kolkata—India's cultural capital—exudes sophistication and makes up 1.05% of the country's GDP. The city has a per capita income of about $2,780. Kolkata, which is home to a number of industries like jute, tea, and textiles. Offers a wide range of work possibilities and draws experts from many sectors.
Historic sites like the Victoria Memorial and the Howrah Bridge are abundant in this metropolis and provide as a dramatic contrast to its opulent, contemporary way of life. Additionally, Kolkata's wealthier citizens may enjoy luxurious living quarters amid the city's thriving fashion district thanks to the city's posh neighbourhoods like Alipore and Ballygunge.
Since Kolkata is the hometown of well-known designers like Sabyasachi Mukherjee and Anamika Khanna, the city has a strong sense of style.
Luxury shopping centres like Quest and South City Mall satisfy the affluent's taste for high-end goods and upscale retail encounters. Furthermore, Kolkata's upper society takes advantage of the glitzy nightlife at exclusive clubs like Tantra and Roxy where they may mix and mingle in style.
India's Top 10 Wealthiest Cities : Pune
Pune, the "Oxford of the East," exudes an attraction that is impossible to ignore thanks to its $48 billion GDP and 0.81% share in India's booming economy. The city's population are wealthy, as seen by the per capita income of almost $2,640.
Pune attracts ambitious people looking for a lucrative job since it is a centre for education and a leader in the automotive and information technology sectors.
The rich cultural history of Pune combines well with its modern atmosphere to create an intriguing tapestry of experiences. The wealthy residential neighbourhoods of the city, such Koregaon Park and Kalyani Nagar. Are evidence of the sophisticated preferences of Pune's upper class.
Pune's upscale shopping centres, such Phoenix MarketCity and The Pavillion, provide a pleasant retail experience for the discriminating customer by presenting desired brands and rare designer collections.
The city's trendy audience is also drawn by Pune's spectacular nightlife to exclusive clubs like Miami and Penthouse. Where they may experience amazing evenings of elegance and excitement.
The city's food scene is a culinary haven. With upscale eateries and five-star hotels delivering mouthwatering gourmet dishes to please even the most discriminating palette.
India's Top 10 Wealthiest Cities : Ahmedabad
The largest city in Gujarat, Ahmedabad, boasts a $47 billion GDP that makes up 0.79% of India's overall GDP. The average per-capita income in the city is $2,590. Ahmedabad is a centre for the chemical and textile industries, providing a large number of employment options.
The Sabarmati Ashram and the Adalaj Stepwell are only two of the city's architectural wonders. Luxury shopping centres like AlphaOne and Ahmedabad One as well as upmarket residential neighbourhoods like Prahlad Nagar and Bodakdev may be found in Ahmedabad.
The aristocracy of the city, who lead a sophisticated lifestyle. Are catered to by exclusive clubs like Cyclone and Neelkanth Patang. Additionally, Ahmedabad's food culture provides a selection of excellent dining venues where locals may enjoy delectable cuisines.
India's Top 10 Wealthiest Cities : Surat
The "Diamond City of India," Surat, has a $40 billion GDP and makes up 0.68% of India's overall GDP. The city has a $2,530 per capita income. The textile business and the diamond cutting and polishing industry are both well-known in Surat.
The city is recognise for its diverse cuisine scene, stunning structures like the Surat Castle and the Dutch Garden. And a lot of employment options. Additionally, Surat is home to opulent neighbourhoods like Pal and Vesu as well as upscale retail centres like VR Surat and RahulRaj Mall.
The city's elite, who lead a refine lifestyle, are catered to by exclusive clubs like The Hangout and The Arena. There are several expensive restaurants and fine dining venues in Surat where locals may enjoy in gourmet cuisine.
---
Are you looking for a house for rent in Kharghar? We have semi-furnished, unfurnished, and furnished flats available for rent in various sectors of Kharghar. We have 1 BHK starting at Rs. 10,000 per month, 2 BHK starting at 15,000 per month, and 3 BHK flats for rent in Kharghar starting at 18,00 per month. We can provide you with the list of rental properties in Kharghar, from where you can choose the one which fits your budget and choice.
---
India's Top 10 Wealthiest Cities : Visakhapatnam
With a $26 billion GDP, Visakhapatnam, popularly known as Vizag, contributes 0.44% of India's total GDP. The city has a per capita income of about $2,450. Steel, oil, and information technology are all booming industries in Vizag, which is a major industrial centre.
The city has several employment options and is well-known for its beautiful beaches, including Rama Krishna Beach and Rushikonda Beach. Furthermore, Visakhapatnam is home to affluent neighbourhoods like MVP Colony and Seethammadhara as well as upmarket retail centres like CMR Central and V Square.
The wealthy elite of the city are catered to by exclusive clubs like Chrome and Moksh. The culinary scene in Vizag is home to several five-star hotels and fine dining venues where locals and tourists can enjoy delectable cuisines.
Isn't it amazing to see how India's top 10 wealthiest cities reflect the country's exceptional economic growth and wide-ranging opportunities? These cities, ranging from Bangalore's enticing attractiveness to Mumbai's humming financial centre. Certainly give a sense of the enormous potential that the nation has to offer.
---
You're looking for Buy Home In Navi Mumbai we have the Best Buy Properties In Navi Mumbai Like Ready to Move & Nearby possession: https://navimumbaihouses.com/property/search/buy/navi-mumbai-all/
If you want daily property update details please follow us on Facebook Page / YouTube Channel / Twitter 
Disclaimer:
The views of this expressed above are for informational purposes only based on the industry reports & related news stories.
Navimumbaihouses.com
does not guarantee the accuracy of this article, completeness, or reliability of the information & shall not be held responsible for any action taken based on the published information.
Also Read
Sale Properties in Navi Mumbai