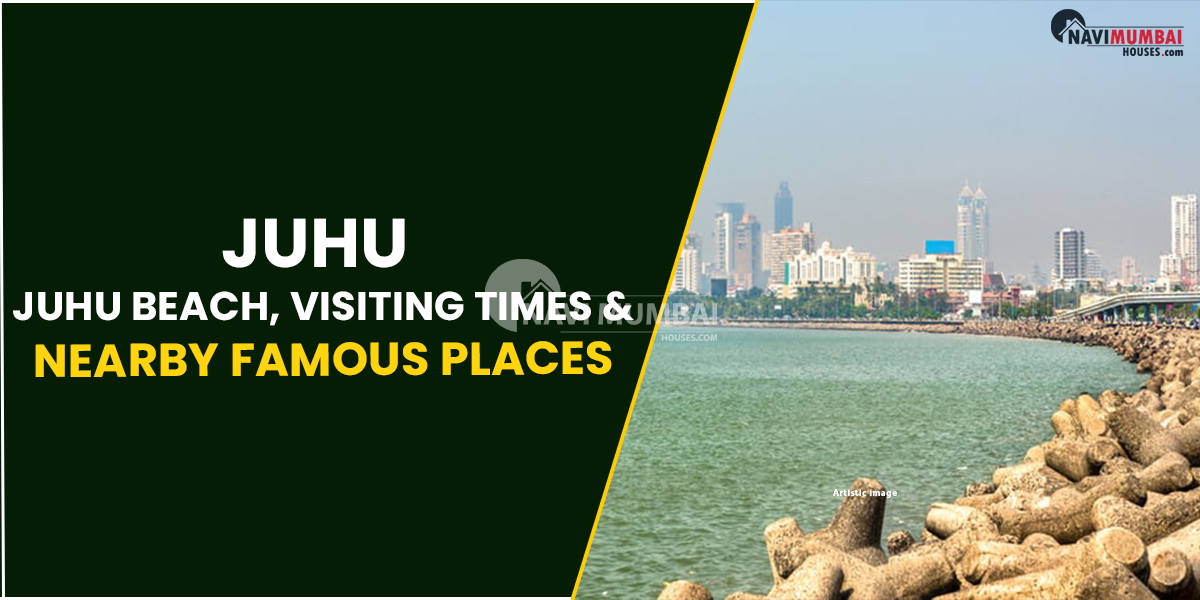 Juhu : Juhu Beach, Visiting Times & Nearby Famous Places
Juhu is a chic, affluent seaside district in Mumbai. It is home to the city's jewels, including Juhu Beach, the Prithvi Theatre, studios, and the ISKCON Temple. Juhu is one of the city's wealthiest neighbourhoods, and it is home to many Bollywood celebrities. Juhu has it all: designer shops, upscale restaurants with ocean views, hip pubs, discos, numerous hotels along the beach, and a variety of street foods.
With a few malls, markets, houses, and apartments, Juhu has a good mix of retail, social, and residential infrastructure. Furthermore, the area is densely packed with high-end celebrity homes, apartments, and skyscrapers. In recent years, the demand for real estate in and around Juhu has skyrocketed. Property prices in Juhu are quite high, and it is mostly preferred by those with deep pockets.
The Arabian Sea borders Juhu on the west, Versova on the north, Santacruz and Vile Parle on the east, and Khar on the south. Santacruz and Andheri are two other affluent areas near Juhu. The area is served by the Vile Parle train station, D. N. Nagar metro station as well as other modes of transportation.
---
Are you looking flat for sale in juhu?
---
Nearby Juhu Tourist Attractions
There are many attractions in and around the Juhu area. The following are some of the best places to visit near Juhu.
Juhu Beach or Chowpatty
Outsiders refer to Juhu Beach as Juhu Chowpatty, which is Mumbai's most popular and longest beach, which both locals and visitors frequent. It is well-known for its extensive menu of delectable street food with a distinct Mumbai flavour, which is frequently sweet and sour.
On weekends and holidays, the beach is about six kilometres long and very crowded. Taking a stroll down the lively beach with its carnival-like atmosphere and watching the sunset is a worthwhile experience for most people seeking peace amid the chaos.
Many televisions Serial shoots take place on Juhu beach, and there are many street vendors selling popcorn, street food, and toys. During the Ganesh Chaturthi celebration, devotees travel in a large procession while carrying the Ganapati idol and submerge the god in the Arabian Sea.
Juhu Beach Timings
The beach is open 24 hours a day, seven days a week, and the best time to visit Juhu Beach is from October to February. At this time of year, the beach is pleasant and peaceful. Avoid going to Juhu beach during the monsoon season because of the risk of high tide. Also, if you plan to visit during the summer, avoid visiting at midday because the temperature can reach 33 degrees Celsius and the beach becomes hot and muggy. It is best to visit Juhu beach in the evening to enjoy the refreshing sea breeze.
ISKCON Juhu is a spiritual haven in the country's capital, and it is only a short distance from Juhu Beach. Every day, thousands of tourists visit the magnificent marble temple dedicated to Lord Krishna. Aside from the temple, the complex includes a bakery, a guest house, a bookstore selling spiritual books, a gift shop, a theatre, and multipurpose rooms.
The murals on the ISKCON Temple's temple walls depict incidents from the Mahabharata. When most men sought the comfort of their homes, Swami Prabhupada, a devoted Krishna devotee, moved to the United States at the age of 69 and founded ISKCON. When you visit this location, you must experience the charged atmosphere of the daily morning and evening Aartis, as well as the delectable Prasad that follows.
Juhu's Prithvi Theatre
It was started by Prithviraj Kapoor in 1942 and was formally founded by his son Shashi. The theatre is one of the most significant historic locations close to Juhu beach. The theatre quickly became a meeting place for aspiring actors, directors, authors, and, of course, a new audience. It also provided a low-cost platform for trying out new performing forms and techniques. The theatre is still open for performances from Sunday to Tuesday, but is closed on Mondays. More than 550 performances are presented at Prithvi Theatre each year, with an average attendance of 80%. The location is ideal for acting workshops and rehearsals.
You might wonder, why should one visit a PVR when it's just a cinema theatre playing the same movies that are played worldwide? It's not your average movie theatre, but it is one of Mumbai's best and most famous. PVR Juhu or PVR Cinemas is known for its ambience and experience and is located in Dynamix Mall. Despite its high prices, this cinema provides an A-class experience. The crowd is sophisticate, with high-quality print and screen, comfortable chairs, delicious food, ample parking, clean restrooms, and superhero merchandise. Celebrities also frequent PVR Juhu.
Temple of Shree Siddhivinayak
This sacred site is one of Mumbai's busiest temples, and it was most likely built in the 18th century. The temple, devoted to Lord Ganesha, has a sanctum and wooden doors. The sanctum ceiling is gold-plated, and the wooden door bears engravings of Ashtavinayak. Devotees, business magnets, celebrities, and politicians frequently visit the temple to seek Ganesha's blessings.
Famous Juhu Hotels
Juhu has some of Mumbai's best hotels, and many of them have stunning sea views. Here are the top hotels in Juhu.
JW Marriott
The JW Marriott Juhu is located along the Juhu beach and is the ideal place to stay while visiting Mumbai. JW Marriott Juhu provides opulent and unforgettable hospitality with views of the city and sea. The hotel has six dining options, an award-winning spa and three outdoor pools. A range of cuisines from Indian, Asian, and Western to Arabic cuisines are just lip-smacking, making your stay wonderful.
Novotel Juhu
Novotel Juhu is a beachfront hotel just 5.1 km from Chhatrapati Shivaji Airport with views of the Arabian Sea. You can wake up to unobstructed views of the ocean and panoramic views of Mumbai.
This hotel has it all: the best location, the best views from the rooms, the best breakfast, the best bedding, pillows, and food.
Bawa Continental Hotel
Hotel Bawa Continental, located 200m from Juhu Beach, offers stunning views of the Arabian Sea to its guests. This modern, glass-fronted building is also 3 kilometres from the ISKCON temple, Sri Sri Radha Rasabihari Temple, and 5 kilometres from the airport. The hotel has great amenities, a friendly staff, spacious rooms, and excellent service.
Sea Princess Hotel
Perched on Juhu Beach, this hotel is 5 km from the Chhatrapati Shivaji International Airport. It is housed in a modern, glass-fronted structure. This hotel's stylish rooms feature sophisticated wood furniture, complimentary Wi-Fi, flat-screen TVs, minibars, tea/coffee makers, ocean views, and other amenities.
Juhu's Seaside
This budget hotel overlooks Beach and the Arabian Sea and provides first-rate service. The hotel features a bar, an international restaurant with wood panelling and a patio, and a delicious complimentary breakfast. The rooms are spacious and well-appointed, with 24-hour room service.
Juhu's Best Restaurants And Cafes
The Juhu area is home to some of Mumbai's best and most popular restaurants. Here are a few examples of these.
Bora Bora Juhu
One of the stunning restaurants in Juhu, Bora Bora, is just opposite the beach. The outdoor view from this restaurant is spectacular, as is the atmosphere. It offers a lively atmosphere with dancing, beverages, and an open-air setting with the look of the ocean.
Juhu, Estella
Estella is a popular restaurant in Juhu for local seafood lovers, with a stunning view of the Arabian Sea. The restaurant serves only the freshest seafood. Even though the restaurant opens at 6, try to arrive early to catch the sunset. The chicken skewers and wild mushroom risotto are must-orders.
Prithvi Cafe
The Prithvi Cafe is a well-known cafe in Juhu. The interior design of this cafe is quite unique, with posters from great Hindi films. Stuffed Irish coffee, cutting chai, and a wide variety of delectable desserts are among the most popular items on the menu.
Cafe La Sanazaar
La Sanazaar Cafe is another well-known Juhu cafe with a variety of fast food options. It primarily offers vegetarian and vegan versions of continental and Asian fare. It is well-known for its sizzlers and mocktails. The atmosphere is relaxed.
Cafe Farmville
Farmville Cafe serves fresh farm produce, living up to its name. The cafe, located near the Iskcon Temple, serves a variety of healthy foods, including Keto-friendly options. You can allow for food customization. Salads, nutritious breakfast bowls, delectably refreshing health drinks, their famous avocado toast, and other items are available.
An Overview of Juhu Mumbai
Dharmendra, Anil Kapoor, Akshay Kumar, and other Bollywood actors call Juhu home. Juhu is also home to several notable film studios, including Sound & Vision India, Anil Kapoor Film, Angel Film Studio, and others. Neighboring areas include Vile Parle, Bandra West, Versova, and Khar West.
The area is well-connect to the rest of the city and is served by the 5 km Vile Parle and Andheri Railway Stations. The distance to Mumbai International Airport is approximately 5 kilometres. D N Nagar on Line 1 (Versova, Ghatkopar) is approximately 4 kilometres away from Juhu.
Major Towns Near Juhu
Residential and business district in Mumbai, located along the Western Express Highway. Andheri East and Andheri West are separated by the western line of the Mumbai Suburban Railway Network. Because of its excellent connectivity, first-rate social infrastructure, and the presence of numerous business establishments, Andheri is a popular real estate location.
The neighbourhood is mostly dominate by multi-story apartment buildings, but there are a few cooperative housing societies as well. It is well connect to other parts of Mumbai via the Link Road, SV Road, Western Express Highway, Andheri Railway Station, and BEST Bus Network.
Versova is an exclusive residential neighbourhood in Andheri West, located along Versova Beach. It's close to Juhu and mostly made up of multi-story apartments. Versova has grown rapidly due to its proximity to employment centres, airports, and social facilities. The Western Express Highway, Western Line, Metro, and Juhu-Versova Link Road connect it to other areas.
The Jogeshwari-Vikhroli Link Road (JVLR) and the Santacruz-Chembur Link Road connect the eastern suburbs, Thane, and Navi Mumbai (SCLR). The upcoming Versova-Bandra Sea Link will also provide access to other areas of Mumbai.
Santacruz West is a well-known upscale neighbourhood with low, mid, and high-rise apartment buildings as well as single-family homes. Because of its proximity to the international airport, it is a busy area with easy access to key employment centres in Mumbai.
The western line, SV Road, Western Express Highway, and the Bandra Worli Sea Link, Santacruz West connect the area to important parts of western and southern Mumbai. The Santacruz Chembur Link Road (SCLR) provides excellent connectivity to Thane, Navi Mumbai, and the eastern suburbs.
Final Thoughts on Juhu
Juhu is an excellent place to live, work, or simply have a good time. The neighbourhood is home to a variety of ready-to-move-in and upcoming residential properties. Visitors can't get enough of Juhu Beach, ISKCON, celebrity homes, food and dining options, a safe seashore, and a breathtaking sunset view. Most importantly, it is conveniently located near Andheri Station and other parts of Mumbai.
---
You're looking for Buy Home In Navi Mumbai we have the Best Buy Properties In Navi Mumbai Like Ready to Move & Nearby possession: https://navimumbaihouses.com/property/search/buy/navi-mumbai-all/
If you want daily property update details please follow us on Facebook Page / YouTube Channel / Twitter
Disclaimer:
The views of this expressed above are for informational purposes only based on the industry reports & related news stories.
Navimumbaihouses.com
does not guarantee the accuracy of this article, completeness, or reliability of the information & shall not be held responsible for any action taken based on the published information.
Also Read
Buy Properties in Juhu