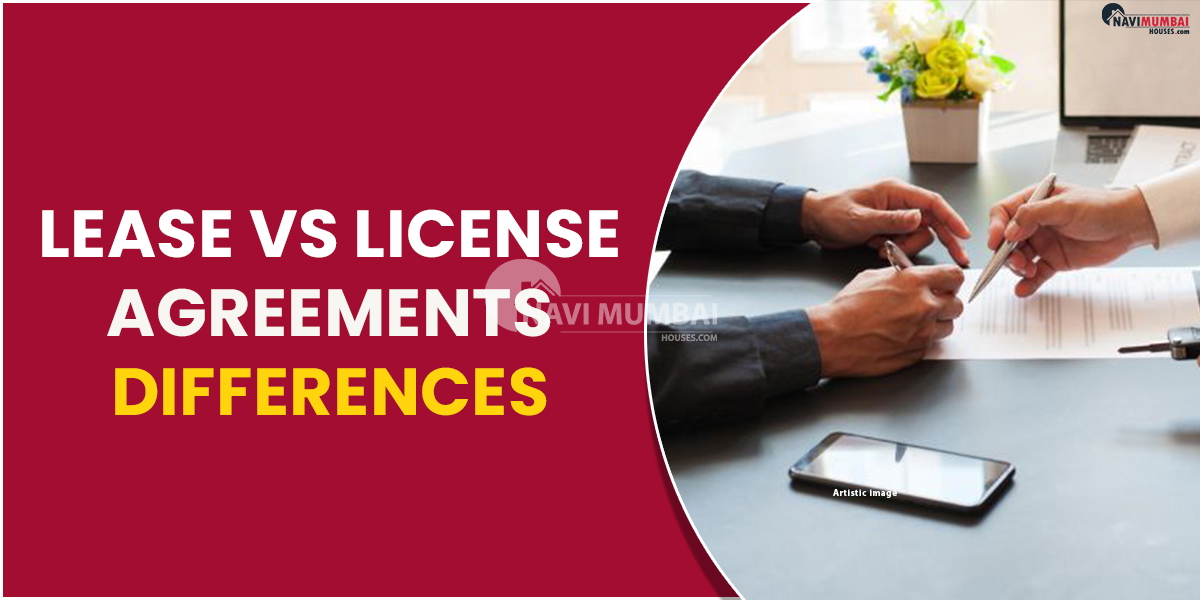 Lease Vs License Agreements Differences
The government of India enacted the Draft Model Tenancy Act, in 2019 to encourage the rental housing market in that country. The basic form of the model law, which eventually will be adopted by states, aims to protect both landowners' and renters' interests. However, it is important that both parties are aware of some specific words that they can encounter while signing a rental agreement. We should talk about the distinction between a lease and a license in this context.
---
Are you searching for flat on rent in ambernath?
---
What Does A Lease Mean When Renting A House?
Leasing is the term used in law to describe an arrangement whereby a property owner offers a renter specified rights on his real property for a set length of time in exchange for the payment of rent.
Section 105 of the Transfer of Property Act, 1882 gives the phrase a definition. Section 105, "a lease of mobile property is a transfer, expressly or implicitly, of the right to enjoy such property for a certain period of time, or a lease of movable property is a lease of movable property is a lease of movable property is in perpetuity, in return of a price paid or promised, or of money, a share of crops, service, or any other thing of value, to be delivered regularly or on defined events to the assignee by the recipient, who approves the transfer on such terms."
What Does A Property Rental License Involve?
In exchange for the payment of rent, a landlord will provide temporary use of his property to a third party through a written agreement known as a license. A license, unlike a lease, does not grant the opposing party any kind of exclusive possession rights over the property.
The Indian Easements Act of 1882's Section 52 defines the phrase. Section 54 specifies that "when one person provides to another, or to a certain number of many other individuals, a right to do, or continue to do, in or to a specific number of many other people, with respect to any property, upon the immovable property of the grantee, something which, in the lack of these right, would be illegal, and the like privilege doesn't really equate to an asset or an interest in the property, the correct is called a license."
Rental and licensing: Key variations
Form of Property
The way in which the renter is permitted to use the rented space is where the two agreements diverge most. According to a lease and license agreement, the landlord retains ownership of the aforementioned property. A license simply guarantees the tenant's temporary occupancy or use of the property, whereas a lease gives the tenant a particular right to use the space for a fixed amount of time. Taking up another person's property is illegal unless you have the owner's explicit consent to do so. In this regard, a rental agreement is similar to a lease, although a license is required to use a banquet hall for a wedding.
Duration
As temporary as they are, licenses expire as soon as the particular task for which they were written is finished. In contrast, a lease might be signed for any length of time, from one year to forever. It's also vital to remember that a lease cannot often be terminated by the landlord prior to the time period stipulated in the agreement. License agreements do not hold true in the same way. The landlord has the right to withdraw them whenever he sees fit. As a personal contract, a license expires with the death of either party.
Rent
Leasing is usually a transaction involving money. It is also possible to sign license agreements without exchanging money.
Eviction
A rent authority should be established in accordance with the 2019 draught law, which will aid landlords in their efforts to evict renters. Because the renter is not in possession during a license, an eviction is not necessary.
Transfer
While a license cannot be transfer, a lease can be given to heirs or third parties. The terms and conditions outlined in the lease agreement must be follow by the new owner. If a property is transfer to another owner while it is still rent out. The opposite is also accurate.
A lease typically includes the following:
A passing away or a transfer of a property enjoyment right
Forever or throughout a long length of time
In exchange for a price paid, promised, or in cash, a share of the crop, services, or other valuables to be provided on a regular basis or at predetermined times to the transferor.
The Following Are A Lease's Fundamental Features:
An interest being transfer
Those who sign a lease
Subject of the lease
Various leases
Length of the lease
Payment for the lease
---
You're looking for New Projects in Thane we have the Best New Projects in Thane like Ready to Move & nearby possession:  https://navimumbaihouses.com/properties/search/thane/
If you want daily property update details please follow us on Facebook Page / YouTube Channel / Twitter
Disclaimer:
The views of this expressed above are for informational purposes only based on the industry reports & related news stories.
Navimumbaihouses.com
does not guarantee the accuracy of this article, completeness, or reliability of the information & shall not be held responsible for any action taken based on the published information.
Also Read
Buy Properties in Kharghar