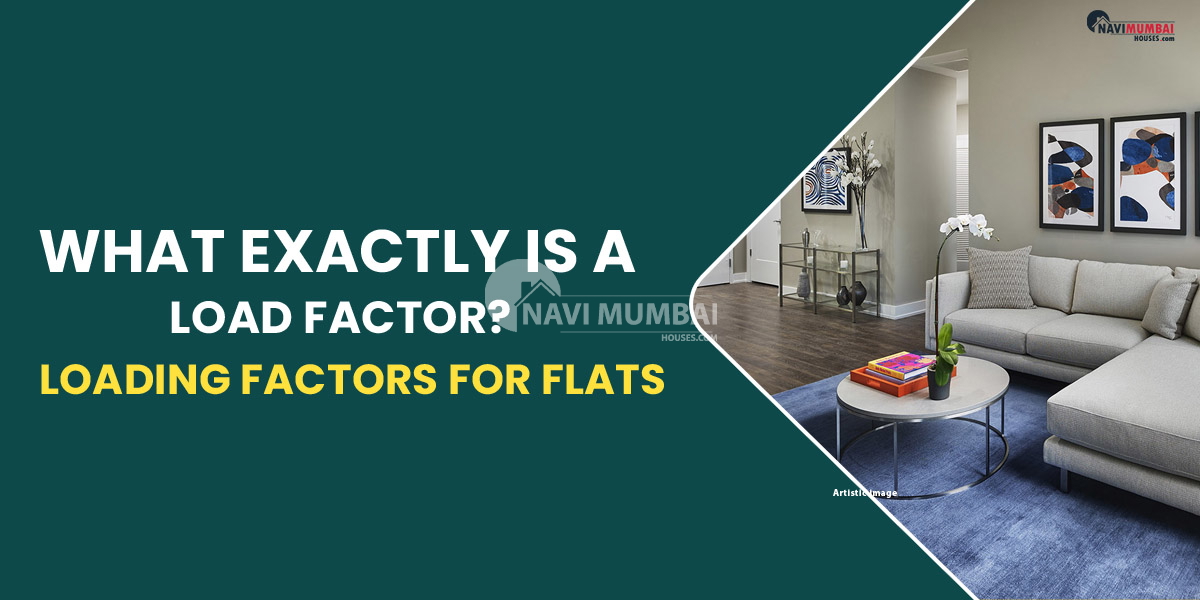 What Exactly Is a Load Factor? Ideal Range Of Loading Factors For Flats
Brokers & developers frequently mislead customers into acquiring cramped living areas at expensive prices by taking advantage of their ignorance. Unaware renter books apartment believing he will have full access to the space for which he is paying. As a result, it's crucial to understand a few key phrases used in the real estate industry. However, there are other phrases that are employed that could mislead you, such as super-built area & carpet area. These elements have an impact on the apartment's final cost. The loading factor is one such expression.
---
Are you searching for rent flat in wadala?
---
What does loading factor mean?
The difference between a space that is heavily built-up and one that is carpeted is the load factor and loading factor of an apartment.
Builders are ultimately responsible for recovering the cost of the facilities and equipment installed for the project. Elevators, a lobby, a maintenance area, parking, and a terrace are just a few of them.
The following fundamental formula is used to analyse the locality's loading factor:
Super Built-Up Area = Carpet area X (1- loading factor)
How is the loading factor determined?
Consider an apartment with a super built-up area of 1,500 square feet and a carpet area of 1,200 square feet.
1,500 = 1,200 X (1-loading factor)
1,500/1,200 divided by the loading factor
1.25 is the loading factor.
Factor of loading = 1.25 – 1
Therefore, 0.25 or 25% is the solution.
The locality's loading factor is typically always expressed as a percentage.
Which loading factor is ideal?
In a perfect world, the percentage for an apartment should be lower than 30%. Anything above implies that there is more super-built-up space and less carpet space. Less room would be available in their homes for buyers as a result.
| | |
| --- | --- |
| Ideal Loading factor (%) | City |
| 40-50 | Mumbai Metropolitan Region (MMR) |
| 30-40 | Delhi-NCR |
| 20-30 | Bangalore |
| 25-30 | Chennai |
The aforementioned table makes clear that end-user-driven markets (Bangalore and Chennai) have lower loading percentages than markets that are predominantly speculative in character.
Be cautious while purchasing a house.
There is no set loading law, so in some projects it may increase by more than 50%. As a result, despite paying a high price, homebuyers could wind up in undersized flats. Builders frequently defend higher loading based on the amenities provided.
In comparison to smaller projects with fewer frills added, loading for more comprehensive projects will inevitably be higher because more space is given to facilities & open areas. However, consumers must make informed choices and take into account exactly what they will receive for the price they pay.
To present a lower value, many builders on the market utilize a different formula for determining loading factor.
1500 x (1 – Loading factor) = 1200
1 – Loading factor = 0.8
Loading factor = 0.2 or 20%.
Factor for Loading: Related Terms
You must be familiar with a few related terminologies in order to fully comprehend the loading and load factor of apartments. You can determine or calculate the load factor in your location by being aware of them in advance.
What is the carpet area?
A carpet area is a space that can be carpet or that has net usable space. The carpet is located in the area between the inside walls. Common areas like the lobby and elevator are not covered by the carpet area.
What exactly is a built-up area?
The external perimeter wall surfaces are use to gauge a building's built-up area. The carpet area, wall thickness, and other inaccessible portions of the flat, such as the dry balcony, terrace, flower gardens, etc., are include in this. It never stops at the carpeted area.
What exactly is a super built area?
The Super Built-up area of a property, which also includes the carpet area, terrace, balconies, enclose spaces, and areas cover by shared or common construction, is what can be sold (e.g. lift, stairs, etc.). Facilities like a pool, clubhouse, or a garden are occasionally include by builders. In order to get to the extremely built-up area, builders apply the loading factor on the carpet area.
Bottom Line: Flats or Apartment Loading Factor
When investing in real estate, the loading factor, also known as the load factor, is crucial. If you are travelling from one city to another, you must examine the loading factor because it can differ from city to city. Using the technique given in the blog post above, you can also get the loading factor. Don't forget to comprehend other terminology linked to the loading factor calculation before starting the calculation.
---
You're looking for Homes in Kurla we have the Best Properties In Mumbai Like Ready to Move:https://navimumbaihouses.com/property/search/buy/kurla/
If you want daily property update details please follow us on Facebook Page / YouTube Channel / Twitter
Disclaimer:
The views of this expressed above are for informational purposes only based on the industry reports & related news stories.
Navimumbaihouses.com
does not guarantee the accuracy of this article, completeness, or reliability of the information & shall not be held responsible for any action taken based on the published information.
Also Read
Buy Properties in Navimumbai