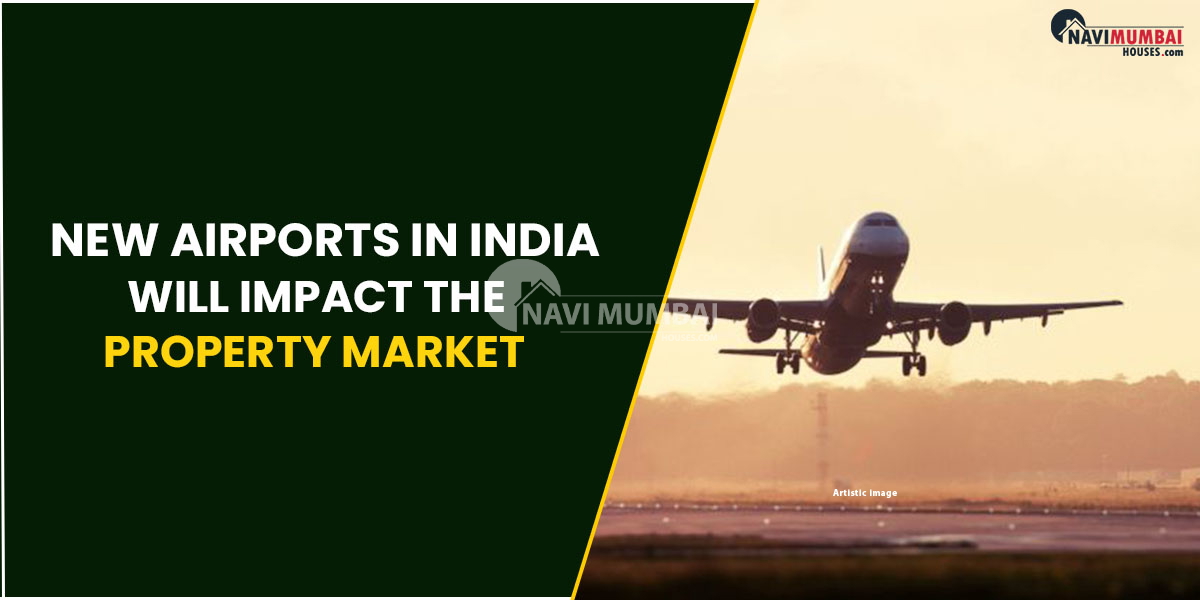 New Airports In India Will Impact The Property Market
The creation of new airports in India through the Ude Desh ka Aam Naagrik (UDAN) program will make flights from major towns to lesser ones more accessible to the general public. As a result of this effort, there are currently 359 routes with aviation service that stop at 59 airports, 5 heliports, and 2 aerodromes. In turn, this is expected to speed up commercial growth and real estate development in these cities.
The Central Government introduced the "Ude Deshka Aam Nagrik" (UDAN) plan in 2016 to realize the common man's fantasy of air travel and link Tier-2 and Tier-3 towns with the major cities. The plan calls for setting the cost of transport at Rs 2,500 for an hour on a fixed-wing plane or Rs 30,000 for a 30-minute helicopter ride covering about 500 km. The number of operational terminals has increased from 74 to 141 since its launch. Give us specific information about some of the new runways built in India as part of UDAN, and let's look at how the program is likely to boost the real estate market there:
---
Are you looking 2BHK flat for Rent In Airoli? 
---
Airports In India : India's upcoming and new airports
Noida's Jewar Airport
This international airport, which is situated in Noida, is intended to be India's largest airport. The anticipated total cost for the airport is Rs 29,650 crores. The first section of Jewar Airport is anticipated to begin in 2022–2023. This airport, which has six runways, will split the traffic between it and Delhi's Indira Gandhi International (IGI) Airport.
Purandar Airport, Pune
The business at Lohegaon Airport in Pune will be split between this airport and it. Its name is Chhatrapati Sambhaji Raje International Airport, and Pune is only 40 kilometers distant. It is anticipated to begin operations in February 2024 and has an approximate total cost of Rs 6,000 crores.
Orvkal Airport, Kurnool
It was launched in Andhra Pradesh in 2019. 639 acres make up its size. This airstrip still lacks a business authorization. It will increase Kurnool, Srisailam, and Nandyal's tourist and real estate industries.
Mopa Airport, Goa
On December 11, 2022, the first section of the international airport in Mopa, North Goa, was opened. Manohar Parrikar, the late chief minister of Goa, is honored with a moniker for the airport. 44 lakh people can be accommodated in the first section each year. There will be four stages and about 3,000 lakhs of rupees spent on the Mopa airport. After the project is finished, the four stages together will be able to accommodate 1 crore people annually.
Airports In India: Sindhudurg Airport, Maharashtra
The distance to the Mumbai-Goa Expressway is only 27 km. The new Sindhudurg Airport was opened in March 2019, and the first business aircraft took off from there in October 2021. In the South Konkan area, the building is the first of its kind. With the addition of the new links, Mumbai, the Southern States, and ultimately all other regions of the nation are now more accessible.
Kalyani Airport, Kolkata
It will remove the burden from Kolkata's Netaji Subhash Chandra Bose International Airport, which is 45 kilometers distant in Dum Dum. With a total area of 1,500 acres, it can accommodate 8.5 million people annually. It will begin to run in 2030.
Airports In India: Holongi Airport, Arunachal Pradesh
Itanagar will be only 14 km from this Greenfield airstrip. It will cover 320 hectares and be expected to cost Rs 1,200 billion. The province will be more accessible thanks to this airstrip. It was put into service on August 15, 2022.
Airports In India: Rajkot Airport, Gujarat
One of India's newest runways, Rajkot International Airport, was built in Hirasar, near to National Highway 8B. The airport here has a solitary runway for A320 aircraft. By the end of 2022, functioning is anticipated. This airport location, which spans an area of 1,025 hectares, is located about 30 kilometers from Rajkot, an industrial metropolis. Its development will cost an estimated Rs 2,654 crore and take place in four stages.
Navi Mumbai International Airport, Maharashtra
This brand-new, also-known as NAINA, international airport is currently in the planning stages and will be built in Panvel, Navi Mumbai. (Navi Mumbai Airport Influence Notified Area). It is anticipated to be finish in 2023 and will have a capacity of 90 million people yearly.
It will assist the Mumbai Metropolitan Region and split the workload with Mumbai's Chhatrapati Shivaji Maharaj International Airport. (MMR).
Airports In India: Rourkela Airport, Orissa
Since January 2019, this airport has already been providing its services. In Utkela and Jeypore, the Airports Authority of India (AAI) hopes to build two more airports.
Rewa Airport, Madhya Pradesh
Rewa Airport will be open by 2023 with an optimal runway length and a terminal for which construction is currently underway. It is a component of the UDAN regional connectivity plan. The initiative will receive 50 lakhs of rupees from the Madhya Pradesh government.
In the first segment, it will immediately link Rewa with Bhopal, Indore, New Delhi, and Mumbai; additional destinations may be added later.
Maa Danteswari Airport, Jagdalpur, Chhattisgarh
This airstrip is the most recent on the list to be in use. In 2019, it was raise as part of the government's UDAN program to 3C category (landing permitted for a 72-seater aircraft), enabling the use of ATR-72 class aircraft. By flight, Jagdalpur is linked to Raipur and Hyderabad.
Airports In India: Bhogapuram Airport, Andhra Pradesh
A 45-kilometer drive from Visakhapatnam, the Bhogapuram International Airport is a future Greenfield project close to Bhogapuram in the Vizianagaram region. The airport's two phases of planning will accommodate both local and foreign traffic in addition to cargo. The expansion of commercial activity in the North Andhra area will start with the opening of the new international airport.
In India, how many additional runways are being constructed?
The "Ude Deshka Aam Nagrik" (UDAN) program was introduce by the central government in 2016 to provide inexpensive trips for the average person.
Under the proposal, almost 13 additional airports will be built in India. These include Jewar Airport, Noida; Purandar Airport, Pune; Orvkal Airport, Kurnool; Mopa Airport, Goa; Sindhudurg Airport, Maharashtra; Kalyani Airport, Kolkata; Holongi Airport, Arunachal Pradesh; Rajkot Airport, Gujarat; Navi Mumbai International Airport, Maharashtra; Rajkot International Airport and Maa Danteswari Airport, Jagdalpur.
The connectivity offere by these airports is anticipated to support the local real estate by boosting the demand for and values for properties in outlying areas near Tier-2 and Tier-3 municipalities as well as major metropolitan areas.
The construction of new runways will also result in socioeconomic growth and an improvement in local residents' financial circumstances.
Airports In India: Real estate effects
All of these airports are intended to improve access to tier-II and tier-III towns, which will increase demand for and the cost of real estate. The suburbs surrounding major cities and metropolises will grow quickly, presenting more residential and business developments to potential property buyers. The construction of new runways in India may also boost socioeconomic growth and improve locals' financial standing. Most significantly, shorter journey distances will draw more business to tier-II and tier-III towns, which will boost real estate development there.
---
You're looking for Rental Home In Kharghar we have the Best Rental Properties In Kharghar Like Ready to Move & Nearby possession: https://navimumbaihouses.com/property/search/rent/kharghar/
If you want daily property update details please follow us on Facebook Page / YouTube Channel / Twitter 
Disclaimer:
The views of this expressed above are for informational purposes only based on the industry reports & related news stories.
Navimumbaihouses.com
does not guarantee the accuracy of this article, completeness, or reliability of the information & shall not be held responsible for any action taken based on the published information.
Also Read
Rent Properties in Airoli