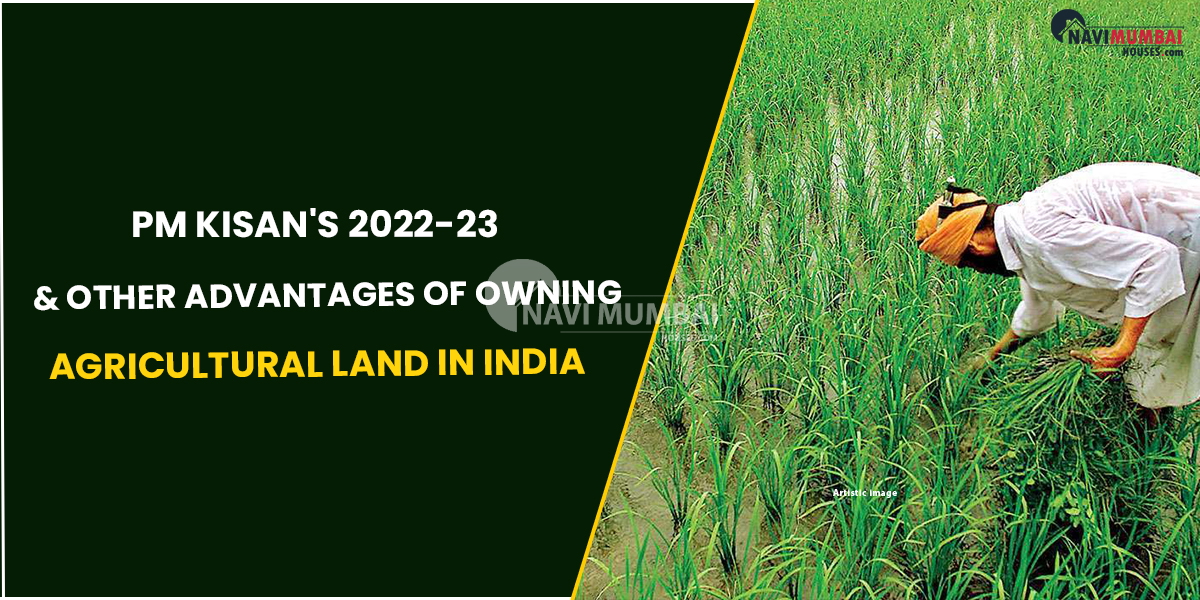 PM Kisan's 2022-23 & Other Advantages Of Owning Agricultural Land In India
PM Kisan's- Recent Changes (November 2022)
Compliance with revised rules is required.
PM Kisan's : In a recent development, the Union government has notified beneficiaries of the PM Kisan Scheme that if you have not updated your documents in accordance with the changes prescribed by the government, your benefits will be terminated.
According to the Ministry of Agriculture, the number of beneficiaries released under PM Kisan for any instalment period has now surpassed 10 crore farmers. This figure was initially 3.16 crores.
Farmers must register in order to receive the next instalment of the PM Kisan Yojana. For registration, a copy of the ration card must be submitted. Farmers are not required to provide a hard copy of their ration card for this. A PDF of the soft copy of the ration card will be required. To do so, go to the PM Kisan Yojana's official website. You must create a PDF file of the soft copy of the ration card and upload it there. Farmers will be unable to participate in this scheme unless they submit a copy of their ration card.
---
Are you looking flat for sale in sanpada?
---
PM Kisan's
The 12th instalment was made available through Direct Benefit Transfer (DBT). The funds were released as part of the PM Kisan scheme's monetary assistance. On the occasion of the "PM Kisan Sammelan 2022," the 12th instalment of the PM Kisan scheme was released.
Over 12 crore eligible farmers received the 12th instalment of Rs 2000 under the current instalment. In addition, over 13,500 farmers from across the country attended the PM Kisan Sammelan 2022. Along with the PM Kisan scheme, the PM also inaugurated over 600 PM Krishi Samridhi Kendras across India. In fact, all of the country's 'Retail Urea Centres' are being developed as PM Krishi Samridhi Kendras.
Land ownership has remained a symbol of authority, clout, and prosperity despite the transition of the human race from the stone age to the modern world. Although agriculture has lost its lustre in favour of the manufacturing and service sectors, it remains the nation's food security backbone.
Because agriculture and allied sectors directly or indirectly employ 50% of Indians, the government is committed to promoting and supporting farmers in a variety of ways. PM Kisan or Pradhan Mantri Kisan Samman Nidhi Yojana (PM Kisan Yojana) is one such scheme that provides farmers with financial assistance. PM Kisan was created to help small and marginal farmers increase their income potential.
What exactly is agricultural land?
Agricultural land is a piece of land where plants and crops are grown. This cultivation can be done for both self-sufficiency and commercial gain. Agriculture techniques vary by country and are generally influenced by the climate, water availability, and food preferences of that country.
The Indian government has also established a Department of Agriculture and Farmers Welfare, as well as subsidy programmes such as the PM Kisan or Pradhan Mantri Kisan Samman Nidhi Yojana (PM Kisan Yojana).
People prefer to invest in a farmhouse in addition to traditional agricultural practises. A farmhouse is a residential structure nestled among lush farmland. Although an Indian citizen can purchase agricultural land in any part of the country, there are some restrictions on land ownership in tribal majority areas and protected areas in some states.
Advantages of Owning Agricultural Land
Although purchasing agricultural land is an investment, the potential return on investment outweighs the initial investment. However, the return on investment is entirely dependent on the crops grown, agricultural techniques, water availability, and climatic conditions. Some of the primary advantages of owning agricultural land include:
Even if you do not do agriculture, you can lease the entire farmland to a professional farmer and receive a fixed sum in return each year.
If you decide to do your own farming, you can earn a lot of money by selling your products locally or internationally.
If the government plans to build infrastructure in the chosen area, agricultural land along the stretch can provide long-term returns.
Aside from farming, agricultural land can be used for other activities such as animal husbandry, chicken rearing, egg farming, and beekeeping. If done correctly, this can be a profitable business.
The central government has launched a monetary benefit scheme for landowning farmers called Pradhan Mantri Kisan Samman Nidhi Yojana pr PM Kisan with the goal of supporting the country's landholding farmers.
PM Kisan or Pradhan Mantri Kisan Samman Nidhi Yojana (PM Kisan Yojana): What is it?
Indian government's flagship farmer welfare scheme. PM Kisan's scheme was unveiled in December 2018. PM Kisan is a low-income support programme. Provides eligible farmer families with Rs 6,000 in financial assistance. PM Kisan's primary goal is to supplement small and marginal farmers' income at the end of each crop cycle.
PM Kisan's monetary assistance is distributed in three equal instalments. Defines a family as a husband, wife, and minor children. The respective state governments and Union Territories will identify the eligible farmers under PM Kisan (UTs).
The monetary assistance provided by PM Kisan is transferred directly to the beneficiary's bank account via the Direct Benefit Transfer (DBT) mechanism. Unlike physical distribution, the DBT of PM Kisan assistance ensures financial transparency.
However, not all landowners are covered by the PM Kisan scheme. The Indian government has put in place a number of checks and criteria to ensure that only eligible farmers receive assistance.
PM Kisan's- What is the PM Kisan Beneficiary List 2022? (Step-by-step)
The PM Kisan Beneficiary List (PM kisan samman nidhi) contains information about eligible farmers who will receive financial assistance under the PM Kisan scheme (PM kisan samman nidhi). The PM KIsan portal (pm kisan gov in) allows users to view the PM Kisan Beneficiary list online (pm kisan gov in). The list of beneficiaries (Pm Kisan Beneficiary Status) is displayed online after you enter a few details. Follow the steps outlined above to view the PM Kisan Beneficiary List 2022 online.
Step 1: Go to PM Kisan's official website (pm kisan gov in).
From the homepage, select 'Beneficiary List.'
When you select the PM Kisan beneficiary list option, the following window will appear.
Select the State, District, Subdistrict, Block, and Village from the drop down lists.
Select the 'Get Report' option.
Which categories are excluded from the PM Kisan (PM kisan samman nidhi)?
The primary goal of the PM Kisan Yojana is to assist the country's small and marginal farmers. However, not all farmers are classified as small or marginal. The following groups are ineligible to receive benefits under PM Kisan.
All institutional landholders (companies, corporations, or commercial bodies) are not eligible for the PM Kisan scheme's benefits.
Farmers in the following categories are ineligible to receive the PM Kisan subsidy.
PM Kisan's- Current and former constitutional officeholders
Former and current Ministers/ State Ministers, as well as current or former Members of Rajya Sabha or Lok Sabha (Members of Parliament)/ State Legislative Assemblies/ State Legislative Councils (Members of Legislative Assembly), former and current Mayors of Municipal Corporations, and Panchayat Chairpersons
All retired or serving officers and employees of Central or State Government Ministries/Departments and their units, Central/State PSEs and Attached offices under Government, and regular employees of Local Bodies However, it does not apply to Multi Tasking Staff (MTS)/Class 4 employees.
All retired pensioners with a monthly pension of Rs 10,000 or more (excluding MTS employees) / Class IV/Group D workers) of the above category
Engineers, doctors, Chartered Accountants (CAs), Lawyers, and Architects registered.
In addition to the aforementioned categories, people from higher income brackets will be excluded from PM Kisan's purview.
---
You're looking for Buy Home In Mumbai we have the Best Buy Properties In Mumbai Like Ready to Move & Nearby possession: https://navimumbaihouses.com/property/search/buy/mumbai-all/
If you want daily property update details please follow us on Facebook Page / YouTube Channel / Twitter 
Disclaimer:
The views of this expressed above are for informational purposes only based on the industry reports & related news stories.
Navimumbaihouses.com
does not guarantee the accuracy of this article, completeness, or reliability of the information & shall not be held responsible for any action taken based on the published information.
Also Read
Rent Properties in Kharghar