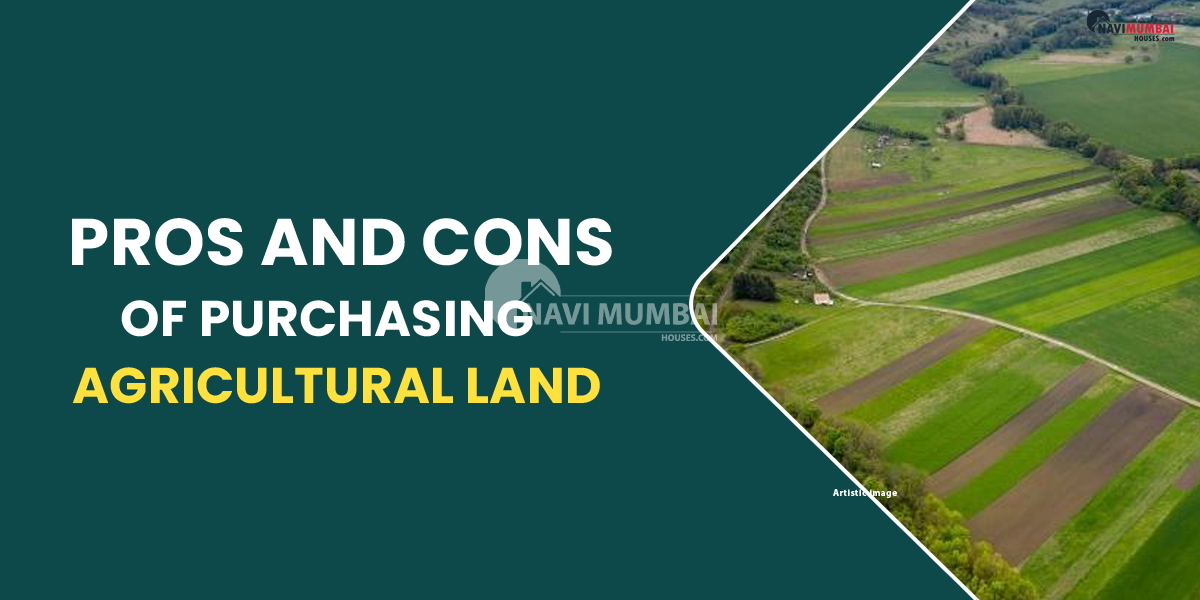 Pros And Cons Of Purchasing Agricultural Land
Due to the downturn in urban real estate and the possibility of higher long-term profits, a lot of urban investors are now investing in agricultural land. We look at the advantages and disadvantages for people looking to purchase agricultural land.
---
Are you looking for 2bhk sale flats in malad?
---
Investors in India are increasingly looking for creative solutions to generate returns on their investments due to the country's rising purchasing power. The purchase of agricultural land is one such strategy. While some investors maintain such land as an asset, there is another group that uses the expanding organic food market to bolster their revenue.
purchasing agricultural land
Farm investments are a safe place to deposit money, according to a number of experts, because they typically yield larger returns than other investments and provide investors with financial security. The market for these investors, often known as agro-real estate, is expanding, particularly in the wake of the COVID-19 outbreak.
The return potential of agricultural land in the suburbs or periphery of major cities and state capitals is now being examine by urban investors.
Despite the land's low cost relative to urban land, investors expect some big returns in terms of resale value.
Due to the limited supply and high cost of property in cities, there is an increasing demand for these land parcels from urban investors who intend to sell them for a profit or cultivate them. 
"Many investors believe that, given the current market conditions, purchasing agricultural land in nearby districts of Tier-1 and Tier-2 cities and rural areas is the best investment opportunity. Despite the fact that agricultural land has always been regarded as one of the best long-term investment opportunities, it is currently more in demand because of the downturn in urban real estate markets.
For instance, a 120 square yard property in the city of Lucknow costs between Rs 8 and Rs 18 lakhs. Comparatively, the cost of agricultural land might range from Rs 1 to 8 lakhs per acre, depending on the area and distance from the city. In the majority of major cities, this situation exists.
However, purchasing agricultural land can be challenging.
ROI on agricultural land
In emerging and developing regions, where there is a chance that future infrastructure projects may be undertaken, returns on investment in land purchases are higher. For instance, prices for land near the Jewar airport site have begun to rise since the UP government stated that Noida would be the site of the second airport for the national capital region.
That it is advantageous if the site is situated in an area where a government programme will be introduced or if it is outline in the regional master plan. According to him, there is a chance that such a plot of property would one day fetch a higher price.
Benefits of purchasing agricultural land
If an agricultural land plot is located in a region where the government has infrastructure projects planned for the near future, it can assure long-term returns.
Additionally, when the government acquires land, the compensation for rural land is higher than for urban land. For locations where cities are growing, several state governments are also preparing a land pooling strategy. You will receive guaranteed recurring returns from the pool if you join as an owner under the land pooling rules.
Your asset does not depreciate with time, as is true of all land-related developments; this cannot be said of property like flats, apartments, etc. The owner must spend a lot of money maintaining the building as the condition of the structure deteriorates with time. By purchasing agricultural land, you not only avoid having to spend so much money now, but you also retain the right to use the property in the future for a variety of legal objectives.
Disadvantages of buying agricultural land
Not everyone can purchase: According to the legislation, in order to acquire agricultural land in India, you must be a farmer. While this law is present in the majority of states, some have loosened this requirement. Such a piece of land may also be given to you or be inherit.
Conversion is difficult: It is impossible to turn a productive agricultural plot of land into a residential one. For conversion, the land needs to be dry.
Land Ceiling Act: Several states have land ownership restrictions under the Land Ceiling Act. So, find out how much may be purchased there.
Not everyone can buy: NRIs, for example, are unable to purchase agricultural land in India.
It is essential to understand local vocabulary and land laws: If the purchaser is unfamiliar with the relevant local legalese and jargon, purchasing agricultural land could prove to be very challenging. Since land is a state matter, rules vary from state to state, making it detrimental to not have a complete understanding of the legalities involved in the process.
For example, recognizing the extent of the property parcel you are purchasing requires knowledge of the local land measuring units. Knowing how to convert these measures to commonly used measurement units may also help you estimate how much you will be paying per square foot.
The buyer should be informed of the conversion from gaj to sq ft/sq metre if, for example, gaj is the commonly used land measuring unit in the area. He could then estimate the land's cost per square foot thanks to this.
| | |
| --- | --- |
| Pros of buying agricultural land | Cons of buying agricultural land |
| Guaranteed long term returns | Buyer should be a farmer by possession |
| Government compensation is higher if gets acquired | Land conversion is complicated |
| Can participate in land pooling policy | Few states restrict ownership of farmland |
Buying plots and land parcels has risks.
Even if purchasing a property piece or plot offers numerous advantages, particularly if it is agricultural land, there are also certain hazards associate with such purchases. This is especially true if the buyer does not pay close attention to the property's documentation. States have made it simpler for investors to discover all land-related information online, but it still requires a lot of attention to make sure that all the paperwork is in order and that there are no forgeries.
Check applicable laws
Examine any additional legislation that may apply to the sale of property rights, the maintenance of land ownership records, and any leases. Such agricultural land plots may not always be transferable. The property might also be leased. Make sure the tenants have no ownership rights over the property in such situations and only enter into the deal once all outstanding issues have been resolved.
Documents needed to purchase agricultural land
Here is a list of the paperwork you'll need to purchase agricultural property. The state may affect how this varies:
7/12 extract
6/12 extract
8A extract
Land revenue tax receipt
Village map (gaon naksha)
Soil testing report
Original title deed
Encumbrance certificate
Registration/conveyance deed, if any.
Agro-real estate trends
In this market, investors can purchase dry converted rural land or purchase land through resale. These investors acquire land in a rural region, while the value is still lower than land plots in the city. As a result, they are qualified to purchase more actual agricultural property. A few people also purchase a modest piece of residential real estate in a village and use this address to purchase agricultural land in the same community.
Due to the rising demand for inexpensive housing, which can only be built outside of major cities, agricultural land prices are predicted to rise, especially in the vicinity of urban centres. According to Gaurav, there is a demand for land in these locations for both governmental and private initiatives. However, since purchasing the land would need a substantial investment, you should carefully consider all the dangers before finalizing the deal.
Agro real estate investments: The position after COVID 19
There are several causes for and chances for the Indian Agro realty market to grow. People are attempting to switch to consuming organic products with fewer artificial chemicals since the majority of businesses put a lot of chemicals on food products, especially perishable ones. This is so that they don't have negative effects on the environment or human health. Due to the pandemic, these worries have grown quickly, and individuals are switching to eating healthier foods. As a result, there are several opportunities for organic farming, which will increase investments in agricultural land. The market share of organic foods and drinks is predicate to reach USD 327,600 in 2022, and people with even little personal discretionary income are predict to switch to buying organic products and live more sustainably. As a result, recent growth in agricultural land investment and potential for organic farming in India has exceeded expectations.
Advantages of investing in agro-real estate
The advantages of investing in the agricultural real estate market are as follows:
Because the cost of developing the land is split among the owners, the eventual price of the land is lower. As a result, an investor must pay less for these plots.
Due to the growth of organic farming and changes in consumer tastes and inclinations, the returns on investment are better than those of stock and share investments. Investors' efforts and overall expenses are lower with this investment than with any other, but the profits are higher.
Contrary to apartments or homes, there are two main advantages of purchasing agricultural lands: The costs associate with maintaining it can be avoid, and agricultural land does not lose value. Investors need not be concerned that the plot's price may drop over time.
Development of real estate on agricultural land
The fact that a number of state governments are now opening up farm lands for housing development and industrial reasons. May make this opportunity very profitable for investors who are thinking about purchasing an agricultural property in rural areas close to the city. Real estate developers will be authorize to buy agricultural property for cheap housing under the Gujarat Tenancy Act. According to a recent announcement from the Gujarat state government. Similar changes were made to the land reforms act in Karnataka by the state government, which liberalize farmland ownership and expand the ability for non-agriculturalists to own agricultural land.
Is it worthwhile to purchase farmland in India?
The cost of purchasing agricultural land is high. As a result, before making an investment in agricultural land, investors should have a solid financial strategy in place. Additionally, investors must maintain reasonable expectations for their investment because the profits from farms are not as lucrative as previously thought. Typically, high net worth individuals and those with extra cash view agricultural land as a wise investment. Going through this process will take time and be exhausting for people who are salaried or self-employed and live in cities.
Avoid these blunders when purchasing farm land
It is essential to make sure that the significance of land titles is consider. Before buying any farmland, be sure the title is clear. This has two advantages: first, it assists in avoiding legal issues, and second, it speeds up the acquisition of the land.
The regulations governing farmland should be understand by buyers, especially if they are from another state. Agricultural farmlands are govern by the state; hence regulations may range from one state to the next. Before buying agricultural land, it is crucial to review the current rules.
Additionally, buyers should be sure to inspect the property in person and research its specifics. This is crucial for agricultural land since the buyer needs to be aware of the soil's quality and other relevant aspects.
Documents needed for due diligence on real estate
The following records are necessary for this goal:
Khata certificates
Grant certificates
Encumbrance certificate
Conveyance certificate
Patta book
Mutation documents
How can you turn your land into a successful investment?
You can use the following strategies to make your land investment a successful business:
You may be able to rent it out for community gardening depending on where you are.
Start a blog to document your most recent farming exploits.
Create a beehive farm and make it a tourist attraction.
Grow distinctive flowers to sell at the neighbourhood market if the soil is fertile.
Online seed sales for plants.
Offer to help with pet sitting or childcare.
Herbs can be grown and sold online.
Give farm-related tours or classes.
Utilize the land to produce solar power.
COVID-19's effect on land rates
Despite the fact that property appreciation has continued to be severely impact. The Corona virus epidemic that began at the tail end of 2019 has had little effect on land values. This is due to the dearth of land in developing places as well as the fact that this asset does not depreciate.
Can agricultural land be used to construct a farmhouse?
A house cannot be legally erect on agricultural property. But the regulations could differ from one state to another. For instance, farmhouses of a size not to exceed 10% of the landholding are permit on agricultural land under the Karnataka Property Revenue Act. The farmhouse should only be utilize by the owner or for living quarters for family members, dependents, or servants. It can be use by farmers for storing agricultural products, tethering animals, and agricultural operations.
A Technique for Changing Agricultural Land into Non-Agricultural Land
In India, agricultural property cannot be develop for residential or commercial purposes without first undergoing a legal "change of land use".  By completing an application form and forwarding it to the Commissioner of the Land Revenue Department. You can request a change in land use, but you must include all of the justifications for the conversion in it.
The following paperwork must be supplied along with the conversion application form:
The First Sale Gift deed, partition deed, or deed
The Letter of Mutation
An official survey map
Most recent tax receipt
Identification Documentation
A charge must be paid in the case that agricultural land is convert to non-agricultural land. The costs are influence by the property's location and type. It is necessary to provide information on the size of the land parcel, any outstanding loans, the crops and soil types on the property, and the past and current owners' contact information. The Tahasildar office or the Revenue Office both sell certified copies of these documents. Unpaid dues must be paid immediately, and copies of the payment receipt must be included.
---
You're looking for Buy Homes in Kharghar we have the Best Properties In Navi Mumbai Like Ready to Move: https://navimumbaihouses.com/property/search/buy/kharghar/
If you want daily property update details please follow us on Facebook Page / YouTube Channel / Twitter
Disclaimer:
The views of this expressed above are for informational purposes only based on the industry reports & related news stories.
Navimumbaihouses.com
does not guarantee the accuracy of this article, completeness, or reliability of the information & shall not be held responsible for any action taken based on the published information.
Also Read
Buy Properties in Bandra