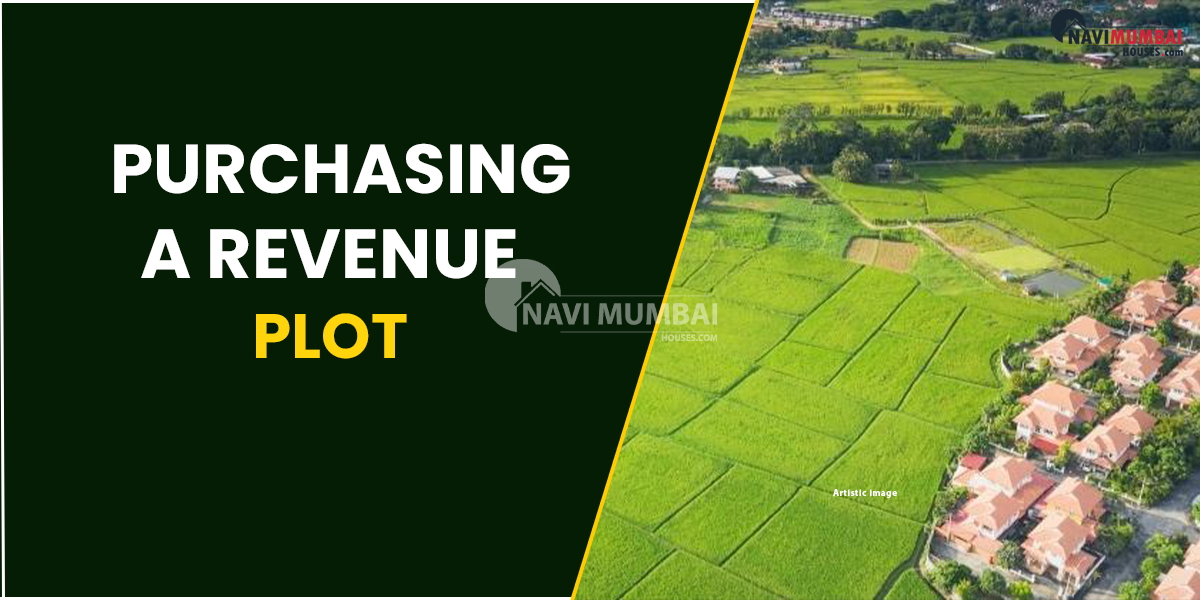 Purchasing A Revenue Plot? Be Aware Of These 7 Factors!
Purchasing A Revenue Plot: Buying land is, without a doubt, the finest investment in land. Many individuals wish to buy revenue land, and others may hope to do so soon. Purchasing a plot of land is a luxury these days since you may build a house according to your wants or requirements on such a piece of property.
However, some crucial factors must be addressed before purchasing an income plot in India. In addition, in today's blog, we discussed revenue plots and a list of institutions that offer revenue plot house loans.
---
---
A revenue plot is simply another word for agricultural land. Revenue plot is one that is built on agricultural land without converting it. A revenue plot is typically less expensive than a fully completed property. When you convert a revenue plot into a residential home, this is referred to as DC conversion. It is a legal procedure in Karnataka to transform agricultural land into residential, industrial, or commercial land. DC stands for District Commissioner, who grants permission for the property to be used for purposes other than agriculture. If a landowner fails to get DC conversion approvals and continues to convert his property into a residential plot, he will be penalised.
Considerations Before Purchasing a Revenue Plot
There are several factors to consider when purchasing an income plot in order to avoid future problems. Before you buy revenue land, consider these seven things.
Purchasing A Revenue Plot: Examine the title deed
Examine the deed's title carefully. Find out who the true owner of that piece of property is. The name indicated in the khata may or may not be the true owner of that particular property. Many individuals are duped by the khata. Remember that the name in the khata identifies the person responsible for paying land taxes. He or she does not have to be the legal owner of the property.
Examine the seller's family for numerous stakeholders.
One individual may sell you land, but after a few months or years, another member of the seller's family may lodge a claim to the property. So, ask the vendor extensively and clarify all pertinent details. Also, include these points and the conditions in the paper that you and the seller sign.
Be cautious of who you are buying the land from. Is it from a single person or a group? This becomes much more important if the land is sold for the second or third time. Get explicit clarification on this from the landowner.
Make certain that no children are participating.
Even if you have obtaine sufficient clarity that there will not be many parties laying claim to the land, proceed with caution and check that no children are engaged who may establish claim later.
Purchasing A Revenue Plot: Is the GPA marked or registere?
If someone is selling you a property through a GPA, make sure the GPA is registere or stamp. The GPA, or General Power of Attorney, authorises a specific individual to take legal action on behalf of the owner. As a result, if the GPA is not stamp, the property is likely to become embroiled in legal wranglings in the future.
Check to see if the property is in a green or yellow belt.
The development authority designates yellow belt zones for residential use. A green belt is also intended for agricultural purposes. As a result, be certain that the property is not located in a green belt.
Is the property suitable for DC conversion?
Land in the green belt designate for agricultural may be modified and utilise for residential purposes only with the agreement of the relevant DC. Otherwise, purchasing a revenue site will merely function as an investment. You can't build a house there until you convert to DC. When the District Collector (DC) of that particular region gives his or her approval for land conversion, it becomes DC converted land.
Is the property located in an ecological zone?
If the property of your choice is located inside the buffer zone of a forest, lake, or SWD, you will be in big trouble. With deteriorating environmental conditions causing widespread havoc, governments have recently been more stringent. Any property inside the buffer zones of a water body, a forest area, or a stormwater drain is sometimes subject to a labyrinth of legal entanglements. There is a good probability that the authorities will seize your property as well.
Documents Needed to Purchase a Revenue Plot
Document requirements for purchasing a revenue plot vary by state; nonetheless, the following are the common paperwork necessary to purchase a revenue plot:
The property ownership deed
Certificate of Encumbrance
Purchase agreement
Letter of mutation
Residential-Order NA (because by default any land in India is considere agricultural land)
The plot's FSI
Purchasing A Revenue Plot: Documents Required for Revenue Plot Conversion
If you've purchased a revenue plot but wish to turn it into residential, commercial, or industrial space. However, the following papers are require for DC conversion:
Purchasing A Revenue Plot: Property Title Deed for Tenanted Land
Copy of a mutation record
Copy of Form 10 to indicate occupancy right
The village accountant gave no due certificate.
Copy of Rights, Tenancy, and Crop Certificate (RTC)
Land survey map that has been certified
certified land tribunal decision
Urban Development Authority Zonal
 
Purchasing A Revenue Plot:  Patta land 
Aduplicate of the mutation record
The village accountant gave no due certificate.
Copies of the Record of Rights (RoR), the Tenancy, and the Crop Certificate (RTC)
If your property is near a river, you will require a permit from the Coastal Regulation Zone.
Land survey map that has been certified
Banks that provide house loans for revenue projections
In India, various banks provide housing loans for revenue plots. Let us look at a list of banks that provide housing loans for revenue plots:
State Bank of India is one of the most well-known lenders of revenue plot loans.
The HDFC Bank
The Bank of Baroda
The ICICI Bank
The Axis Bank
Indian Union Bank
Federal Reserve Bank
India's Central Bank
Maharashtra Bank
The IDBI Bank
The Canara Bank
Finally, are you interested in purchasing an income plot? Take note of these 7 Factors!
Buying a revenue plot is a great investment since you may get a great return on your money. You may, however, transform it into a residential, business, or industrial building via DC conversion. However, to avoid future legal squabbles, look for the aforementioned factors before purchasing income property. This is especially significant when several layouts are being built on revenue lands. We hope this revenue plan tutorial was useful.
---
You're looking for Rental Home In Navi Mumbai we have the Best Rental Properties In Navi Mumbai Like Ready to Move & Nearby possession: https://navimumbaihouses.com/property/search/rent/navi-mumbai-all/
If you want daily property update details please follow us on Facebook Page / YouTube Channel / Twitter
Disclaimer:
The views of this expressed above are for informational purposes only based on the industry reports & related news stories.
Navimumbaihouses.com
does not guarantee the accuracy of this article, completeness, or reliability of the information & shall not be held responsible for any action taken based on the published information.
Also Read
Rent Properties in Kharghar