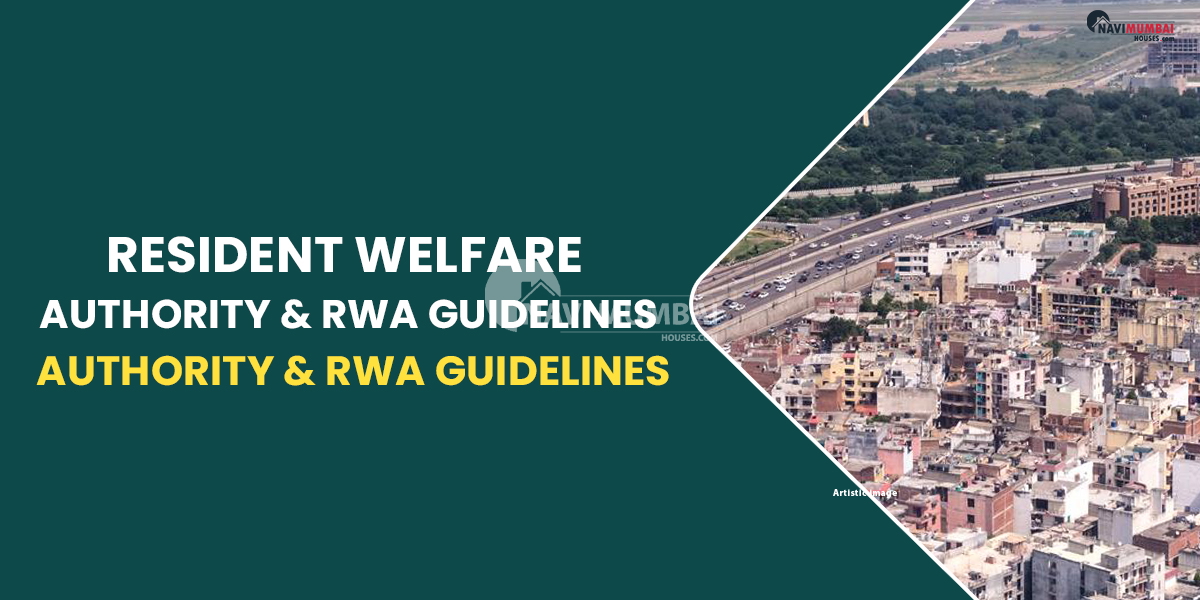 Resident Welfare Association: Function, Authority & RWA Guidelines
There is a resident welfare association in every residential society (RWA). As its name implies, its main goal is to promote the general wellbeing of all members of a certain residential society. A number of guidelines, obligations, and duties are also in place to guarantee the efficient operation of a certain sector. You can use this article to learn more about resident welfare associations and their roles in India.
---
Are you searching for new projects in kurla?
---
Resident Welfare Association's most recent news
RWAs in Noida Met with Authorities from the Authority to Address Upcoming Civic Problems
March 2023: On March 28, 2023, officials from work circles 6–10 of the Noida Authority met with more than 20 RWAs (Resident Welfare Associations) in residential sectors who are members of the FONRWA (Federation of Noida Residents Welfare Associations). The purpose of the meeting was to discuss pending civic issues in the neighbourhood, such as levelling drains, issues with encroachment, insects on trees, a lack of green belts, the installation of new swings in parks, etc.
There were also requests for the development of markets in Sectors 135 & 112. Many neighbors have also complain about the threat of mosquitoes, moths, flies, and other insects due to the abundance of dry leaves that have been neglect and discard in various areas.
The president & secretary general of FONRWA pleaded with officials to expedite all outstanding public works. Meanwhile, according to Noida's deputy general manager, work is being done in a number of sectors as a result of issues reported by the RWAs. He promised that the issues identified would be dealt with as soon as feasible. Also, the Noida Authority's Deputy Director of Horticulture informed them that they would work on replacing the swing sets in the parks and would spray medicine on the trees.
What exactly is a Resident Welfare Association (RWA)?
A Non-Governmental Organization (NGO) called a Resident Welfare Association looks out for the welfare and interests of a residential society or colony in a city. Resident welfare associations are register under the Societies Registration Act of 1860. In India, each state may have a variety of changes that are particular to that state and change throughout time. The RWAs cannot operate against one's own will when a building is register under the Societies Registration Act since they are subject to particular governing documents.
The paperwork confirms that the RWAs possess specific authority, which is also verified as necessary. This can be done by suing or being sued. This is a legitimate organisation with the power to utilise all legal rights. The RWA or the RWA president can help with a variety of difficulties that need to be resolve in a particular society. It is the responsibility of the resident welfare association to enhance the shared amenities and facilities, including the state of the internal roads, street lighting, drainage, water harvesting, general cleanliness, or civic amenities like power and water. In well-known civilizations, the RWA may need to perform a lot more work. For instance, in large societies, resident welfare associations have a role in overseeing and controlling business operations in the society's bazaars, stores, transit hubs, and banks nearby.
Residents Welfare Association (RWA)
Governed by:
Societies Registration Act, 1860
Responsibilities:
Maintenance of the finances, premises, and society records and implementing the necessary rules.
Financial year:
April 1 to March 31
Selection of members to the governing body:
Through election during the general body meeting.
What is RWA officeholder's role
Each RWA would have a number of executive members as well as a president, general secretary, secretary, treasurer, vice-president and financial adviser. The RWA Functionaries' responsibilities and power are briefly describe below:
President
Oversees all meetings of the governing body and the general body.
In a draw, they are permit to vote.
Overseeing the work that various office holders conduct.
May manage the society's financial institutions.
Vice-president
Provide every necessary assistance to the president.
Act like the president when he isn't present.
General Secretary
holding a position of public or private service that represents society.
Keep track of the members and society's records.
may manage the society's financial institutions.
Secretary
Take over as general secretary in their absence.
Help the RAW general secretary if you can.
Treasurer
Receipt of donations, membership fees, grants, and other gifts from members & the general public.
Keep the essential financial records for the funds belonging to the society. It is require that this specify money be kept at a particular bank.
handling the resident welfare association's bank account.
Executive members
Helping with the everyday tasks of society.
according to Section 4 of the Societies Registration Act, 1860, filing the list of office holders with the Registrar of Societies whenever necessary.
Resident Welfare Association's authority (RWA)
Each & every society member's subscription price is set by the RWA alone. Any resident may apply for RWA membership, although the RWA has the right to reject such applications if it has good cause.
If the majority of RWA members demand his or her termination for a legitimate reason, A resident's membership may also be revoke by the RWA if they committed an act against the society's interests or passed away as a result of failing to pay their dues. The RWA is also responsible for overseeing and enforcing all pertinent programmes and rules inside the Resident society. Anyone in the impacted society who qualifies may apply for RWA membership.
What is a Resident Welfare Association's fiscal year?
An RWA uses a calendar year that runs from April 1 to March 31.
Resident Welfare Association funds (RWA)
A specific RWA's funds must be kept in a designated bank. The RWA's president, treasurer, or general secretary can manage the account. The governing body must hire a trained auditor who will examine all of the RWAs' financial records.
How is a RWA member chosen?
The general body meets to elect the society's governing body for a set time. At the meeting, residents have the option to cast their votes by raising their hands. The number of office holders on RWA's final list should not be less than seven. These must be submit to the societies' registrar together with three outgoing bearers' attestations.
RWA Membership Requirements
For RWA, the following membership policies apply: –
Any person or individual may be denied membership by RWA in writing. The concerned party should receive the written application.
A person's employment may be terminate if they are not meeting RWA's goals and objectives.
A person will lose their job if they miss three consecutive meetings. It's possible to do this without providing written notification.
Changes to the RWA Rules
It is possible to change the RWA rules. The Memorandum of Association may be amended, and any amendments must be carried out in accordance with the method outlined in Sections 12 & 12A of the Societies Registration Act of 1860.
Is RWA a requirement for all housing societies?
A resident's welfare association (RWA) must be founded in a housing society within three months of the majority of houses being reserved, according to the Real Estate (Regulation & Development) Act, 2016. The legal owners of the Residential society have the right to establish such a body if a developer does not take the appropriate measures to form a RWA for such a society.
Are there any statutory powers granted to the Resident Welfare Associations?
The right to your property cannot be affect by RWAs because they are voluntary groups with substantial power. Cooperative housing societies, in contrast, have more authority.
However, it must be emphasize that the Resident Welfare Association does not have the authority to interfere with any homeowner's right to free speech or to privacy. An RWA uses its authority or restriction to oversee any workshops held on the society's property as well as the upkeep and operation of the building and society.
Actual Situation of RWA's
Working for the citizens' collective welfare is the primary goal of RWA in India. Yet, disagreements between residents & RWA members happen frequently. Among the frequent grievances that RWA members file are:
Roadside trash-throwing
Encroachment on a shared space
Abuse of the WhatsApp group
Disagreements regarding parking
Too many plants are kept on the balcony.
In conclusion, Residents Welfare Association
An RWA (Residents Welfare Association) is a significant group that looks out for the welfare and interests of the community. You will be fully informed about resident welfare associations after reading this complete article. If you dwell in a residential community, this information might be a valuable tool.
---
You're looking for Projects in Tilak Nagar we have the Best Properties In Mumbai Like Ready to Move:https://navimumbaihouses.com/properties/search/tilak-nagar/
If you want daily property update details please follow us on Facebook Page / YouTube Channel / Twitter
Disclaimer:
The views of this expressed above are for informational purposes only based on the industry reports & related news stories.
Navimumbaihouses.com
does not guarantee the accuracy of this article, completeness, or reliability of the information & shall not be held responsible for any action taken based on the published information.
Also Read
Buy Properties in Gtb Nagar