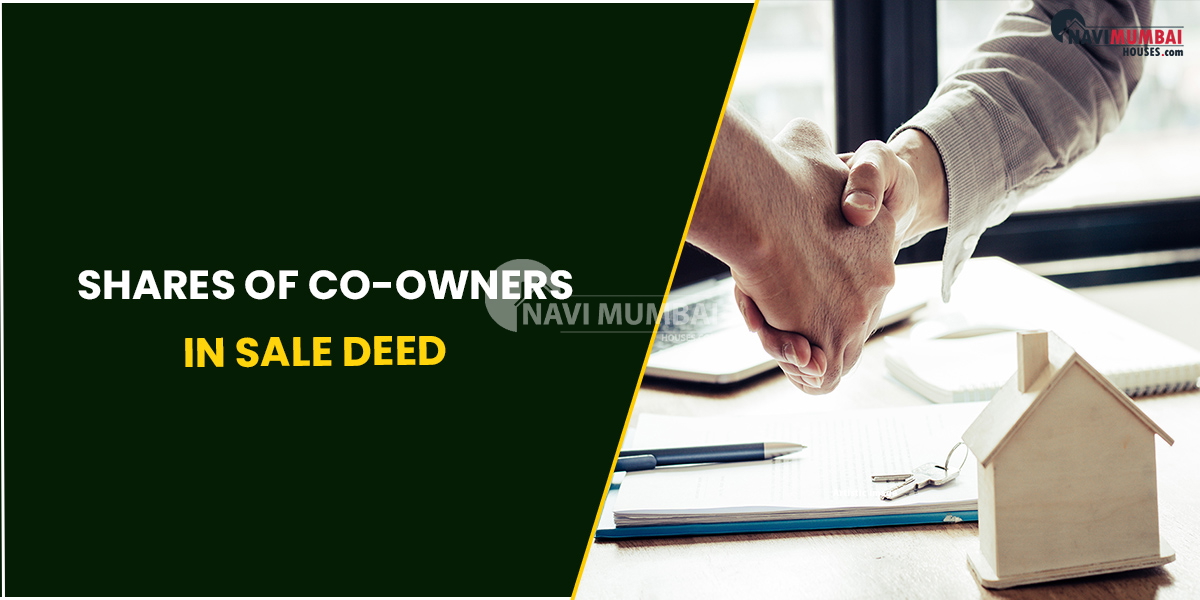 Shares Of Co-Owners In Sale Deed
Shares Of Co-Owners In Sale Deed : To avoid future disagreements over co-owners' shares, a property sale agreement should specify the type of co-ownership.
Because of the country's escalating real estate prices, it's becoming increasingly difficult for middle-class buyers to purchase a home in a desirable area. Many homeowners are opting for co-ownership shares for real estate ownership in response to rising unaffordability.
Real estate can be purchased and owned jointly by a group of people. 'Co-owners' refers to all property owners collectively. Although splitting your financial burden may appear simple, you should be aware of the various legal implications of joint ownership to avoid future disputes. A common example of this is combining funds to buy a home as a couple. Furthermore, by pooling their earnings, they qualify for a larger loan amount.
---
Are you looking flat for sale in kharghar? 
---
Understanding the Process of Co-Ownership Shares
When two or more people purchase a property without specifying the percentage of the property that each owns, a "tenancy-in-common" is formed. As a result, the property is open to all co-owner shareholders, and everyone is considered to own an equal share of it.
When one of the co-owners dies, the interest does not pass to the other co-owners' shares; rather, it passes to the deceased's legal heir or someone named in their will. This person then becomes a "tenant-in-common" with the shares of the remaining co-owners.
By pooling their resources, two or more people can purchase real estate. Unless the parties have a written agreement to the contrary, co-owners will each have a share in the property proportional to the money they put into purchasing it. As a result, if two or more people jointly own a piece of land, the sale deed document must make that clear.
The names and shares of co-owners, as well as their respective percentages of joint ownership, should be clearly stated. If the property generates any income or gains from a sale, the returns can be divided based on the ownership stake.
Under the Transfer of Property Act, co-owners have a proprietary right to the entire property. As a result, any sale must be approved by all co-owners involved. In the case of a house, for example, permission must be obtained from all co-owners.
A sale deed can be executed if an individual later decides to add a co-owner. In this case, the new deed will include the other person as a co-owner shareholder of the land. As an alternative, a gift deed can be performe. To do so, you must draught a gift deed, have it notarized, and register it with the registrar's office.
Shares Of Co-Owners In Sale Deed: Tax Advantages of Co-Ownership Shares
Both owners are eligible for tax breaks. According to the Income Tax Act of 1961, there are two types of tax breaks available, namely:
| | |
| --- | --- |
| Section 24 | All co-owners are eligible for a tax deduction of up to 2 lakhs a year on the loan interest till the loan is paid off. However, co-owners must reside in the property to qualify for this tax benefit. |
| Section 80C | All co-owners are each qualified to deduct 1.5 lakhs from their taxable income each year for the principal part of the loan until the loan is paid in full. |
5 Sale Clauses: Co-Ownership Shares
To avoid future property claim issues, it is critical to confirm the precise conditions of ownership and agreements between parties before purchasing any jointly held property. The four necessary provisions for your sale deed are listed below.
Shares Of Co-Owners In Sale Deed -Co-Owners Shares – Percentage of Ownership
Case 1: In 2018, Ramesh Gupta, a Delhi-based IT professional, invested in a property with his brother. His contribution was 40%, and his brother covered the remaining 60%. Anmol believed he owned the property because he had paid approximately 40% of the total cost. Unfortunately, he was duped by his brother, resulting in an endless legal battle.
Ownership percentages are sometimes overlooke in the sale deed. If each owner receives 50% ownership, there is no room for disagreement. However, if the ownership proportion is not documented, it equalises automatically. As a result, your deed should state that you contributed 60% of the total value and the other party contributed 40%.
Sharing the title to a piece of property without specifying any specific ownership rights implies that all co-owners have an equal stake in it. As a result, the specifics, such as co-ownership shares or ownership division among the parties, must be clearly stated in the property paperwork.
Shares of Co-Owners – Always Plan An Escape Route
Case 3: Anmol Patel retired in 2020 and used his retirement funds to help his son buy a home. They decided on a 50 lakh rupee property in Delhi. Anmol  then contributed Rs 25 lakh, and his son was approve for a housing loan with Anmol listed as a co-applicant by the bank. However, his son lost his job after three months of making EMI payments, leaving Anmol to bear the burden. As a result, despite having already contributed, he paid.
As a result, mentioning the mortgage default in the sale deed clause is prudent. If the property is sold, the proceeds can be use to pay off the loan, with the remaining balance split equally between the two parties.
Co-Owners Shares – Self-Occupation of Property
Akash and his brother Abhay purchased a shared property in Noida to generate rental revenue. When Akash and his brother decided to buy a house, they were already in Delhi. As a result, they decided to divide the rent equally. Abhay eventually moved to Noida and began living there without paying rent to the owner.
A co-owner has the right to ownership, use. And disposal of his portion of the property if it is expressly stated in the deed. Include a clause in the sale agreement that addresses the situation in which one of the joint owners wishes to use the property for personal reasons. In Akash's case, his brother is require to pay half of the rent.
Shares Of Co-Owners In Sale Deed – Final Thoughts on Co-Ownership Shares
You should not be afraid to bring up issues that could lead to a future disagreement as a co-owner. As a result, including a list of these issues. As well as any other mutually acceptable solutions, in the sale agreement is preferable. The names, shares, and proportions of co-owners' shares should be clearly indicated.
---
You're looking for Buy Home In Mumbai we have the Best Buy Properties In Mumbai Like Ready to Move & Nearby possession: https://navimumbaihouses.com/property/search/buy/mumbai-all/
If you want daily property update details please follow us on Facebook Page / YouTube Channel / Twitter
Disclaimer:
The views of this expressed above are for informational purposes only based on the industry reports & related news stories.
Navimumbaihouses.com
does not guarantee the accuracy of this article, completeness, or reliability of the information & shall not be held responsible for any action taken based on the published information.
Also Read
Rent Properties in Panvel