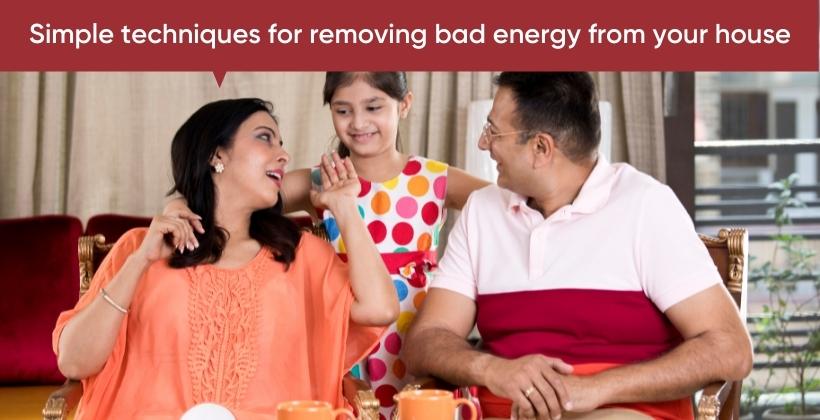 Simple Techniques For Removing Bad Energy From Your House
Negative energies are real and all around us. Despite our best efforts to maintain a happy outlook in our life, negative energy may sometimes be found in the home. Negative energy can lead to illness, family disputes, and quarrels. People become sluggish, despondent, and bitter as a result of it. Positive energy is drained from the mind and body by negative energy, leaving you dejected and fatigued.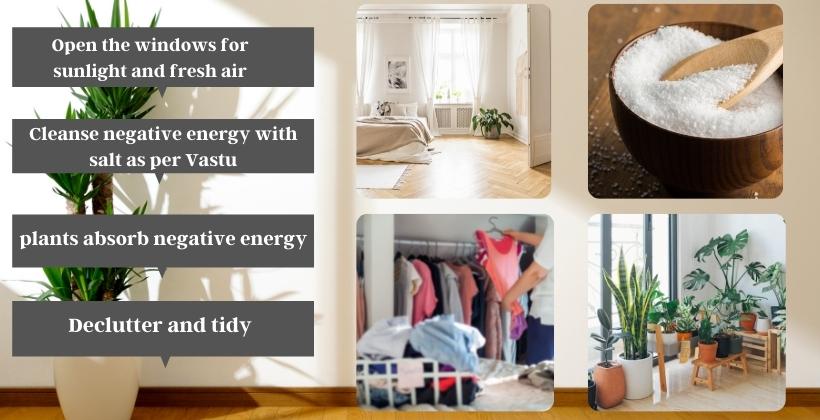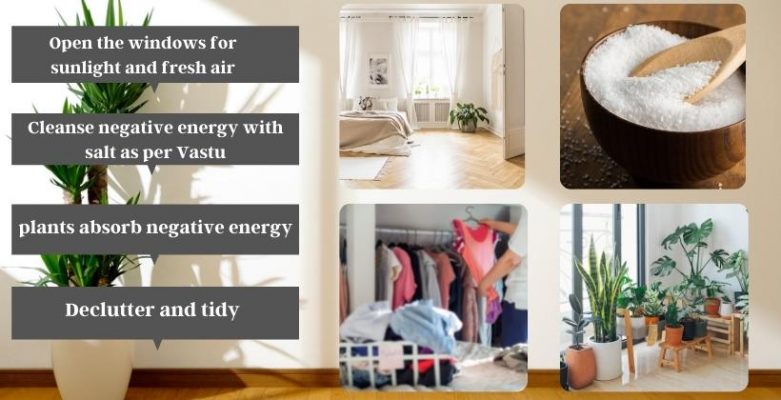 ---
---
How can I tell if I have bad energy at home?
It may be time to eliminate the negative and harmful energy from your home if it feels stagnate. Try these easy strategies to get rid of bad vibes and bring in fresh, healthy energy in your house. A person's house should be a haven, a place to refuel, reconnect, and unwind. Here are some easy methods to clear bad vibe from your house and fill it with pleasure and good emotions.
Make the most of the sun's wonderful energy. Allow natural light to enter the room by opening the curtains. Simply opening the windows is one of the simplest methods to remove pollutants and bad energy from your house. Allowing fresh air in and negative energy out will help to cleanse the home. Natural sunshine can help to alleviate depression symptoms and boost one's mood.
To eliminate bad energy from the home, declutter and clean it up.
Irritability and negativity are caused by clutter. It also contributes to tension and the suppression of positive energy. Decluttering a place makes it seem more tranquil and open. Things that are no longer in use should be donated or given away. Furthermore, decluttering makes it easier to locate items. Learn to organise books neatly and fold clothing in the closet. To store little items neatly packed, use closet organisers and boxes.
Cleanse the house's bad vibes using salt, according to Vastu.
Salt has the ability to absorb bad energy from the dwelling, according to Vastu Shastra. Add sea salt to the water when cleaning the home floor. On Thursdays, however, this cure should be avoided. Negativity will be kept at bay by keeping sea salt in a glass bowl. If your bathroom has Vastu flaws, the salt will assist you in reducing the bad effects. Negativity is blocked by rubbing the entry with rock salt-infused water.
Plants that absorb negative energy should be kept in the house.
Plants absorb pollutants from the air, assist in the filtering of bad energy, and promote positive energy, tranquillity, and luck. Keep a Tulsi plant in the north or north-east, according to Vastu Shastra, to drive away bad energy and promote positive vibrations. The fortunate bamboo plant is said to bring good health and love fortune. Aloe vera, a succulent plant, is said to repel ill luck and negative energy and to purify the air. Jasmine draws forward-thinking energy and aids in the nurturing of relationships. Money plants, peace lilies, and spider plants all provide positive sentiments and luck, as well as warding off negative energy.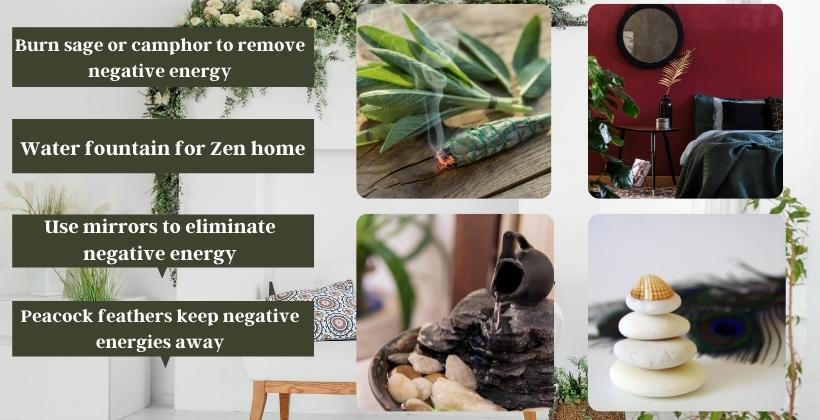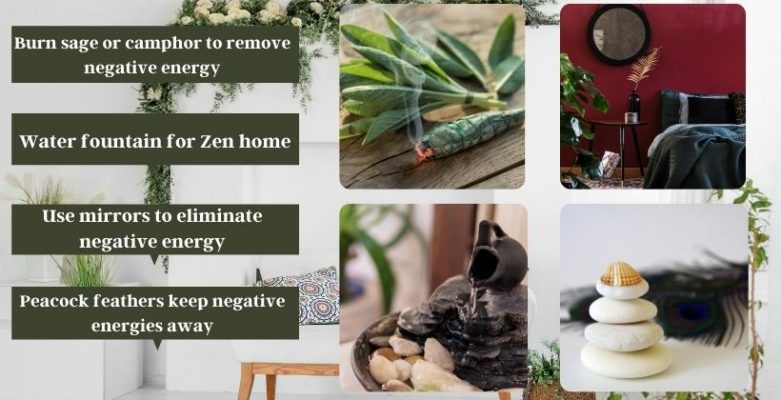 To clear bad energy, burn sage or camphor.
Sage is a fragrant shrub that may be used in both medicinal and cooking. Although Allow the smoke from sage leaves to cleanse the air in your home. Before you start burning the sage, open a window to allow the smoke go. Then Sage, according to Feng Shui, aids in the removal of bad energy from the home. Negative vibes may also be removed by using scented candles and fragrance oils. Camphor lamps or diffusers are good at clearing the space of bad energies. Also Lighting camphor, especially at home in the evenings, is an excellent method to boost good energy. Sandalwood and lavender have incredible therapeutic properties that help to neutralise negative energies.
To cleanse bad energy, use music (wind chimes, Tibetan singing bowls).
Sound has the ability to transform negative vibe into good vibe by moving it around. The tinkling chimes' sound aids in breaking bad energy patterns and promoting the flow of good energy. Tibetan singing bowls are another approach to bring harmony to your home's energy. Ringing a portable bell throughout your home is a simple way to dispel any sluggish or bad energy. Chanting or listening to mantras is the most effective approach to clear bad vibes from your home.
Zen home water fountain
With the peaceful sound of falling water, water fountains in the home generate positive vibe, resulting in a quiet and relaxing environment. A water fountain's placement is crucial because it directs the energy of the dwelling. The north is the best Vastu direction for a water fountain because it attracts beneficial vibe into the dwelling. To keep negative vibe out of your home, and place a water fountain in the living room near the main door. The fountain should be positioned such that the water flows in the direction of your home rather than out the front door.
To get rid of bad vibes, rearrange your furnishings.
A happy house is one in which vibes flows easily and where you may rest and nourish yourself and your family. When heavy furniture is not moved for an extended period of time, it gathers a lot of dust beneath and around it. Rearranging the furnishings will assist in the movement of vibes. Clean and reorganise your furnishings, as well as your home's décor. Even the furniture in the corners should be rearranged, since this is where stagnant energy may accumulate. And Arrange the furniture such that it does not obstruct movement.
Crystals for healing and eliminating bad vibes
Healing crystals can help to promote the flow of beneficial energies while also removing negative, harmful energy. Also Crystals have the ability to change the energy of your body, mind, and surroundings. To fend against evil vibes, hang a few crystals near windows and doors, or position them in corners and near entrances. Black tourmaline is one of the greatest gems for clearing the energy in your area. Selenite crystal, rose quartz, jade stone, and amethyst are also cleansing stones. Keep loose stones in a basin for potent healing effects or use them artistically as part of your décor.
Mirrors may be used to dispel bad vibes.
Mirrors, when utilised appropriately, may absorb bad energies and multiply the positive vibes of an area. A convex mirror placed on the front wall, And facing the external, can assist in the removal of bad vibes. When two mirrors are placed opposite each other, negative vibe is created. Ensure that no one is reflected in a mirror while sleeping in the bedroom.
Negative energy are repelled by peacock feathers.
The peacock is regarded as a lucky bird. Negative vibes are said to be absorbed by peacock feathers. Keeping peacock feathers in the house, according to Vastu Shastra, cures all types of Vastu faults and prevents bad power from entering the dwelling.
---
You're looking for New Projects in Kharghar we have the best New Projects in Kharghar Like Ready to Move & Nearby possession: https://navimumbaihouses.com/properties/search/kharghar/
If you want daily property update details please follow us onFacebook Page / YouTube Channel / Twitter
Disclaimer:
The views of this expressed above are for informational purposes only based on the industry reports & related news stories.
Navimumbaihouses.com
does not guarantee the accuracy of this article, completeness, or reliability of the information & shall not be held responsible for any action taken based on the published information.
Also Read
Buy Properties in Navimumbai