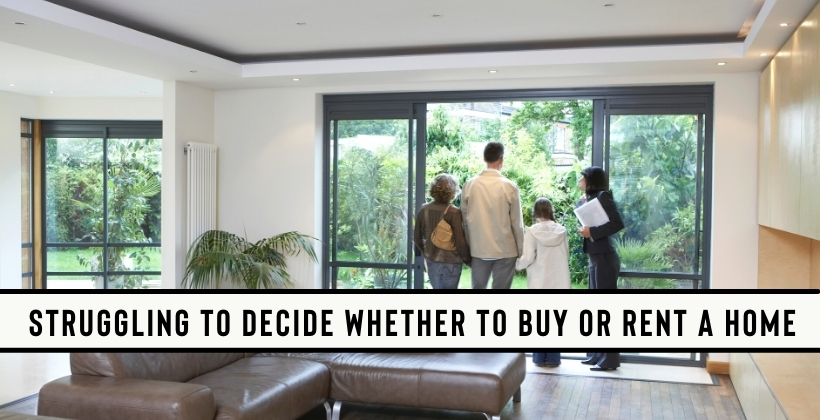 Struggling to decide whether to buy or rent a home
When it comes to making this financial decision, buy or rent a home, most individuals wonder whether they should purchase or rent a property. While many people dream of owning a home, it is not for everyone. With the present Covid-19 scenario, builders have devised a number of plans to deal with their unsold inventory, while the government has launched the Pradhan Mantri Awas Yojana, which seeks to offer people affordable homes, and banks Loans have lowered their lending rates. Before buying or renting a home, there are numerous aspects to consider.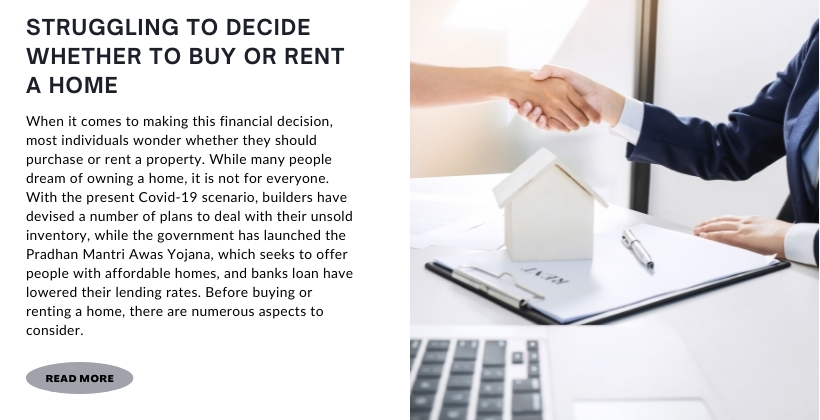 The Buying a Home
– Pros:
Building an asset- When you acquire a piece of real estate, it becomes your asset, similar to long-term investment. You have the authority to make whatever alterations you want to own property, and unlike a rented property, you are paying for your own home when you do so.
Capital Gains-When you buy a property, you own it and can sell it for a better price in the future, resulting in long-term or short-term capital gains, as well as various tax benefits.
You don't have a landlord, therefore you have complete authority over the decisions you make in your home. You do not need to seek authorization to remodel or repair your home.
There is no risk of the agreement being terminated due to the fact that you own the residence.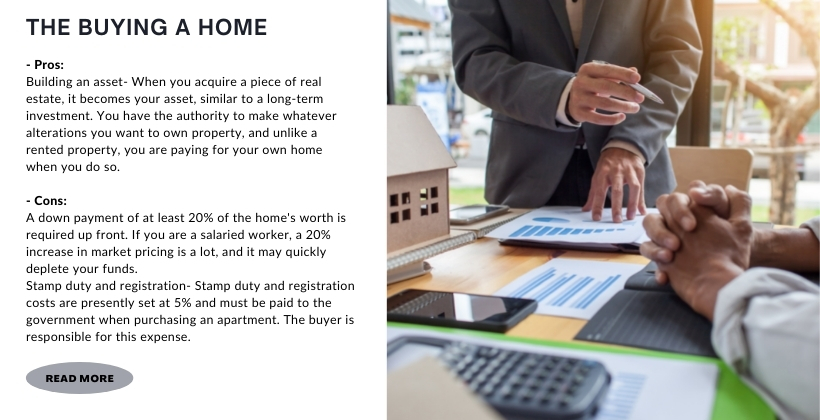 – Cons:
A down payment of at least 20% of the home's worth is required upfront. If you are a salaried worker, a 20% increase in market pricing is a lot, and it may quickly deplete your funds.
Stamp duty and registration- Stamp duty and registration costs are presently set at 5% and must be paid to the government when purchasing an apartment. The buyer is responsible for this expense.
Fixing costs: If something breaks or has to be mended in your home, you are responsible for paying for it, unlike in a leased property where the landlord is responsible for doing so.
Monthly EMI and interest- You will be required to pay a large EMI each month, as well as interest on the loan amount, which will range from 7% to 9% each year until the loan is fully repaid. Over the life of a loan, the total interest you pay might be close to the original loan amount.
No room for relocation- With the present employment market's volatility, paying the EMI might become a problem in the future. If you have to relocate due to a job or any other cause, your money will be connected to the property, and you will have to rent a new house.
Monthly/Yearly Charges- You'll have to pay property tax and water tax to the government, as well as building maintenance charges to your building, on a monthly/yearly basis. The homeowners are responsible for these fees.
---
Are you looking for 1 BHK Flats for Rent in Kharghar Navi Mumbai? Then you may contact Navimumbaihouses.com the biggest property portal to Rent / Sale / New Projects properties in Kharghar and Navi Mumbai.
---
The Renting a house
– Pros:
The ability to move out is the most significant benefit of renting. After your first lock-in term, you are free to leave your existing rental home if you choose. If you can't afford your present place, you can downsize to a different leased home.
Repair costs- You are not responsible for the upkeep of the rented space. If something goes down, you may inform your landlord, and the landlord will take care of all repairs and upkeep. Plus, if your profession requires you to travel frequently, you won't have to bother about upkeep.
Lower fixed costs- Renting is less expensive than owning, and you know exactly how much you'll have to pay at the end of the month. You'll save more money since you won't have to pay a down payment as you would when buying a property. If you are a salaried worker, you can also claim tax advantages on your House Rent Allowance (HRA).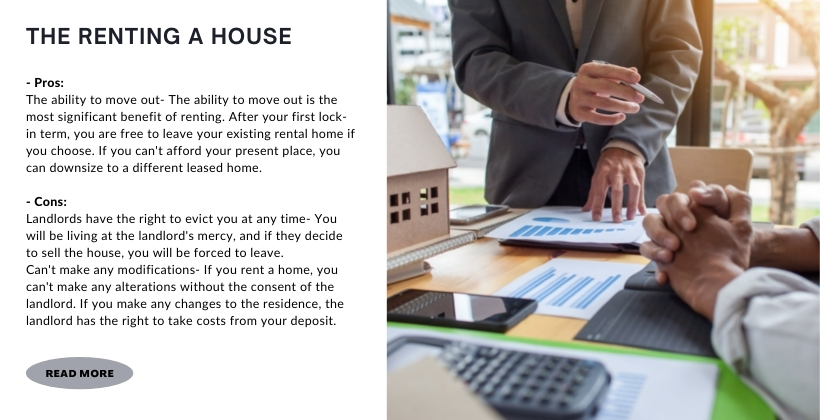 – Cons:
Landlords have the right to evict you at any time- You will be living at the landlord's mercy, and if they decide to sell the house, you will be forced to leave.
Can't make any modifications- If you rent a home, you can't make any alterations without the consent of the landlord. If you make any changes to the residence, the landlord has the right to take costs from your deposit.
Restrictions established by the landlord- There are numerous regulations and duties in the lease agreement set by the landlord, such as no dogs permitted, no nonveg food to be cooked within the premises, and no subleasing the property, and you must adhere to these rules, unlike when you own the property.
Not an asset- Paying rent on a monthly basis is a living cost if you do not own a physical item. In addition, your rent will grow by 5% to 10% per year.
Moving expenses- When you move from one home to another, you will pay moving costs. Not only will you have to pay the movers, but you'll also have to rent a car.
---
Are you looking for Flats for Sale in Kharghar Navi Mumbai? Then you may contact Navimumbaihouses.com the biggest property portal to Rent / Sale / New Projects properties in Kharghar and Navi Mumbai.
---
Although the total cost of ownership is higher than the cost of renting, you are acquiring a physical asset when you purchase your ideal house. There are numerous advantages and disadvantages to purchasing or renting a home, but the decision to buy or rent a home is entirely dependent on one's financial position and needs.
We are the Real Estate Web Portal to Buy Sell and Rent properties in Navi Mumbai, Mumbai, and Thane. We can help you Buy Properties at Affordable Prices at your desired location. For more information Call Us On +91 8433959100
If you want daily property update details please follow us on Facebook Page / YouTube Channel / Twitter
Disclaimer:
The views of this expressed above are for informational purposes only based on the industry reports & related news stories.
Navimumbaihouses.com
does not guarantee the accuracy of this article, completeness, or reliability of the information & shall not be held responsible for any action taken based on the published information.