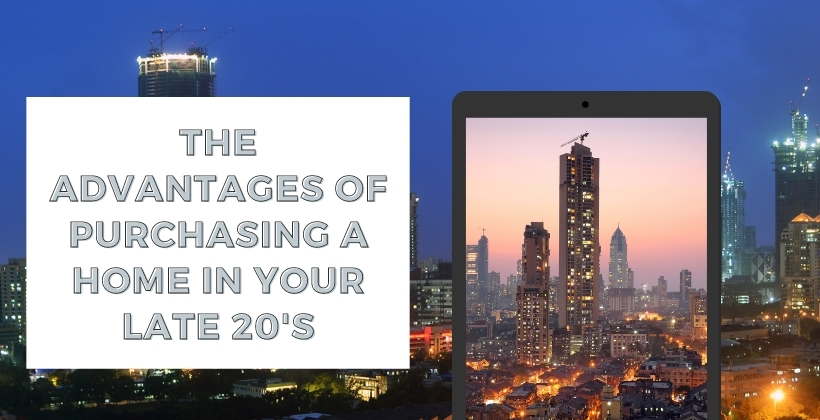 The advantages of purchasing a home in your late 20's
When it comes to real estate success, purchasing a home in your late 20's, age is just a number. However, investments made at a young age may pay off handsomely in the future, and purchasing a home in your twenties is a realistic ambition with appropriate financial preparation. If you're a young professional searching for a safe place to put your money, here are some advantages and recommendations to consider before investing in real estate.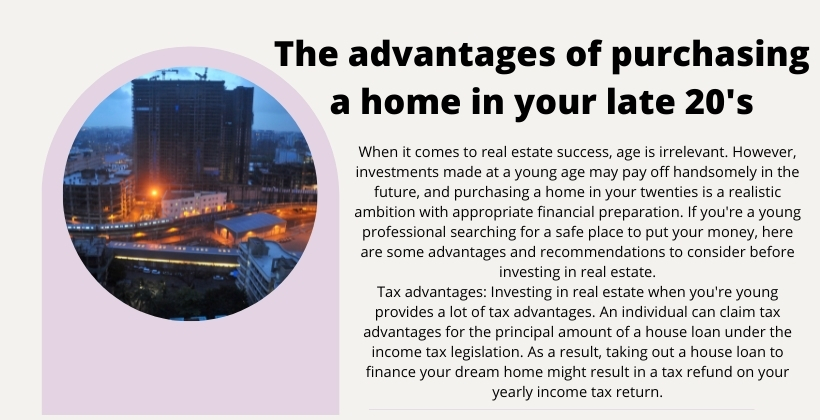 Tax advantages: Investing in real estate when you're young provides a lot of tax advantages. An individual can claim tax advantages for the principal amount of a house loan under the income tax legislation. As a result, taking out a house loan to finance your dream home might result in a tax refund on your yearly income tax return.
Great credit score: Getting a house loan when you're young can help you create a solid credit history, which will lead to a high credit score, and therefore more financial chances.
There will be no rental agreement prohibiting you from taking down a wall to personalize and modify your home. Once you own your house, you may paint, restore, and enhance it.
Convert your home into a money-making investment: Property values tend to rise with time, so when you sell it, you'll get all of the profits, and you can even turn it into an income-generating rental property.
Some Tips Purchasing a Home in Your Late 20's
– The financially disciplined
Purchasing a home in your twenties is difficult. It's not as straightforward as putting aside 20% of your monthly salary. However, before you begin the home-buying process, you must set a goal and regularly save money for 8 to 12 months. To save money for a down payment, you should start lowering costs, avoid buying on impulse, and strive to improve your income flow. You can also get high returns by investing in equities, bonds, PPFs, mutual funds, and other similar investments.
---
Are you looking for 2 BHK Flats for Sale in Kharghar Navi Mumbai? Then you may contact Navimumbaihouses.com the biggest property portal to Rent / Sale / New Projects properties in Kharghar and Navi Mumbai.
---
– Do some research on the property you're thinking about buying?
Being conscious of your housing demands is critical, as a millennial who is actively saving for a house that meets all of their wants while also assisting in cost-cutting may be a better alternative than one that leads you to exceed your budget. It's crucial to write down your needs in terms of facilities, location, pricing, and so on because these are the elements that determine the cost of buying a home.
– The Consult a real estate experts
If real estate decisions are not carefully planned, making a mistake might result in a significant loss. To avoid this, make sure you have all of the facts about the property you're interested in and locate a solid mentor. You may also learn from real estate professionals or talk to folks who have been investing in real estate for a long time.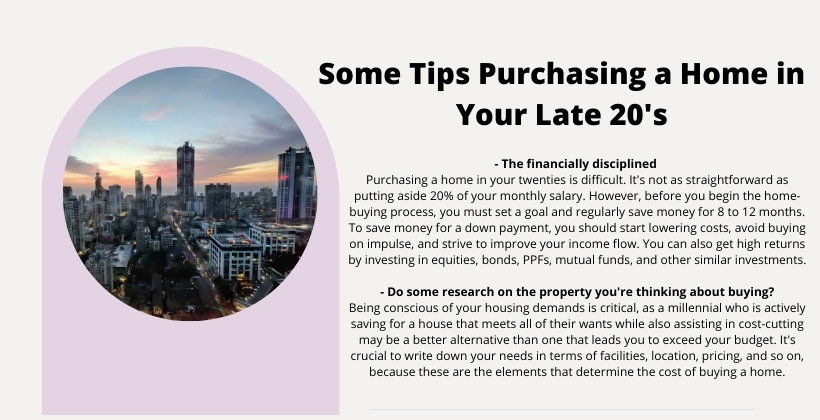 – The Loan planning
Take out a loan that you can easily afford, as many first-time house buyers are caught off guard by unmanageable EMIs and end up defaulting. Consider taking a lengthier loan term to minimize the amount of your EMI. While longer loan terms result in greater interest, you may lower your interest outgo by making periodic prepayments in line with your income. To fully comprehend the complexities of the house loan procedure, consult at least two to three reputable institutions.
– The prepared for other expenses
Apart from the down payment, there are several additional costs to consider, such as registration fees, stamp duty, memorandum of title deed fees, interior costs, legal fees, house insurance, brokerage fees, and any other costs that may arise if you do not prepare ahead. While properly factoring in all non-loan expenses may be challenging, strive to have at least an estimate and prepare accordingly.
– The Start small
It may be difficult to afford your large dream home in your twenties. As a result, think about buying a starting house that matches your budget, such as a large 1 BHK or a compact 2 BHK. Your salary will rise as you get older, and in your 30s and 40s, you may always sell your beginning house to obtain cash for a home renovation.
– Don't buy a house that you can't afford
It's critical to purchase a home that you can afford. Consider your mortgage, taxes, fees, insurance, and upkeep to see whether they fit into your budget. It simply indicates that just because you have a mortgage approval does not mean you have to buy up to that amount. Homeownership is a wise decision, but it may be costly if you are unprepared.
Buying a property in your 20s is not difficult, but it will be extremely beneficial if you are willing to stay in one area for a time and have solid financial planning, consistent saving, and clean credit history.
---
We are the Real Estate Web Portal to Buy Sell and Rent properties in Navi Mumbai, Mumbai, and Thane. We can help you Buy Properties at Affordable Prices at your desired location. For more information Call Us On +91 8433959100
If you want daily property update details please follow us on Facebook Page / YouTube Channel / Twitter
Disclaimer:
The views of this expressed above are for informational purposes only based on the industry reports & related news stories.
Navimumbaihouses.com
does not guarantee the accuracy of this article, completeness, or reliability of the information & shall not be held responsible for any action taken based on the published information.