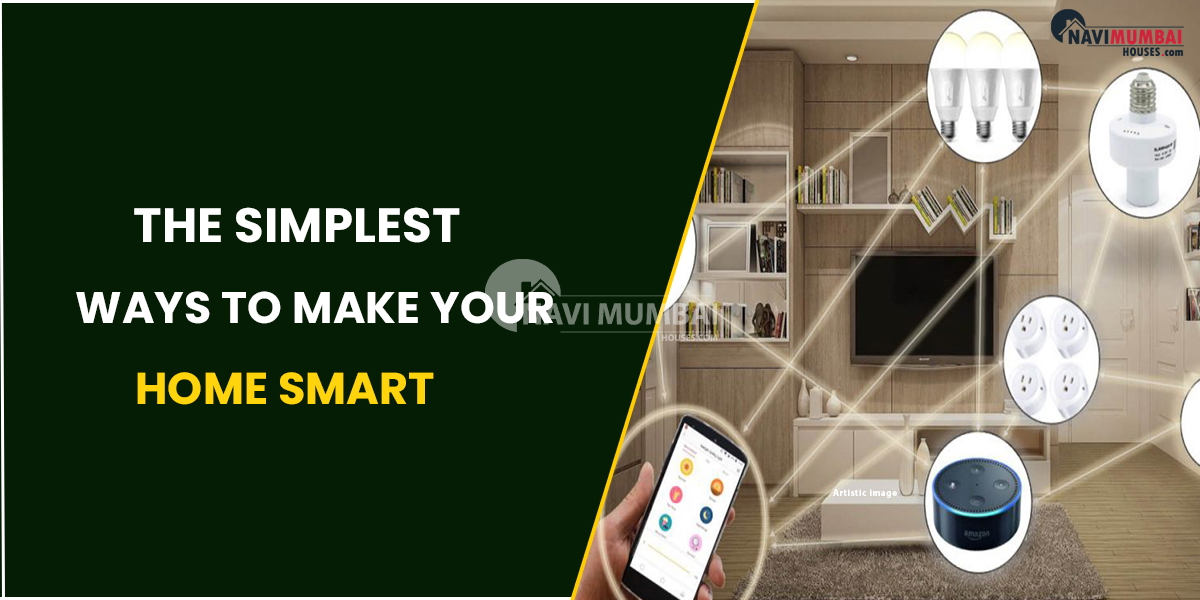 The Simplest Ways To Make Your Home Smart
Things we covered for you
What is a Smart Home?
How does a Smart Home Function?
Smart appliances of today can pick up on their owners' routines and adapt accordingly.
How To Set Up a Smart Home?
Other Smart Appliances
Pros And Cons of Smart Homes
Should You Invest in A Smart Home?
Cost of Setting up a Smart Home?
What Is the Future Of Smart Homes?
Nowadays, many home complexes come equipped with features like the ability to operate all appliances with a single remote, the use of smart plugs to manage water geysers, and the ability to operate lighting using an app on your smartphone.
However, due to the dearth of information and limited knowledge of smart homes and home automation in India, purchasers have occasionally been misled.
Homebuyers should be inform of what makes up a "smart house" and decide if it is reasonable to spend more for features they may or may not ever use.
---
Are you looking 2BHK flat for Rent in Navi Mumbai?
---
A smart home: what is it?
A smart house is one in which all of the appliances are connected to one another through the internet. This enables the remote management and observation of equipment like-
Lighting
Equipment for heating and cooling
electronic entertainment
Security systems for doors
The idea behind smart homes is called home automation, and it aims to make your house safer, cosier, and more energy-efficient.
This is done by allowing homeowners to use a smart home app or other network devices to operate the smart gadgets that have been place in their houses.
A network of actual objects that can gather and share electronic information is known as the Internet of Things (IoT). IoT technology includes connected services like smart doorbells, smart security systems, and smart appliances.
Smart home automation systems and IoT gadgets (which include sensors and can communicate data wirelessly through the internet) typically work together and share information on homeowners' preferences to carry out predefined tasks in accordance with those preferences.
What is the operation of a smart home?
A mobile device, such as a smartphone, tablet, laptop, or game console, can be used to operate the connected devices in a smart home from a central place.
Multiple devices, such as door locks, TVs, thermostats, home monitors, cameras, lights, and even kitchen appliances like the refrigerator, may be controlled by a single home automation system. The user can specify times for certain adjustments to take effect once the programme has been downloaded and installed on a mobile or networked device.
Modern smart appliances can detect the habits of their users and adjust appropriately.
These inherent learning capacities imply
Your music system will dim after 10 o'clock and your air conditioner might turn on at 6 o'clock.
By putting lighting controls in their smart homes, homeowners will be able to reduce their overall power usage and experience cost savings related to energy consumption.
Your house will be more secure thanks to some home automation technologies. If any motion is notice while the homeowner is gone, the system will notify them. Others, on the other hand, will alert the proper authorities, such as the police or the fire department, if a potentially hazardous situation occurs.
How Do I Configure a Smart Home?
Better management over heating equipment is possible thanks to smart appliances in the house, including scheduling when items are controlled, switched on, and shut off.
Here is a tutorial on how to set up smart appliances, including lights, televisions, security systems, and more.
Installing Smart Lighting Equipment
Homeowners now have access to better features, which are frequently accessed via a smartphone, tablet, or specialised remote control made only for a gadget.
Depending on the times of dawn and sunset, the lights may be configured to automatically change, be manually switched on and off, or put on a schedule. Like many other more commonplace devices, lights may frequently be set to change in response to the presence of motion.
Through Wi-Fi, smart bulbs may communicate with one another and transfer whatever data or metrics they gather to the user's phone.
This lighting category may also include devices for smart home automation systems that control or limit the amount of light that enters a space.
Blinds that close on their own may be install, and they can be set up to do so based on the hours of dawn and sunset. Electronic drapes are an additional choice that let clients operate their window blinds from a mobile device.
Setup of Smart Audio-Visual Appliances
One of the most appealing features of smart homes is how many various entertainment devices are now intricately connected to one another and can be controll by a single remote.
Applications may now provide speakers and televisions improved on-demand content playback capabilities. These attributes include the capacity for schedule-based maintenance and voice control.
Installation of Smart Security Systems
One of the most useful features of this form of home is its enhanced security capabilities. Nowadays, a lot of products have cameras built in that can capture video, transmit live video, and detect motion.
Numerous of these cameras offer additional helpful features. This may be configure to show in certain spots on your property or place to chime at the same time as your doorbell. With the help of these movies, you will be able to have a voice-over-video call with the person at your door.
A few contemporary security systems may be found in smart homes. This involves installing motion sensor detectors in places where people are not anticipated to be present, conducting home surveillance, notifications and alerts for suspicious activities. As well as the capability to remotely lock windows or doors using a phone.
Additional Smart Devices
A substantial chunk of today's smart home applications revolve around digital assistants and home hubs. You may interact with these gadgets mostly using your voice.
They can take orders, respond to questions, set up your calendar, organise conference calls, and send notifications. Digital assistants offer a range of control over smart assets. Including their schedules and the states in which they are now working. Even if they are not physically connected to a person's home.
Smart smoke and CO detectors not only have the ability to sound an alarm. But they can also be connected to your phone to give you a warning if you are away from the property at the time of an emergency. These gadgets may frequently be set up to send notifications to the persons you choose in an emergency.
Fully automated irrigation systems have been programme for some time. Climate and environmental factors may now be taken into account in current water schedules thanks to sophisticate irrigation systems. Intelligent irrigation systems closely monitor moisture-related factors and strive to use less water.
Smart Home Pros and Cons
Benefits of a Smart Home
Possession of all devices: The installation of a home technology system provides homeowners with more convenience. Appliances, thermostats, lighting, and other features may all be controll by homeowners from a single device. Which is frequently a smartphone or tablet. This eliminates the requirement to control each component independently.
Real-time notifications: Since users are connected to a portable device. They may get alerts and the most recent information regarding issues in their homes. For instance, smart doorbells put in houses allow homeowners to observe and communicate with visitors even when they are not home. The interior's temperature, lighting, and appliances may all be controlle by users.
Reduce electricity waste: Homeowners may realise significant cost savings in return for the initial investment needed to implement the intelligent system. Electronics and household appliances that are use more wisely might lead to lower energy costs.
The Drawbacks of Smart Homes
Even though a smart house could offer convenience and cost savings, there are still challenges to be solve. Users and developers continue to struggle with bugs and other technical problems.
Subject to software hacking: If the hacker is experience enough, internet-connected appliances in a smart home might be compromise. In order to perform a denial of service assault, commonly known as a DDoS attack, in October 2016. The Mirai botnet accessed connected devices including routers, cameras, and DVRs. Several well-known websites were offline as a result of this attack. Some steps that may be done to lessen the possibility of such attacks include protecting smart appliances and gadgets with a strong password. Encrypting sensitive data wherever it is practical, and connecting only reputable devices to a network.
Expensive: As was previous said. The cost of installing intelligent technology may range from a few thousand dollars for a wireless system to tens of thousands of dollars for a hardwired system. It is a costly price to pay. Especially in light of the possibility that everyone living in the house will have a significant learning curve as they become used to the new system. This makes paying the price more challenging.
If so, should you make the investment?
Analyzing the costs and benefits of buying a smart home necessitates making an initial investment to equip your house with the required gadgets. The cost of properly educating and training oneself to use the aforementioned items is another consideration.
However, the benefits of cutting down on the time needed to complete tasks and the potential utility cost reductions may make it beneficial to invest in a smart home.
What Role Do Smart Homes Have in the Future?
By the end of 2022, the Indian market for smart homes is expected to reach six billion US dollars. According to Statista. In response to this need. A number of different household appliance producers have joined the Indian market with their selections of intelligent devices. For instance, Panasonic unveiled a line of smart home products in February that were especially create for the Indian market. On the other side, the coronavirus epidemic is probably going to impede this market's growth.
Smart homes have changed how customers carry out activities, use energy, and interact with the numerous technologies in their homes. They also make many jobs more simpler.
Before you consult an interior décor specialist who can transform your house into a smart home. You may weigh the benefits and drawbacks of doing so and establish a budget.
They may assess the requirements and potential of making your house a smart home. The interior décor team has worked on several projects and successfully transformed a home into a fully automated smart home.
Please leave a remark below the article if you are interested in a free consultation with our knowledgeable interior décor experts. An executive will get in touch with you shortly.
---
You're looking for Buy Home In Navi Mumbai we have the Best Buy Properties In Navi Mumbai Like Ready to Move & Nearby possession: https://navimumbaihouses.com/property/search/buy/navi-mumbai-all/
If you want daily property update details please follow us on Facebook Page / YouTube Channel / Twitter 
Disclaimer:
The views of this expressed above are for informational purposes only based on the industry reports & related news stories.
Navimumbaihouses.com
does not guarantee the accuracy of this article, completeness, or reliability of the information & shall not be held responsible for any action taken based on the published information.
Also Read
Rent Properties in Kharghar