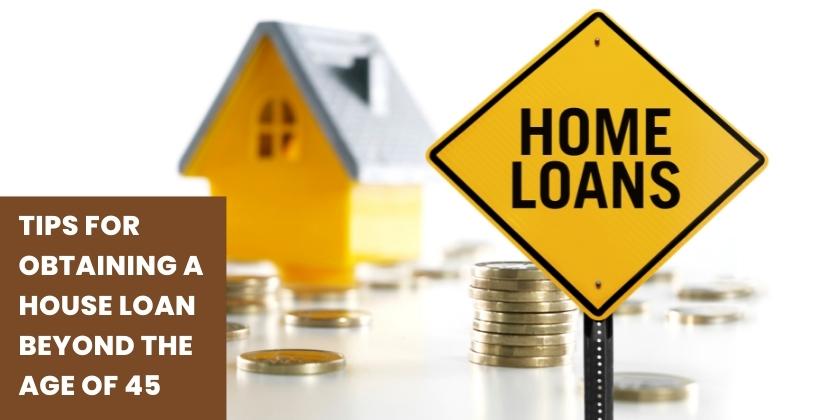 Tips for obtaining a house loan beyond the age of 45
Every person's dream is to own a home. Every family decides to buy a house at some point in their lives, depending on their financial situation. Others individuals buy a property in the early stages of their careers, between the ages of 20 and 30, while others buy between the ages of 30-45 and some after the age of 45.
Every person's desire of buying a home is supported by a home loan. With the inclusion of more house purchasers, particularly millennial, the housing market has seen a boom over the previous two decades. People between the ages of 20 and 30 who buy a house with a home loan have an advantage because of their age.
Late entrants, or those who decide to buy a property beyond the age of 45, may find it difficult to obtain home loans on their own conditions, because lenders are concerned about such borrowers' age. Normally, a house loan has a maximum tenor of 30 years, but if you are over 45, your loan tenor is limited to 15-20 years (up to one's working age). Lenders assess income continuity till the age of 60-65 years and hence limit the tenor to the same.
However, being a late arrival should not deter you from pursuing your goals. At this point in life, when your children are in college, you have a nuclear or joint family, and so on, you are clear about whether you need a larger or smaller house, location, area, and so on. You are also clear about your budget, which will assist to expedite your search for a home.
---
Are you looking 3 bhk flat for sale kharghar?
---
Borrowers above the age of 45 may be eligible for a home loan.
As an individual, you may have been working since your early twenties and have worked for more than 20 years. You might have saved a lot of money throughout these years. This sum can be used as your personal contribution toward the purchase of the house.
According to the RBI's standards, you can acquire a loan of up to 90% of the market value for loans up to Rs 30 lakh, 80% for loans between Rs 30 lakhs and Rs 75 lakhs, and 75% for loans greater than Rs 75 lakhs, however being a late entrant will minimize your loan load and replace it with your own cash. This will also make it easier for you to handle your responsibility at the end of your loan term.
Financial institutions also provide 'step-down' repayment arrangements, in which EMIs are initially large and then gradually decrease. Normally, this flexibility is only available to borrowers whose employment pays a pension. As a result, salary income is considered for eligibility until retirement age, and then pension income is evaluated for the next five years. It is also available when a second generation is introduced to the loan structure that has just begun earning and can continue with the liabilities when you retire.
Furthermore, if one's spouse works, he or she might be included to the loan arrangement to increase income and eligibility.
Make bulk future payments from your savings, gratuities, or provident fund money to keep your liability under control.
How to Get a Mortgage at 45
Home buyers over the age of 45 can buy the property of their dreams if they keep the following considerations in mind:
To boost your loan eligibility, add your spouse as a joint borrower.
Choose your second generation as joint borrowers to improve your chances of obtaining a longer loan term.
Make use of your current savings to boost your share in the home you're buying. This will assist you keep your liabilities under control while also making it easier for your financier to lend to you.
To make bulk part payments, take advantage of the RBI principles of no foreclosure costs and no limit on the amount of part payments. Make these bulk payments using your retirement assets. This will lower your loan load and get you out of debt quickly.
Get insurance with your home loan to protect your family from liabilities in the event of an emergency.
Most key, do extensive research before finalizing your mortgage. Choose a lender that caters to borrowers in their forties and fifties. Examine the interest rate on the house loan as well as the cash you have invested. Perform a cost-benefit analysis to determine if a larger down payment or a larger loan is preferable.
Considerations When Applying for a Mortgage in Your 40s
While this may sound challenging at first, it is doable if the following factors are considered:
Maximizing Tenure
For people in their 20s and 30s, most house loan providers provide maximum loan duration of 30 years. Those in their 40s, however, may be eligible for a shorter tenure, given the impending retirement age of 60. However, if you have a strong credit score, a regular job, and so on, you may be able to persuade the lender to extend the loan payback period past retirement.
Choose a Joint Home Loan
A combined loan with your working spouse or one of your financially independent children will not only qualify you for a larger house loan amount, but will also minimize your individual EMI expenditures. Furthermore, you might realize greater pooled tax benefits than with a single application loan.
Choose a Higher Deposit
Making a bigger down payment will help you minimize your home loan payments expenses. This will result in lower EMIs as well as a lower interest component. However, you must be careful not to overextend yourself. You must also refrain from spending cash set aside for medical and other situations.
Repayments in Lump Sum
It is best to time the payback period of your house loan to coincide with your retirement. This will prevent your retirement funds from being utilized to pay down your mortgage. You might make lump sum payments from any bonus, gratuity, or other windfall you receive, such as an inheritance.
Before Choosing A Lender, Do Your Research.
There are several mortgage lenders. It is critical to do an accurate evaluation in order to select an appropriate one. To choose an appropriate lender, you must evaluate a lot of factors; focusing just on the interest rate is not advisable. You should evaluate the lender's reputation and integrity, the lender's ability to advise you in selecting a suitable house, repayment flexibility, and so on. Choose a lender who reduces formality and paperwork to a minimum.
---
You're looking New Projects in Kharghar we have the Best New Projects in Kharghar like Ready to Move & nearby possession:  https://navimumbaihouses.com/properties/search/kharghar/
 If you want daily property update details please follow us on Facebook Page / YouTube Channel / Twitter
Disclaimer:
The views of this expressed above are for informational purposes only based on the industry reports & related news stories.
Navimumbaihouses.com
does not guarantee the accuracy of this article, completeness, or reliability of the information & shall not be held responsible for any action taken based on the published information.
Also Read
Buy Properties in Navimumbai