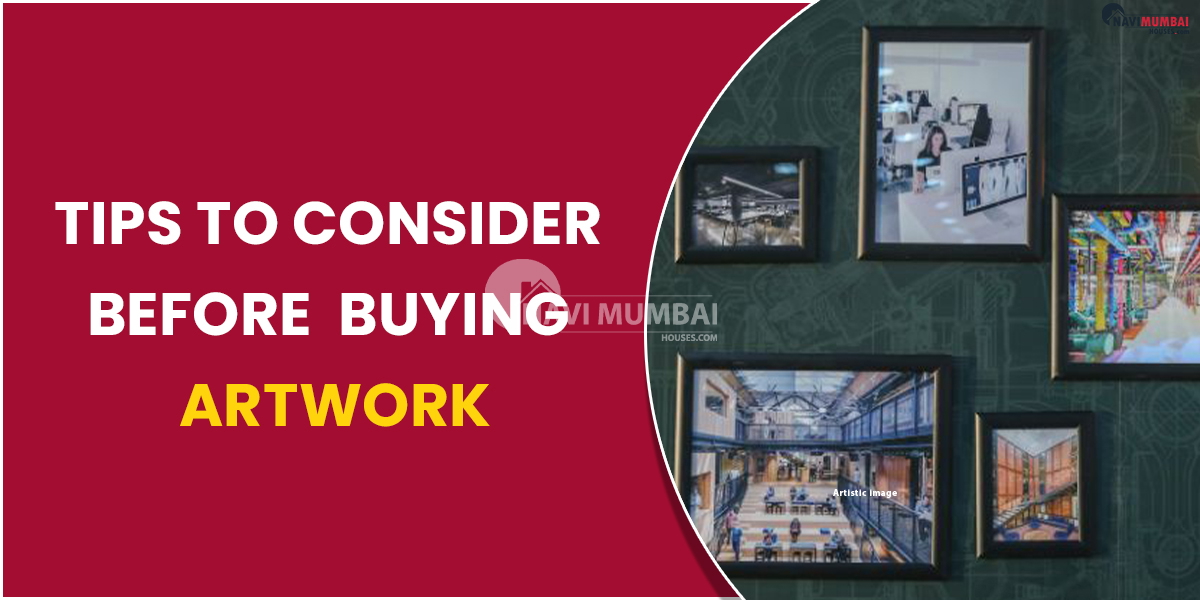 Tips To Consider Before Buying Artwork
Tips To Consider Before Buying Artwork: Paintings and other works of art can change the atmosphere of your home. Take note of your reactions as you gaze at the picture, as well as its elements and overall impression. Let's look at some of the factors to take into account while purchasing artwork for your home.
In a residential building, every unit is essentially the same. However, you can change the appearance of your house by adding priceless artwork to it.
Paintings are still considered as one of the greatest methods to make your home look upscale and are among the most famous artworks used to decorate walls in homes. An original painting that was created by hand might act as a link between you and your house. The choice of a painting can prove to be a wise financial decision. The more precious they get as they age. Paintings are one of the few handcrafted artworks that, in contrast to other decorative items, may provide you with excellent long-term profits.
---
Are you searching for flats in Ulhasnagar?
---
Why Is Art Necessary For Interior Design In A Home Or Workplace?
Art is an appreciation of human expression in all its forms. Therefore, adding artwork to a home or workplace might change the atmosphere there. For instance, when someone enters their home, walking by a large artwork of a calm lily pond in the living room might quickly make them feel serene. When properly incorporated into a space, art has a profound psychological impact.
What Are The Many Types Of Paintings That You May Purchase For Your House Or Place Of Business?
Art can take many different forms. Paintings can come in a variety of sizes and styles depending on the artist's ideas.
It's crucial to think about the kind of area a painting will take in your home. The easiest approach is mood; you can select artwork that expresses any emotion you want in the space. For instance, peaceful scenes that make us think of nature's beauty could be found in sleeping areas because they are calming and restful. Puja rooms could have beautifully painted religious statues or manuscripts to lend a spiritual touch.
Workplaces are often built for productivity and success; they are frequently covered with images of accomplished people who motivate others with their tales of brilliance. The best thing about portraits is that they convey inspiration without actually saying anything. In addition to being wall decorations, these also convey virtues like openness, humility, boldness, etc., which makes them essential resources in workplaces where staff members require ongoing inspiration. You might also utilize abstract art, which signifies originality and invention.
How Can I Pick A Painting As Décor For My House Or Office?
You should choose the painting depends on the signal you want to provide both your guests and the locals who live there. For instance, if you're planning to hang a painting in a restaurant, you might want to tell the patrons that the food there is hygienic, appetizing, and fun so that it will help them form a favorable impression of your establishment.
Mainly for the atmosphere of your house or workplace, consider the room's ambiance as well as the mood you want to convey. This will serve as a guide for the themes you want to convey in your painting and how they'll work well with the décor. All of these elements—colors, textures, and subject matter—should complement one another. When choosing paintings for a business environment, whether at home or at the office, certain considerations must be made. Depending on whether this is a person's private area or the domain of the entire organization, sizes must be appropriate for the places available. They should also be based on the business culture and branding requirements.
Important Aspects When Purchasing A Painting
Look for one-of-a-kind items that have a special meaning for you.
The painting's scale, composition, style, and shapes should all complement the main idea.
For the essential rooms at home or at business, think about purchasing more expensive artwork.
To ensure that they last longer, make sure they are properly framed.
Make sure the artwork is original, choose the artist carefully, and give preference to well-known creators.
Paintings are frequently pricy. Therefore, ask the vendor if you can return it later on, if necessary.
Don't use low-quality printed art. If money is tight, you can, after doing your research, buy art from a new artist.
Advice on Purchasing Prints of Artwork
If money is particularly tight, an art print can be a decent choice. To contrast art prints with the original piece, however, is incorrect. It's comparable to contrasting genuine gold jewellery with counterfeit imitation jewellery. Even though artificial items may have a similar appearance, wearing genuine gold jewellery may give you a different emotional response.
---
You're looking for New Projects in Shilphata we have the Best New Projects in Shilphata like Ready to Move & nearby possession: https://navimumbaihouses.com/properties/search/shilphata/
If you want daily property update details please follow us on Facebook Page / YouTube Channel / Twitter
Disclaimer:
The views of this expressed above are for informational purposes only based on the industry reports & related news stories.
Navimumbaihouses.com
does not guarantee the accuracy of this article, completeness, or reliability of the information & shall not be held responsible for any action taken based on the published information.
Also Read
Rent Properties in Kharghar