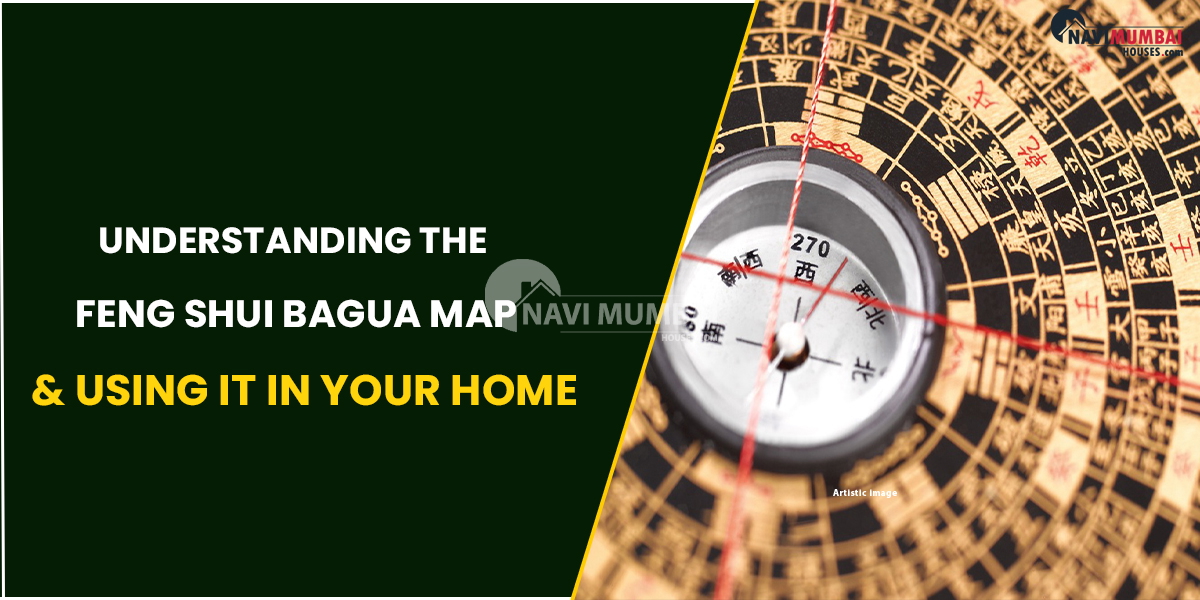 Understanding The Feng Shui Bagua Map & Using It In Your Home
The Feng Shui Bagua Map is a crucial technique and tool in feng shui that aids in assessing the energy level of your surroundings, particularly your house. When the term "bagua" is divided into its two constituent components in feng shui, "ba" stands for "eight" and "gua" for "area." Eight regions are produced when the two components are merged. A three-by-three grid design with identical proportions when measured from the centre is how a bagua map appears when visualised. The idea of the bagua map is also connected to "chi," which is known in traditional Chinese as the "vital force" of the cosmos.
The bagua map's fundamentals are derived from a compass because it takes the direction of the sun's rising and descent into account. An early circular map was created using the compass, and from there the modern square map with its three-by-three grid emerged. There are therefore two approaches to a bagua map: the conventional technique, which employs a compass, and the front door method, which requires you to line up the bottom of the map with the front door.
Discuss the definition, visual representation, and practical use of a feng shui bagua map in this blog.
---
Are you looking flat for sale in nerul?
---
A Feng Shui Bagua Map Explanation
Bagua maps are derive from ancient Chinese geomantic instruments. A bagua map guarantees that good vibrations are channelled in your house by mapping out the energy fields of your residence, much like a brahmasthan vastu zone does in the Indian science of architecture known as Vaastu Shastra. A square or even an octagonal form might be use to design a bagua map. A bagua map is use in Chinese feng shui to channel and reroute life zones. Additionally, it represents family, fame, relationships, health, profession, and creativity.
To determine which grid relates to which room or area of the house, layer the feng shui bagua map over your floor plan or architectural layout. You may use a feng shui bagua map for your workplace, room, desk. And even on your face if you're wondering how to utilise one other than while building your home.
How to Use 
Clarity about the utility potential of a feng shui bagua map can only come when the first step is taken; which is introducing the bagua map in the earliest stages of construction to your home or floor plan. For proper application of a feng shui bagua map check out the tips mentioned below:
The grid must have uniform spacing.
There must be a three-by-three grid, with the bottom of the grid coinciding with the front entrance.
To coincide with the feng shui bagua map, place elements like profession, knowledge. And travel in the bottom half of the chart.
If the floor plan of your total house is tricky, meaning it is neither entirely square nor rectangular; you can even match the bagua map with the floor plan of your bedroom exclusively. Bedrooms across properties are normally in standard shapes like rectangular or square. Moreover, applying a bagua map to your bedroom will be beneficial in all aspects of your life whether it be family, relationships, health. Knowledge or wealth because this is where an individual spends the majority part of their time at home. However, if applying the bagua map to your entire house floor plan is possible. It is strongly recommend you do so.
Implementing the Feng Shui Bagua Map Correctly in Your Home
You must turn on the positive energy fields after integrating the bagua map into your home by aligning it with the floor plan to bring about its full potential. To do this, you must start small by incorporating bagua for feng shui aspects into your home. These include the following:
Plant some living plants in your area.
Move the furniture around in the designated space in accordance with the material and area.
Apply colours according to the bagua map theory to attract financial and personal well-being.
Use and position items according to the feng shui bagua map. This will be relevant to the elements with area designations.
Summary
Fundamentally an energy map that aims to channel the energy produced by the rising sun and the entire cosmos into your life in order to affect all the things that are important to you—wealth, health, knowledge. Family, and relationships. Make sure to incorporate the map into your home's design from the beginning and to activate it once you've moved in to your finished, feng shui-inspired home.
---
You're looking for Buy Home In Navi Mumbai we have the Best Buy Properties In Navi Mumbai Like Ready to Move & Nearby possession: https://navimumbaihouses.com/property/search/buy/navi-mumbai-all/
If you want daily property update details please follow us on Facebook Page / YouTube Channel / Twitter 
Disclaimer:
The views of this expressed above are for informational purposes only based on the industry reports & related news stories.
Navimumbaihouses.com
does not guarantee the accuracy of this article, completeness, or reliability of the information & shall not be held responsible for any action taken based on the published information.
Also Read
Buy Properties in Kharghar