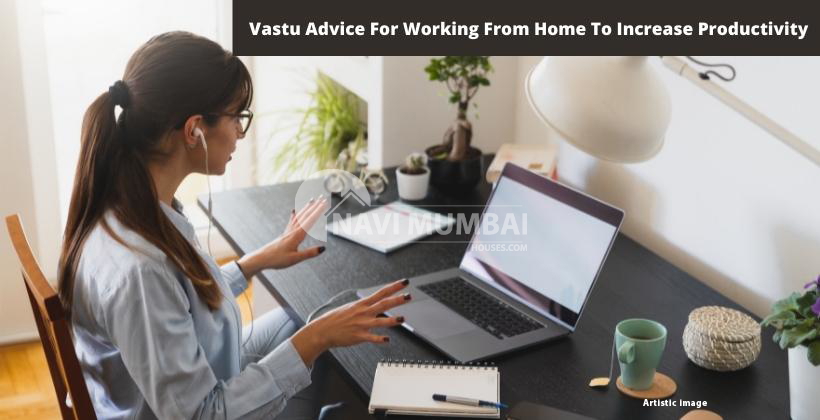 Vastu Advice For Working From Home To Increase Productivity
Here are some simple Vastu recommendations to assist you generate good energy and give your all to your business when working from home.
People are increasingly working from home (WFH) in the aftermath of the Covid-19 outbreak. Some people who were not at ease at home return to work, while others continue to work from home. While working from home may have been pleasurable at first, many people now find it uninteresting or tedious as time passes. Employees may also be lacking in drive to fulfil their responsibilities. All of this lowers their productivity.
---
---
However, decreased productivity may also be cause by unfavourable energy in the home. These energies have an impact on your health and well-being, which in turn has an impact on your productivity. To assist you with answers, we have shared some simple Vastu ideas that will generate good energy and allow you to give your all at work.
Vastu advice for working from home
The most significant aspect of your work is the path you pick. Each of the four directions is significant in its own right. The north zone signifies money and possibilities, while the east zone represents creative thinking. Working should be done with your back to the north or east, according to Vastu Shastra. These two orientations are excellent for working and will increase your output.
Vastu for WFH: Use plants to improve focus.
A spike in the carbon dioxide level in your home's air would have an effect on your concentration. We are all aware that green plants produce oxygen, which aids in the preservation of the environment. Plants provide good energy into the home. Plants on your desk may help you concentrate better at work.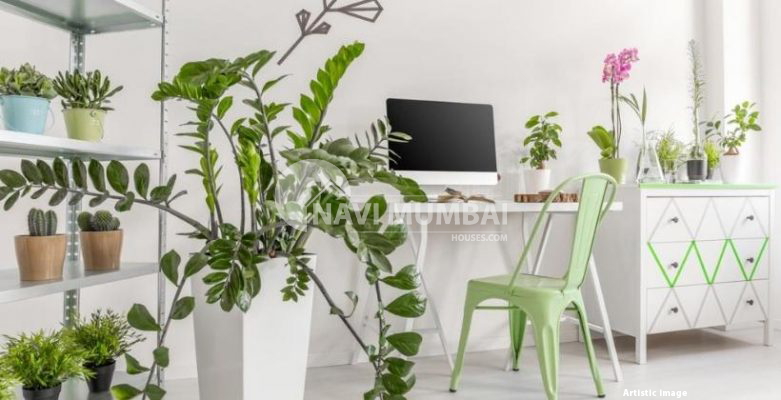 Vastu Shastra for Plant Care at Home and in the Garden
We look at the Vastu Shastra regulations that must be observe  while establishing a home garden or making home blueprints.
It is thought that by following the precepts of Vastu Shastra, an ancient Indian architectural concept that integrates the advantages of the five elements, one may bring harmony, tranquilly, wealth, and health into one's life. This is why it is essential that house owners adopt Vastu principles for plants while establishing a home garden or making designs at home.
Vastu plants for the home that are recommended
The following plants are beneficial to your home:
Dracaena: The fortunate bamboo attracts tranquilly, pleasant energy, luck, and wealth.
Tulsi (holy basil): The holy basil plant purifies the air and spreads positive energy. It should always be maintaine to the north, north-east, or east. This plant should not be kept or planted in the house's southernmost direction.
The green glossy leaves of the money plant attract prosperity and fortune. Place this plant in the south-east corner of your living room for the maximum money plant advantages, according to Vastu.
Aloe Vera is an evergreen medicinal plant that cleans the air. It is a succulent, resilient plant that requires very little water to live. According to Vastu for plants, keeping the aloe vera in the east or north direction assures the well-being of family members.
The name itself implies love, peace, and harmony. This plant would look great in your bedroom.
The jade plant is also known as the dollar plant because it signifies prosperity. According to Vastu, the best location for a jade plant is in the south-easterly direction of the residence to increase cash flow and financial revenue.
Working From Home: Maintain a clean work environment to promote good energy.
Papers, pens, and other stationery items may be on your workspace. These objects have the potential to disrupt the flow of positive energy into your house. Keeping many items on your desk, according to Vastu, may stymie your development. To allow positive energy to flow, keep your workstation and surroundings nice and clean. Keep unnecessary objects away from your workstation.
Working From Home: Participate in physical and mental activity.
Sitting or working for long periods of time can be detrimental to your health and well-being. So, maintain your body and mind healthy by engaging in certain physical activity. Take short rests between jobs to re-energize oneself. You can do yoga or any other form of exercise.
How to Set Up the Ideal Yoga Corner in Your Home
Certain ground rules must be follow while establishing a yoga nook in your house in order to achieve the optimum outcomes from your yoga practise.
The Coronavirus epidemic has compelled all of us to alter our lifestyles. Staying at home has provided some people the opportunity to hone their abilities. For others, it has provided an opportunity to reconnect with family via active involvement in everyday duties. Most importantly, the epidemic has made us all more conscious of our health and well-being, motivating us to engage in physical exercises like yoga that help us build stronger immunity. If you do not already have a home gym, create one.
Working From Home : Yoga has its own space.
You should not practise yoga in any location that appeals to you on that specific day. To practise with a certain amount of discipline, you need a distinct yoga area, just as you need a defined workstation while working from home. So, choose a room or a corner where there will be the least amount of disruption.
Keep the following in mind before choosing this location:
Yoga should preferably not be practise in a corner of your bedroom. This is the room where you should rest and relax. As a result, the vibes of a yoga practise space and a bedroom are very different and should not be mixed.
A yoga practitioner must be completely focuse in order to achieve the optimum benefits. This is only achievable in an area free of disruptions. As a result, your yoga space should not be too close to the kitchen or living room.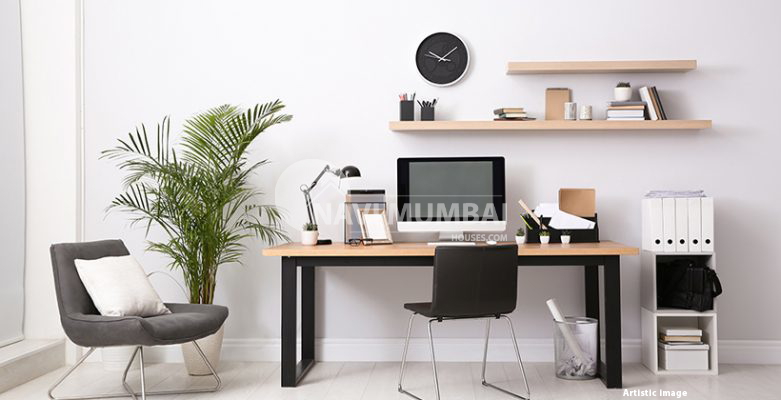 Vastu for a working desk
Your work station should be square or rectangular in shape to increase efficiency. Wood is the ideal material for a desk or table, according to Vastu Shastra. Tables made of metal or glass should be avoided since they disrupt energy patterns and hinder productivity.Use these simple
Vastu methods to stay inspired, cheerful, and productive. It will not only increase your productivity but will also make your work from home experience more fun.
---
You're looking for Buy Home In Navi Mumbai we have the Best Buy Properties In Navi Mumbai Like Ready to Move & Nearby possession: https://navimumbaihouses.com/property/search/buy/navi-mumbai-all/
If you want daily property update details please follow us on Facebook Page / YouTube Channel / Twitter
Disclaimer:
The views of this expressed above are for informational purposes only based on the industry reports & related news stories.
Navimumbaihouses.com
does not guarantee the accuracy of this article, completeness, or reliability of the information & shall not be held responsible for any action taken based on the published information.
Also Read
Buy Properties in Navimumbai