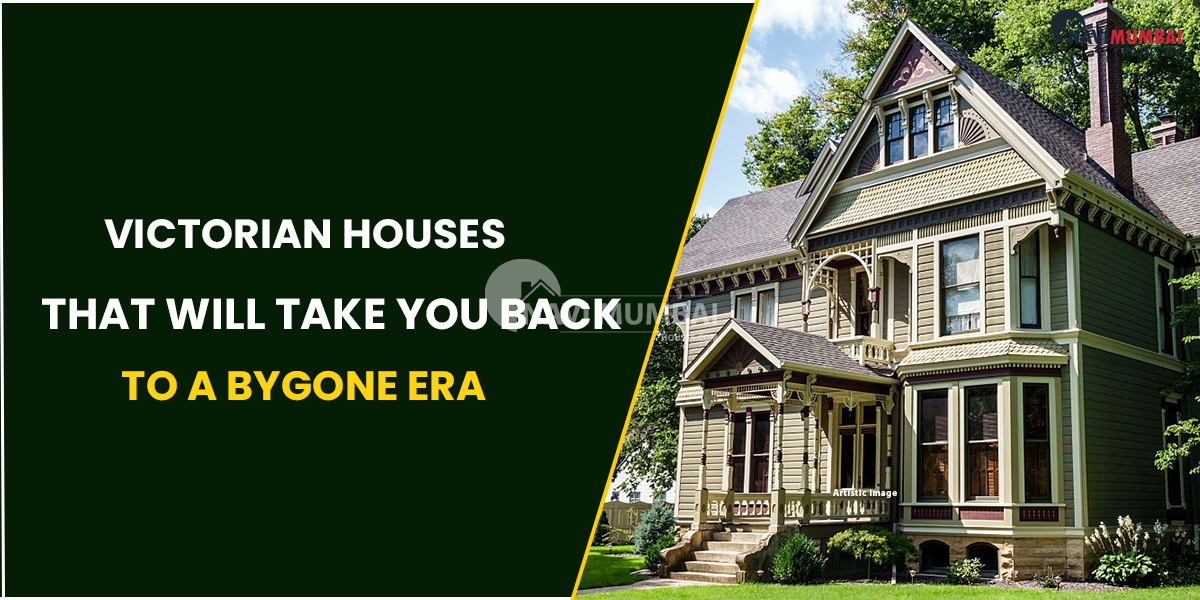 Victorian Houses That Will Take You Back To A Bygone Era
Victorian Houses : A Victorian home is an example of Queen Victoria's reign's architectural styles. Everything you need to know about Victorian homes, their characteristics, and design motifs is provided here.
Victorian homes have captured our hearts for more than 200 years. The interiors are far more than what meets the eye behind those little exteriors. It is important to carefully consider the many different variants of this architectural style. Then why is the Victorian home style so distinctive, and how did it become a popular trend? These fascinating structures share a trait despite their seeming diversity. Whether they are brought back to its pristine original state or rebuilt in a more contemporary manner to meet modern demands, they never lack charm.
Victorian-style homes provide owners the chance to inherit a piece of history, which is something you do not receive in modern homes, whether they are large magnificent palaces or modest, adorable cottages.
---
Are you looking flat for sale in Kharghar? 
---
The Victorian home's history
As their name implies, Victorian homes are representations of well-known architectural styles from the reign of Queen Victoria (1837-1901). Many of the traits that we now associate with this architectural style were combined from older ones like Romanesque and Medieval Gothic. Due to the size of the British Empire at the time, Victorian architecture is quite common. This pattern may be seen in several places in the UK, North America, Australia, and New Zealand. During this period, a lot of young architects moved to the provinces to start their professions. To our surprise, however, they were able to stay current on changes in the Empire thanks to a trading journal called The Builder.
Where are Victorian homes found today?
In the US, Canada, the UK, and Australia, Victorian-era residences may still be found. In the UK, one in every six houses is of the Victorian architectural style. However, starting in the 1950s, many Victorian homes in the US were demolished for urban renewal. Millions of these homes are still in existence, and their occupants have become accustomed to their peculiar, vintage features.
The materials used to create residences during the Victorian era were of greater quality than those utilised in new building nowadays. These materials may frequently be restored to its original condition of functioning and beauty even after many years of abuse or neglect. But any old building needs a lot of upkeep, therefore it's essential to comprehend the history of the house. This can require managing dangerous chemicals, replacing outdated mechanical systems with more convenient ones, and abiding by construction codes and legislation governing the preservation of historical landmarks.
Types of Victorian homes
These regional differences have an effect on style in a specific way. The following is a list of the most popular Victorian home designs:
Victorian Houses : Gothic Revival  (1830-1860)
Due to the influence of European mediaeval cathedrals, homes constructed in the Gothic Revival style are sometimes compared to castles. The steeply pitched roofs, pointed arches, and front-facing gables that are embellished with vergeboards, a delicate wooden trim, are what make them stand out.
Victorian Houses : Italophile (1840-1870)
These mostly two-story homes were modelled after villas from the Italian Renaissance. In contrast to other Victorian architectural styles, they have low roofs and broad eaves. However, in line with this architectural style, they also have elaborate brackets.
Second Empire (1852-1870)
This design was heavily influenced by the reign of Napoleon III in France. These homes frequently feature a straightforward rectangular or square base. But even this house's design has a lot of personality. They have elaborate exterior woodwork and mansard roofs, which have a steep slope on all four sides.
Victorian Houses :  Stick-Eastlake (1860-1890)
These homes may be recognised by the fact that they are mostly made of wood, which was a readily available and economical material at the time. The "stick work" that covers the angled timber framing of these homes gives them their distinctive appearance. Additionally, they frequently have pitched, shingled roofs and double-hung windows.
Victorian Houses : Folk Victorian (1870-1910)
The floor layouts of folk Victorians are simpler and more square than those of the typical Victorian home. They are intended for regular folks. Their Victorian ancestry is still visible, though, in the decorative trim work outlining their porches and rooflines. Look for twisted spindles, bevelled corners, and lace-like accents.
Victorian Houses : Queen Anne (1875-1905)
Among all Victorian styles, Queen Anne is likely the most well-known. The architecture of these structures, which were built later in Victoria's reign, is especially ornate, with gabled roofs, rounded towers, and enormous windows that serve both practical and decorative functions.
Victorian home: Specifications
Even though several architectural styles have ruled at various points throughout history, they all have some characteristics.
The houses are typically two to three storeys tall and have turrets and steeply gabled roofs.
High ceilings, additional nooks, closed-off rooms, and strangely formed walls are frequently seen within.
Expensive trim work, such as gilded wainscoting, lavish fireplace mantels, and fine hardwood staircases, set these homes apart from the competition.
A sparkling chandelier was the distinguishing feature of a Victorian home since the Victorians were known for their obsession with extravagance.
Towers, turrets, and dormers were included onto the outside of the structure to bring emphasis to the top of the home.
It is also impossible to dispute the eye-catching stained glass, gorgeous woodwork, and brilliant colour schemes. A wraparound porch decorated with spindle work and gingerbread cutouts typically frames them.
An open layout idea was unheard of at the time in terms of design.
There was a parlour where visitors were entertained, a music room where people played the piano, and a library where people read.
As a result, these homes commonly feature complex interiors and convoluted floor layouts that are usually meandering.
Despite the enormous range of Victorian home designs, a few distinctive traits tie this architectural style together.
Despite the fact that not all types may belong within each category, this is typically what to anticipate:
Exterior of a Victorian house
Steep, gabled roofs
Round angles
Towers, turrets and dormers
Shapely windows, especially bay windows
Stained glass
Decorative woodwork
Bright colours
Interior of a Victorian house
Two to three stories
Floorplans featuring added nooks
High ceilings
Intricate wooden trim
Ornate staircases
---
You're looking for Buy Home In Thane we have the Best Buy Properties In Thane Like Ready to Move & Nearby possession: https://navimumbaihouses.com/property/search/buy/thane-all/
If you want daily property update details please follow us on Facebook Page / YouTube Channel / Twitter 
Disclaimer:
The views of this expressed above are for informational purposes only based on the industry reports & related news stories.
Navimumbaihouses.com
does not guarantee the accuracy of this article, completeness, or reliability of the information & shall not be held responsible for any action taken based on the published information.
Also Read
Rent Properties in Kharghar