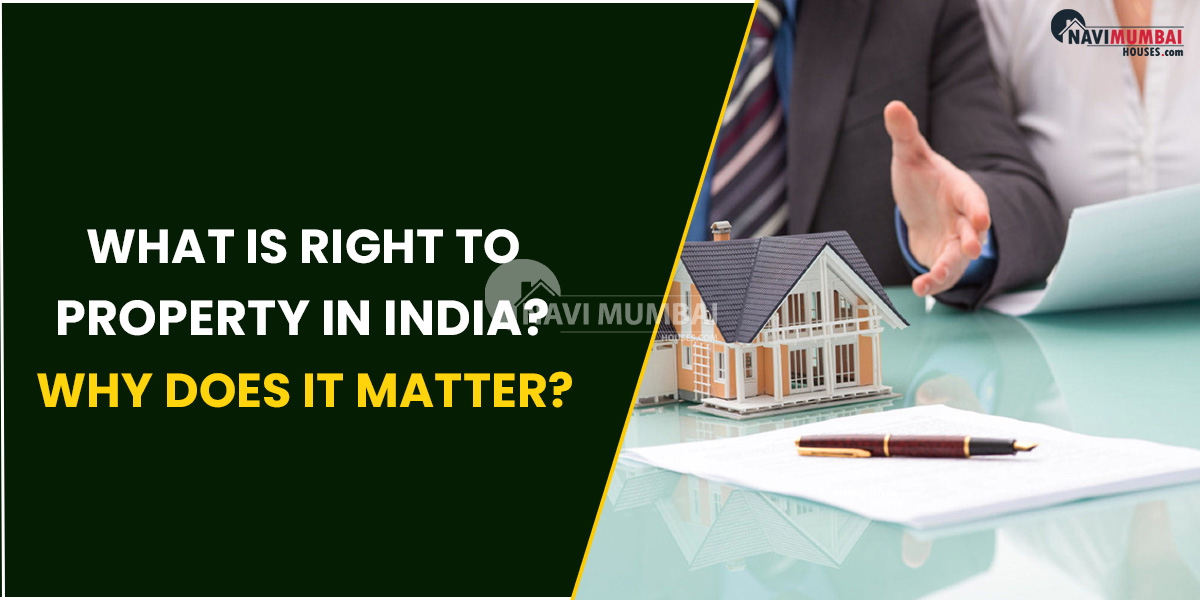 What Is Right To Property In India? Why Does It Matter?
Right To Property In India: No individual "shall be dispossessed of his property except by authority of law," according to Article 300-A of the Indian Constitution. What does it represent? Let's investigate!
After the 44th amendment to the Indian Constitution was made in 1978, the right to property ceased to be a basic right and became a human right in India. It is important to grasp the distinction between basic and human rights in order to comprehend its importance and what it means for a particular person. But let's first define property so we can move on.
---
Are you looking 2BHK flat for rent Navi Mumbai? 
---
Right To Property In India: Describe property.
Anything that a person has legal rights over, whether it be material or immaterial, can be considered property. While care, furniture, equipment, a vehicle, a house, etc. are examples of tangible property, stocks and patents are examples of intangible property.
Human rights differ from basic rights.
The Indian Constitution outlines and enshrines fundamental rights, which are seen as necessary for a proper living. Human rights, on the other hand, are guarantees for individuals to live with dignity and equality and are thought to be necessary to life.
Human rights are not absolute and have certain limitations, however basic rights are unalienable and cannot be denied or taken away from anybody at any time.
Indian property rights and their development
Prior to Part III of the Indian Constitution, Article 19 (1) (f) and Article 31 both entrenched the right to property as a basic right. Indian residents were given the right to purchase, possess, and dispose of their property under Article 19(1)(f). However, Article 31 safeguarded the right against being deprived of one's property.
The Defence of India Act, which gave the government the authority to requisition and acquire any movable property in the public interest in accordance with the Requisitioning and Acquisition of Immovable Properties Act, 1952, which was passed in 1962. However, caused issues with property being a fundamental right to become apparent. As soon as the authority began purchasing land, it became clear that the state's ability to do so for public benefit may be limited because the right to property constituted a basic right.
Property rights are essential freedoms.
The Indian Constitution's 44th Amendment abolished Article 19 (1) (f). The Constitution (44th Amendment) Act of 1978 also abolished Article 31. And a modified version of it was introduced as Article 300-A in Part XII of the Constitution.
Current Legal Status of Property Rights
With the passage of the 44th Constitutional Amendment in 1978. The right to property in India was no longer a basic freedom. Today, it is protected by the Indian Constitution as a human right.
Right To Property In India: Property rights under Article 300-A
Following a 1978 revision, owning property in India is now a human right rather than a basic one. In 1978, Article 300-A, which declares that "no individual shall be dispossessed of his property unless by authority of law." Was added to the Constitution.
It means that nobody can take away someone's property unless it's the government. The article gives the government the authority to seize someone else's property for the sake of the general good. However, the Madhya Pradesh High Court (HC) clarified in a case it decided in May 2022 that the legislation requiring the property purchase needed to be legitimate and that the state's acquisition of land had to be for the benefit of the people.
The Madhya Pradesh High Court claims that the article ensures a balance between the interests of property owners and those of the state.
Private property ownership is a fundamental human right.
The Supreme Court ruled that a citizen's right to possess private property falls under the category of human rights. It said that the state could not seize it without following the proper procedures and legal requirements. Additionally, the state is not permitted to enter a citizen's private property in order to establish ownership by adverse possession.
Supreme Court's ruling on property rights
The supreme court of India has made several statements about property rights, emphasising that under a welfare state. Authorities cannot seize property without following the necessary legal process. In addition, the highest court ruled that the government could not infringe on a citizen's private property and then claim ownership on the excuse of "adverse possession."
"A welfare state cannot be allowed to use the defence of adverse possession. Which grants legal title to such property for more than 12 years to a trespasser, that is. A person who has committed a tort or even a crime. The state cannot be authorised to use the law of adverse possession to seize the property of its own residents in order to perfect its claim to the land. The Supreme Court (SC) said in January 2022 in the case of Vidya Devi against the State of Himachal Pradesh.
Property Rights
Although it may no longer be a basic right. The right to property is nonetheless protected by Article 300-A of the Constitution and is a human right. As this court noted in the case of Vimlaben Ajitbhai Patel vs. Vatslaben Ashokbhai Patel and others. No individual is to be dispossessed of his property except by the authority of law. According to Article 300-A of the Indian Constitution. The Supreme Court stated in its ruling in the case of Hari Krishna Mandir Trust v. State of Maharashtra on August 7, 2020.
Numerous high courts have occasionally made similar remarks about the right to property in India.
According to a ruling by the Jammu & Kashmir and Ladakh High Court in July 2022, "No person shall be dispossessed of his/her property, save by the authority of law or a method established by law, as the right to property is a human right and constitutional right under Article 300-A."
The MP High Court ruled that the state cannot, under any circumstances, take a citizen's property without a court order.
---
You're looking for Buy Home In Navi Mumbai we have the Best Buy Properties In Navi Mumbai Like Ready to Move & Nearby possession: https://navimumbaihouses.com/property/search/buy/navi-mumbai-all/
If you want daily property update details please follow us on Facebook Page / YouTube Channel / Twitter 
Disclaimer:
The views of this expressed above are for informational purposes only based on the industry reports & related news stories.
Navimumbaihouses.com
does not guarantee the accuracy of this article, completeness, or reliability of the information & shall not be held responsible for any action taken based on the published information.
Also Read
Rent Properties in Navi Mumbai