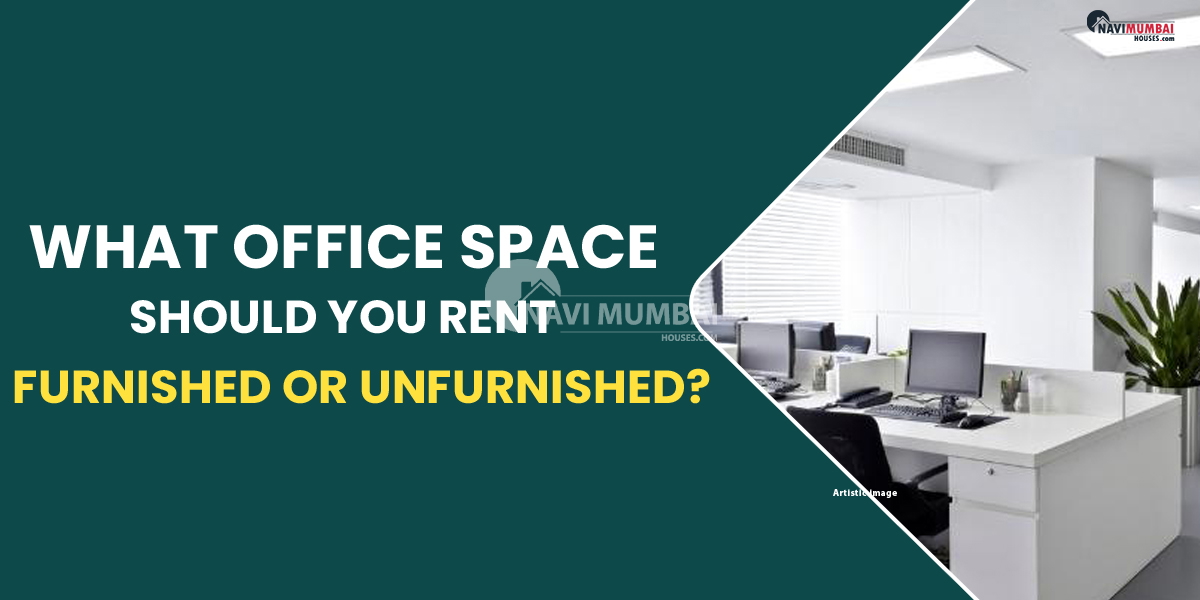 What Office Space Should You Rent—Furnished Or Unfurnished?
One of the major decisions facing modern entrepreneurs is whether to choose an unfurnished office space or a furnished commercial setup in the face of increasing competition. The size of the company, according to experts, should be a crucial determining element when renting out office space.
---
Are you looking for 2bhk in andheri west?
---
Although unfurnished offices guarantee lower rentals, the cost of furnishing the space may be prohibitive. Similar to furnished offices, although they are tempting and immediately usable. Their average rental costs could be too expensive for some people to afford. Due to the potential inconvenience involved in choosing between a furnished & unfurnished office space, experts claim that the size of the company should be the deciding factor.
"In the business world, everything comes down to the size of the company and the entrepreneur's capacity for investment. Although both furnished and unfurnished spaces have advantages and disadvantages, it is crucial that the owner assesses the costs and compares them to the budget to come up with a workable option. For instance, renting a tiny office with simple equipment or choosing coworking space might be a cost-effective option for a start-up. On the other hand, a larger company may choose to lease an unfurnished space and have it customised to meet the demands, objectives, and business goals.
To help you understand the benefits and drawbacks of furnished and unfurnished housing, here are a few examples:
Advantages of furnished offices
Fully configured
A completely furnished office space enables you to move in right away and start working without interfering with daily activities. Additionally, it creates an atmosphere that is more professional and lively, which significantly improves both the productivity and reputation of your business.
Saves time
When relocating a firm, it is crucial to take all factors into account. Everything should be carefully calculated, from the location to the cost of purchasing the furnishings. Even the most straightforward chores, like selecting the appropriate kind of furniture, buying them, and obtaining delivery, might take weeks or even months. However, waiting around and time wastage are avoid by renting an equipped office space. This works better for larger companies with a larger workforce because even a day of operations delay can have a substantial influence on turnover.
Disadvantages of furnished spaces
High rental values
High rental costs are one of the greatest drawbacks of furnished apartments. Office spaces that are outfitted often rent for 40–50% more than those that are unfurnished. These offices typically have higher leasing values. Because they are set up to accommodate various tenants' needs and provide all the amenities. Depending on where the office is located, the typical rental costs can increase by as much as 60%. Due to the higher land prices in the city centres, office spaces locate in the centre are price higher than commercial projects on the periphery. For instance, in Bangalore, a furnished room on Richmond Road would rent for between Rs 65 and Rs 70 per sq ft. Whereas in Sarjapur, the usual leasing costs range from Rs 40 to Rs 45 per sq ft.
Increased liability
The tenant would be held solely accountable for any unintentional damage or other loss to the building or its interiors. And the landlord would have the full right to deduct the cost from the security deposit given at the beginning of the lease.
Advantages of unfurnished offices
More adaptability
Spaces that are empty allow for easy customization. The interiors can be designed by the tenant to better suit the needs of the company and add a more distinctive touch. Additionally, it permits the tenant to change the furnishings and other facilities as needed for their business. You need not worry about spending a fortune on furnishings. Because a variety of furniture and other workplace décor items are available for rent.
Lower rent
Unfurnished spaces are a practical option for enterprises that have not yet reached the break-even point because, as was already said, the average cost of an unfurnished space is almost half that of a furnished space. Coworking spaces may also be a good choice for startups. The average cost of leasing an unfurnished space is 10-15% less than that of coworking facilities. The use of amenities like conference rooms, tea zones, and others is also restrict in coworking spaces. Coworking spaces have another drawback that prevents them from being acceptable for businesses. That plan to stay in a particular location for a prolonged period of time: shorter lock-in periods. Which are typically for three months.
Reduced liability
Unfurnished office premises do not subject the tenant to any additional obligations save the expense of maintenance. In contrast to furnished spaces, the furniture in this location has either been hired or purchased. Therefore there are no additional costs associate with furniture damage. Additionally, furniture that has been purchased is an asset that can be move to a new workplace when you leave the office.
Disadvantages of unfurnished offices
Offices that are not outfitted are rented out as empty shells. You must handle the entire project, from the electrical wiring to the workstation setup. Which takes time and could have an adverse effect on your business. In this case, it is wise to rent a new office and complete all upgrades before quitting your current place of employment. Although it may initially cost a little more because you must pay rent for both offices. This expense is one-time and will eventually be recoup.
Although empty offices have advantages over equipped ones. The choice to rent office space should preferably be based on the needs and prospects of the company. Consider the costs and expect profits before choosing a lease that will be sustainable over the long run. Renting a posh location for a few months to draw clients before switching to a more modest office can be detrimental to your company.
---
You're looking for Buy Homes in Kharghar we have the Best Properties In Navi Mumbai Like Ready to Move: https://navimumbaihouses.com/property/search/buy/kharghar/
If you want daily property update details please follow us on Facebook Page / YouTube Channel / Twitter
Disclaimer:
The views of this expressed above are for informational purposes only based on the industry reports & related news stories.
Navimumbaihouses.com
does not guarantee the accuracy of this article, completeness, or reliability of the information & shall not be held responsible for any action taken based on the published information.
Also Read
Buy Properties in Borivali