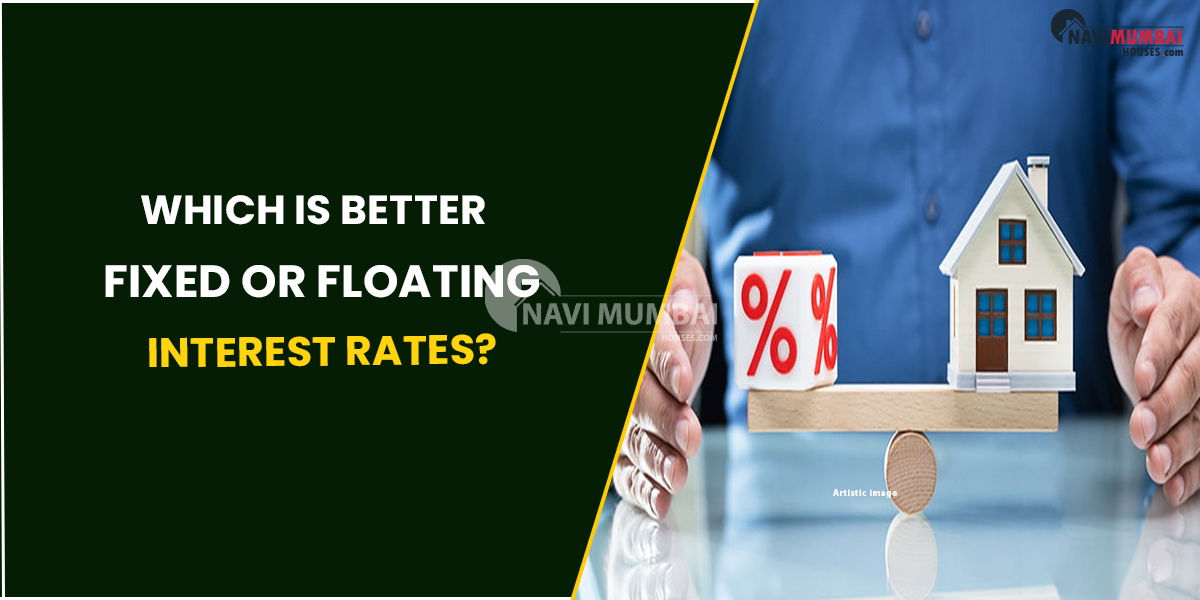 Which Is Better: Fixed Or Floating Interest Rates?
When you take out a home loan, you must make a number of decisions. Who should be the lender, how long should the tenure be, and other factors should be considered. One important consideration is the type of home loan interest rate. It is critical to choose between fixed and floating interest rates because it affects finances. Here are some guidelines to help you choose between fixed and floating interest rates.
---
Are you looking flat for sale in kharghar? 
---
What exactly is a home loan?
A person's home is one of the most expensive purchases they will ever make. Some people may have money, while others may require financial assistance. To address such a problem, banks and NBFCs provide financial assistance for home purchases. There are numerous banks that offer home loans.
Interest Rates: Fixed vs. Floating
Banks charge interest on home loans, the rate of which varies from bank to bank; additionally, the type of interest charged is determined by the total repayment period (tenure) of the loan, as shown below:
Home Loan Interest Rate Varieties
Fixed Interest Rate:
In this case, the interest rate charged remains constant throughout the loan's tenure, or for a set period of time (say, 5-10 years) based on the bank's policies. You can easily predict your EMIs if you choose a fixed home loan interest rate. You can also plan your repayment accordingly.
Floating Interest Rate:
The interest rate is revise by the bank from time to time. Any change in bank policies or Reserve Bank of India (RBI) financial policies may affect this interest rate. When you choose a floating interest rate, it is difficult to predict the EMIs with certainty.
Also Read : Is It Legal To Use Residential Property For Business Purposes?
Fixed Vs Floating Interest Rate- A Comparison
Here is a comparison between home loan fixed interest rate and floating interest rate:-
| | | |
| --- | --- | --- |
| Particulars | Home Loan Fixed Interest Rate | Floating Interest Rate |
| Home loan interest rate | Higher | Lower |
| Market condition | It is not affected by financial market conditions | It is impacted by changes in market condition |
| EMIS | Fixed EMIs | Changes with change in interest rate and MCLR |
| Budget planning | Budget planning can be done | Difficult to stick to a budget |
| Tenure | Suitable for short tenure like 3-10 years | Works best for long term tenure like 10-20 years |
| Security | Secured | Generates savings |
| Risk | Lesser risk | Higher risk |
Which is better: fixed or floating interest rates?
A fix rate loan, as the name implies, has an interest rate that is fix for the duration of the loan or for a specific period of time and does not change under any circumstances. This protects the buyer financially against any changes in interest rates. Now, if the bank's interest rates fall, the buyer will not benefit from lower interest rates. However, if interest rates rise, the buyer is not required to pay the higher rates.
The buyer must pay the interest rates as they fluctuate from time to time under a floating rate. In this case, the buyer benefits from rate reductions but is also burdened by rate increases. Floating rates may be revised more than once per year.
The interest rate charged on fixed-rate home loans is a major deterrent to taking out these loans. Fixed interest rates are significantly higher than variable interest rates. As of November 2022, floating-rate home loans are available for as little as 6.10% per annum, while fixed-rate home loans range from 7.40% to 12% per annum. Interest rates differ from one bank to the next and from one borrower to the next. Interest rates are affected by a variety of factors, including credit score, employment status, salary structure, and so on.
The majority of banks offer floating rate home loans based on the repo rate and the MCLR because it benefits both the bank and the buyer. The MCLR stands for Marginal Cost of Funds Based Lending Rate, and it includes both the Repo rate paid to the RBI and the costs incurred by banks in maintaining funds. Banks publish this every 15 days, monthly, quarterly, six months, and annually. The interest rate in this case varies significantly with the Reserve Bank of India's Repo rate (RBI).
Also Read : 6 Legal Ways To Reduce Stamp Duty On Property Purchases
Considerations for Fixed vs. Floating Interest Rates
Pre-payment penalties:
Most lenders charge a penalty for early repayment of a Fixed Interest Rate Home Loan. These fees are typically between 2-3% of the total amount paid.
On Floating Interest Rate Home Loans, there are no pre-payment penalties.
Prepayment charges are subject to the applicable taxes at the time. As of September 2020, Pre-Closure charges will be subject to 18% Goods and Services Tax (GST).
Conversion fees:
When converting a fixed-interest home loan to a floating-interest loan, banks charge a conversion fee of 2-3% of the outstanding principal amount.
Converting a floating interest rate loan to a fixed-rate loan, on the other hand, is usually free of charge.
Conversion charges will be subject to 18% GST beginning in 2022.
Eligibility:
Some banks have relaxed applicant eligibility norms and guidelines for fixed-rate home loans. Applicants with low CIBIL scores are frequently limited to fix-rate mortgages.
What Effect Does the Repo Rate Have on the Floating Interest Rate?
The repo rate fluctuates from time to time, and it is currently 5.90%. On September 30, 2022, the repo rate was raise by 50 basis points. The repo rate has been raise for the fourth time this fiscal year. When such rates rise, banks raise the home floating interest rate, which affects your EMI. A higher repo rate translates into a higher EMI and vice versa. The rise in interest rates means that the RBI is lending money to commercial banks at a higher rate, making loans more expensive.
Also Read : Things To Know About The LTCG Tax
---
You're looking for Buy Home In Mumbai we have the Best Buy Properties In Mumbai Like Ready to Move & Nearby possession: https://navimumbaihouses.com/property/search/buy/mumbai-all/
If you want daily property update details please follow us on Facebook Page / YouTube Channel / Twitter
Disclaimer:
The views of this expressed above are for informational purposes only based on the industry reports & related news stories.
Navimumbaihouses.com
does not guarantee the accuracy of this article, completeness, or reliability of the information & shall not be held responsible for any action taken based on the published information.
Also Read
Rent Properties in Navi Mumbai