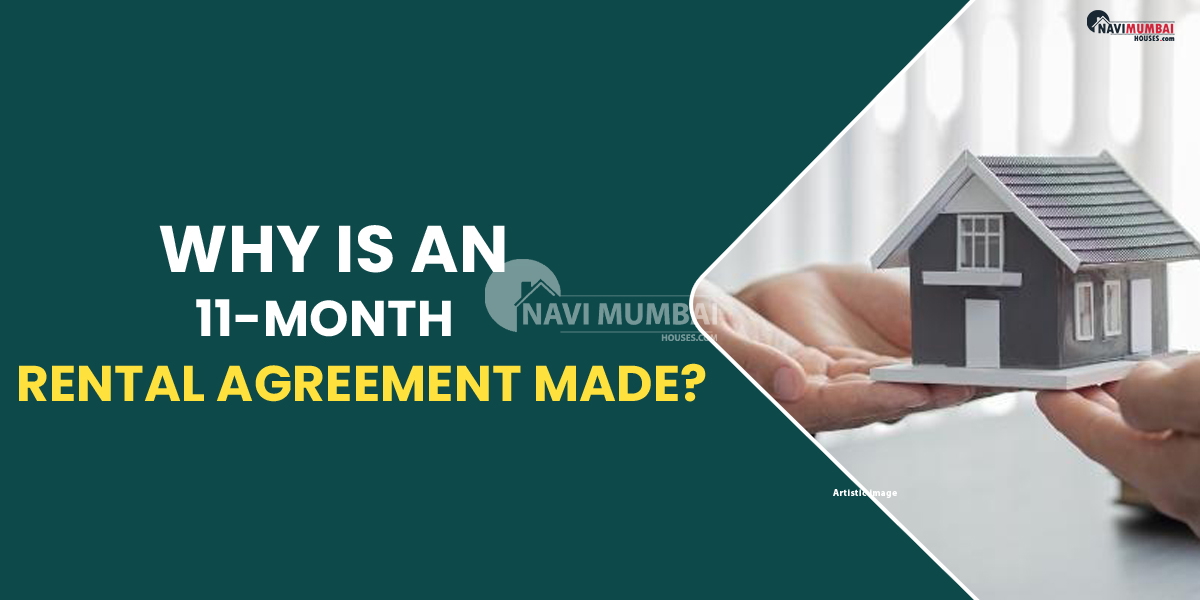 Why Is An 11-Month Rental Agreement Made?
If you have ever lived in a rented home or rented a property. You must be familiar with what a rent agreement is. But do you understand why it's only for a year and a half? Alternatively, why is a rent agreement even necessary?
---
Are you looking for 2 bhk flats in Kanjurmarg?
---
The legal connection between a landlord and a tenant is define in a rent agreement, which also outlines the parties' respective obligations. Both parties must abide by the terms and circumstances outlined in the agreement.
Definition of a Lease Agreement
As previously said, a rent agreement details all of the terms and conditions upon which a property is lease. The description of the property, the agreed-upon monthly rent, the security deposit, the permitted uses for the property, the proposed term of the agreement, the notice period, the conditions under which the said agreement may be terminate, along with other crucial inclusions, if any, are all included in this.
The rent agreement, which was initially create to protect the parties' interests, may also be cited as proof in the event that a dispute arises regarding the property.
"A rent agreement is essentially a written record of the parameters that the owner and the renter mutually agreed upon to prevent future disagreements. Many gated communities now make it a condition in order for tenants to take advantage of all the amenities offered by the community.
Is it legal to sign an 11-month lease?
Unquestionably, an 11-month lease is see as legal. If you have an 11-month lease, it is a valid legal document and is completely credible.
An 11-month lease is it valid in court?
A rent agreement for an 11-month period is legally accepted and can be shown in court as proof.
Then,
Why just 11 months?
A year-long lease property must be register in accordance with the Registration Act of 1908's criteria. Therefore, the rent agreements are typically written for duration of eleven months in order to avoid the laborious registration process. If it goes beyond that, as was said before, it must be mandatory register under the Act, and this would have a lot of negative effects.
Stamp duty & registration fees must be paid in the event that an agreement is registered. The landlord and the tenant may mutually decide not to have the lease registered in order to avoid paying such high fees. Additionally, an 11-month lease allows the landlord greater flexibility because the rent can be set in accordance with the state of the market and can be renew on a regular basis.
The arrangement need not, however, last for a full eleven months. With the parties' consent, agreements that are renewable or extendable for further three to five years may also be create.
Consequences of preparing an 11-month leasing agreement
What will happen if the length of the rental period is increase to a year or more?
Financial impact
Both parties will be required to pay additional stamp duty & registration fees as a result of this. The longer-term rental agreement must be register with the municipal authorities in accordance with Section 17 of the Registration Act of 1908.
In most cases, tenants are responsible for paying the higher rent due to stamp duty and registration fees.
Legal repercussions
In addition to the financial burden, there is also the legal responsibility to consider. First off, if a dispute ever develops and a rent agreement has more than a year's worth of validity. It cannot be use as evidence in court.
In addition, a heavy fine is impose if a rent agreement (with a term equal to or greater than one year) is not register.
What is the stamp paper value of an 11-month lease?
Typically, an 11-month lease can be sign using a stamp paper costing between 20 and 100 rupees.
---
You're looking for Buy Homes in Kharghar we have the Best Properties In Navi Mumbai Like Ready to Move: https://navimumbaihouses.com/property/search/buy/kharghar/
If you want daily property update details please follow us on Facebook Page / YouTube Channel / Twitter
Disclaimer:
The views of this expressed above are for informational purposes only based on the industry reports & related news stories.
Navimumbaihouses.com
does not guarantee the accuracy of this article, completeness, or reliability of the information & shall not be held responsible for any action taken based on the published information.
Also Read
Buy Properties in Navimumbai