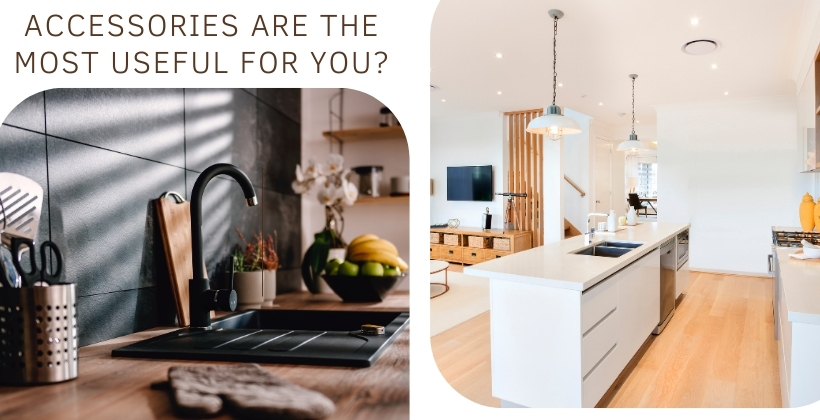 Why Modular Kitchen Accessories Are the Most Useful for You?
Cooking doesn't have to be a hated job any longer. Not if you make the chef work harder in order to save time and money in the kitchen. And how do you go about doing it? The easiest approach, according to our specialists, is to handpick the interchangeable kitchen gadgets you install!
This list should give you a decent starting point if you're curious about what kitchen gadgets you should have in your kitchen.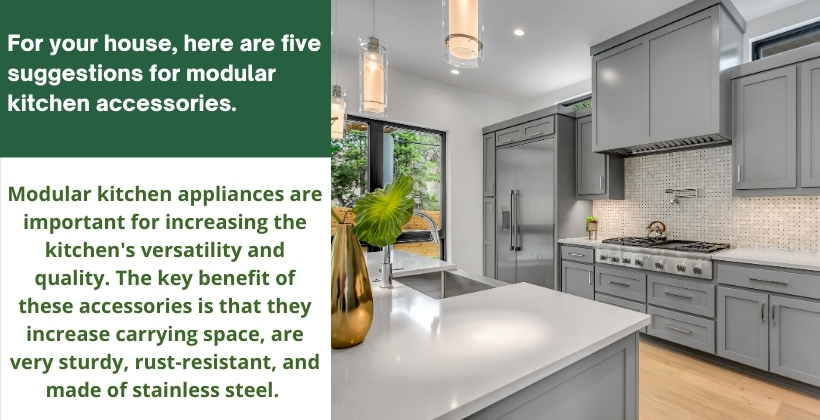 For your house, here are five suggestions for modular kitchen accessories.
This article will help you build a clutter-free and well-organized kitchen.
Modular kitchen appliances are important for increasing the kitchen's versatility and quality. The key benefit of these accessories is that they increase carrying space, are very sturdy, rust-resistant, and made of stainless steel. Examine the most common accessories on the market and choose the ones that are best suited to your needs.
– Organizer for Cutlery
Cutlery organizers have built-in partitions that are suitable for holding smaller things such as forks, spoons, tongs, spatulas, and knives. The cutlery organizer should still be by the cooking stove so that the kitchen supplies are easily accessible.
Cutlery trays are compact, with compartments to accommodate everything from spoons, forks, scissors, rolling pins, and more in an ordered fashion. This is a perfect way to get rid of clutter and is particularly useful when preparing meals quickly. Furthermore, cutlery inserts are commonly available in a range of finishes, including brass, wood, and PVC, to suit your tastes.
– Tall Unit
Place a tall unit in one corner of the kitchen if space permits, since it offers plenty of storage space and is ideal for storing dry groceries, non-perishable kitchen supplies, and heavy utensils. Tall units come in a number of models, with slim storage on the doors and internal pull-out systems that make accessing the storage easy. Choose a large unit that stretches from the floor to the ceiling for a small kitchen.
Tall units are a required component of any kitchen design. This is particularly true as large quantities of groceries with long shelf lives must be stored. These adaptable compact kitchen accessories make use of vertical space and function as a pantry.
When locked, these units seem to be a part of the kitchen's wall, giving the room a tidy appearance. At the same time, they store a variety of products in various drawers and racks, ranging from oil and seasonings to wine and snacks and more. The cold, dry atmosphere created by the hideaway kitchen storage aids in the protection of fragile objects and protects them from fire, sunshine, and moisture.
---
Are you looking for a Real estate new project in Kharghar? Then you may contact Navimumbaihouses.com the biggest portal to Rent / Sale / New Projects properties in Kharghar and Navi Mumbai.
---
– Kitchen Basket
Kitchen baskets are an excellent way to organize utensils, bowls, pans, and jars. They come in a variety of sizes, making them ideal for both deep and shallow storage. Cup and saucer baskets, utensil baskets, and plate racks are among the most popular kitchen baskets.
It's worth noting that each kitchen basket has a maximum load-bearing capability. As a consequence, if the drawers are crowded, the synchronization of the channels can be broken, causing the drawers to sag.
You'll keep a basket or tray in a kitchen that isn't completely modular to keep a regular supply of vegetables. Furthermore, wicker baskets built into the modular structure serve this purpose in a modular kitchen. These baskets are long-lasting and easy to scrub. Furthermore, the vegetables, like all else in your house, are seamlessly hidden.
– Corner Solutions
Make the most of the difficult-to-reach corners in L-shaped and U-shaped kitchens by making them available. Carousel units, L-shaped racks, fairy corners, and Lazy Susans that spin on a central hinge are all available as corner units.
Since they are difficult to access, kitchen corner spaces are mostly left unused. Through clever ideas, such as the LeMans corner, you can gain access to the most redundant corners. It has kidney-shaped pull-out shelves that completely retract into the back after rotating past the normal 90 degrees.
Other corner units (deep, diagonal drawers) that allow good use of the corner space are also available. Dee tray, Magic corner, and other options are among them. These ingenious, easy-to-use modular kitchen accessories are perfect for Indian kitchens, particularly those with limited space. Depending on how you want to organize, you should put them in upper or lower cabinets.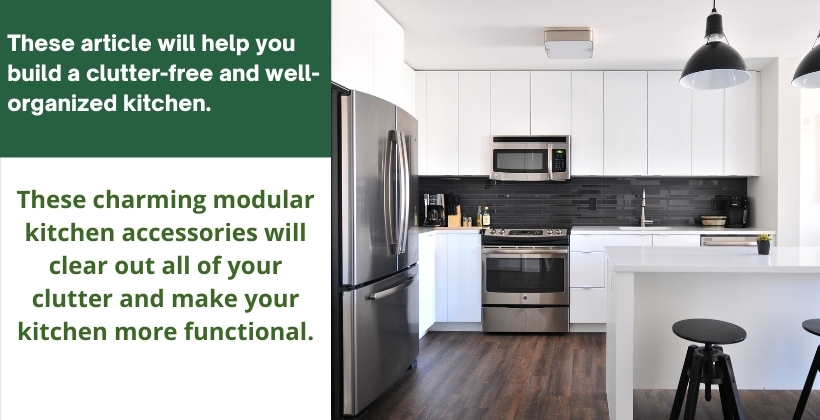 – Bottle Pull Outs
The bottle pullouts have two to three shelves and are narrow in width. They can be used to store kitchen supplies such as cooking oil, bottles, containers, juices, and various sauces. Bottles should not be kept in open cabinets or on the countertop because they produce a lot of visual confusion and accumulate a lot of dust and grime.
Pull-outs are ideal for kitchens with limited space. These modular kitchen appliances are built with small racks, allowing products easier to find and reach. They are usually placed near the dishwasher or at either end of the kitchen.
Pull-outs come in a number of widths and ranges and can be used to store packaged foods, condiments, bottles, cans, cleaning supplies, and other products. In a crowded kitchen, they can also double as a mini pantry where visitors can support themselves.
– Under-Sink Units
Since the room under the sink is frequently underutilized, an under-sink unit for storing cleaning supplies in the kitchen may be suitable. Consider mounting a bin holder to the under-sink unit's shutter.
---
If you want New Projects in Kharghar Navi Mumbai then please visit: https://navimumbaihouses.com/properties/search/kharghar/
---
– Rolling Shutter
Set aside a room for all of the kitchen appliances, and cover them with a rolling shutter that can be opened horizontally or vertically.
– Midway Systems
Midway systems, such as a hanging glass holder, hanging cup and saucer holder, or a hanging multipurpose stand, are modular kitchen fixtures that can be mounted on the kitchen backsplash.
– Drawer systems
Drawer systems are the go-to modular kitchen accessories if the majority of your storage pieces are set to go under your sink. For ease of use and maximum room utilization, these drawers trump cabinets for bottom cabinets.
Blum's Tandem box drawer solutions have shallow and deep storage options. They have robust metal sides that open out to their full length, allowing all things to be viewed. And when fully filled, these drawers mean that the contents are not completely displaced when closed abruptly.
These charming modular kitchen accessories will clear out all of your clutter and make your kitchen more functional.
#Kharghar​ #NaviMumbai​Top 4 Projects near Kharghar | New projects in Kharghar | RERA | Offers
Navi Mumbai Houses are the biggest real-estate property portal (website) in Navi Mumbai, Mumbai, and Thane. Do you want Buy / Sell / Rent a house, flats in Navi Mumbai our portal helps you to find a home (Flat) to your budget so please visit n find it?
If you want daily property update details please follow us on Facebook Page / YouTube Channel / Twitter
For more information please visit: https://navimumbaihouses.com/
Disclaimer:
The views of this expressed above are for informational purposes only based on the industry reports & related news stories.
Navimumbaihouses.com
does not guarantee the accuracy of this article, completeness, or reliability of the information & shall not be held responsible for any action taken based on the published information.
Buy Properties in Navimumbai