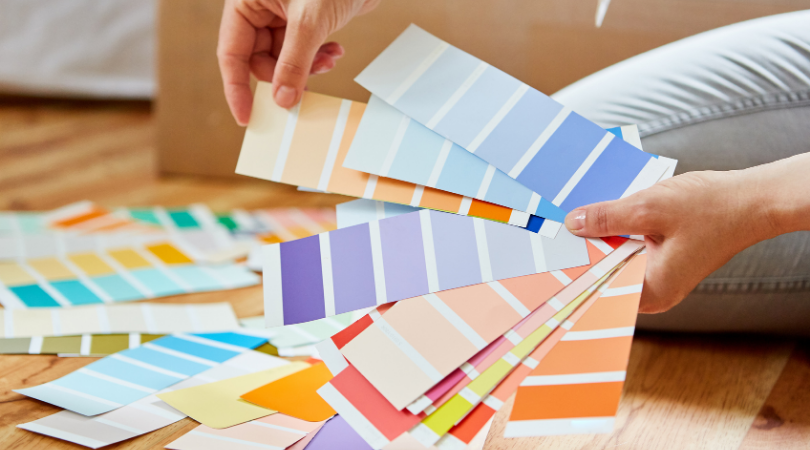 How To Choose Wall Colors According To Vastu?
Each color has a distinct meaning as per Vastu. Also, it is proven that it has a strong impact on psychology. So, isn't it a wise decision to go with perfect wall colors for your house where you spend most of your time? Here is the complete guide on how to choose wall colors according to Vastu.
Picking Wall Colors According To Vastu
Vastu experts advise that you have to choose colors as per the energy requirement of each section of your house. The color you pick for a specific section of your home depends on the direction as well. Choosing color wisely can benefit you a lot in terms of maintaining positivity and zest in your life. We are jotting down few points as per below which are most required to be considered while choosing wall colors according to Vastu.
Ideal Wall Color For Bedroom
Ideally, the direction of the bedroom should be in the southwest, and as this direction depicts the elements of earth, you should paint your bedroom with earthy colors like brown, chocolate, or beige.
Ideal Wall Color For Kids Room
Since the ideal direction of the kid's room as per Vastu is in the north or north-west. The northwest direction is governed by the moon, so the room should be painted white.
Ideal Wall Color For Kitchen
As per Vastu the ideal direction for Kitchen is in the south-east corner. Since the southeast direction is governed by the Lord of Fire(Agni), you should color your kitchen orange or red which are colors of fire.
Ideal Wall Color For Bathroom
Bathrooms as per Vastu should be located in the northwest direction of your home. and you should color your bathroom white.
Ideal Wall Color For Living Room
The living room ideally should be located in the northeast direction and the color should be yellow. The other preferred direction for the Living room is northwest, and the color of the walls should be white as per Vastu shastra.
Ideal Wall Color For Pooja Room
Pooja room as per Vastu should be located in the northeast direction and the color of the walls for the pooja room should be yellow.
Ideal Wall Color For Balcony
As per Vastu, the balconies should be in the north or east direction. One should prefer calm colors for balconies and avoid the darker shades of color if they are located in the north or east direction.
Ideal Wall Color for Store Room
As per Vastu the heavy things always should be kept in a southwest direction, so the ideal location of the storeroom in your home is the southwest. Storerooms always should be colored with lighter shades and should strictly avoid darker shades for storerooms. White color is ideal for a storeroom.
However, apart from these Ideal colors, you can color the rooms of your home with the following colors. All the colors have different significance as per Vastu.
Significance of Colors as per Vastu
Light Red or Pink The Color of Love
Pink and light red are the shades of warmth and lover. If you are married pink or light red will be an ideal pick for your bedroom. These colors will deepen your bond with your spouse and will keep the conflicts away.
But, you should never color the bedroom walls with darker shades of red as it may trigger the temperament.
Color Green Represents Nature
As per Vastu, green represents growth and abundance. Those with low immunity like the elderly should take advantage of the healing properties of this shade and should color their bedrooms green. However, if you do not like the color green then you can bring in elements of green through a plethora of indoor plants. They will purify the air and add liveliness to your space.
Color Yellow Channels Happiness
As per Vastu, yellow channels intelligence,  positivity, optimism, and happiness. Use this vibrant shade in small-sized bedrooms to make space look wider and feel welcoming.
Purple Represents Wealth
Purple, the mixture of soothing blue and boisterous red, represents wealth, mercy, self-respect, and poise, making it perfect for those with anxiety. If you feel the purple does not suit your interior then, you can always use a soft lilac shade on the walls to make it feel splendid.
White Symbolizing Peace
A favorite and most Vastu-complaint color, white is versatile and timeless. Symbolizing peace, freedom, and purity, white in your room ensures tranquility and serenity. However, you should never color your home throughout with white as it may increase egocentrism.
Grey Symbolizes Sensibility
As per Vastu Shastra, grey symbolizes sensibility & protection. Grey is also a very popular color in contemporary,  homes.
Colors You Should Avoid For Wall Colors at Home
The color black and dark shades of red and grey should be avoided as per Vastu. Lighter colors are always acceptable. Generally, these colors have high intensity and can disturb the energy flow inside the home.
Wall Colors as Per Direction of Your Room
Green – for North directional room
Light Red– for South-East directional room
Yellow -for the room in the north-east
Orange – for the room in the east
Grey – for the room in the West
Color As per Rashi and Birthdates
The color of your home walls also should be decided as per your birthdates and Rashis. You should consult your Vastu consultant to know the exact suitable colors for you as per your Rashi. However, you can always pick colors like off-white, yellow, orange, mauve, or cream color as these colors go with all the Rashis.
Please comment in the comment box below if you like this article. For more such updates follow our Facebook page.
---
Navi Mumbai Houses is a popular property searching portal for rent sell and buy. If you are looking for properties in Navi Mumbai, Mumbai, or Thane area then you can contact us on  +91 8433959100
We would love to assist you to find your dream home.
You can visit our site navimumbaihouses.com and find a number of property options available to sell, rent and buy with us.
Disclaimer:
The views of this expressed above are for informational purposes only based on the industry reports & related news stories.
Navimumbaihouses.com
does not guarantee the accuracy of this article, completeness, or reliability of the information & shall not be held responsible for any action taken based on the published information.