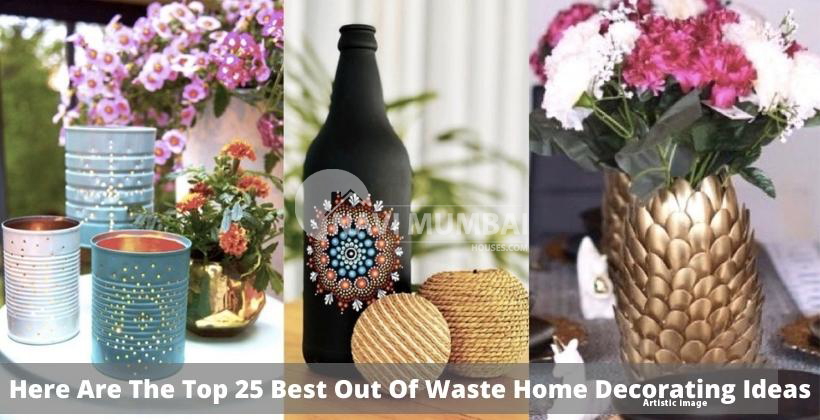 Here Are The Top 25 Best Out Of Waste Home Decorating Ideas
At home, one can make beautiful accessories out of trash. Here is a list of 25 simple best out of waste ideas to help you make something useful while also beautifying your home.
---
---
What type of waste is ideal for home decoration?
Making useful and ornamental objects out of household waste rather than tossing it away is the best use for it. Household garbage includes coconut shells, glass jars, old newspapers, plastic bottles, & cardboard boxes. All of these items can be creatively employee to freshen up the decor. Making the best out of trash simply means creating something new and appealing out of something that would otherwise be waste. Recycling and up cycling, as well as making something new out of something old, are the most effective strategies to minimize one's carbon footprint. One can beautify their home using waste-derived DIY products.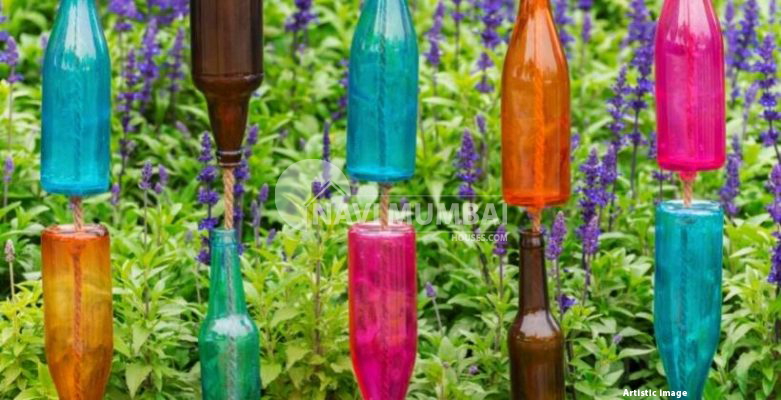 Why should we do a waste-to-craft project?
Waste disposal should start at home. To reduce the quantity of waste sent to the landfill, reduce, reuse, and recycle at home. Reusing this waste is an excellent strategy to aid the ecosystem's health.
Waste-to-wealth goods add value to a home. When used correctly, you can make useful items like handicrafts and accessories.
Simple waste-to-craft projects are also a fun and inventive way to keep kids occupied. Repurposing outdated items to make something decorative would be fun for kids. Making art out of trash allows youngsters to acquire new skills while also helping to conserve the environment. It also teaches children the value of recycling waste materials. Children's ability to establish and instill waste management behaviors is develop through innovative trash concepts.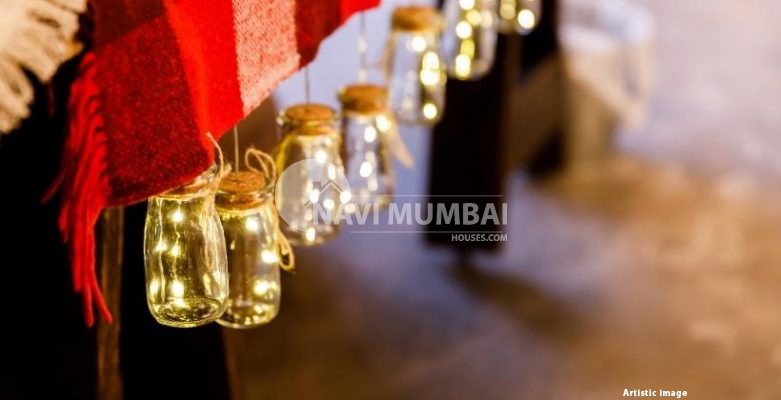 25 of the best waste-to-decorating ideas
Bottle craft art is the first best out of waste idea.
Empty glass bottles are frequently discard. Instead, repurpose them for inexpensive home décor. Used bottles can be turn into a table light, a showcase, or a flower vase. Decoupage (the process of decorating a surface with paper cutouts & coating it with varnish (or glue)) can brighten glass bottles. All that is needed to create a magnificent bottle that can be used as a decor piece is color papers or old magazine pages, good quality glue, and a flat brush.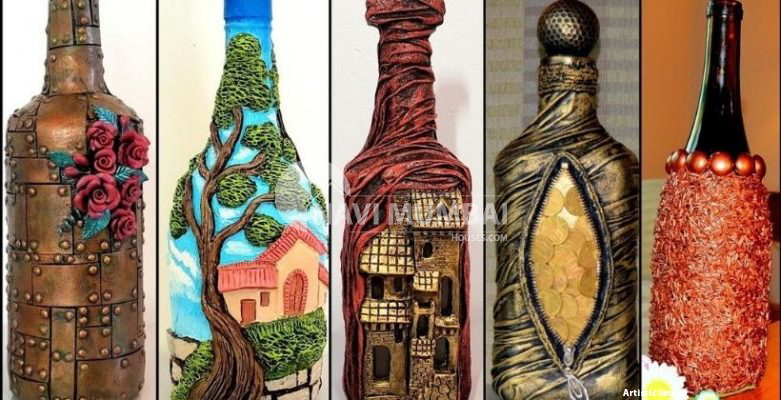 Sand and tiny shells can be placed in clear or color glass bottles. For a dazzling look, use colored fairy lights.
Lamps & candle holders made from bottles and jars are the best waste-reduction idea #2.
Wine, perfume, jam, coffee, & pickle bottles can all be reused in imaginative ways. Jar table lamps are easy to make. Apply your desired pattern on a glass jar by pasting it on, painting it, or wrapping it in fabric. Make careful to provide a vent for air flow while closing the lid. It's simple to fill a bottle with battery-operated fairy lights. Spray painting, stenciling designs onto dried flowers, or gluing accessories like lace, satin ribbon, glitter, beads, colorful threads, and sequins can all be used to decorate the bottles.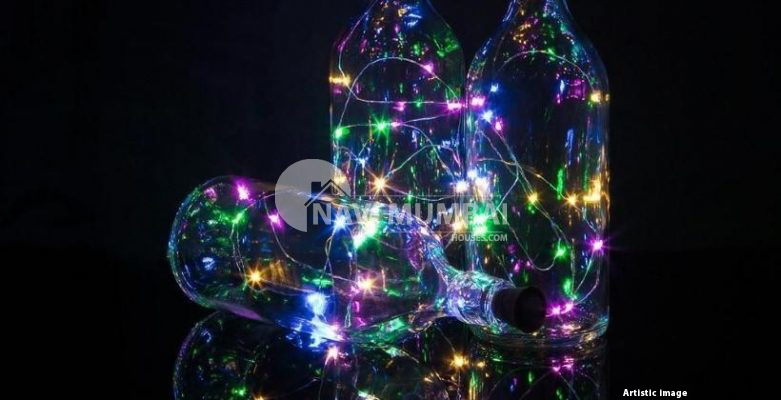 Newspaper tea coasters are the third best waste-to-waste idea.
Recycled newspaper coasters are a fashionable and environmentally friendly complement to any table. Cut a newspaper in half halfway through. Then glue the end of each piece to a stick, forming tubes. Take away the stick. Flatten every paper tube & roll it into a circle, securing the ends with glue. To make a larger circle, roll many tubes one after the other, securing the ends each time. Once it's the size you want, paint it all over and let it dry. Coat old magazine papers with nail paint to make them semi-waterproof and use as coasters.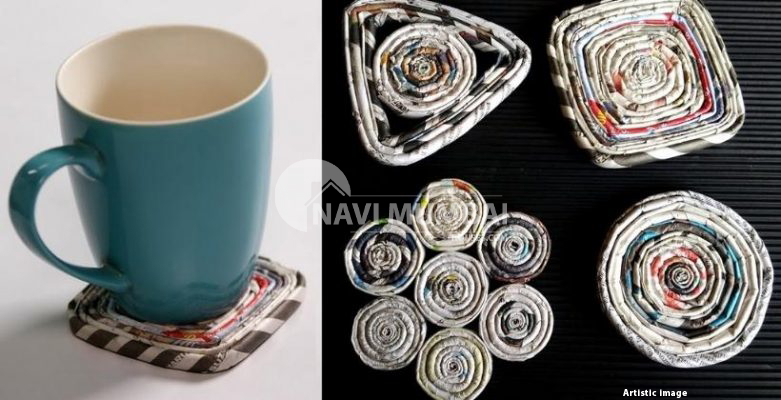 Creative bookmark ideas #4: Best out of waste
Recycle a wedding card or cardboard & educate the child how to construct a bookmark to keep them occupied. Encourage kids to make attractive bookmarks out of household debris like old magazines, papers, envelopes, and cartons. Cut the card into any form you like, such as a rectangle, a banana, or a watermelon, for example. Paint it or cover it with colored paper to make it more interesting. You might also write a motivational quote on it. If you know how to fold origami, simply fold it into a pretty shape and attach a little satin ribbon to the top.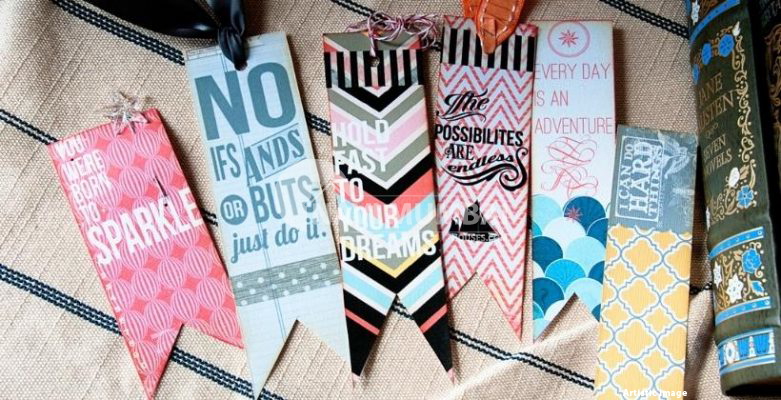 DIY pen or brush holder made from old bangles is an easy best of waste idea #5.
At home, old bangles (glass, plastic, metal, or thick lac kadas) are frequently stack. Your child will appreciate turning them into a practical desk pen holder. To build the base, cut a piece of cardboard to the size of a bangle. If the old plastic lid is the same size as the bracelet, use it. Take six to eight similar-sized bracelets. Glue all of the bangles together and stack them one on top of the other. It's ready to use once it's dry.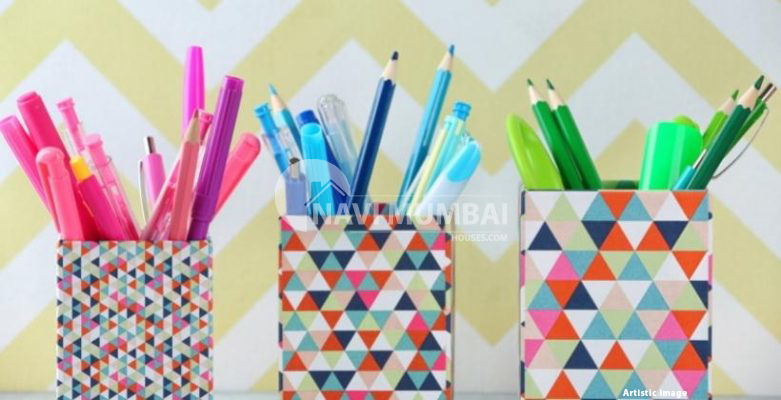 DIY plastic bottle pen and comb holder is a simple best out of trash idea #6.
Cut out a plastic bottle and add lace or paint on it. For a beautiful stationery holder, simply cover it with colorful paper, quilled designs, or small beads. It's a simple method to keep tiny items organize, and it may also be used as a beauty brush or comb holder and knickknack holder.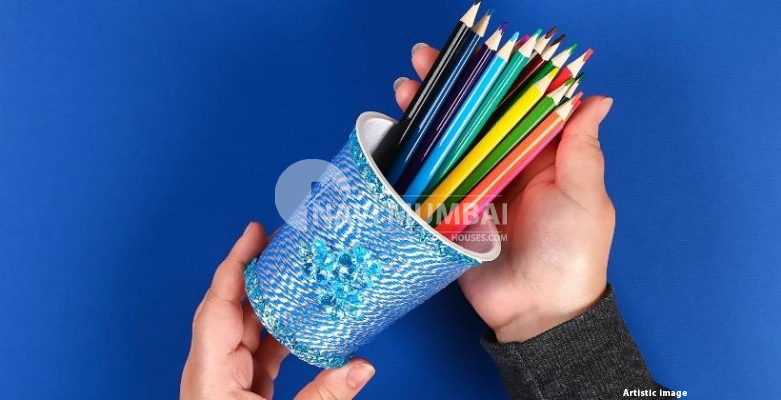 Recycling saris to produce table mats is an innovative best out of waste idea #7.
Table mats and table covers can be made from attractive vintage sarees with embroidery and brocades. Simply cut an old embroidered saree into a tablecloth, add a contrast border, and spread it out. Brightly colored tablecloths and runners with Zari borders are ideal for this occasion.
#8: Use old teacups to make a fragrant candle holder
Teacups & coffee mugs can be recycled to make perfumed teacup candles. Combine your favourite aroma with wax, such as lemongrass, mint, or lemon. Melt the wax carefully and pour the fragrance into the cups, along with a wick in the centre. Multiple candles in attractive teacups can be used to decorate centre tables or other areas of the house.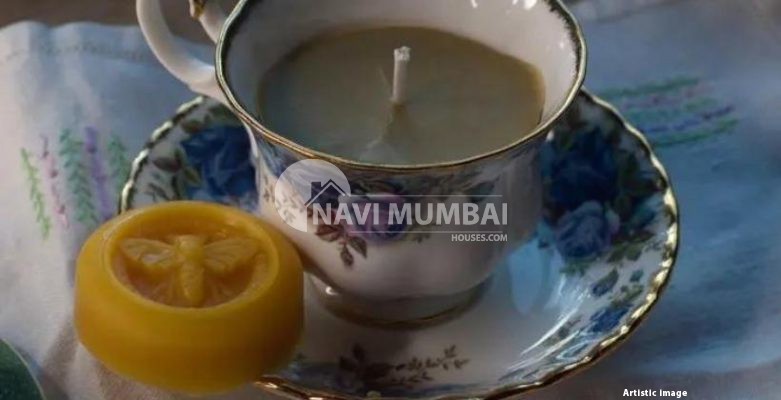 Decorative candle trays made from old mirrors are best from waste #9.
Mirrors are available in a variety of shapes and sizes. However, old mirrors might develop blemishes. Repurpose them into candle trays rather than throwing them away. Smooth the mirror's edges or frame it with a wooden frame.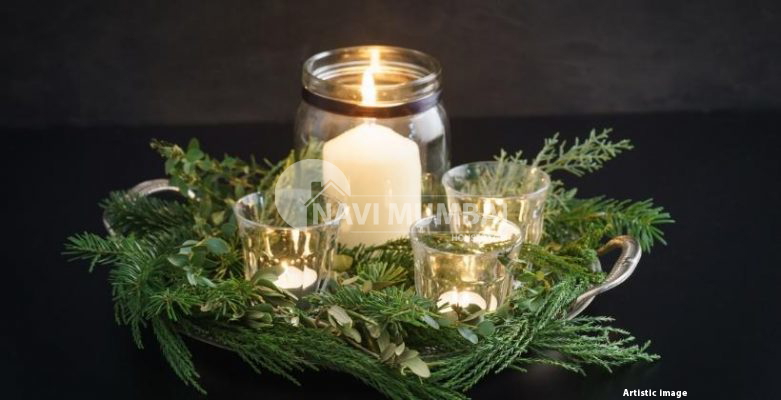 #10: Cupboard organizer made from used jeans is the best waste-free concept.
At home, old denim jeans are frequently discover. Make a hanging wardrobe organizer out of it. Keep knickknacks in the pockets. If you need more pockets, sew them yourself (or hire a local tailor) out of extra fabric. To hang it, make two loops at the top. The organizer can be utilize in the kitchen or in the children's room.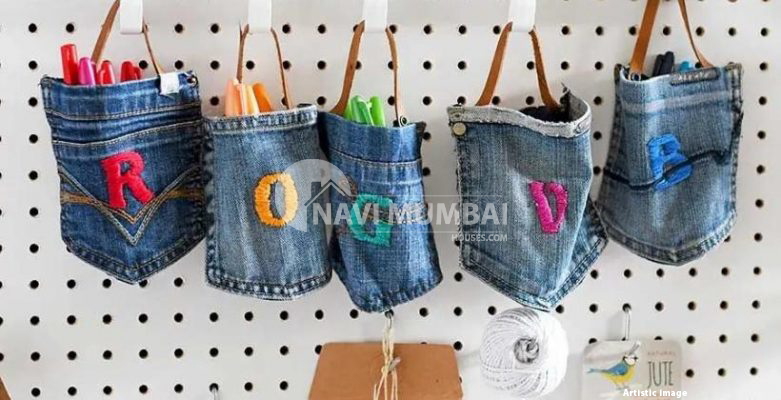 Glass jar photo frames are the best out of waste #11.
Make a colored copy of the image you want to utilize. It should be cut to the size of an old jar. Use glue to secure the photo inside the jar so it may be use as a photo frame. You can also make it a spinning photo frame by putting many photos in it.
Plastic bottle piggy bank #12: Best out of waste for kids
Children's piggy banks can be made from old water bottles and empty plastic bottles (of vinegar water, juice, etc.). Cut a slit about 2 inches long on one side of the bottle for the coins. The slit should go the full length of the bottle. To make the bottle look like a pig, paint the lid pink and add two nostrils to the lid. Place eyes on the bottle's front. Cut two ear shapes out of pink paper and adhere them to the bottle.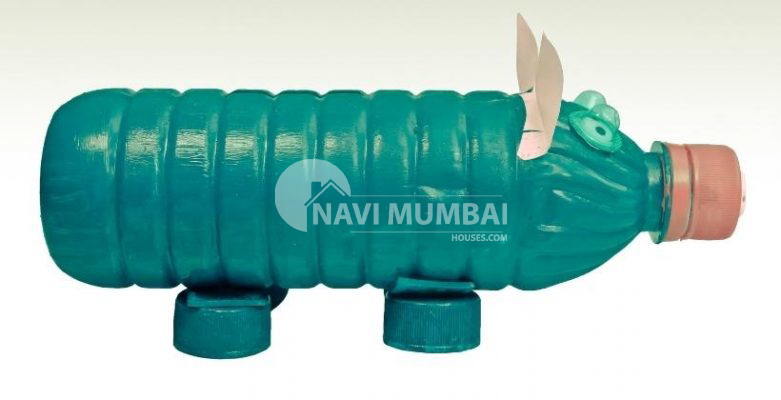 #13: A vertical garden of plastic bottles from waste
Plants can be grown in plastic bottles at home. Cut the bottle in half and paint it to make a little planter. Create a tiny vertical garden with plastic bottles of various shapes on the balcony or outside the kitchen window. Plastic bottles that can withstand the weight of soil, plants, & water should be used. Make a few drainage holes at the bottom. Choose a location with adequate sunshine. To hang the bottles on the wall, create a few shelves or a wire mesh grid.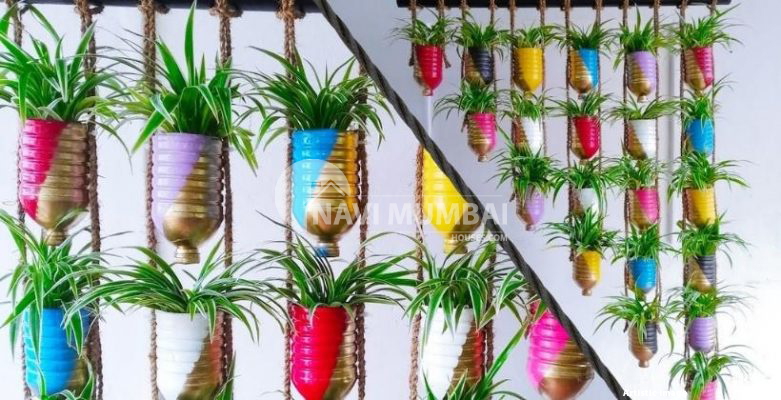 Best out of waste #14: Recycled glass bowls & jars terrarium
Recycle any wide-mouthed jars with lids to create a relaxing green terrarium. In a clean glass container, layer pebbles and charcoal at the bottom, soil mix in the centre, and the plant on top in the following order: stones & charcoal at the bottom, soil mix in the middle, and plant on top. Choose plants that will fit and thrive well in the glass container based on its size and form. Plants like syngonium, peperomia, fittonia, button ferns, or any miniature indoor plant work well in a bowl-shaped terrarium. Make an island or a fairy garden scene and embellish it with little ceramic animals, pebbles, and colored stones. Open or closed terrariums are available. Closed terrariums require little upkeep and can go without water for extended periods of time. Open terrarium gardens, like potted plants, require watering.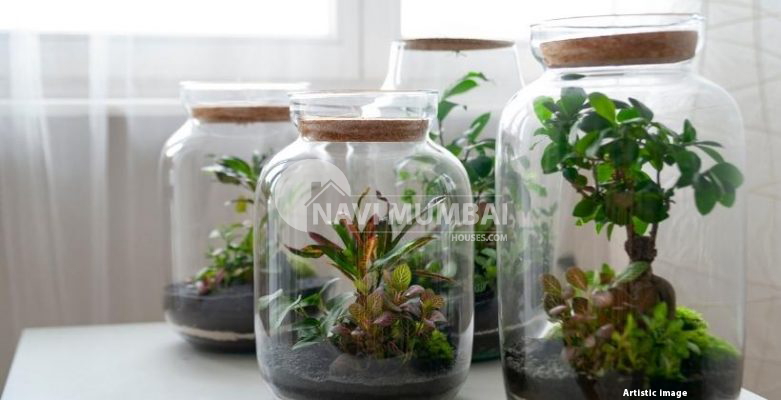 #15: Waste-to-Innovation #15: Bird Feeder
Empty milk or juice cartons, as well as old cardboard boxes that often accompany online shopping delivery these days, can be recycle to build a garden bird feeder. Draw and cut out the box's door and windows. Allow enough space in the bottom of the carton for a box to keep the bird seed. Cut two small holes on either side of the carton's top to hang the bird feeder using rope or wire. Decorate and paint the feeder. Decorate and paint the feeder. Fill it with birdseed and hang it on the balcony or in the yard.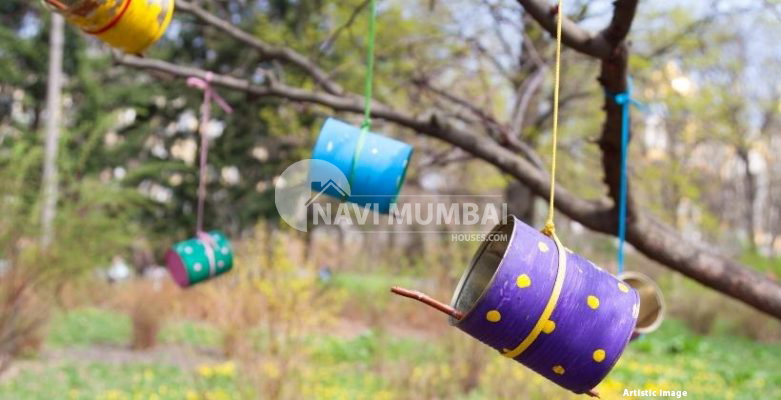 Ice-cream sticks photo frame (waste material #16
To make the frame, glue the popsicles (ice cream) sticks together in a square. Make a square or rectangle frame with two popsicles on opposite sides. Color the Popsicle sticks and add paper flowers fashioned from old magazine pages to complete the project. You may hang it on the wall with a ribbon or display it on a shelf with a stand. This eco-friendly waste material activity will be a hit with the kids. The motor & creative skills of the kid are developed through this recycling activity.
Eco-friendly rakhi is the best waste material craft for kids #17.
A rakhi for the Raksha Bandhan occasion can be readily manufacture from waste at home with a little creativity. Your child will enjoy cutting and pasting colorful sheets to make rakhis. Recycle satin ribbons, colored threads, and old wool that you have lying around the house. Cut old cardboard from toothpaste or pencil boxes to construct the middle base of the rakhi's circular shape. Paint the centre and add colored pearls, paper quilling art, pom-poms, and other embellishments. Encourage kids to make the most of scrap materials for decorations.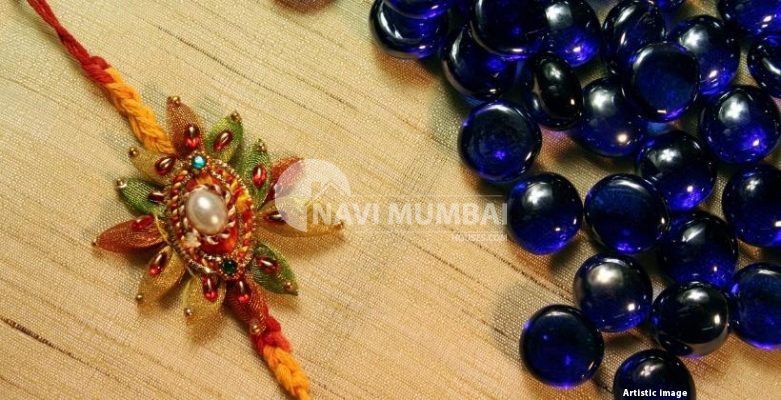 Easy waste-reduction suggestion #18: Repurpose a tin box as a kitchen organizer
Many foods are now package in tin cans, from chocolates to biscuits and sweets (rasgullas). To keep the kitchen tidy, repurpose those tins as kitchen organizers. Decorate the tin with lace, wasabi tape, colored papers, fabric, coir, or just spray paint it after it has been clean. Store scissors, knives, spoons, little masala packets, and other small items in the colorful tin box.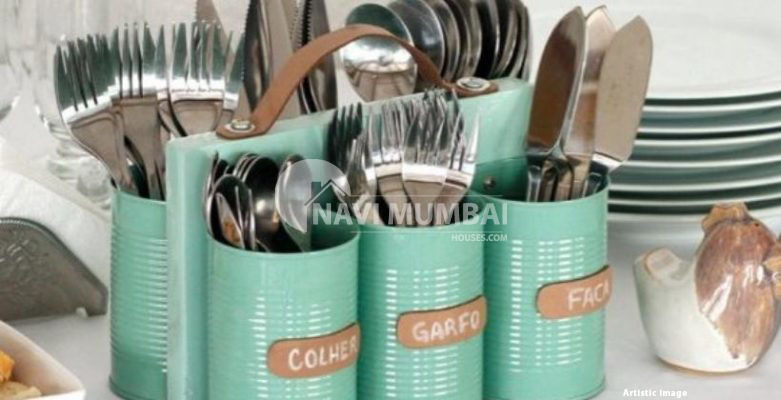 Wooden crate as a shelf is the best out of trash idea for the kitchen #19
Make practical DIY furniture out of recycled wooden boxes. Small condiments, pickle jars, and potted plants can be kept on these floating wall shelves in the kitchen.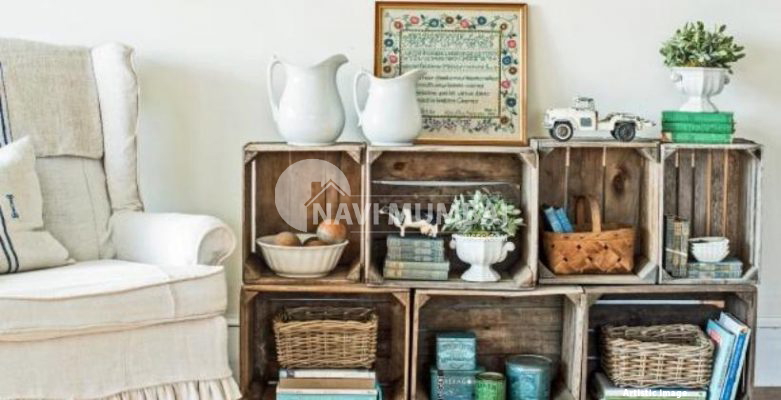 Up cycle an old tray into a DIY wallboard or a stylish tray for #20.
Repurpose discarded trays into appealing message boards and to-do lists in the kitchen. On an old tray, place cloth or a cork sheet. Alternatively, a metal tray with paper sheets can be hung.
Paint antique serving dishes with geometric and floral designs instead of throwing them away. You may also use stencil stickers to embellish the tray. Decorate the tray with mosaic tiles and printed fabrics, add beads as ornaments, and laminate it.
Waste cardboard boxes into storage boxes is the best use of waste #21
Online shopping has resulted in an overabundance of cardboard boxes at home these days. Use colored paper, linen, and laces to decorate these boxes and use them as kitchen drawer organizers. You may also use them to store kitchen napkins.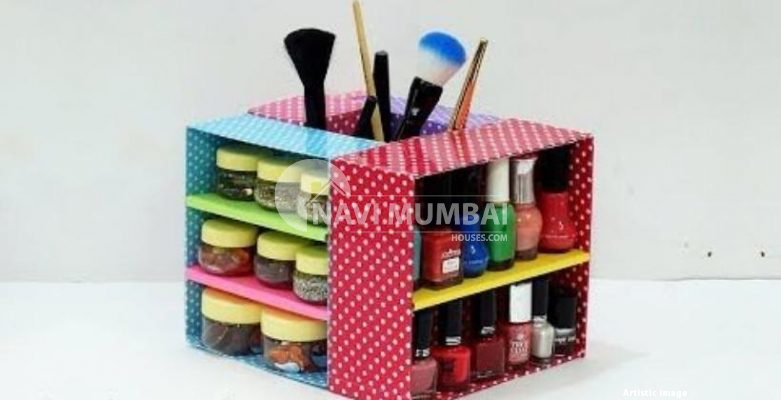 Best bathroom waste disposal idea #22: rope-bound dustbin
Ropes are a cheap and simple method to add interest to any recycling project. Wrap an old plastic bucket, large plastic box, or trash in a jute cord to recycle it. It's ready to use once you put a disposable rubbish liner inside. Simple jute rope baskets give the bathroom a rustic, nautical atmosphere.
Pebbles doormat is the best out of waste idea #23
Small rocks in complementary colors to the bathroom tiles are ideal. Stack rocks on an old doormat with good-quality adhesive. Place the rocks closely next to one another, leaving no gaps. For best comfort, choose flat rocks.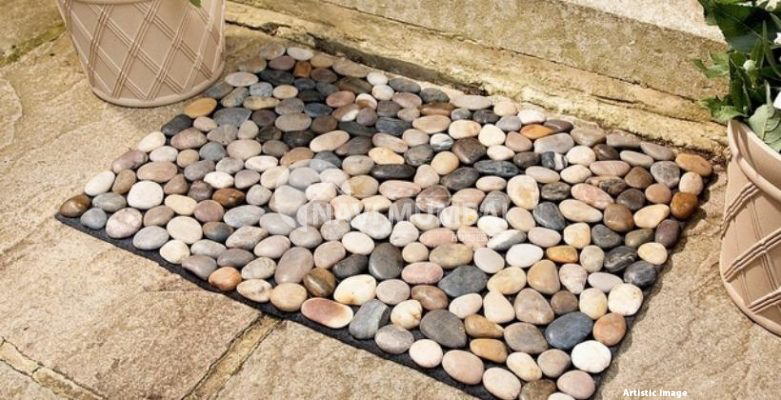 #24: Turn plastic bins into a bathroom vanity by decorating them.
Bathroom tissue boxes and storage boxes for lotions & creams can be readily made from takeout containers or ice cream boxes. Paint them, wrap them in lovely fancy wrappers, and sprinkle shells on top. Tealight candle holders can also be made out of medium-size seashells.
Best out of waste #25: & shells to decorate an antique mirror frame
After a few years of use, the frame of a bathroom mirror becomes old and faded. Cover it in delicate shells to give it a fresh lease on life. Make a stunning piece of art for your bathroom by randomly pasting the shells. If you have a tiny circular mirror, add pink scallops to it and hang it in the corner of the room.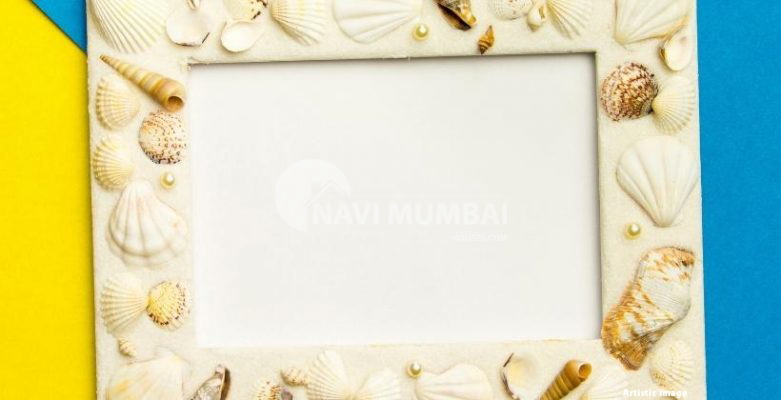 ---
Disclaimer:
The views of this expressed above are for informational purposes only based on the industry reports & related news stories.
Navimumbaihouses.com
does not guarantee the accuracy of this article, completeness, or reliability of the information & shall not be held responsible for any action taken based on the published information.
Also Read
Buy Properties in Navimumbai