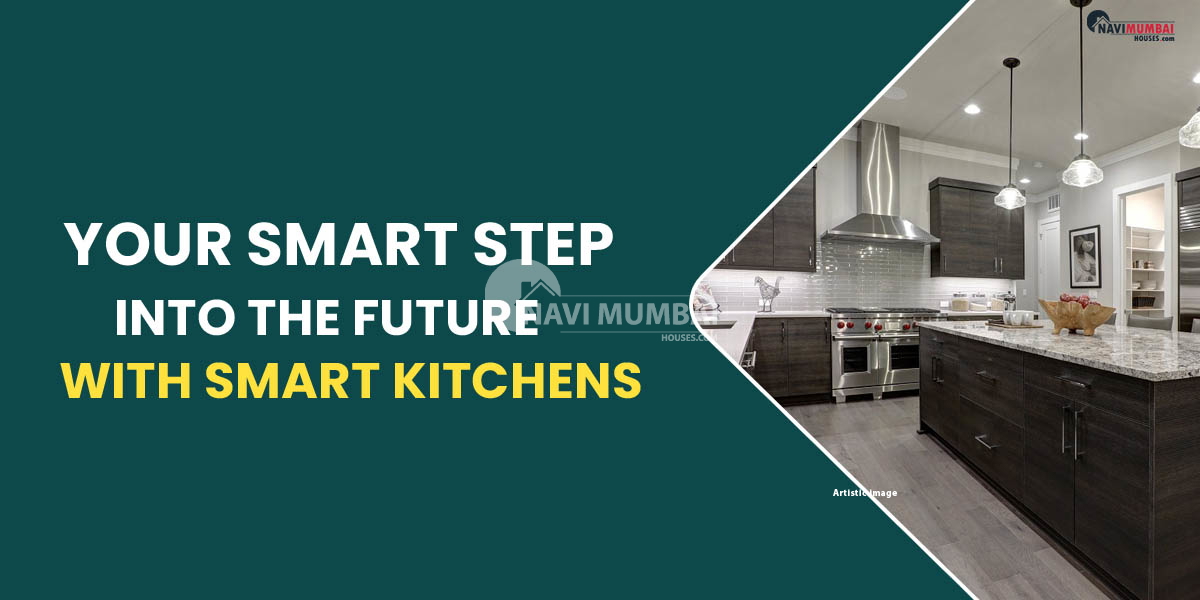 Your Smart Step Into The Future With Smart Kitchens
Modular kitchens will continue to exist. The world of kitchen interiors is preparing for a technological revolution—the smart kitchen—now that difficulties with efficiency and optimal space utilization have been resolved. You have probably heard of this phrase a few times in recent years, but many people are unsure of what it implies. Let's examine the several possibilities available to you to modernize and prepare your kitchen for the future.
---
Are you looking for 1 bhk flats in sion mumbai?
---
What are "smart kitchens" all about?
In simple terms, a kitchen that is well connected to and controlled by the internet, Bluetooth, or wifi might be considered smart. Artificial intelligence (AI) has recently been used in the culinary industry to assist save time and money. This can be compared to a modular kitchen that has "eyes and ears." You can improve and smarten your kitchen in a variety of ways, from voice assistants to smart freezers.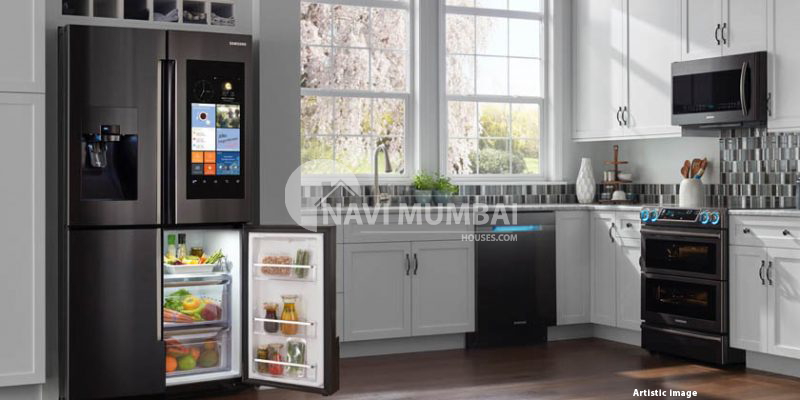 The advantages and disadvantages of smart kitchens
Advantages
As we previously stated, AI-enabled kitchens are quite popular right now for all the right reasons. You may transform your kitchen into a futuristic cooking area by adding a few smart items! The following are some advantages of choosing smart kitchens:
There is a reason why smart appliances are termed clever—their energy-efficient designs assure maximum consumption with the barest amount of waste. They contribute to a family's daily energy consumption reduction in this way. We frequently squander resources in our daily lives due to clumsy cooking methods, poor time management, etc. However, cutting down on waste is made possible by smart cooking technology like motion sensor chimneys, auto-clean features, and equipment that automatically turn off when not in use. Additionally, because of how well-designed today's smart kitchens are, you will be able to monitor your typical power usage and cut your monthly utility costs by at least 10% to 15%.
You will be able to manage many appliances with the aid of a single device. As well as an app-enabled programme that can help you reduce the amount of time you spend in the kitchen strategically.
So that no one family member needs to do the cooking duties alone, 2 or more family members can work together to complete all the cooking tasks.
Management of inventories: fancy term, huh? Should we call it pantry management instead? Simply said, wasting both raw and cooked food ingredients is not an option or an excuse in a smart kitchen. Additionally, if you frequently run out of food supplies, AI-enabled appliances can become your best buddy! The list of groceries in your refrigerator is managed by digital assistants & smart refrigerators, which also notify you when your stock is getting close to expiration dates. Some digital assistants provide tailored recipes based on the food you still have in your fridge! Sounds intriguing, no? Saving resources and money is a benefit.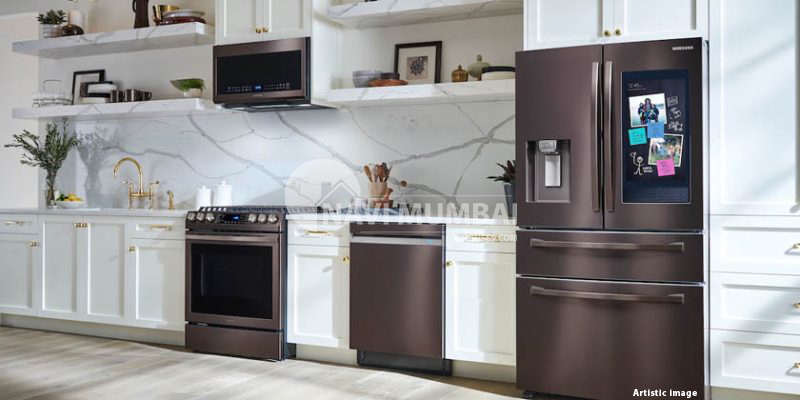 Disadvantages
Although the concept of smart kitchens is appealing, not everything about them is ideal. Before purchasing one, keep the following in mind:
Installation costs are high. Depending on the type of appliances you choose, smart kitchens might cost up to three times as much to install initially as traditional modular kitchens. Compared to conventional gadgets, technology has a price tag that is 50% more expensive. The costs associated with maintenance and upkeep must be considered for non-AI equipment, though. It all comes down to which you like right away.
The encroachment into private space there are several hazards involved with making your kitchen smart, even if many people might appreciate the convenience of an AI-enabled kitchen. Since a smart kitchen relies on IoT or Wi-Fi to function, data theft and a risk to your privacy are both very likely. Since the entire system relies on the internet and there are many connected devices, there is always a chance that critical information could be stolen by a hacker. It is advised to closely scrutinise the details and periodically change the password to stop this from happening.
Complete reliance on the internet: Smart kitchens are useless without a dependable and quick internet connection. The idea of an AI-enabled kitchen seems a bit unrealistic, especially in a nation like ours where bad internet connectivity and power outages are regrettable realities. They have undoubtedly revolutionized modern kitchens and the way people cook, but before using such technology, the local requirements must be carefully taken into account.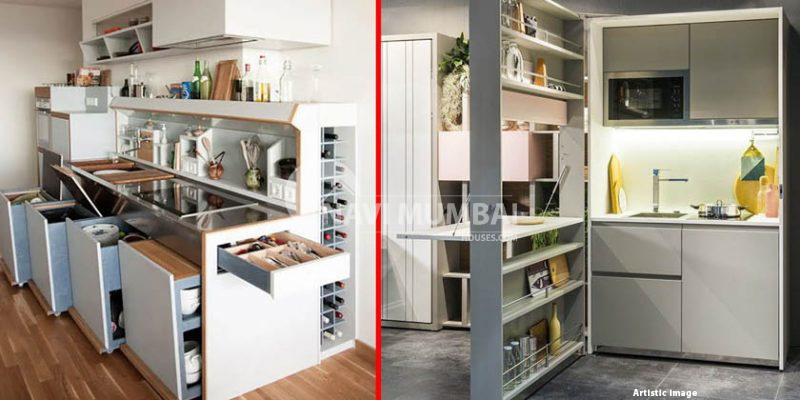 How to construct the ideal smart kitchen
There are various ways to design smart kitchens, but in order for everything to work out, good planning is required first. Here are some suggestions to assist you:
First, decide what smartness level you want for your kitchen.
Of course, smart devices are connected to and operate online. But not all of them need to be controlled by sophisticated communication systems in the kitchen. Determine whether you want simple smart equipment. Such as smart ovens and refrigerators, or more revolutionary multitasking devices that can operate on their own without a wireless connection.
There are numerous ways to put together modern kitchen appliances. It is crucial to decide exactly what kind of gadgets and appliances you want, though.
The first option is a fully integrated smart kitchen with a smart display and a digital voice assistant. If you're a neat freak, a voice-activated faucet or perhaps a completely automated oven for the aspiring baker in you would be appreciated! Going slowly is advised by professionals no matter what your vision is.
Try out a few simple smart devices first to see how they improve your cooking experience. Everyone's cooking habits vary; therefore it is advised to start off slowly before making the proper automatic kitchen equipment purchases.
it's time to go shopping once you've sorted your necessities and preferences. The smart kitchen of your dreams should ideally be assembled piece by piece, starting small.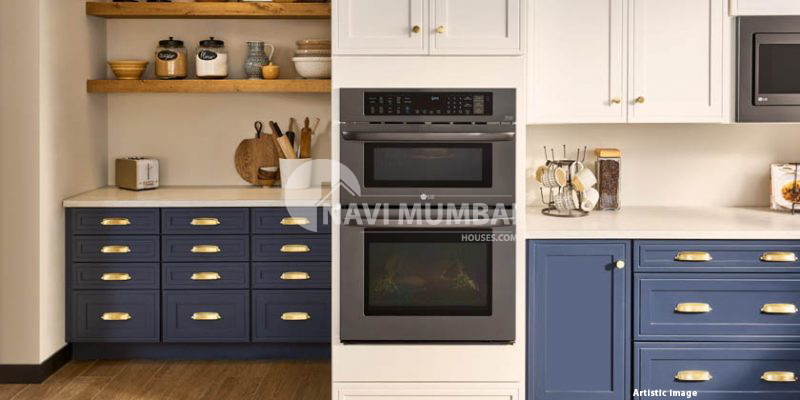 Different smart kitchen appliances might improve your kitchen.
Unfortunately, there are no robots that can cook for you or clean for you. But smart kitchen gadgets may undoubtedly make your life a lot simpler. Because there are so many options available, it is simple to become confused. In order to meet your needs in any sort of kitchen. We have assembled a selection of products that are rather adaptable.
Samsung Smart Fridge first
A smart refrigerator can significantly speed up and improve the efficiency of daily cooking since refrigerators are undoubtedly the "heart" of the kitchen.
Consider the Samsung Family Hub refrigerator, which has an integrated voice assistant. It can carry out a number of tasks for you, such as ordering food or playing music at your direction. The refrigerator also includes three built-in cameras so you can view the contents from wherever you are.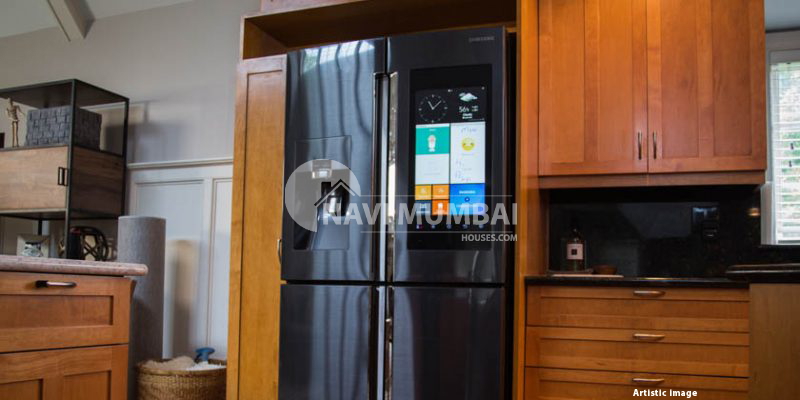 After all, all you really require to cease making frequent trips to the grocery store is remote access to your refrigerator. The Samsung Fridge also includes a display hub that allows you to further personalize your home screen. For your convenience, you can add mini-notes, reminders, etc.
Smart Ovens second
Because they have so many unique and exciting functions, electric smart ovens are a wise purchase. Numerous smart ovens are also capable of functioning as smart "toaster ovens," which differ slightly from conventional ovens. Naturally, it also depends on your tastes in eating. Many smart ovens have built-in cameras so you can monitor the progress of your cooking whenever you want without actually opening the door and risking damage to the food. Many smart ovens have screen displays that let you browse different recipes and give you the option to change some instructions depending on what you are cooking. While catching up with your friends, you can monitor your diet.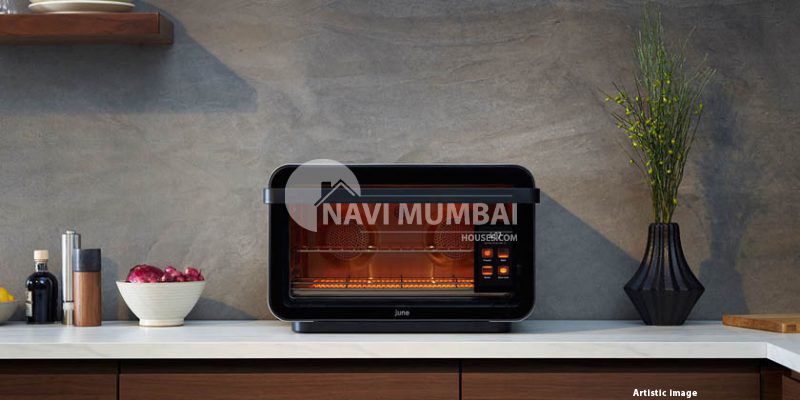 Smart dishwashers, third
Yes, you still need to put soap in the sink and load the dishes. But efficiency and smoothness are more important here. You can operate the Samsung Linear 24″ dishwasher from anywhere in the house thanks to its smart app capabilities. In search of a USP? It is the overall stillness! It effectively cleans your plates without setting off a mini-war in the dishwasher every time and only makes about 38 decibels of noise! When finished, the dishwasher door is automatically opened to let fresh air into the tub. You can also keep track of the remaining time and adjust your task accordingly.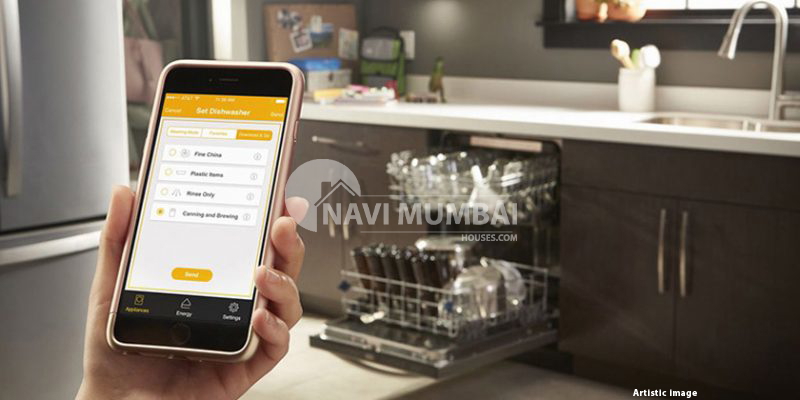 These are only a few. In addition to these, there are smart ovens and microwaves that allow you to view and follow recipes in real-time. Additionally, why stop with kitchen appliances only? Google digital assistants and smart lighting are both excellent additions.
We are interested to discover which of our suggestions you liked now that you are aware of what and how to develop your brand of a smart kitchen.
---
You're looking for New Projects in Mumbai we have the Best Properties In Mumbai Like Ready to Move:https://navimumbaihouses.com/properties/search/mumbai-all/
If you want daily property update details please follow us on Facebook Page / YouTube Channel / Twitter
Disclaimer:
The views of this expressed above are for informational purposes only based on the industry reports & related news stories.
Navimumbaihouses.com
does not guarantee the accuracy of this article, completeness, or reliability of the information & shall not be held responsible for any action taken based on the published information.
Also Read
Buy Properties in Bhandup