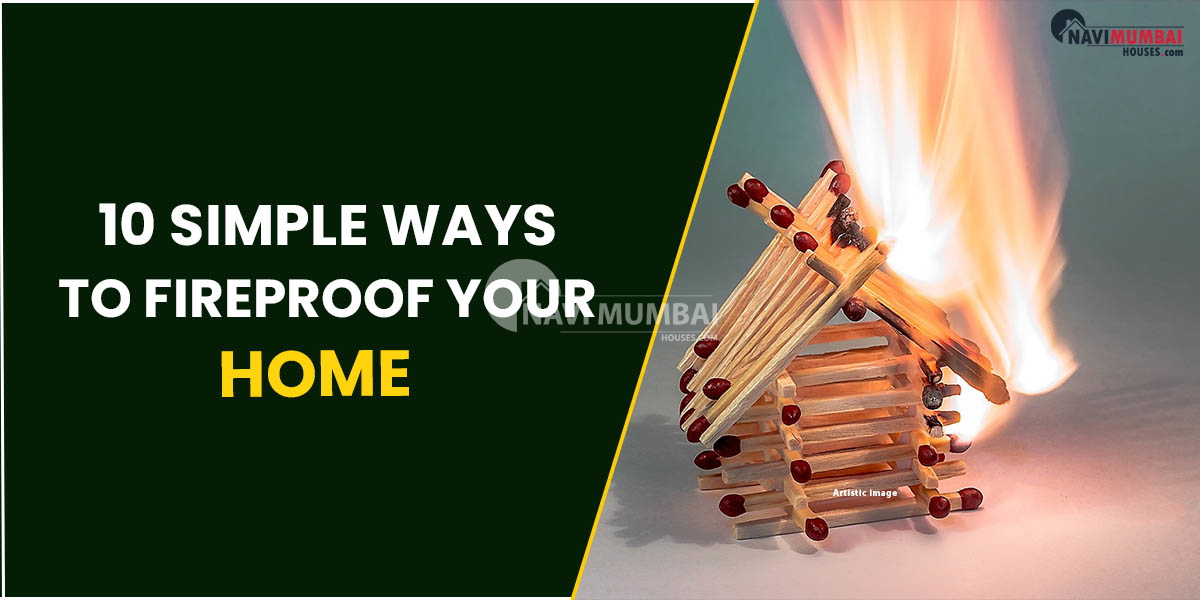 10 Simple Ways To Fireproof Your Home
With the increasing number of fires these days, it is critical to upgrade your home security to ensure that your home and family members are safe. The good news is that simple precautionary measures can easily fireproof your home. navimumbaihouses outlines ten effective methods for establishing a line of defence against hazardous fire tragedies.
Your home is without a doubt one of your most valuable assets. While painting and renovating it will improve the aesthetics and structural strength, you must also consider its fire safety. A fire can happen at any time, so protecting your home from it should be your top priority. Although home insurance may provide some coverage and financial security, adding fire-resistant layers may help you avoid the accident in the first place. There are several ways to fireproof your home, ranging from installing fire alarms to adding fire-resistant elements to the interiors.
---
Are you looking flat for rent in taloja?
---
Fireproof Your Home: Purchase fire alarms.
One of the most important tools for fireproofing your home is a fire alarm. Fire alarms detect the threat early on, allowing for immediate action. There are various types of fire alarms available today that can be easily installed without taking up much space. They can also be installed in ceilings to create a continuous protective layer.
Make use of fire-resistant materials.
When designing the interior of your home, you must consider both safety and aesthetics. For example, ensure that the curtains are fire-resistant, as they can quickly spread a fire. Furthermore, because wood is made of cellulose, it can easily catch fire, so avoiding wood in your interiors is a good idea. For shelves and floors, you can also use concrete or tiles.
Fire extinguishers are useful.
If a fire breaks out in your home, the first and most important thing you need is a fire extinguisher. No matter how big or small your house is, you should keep a fire extinguisher nearby. Inspect its functionality on a regular basis to ensure that it does not fail when needed.
Remove any dead vegetation.
Being surrounded by greenery is beneficial and healthy, but only if it is green and alive. Trim shrubs and plants around your house on a regular basis, and remove all dead and dry vegetation. They are highly flammable and may become uncontrollable if a fire starts.
Keep an eye on the windows.
Windows are design to protect your home from dust, pollution, and excessive sunlight. These windows can break if exposed to excessive heat from a fire. As a result, if your home is near a wildfire-prone area, pay special attention to the windows. Renovate them and put in double-paned windows.
Fireproof Your Home : Purchase fire doors.
If you live near a fire-prone area, you should install fire-proof doors. They are specifically designe to hold fire for more than an hour, giving you plenty of time to flee and save your family and belongings.
Fireproof Your Home : Keep the roof safe.
Roofs are our homes' shields, and while they cannot be completely fireproof, try to build fire-resistant ones. To accomplish this, use fireproof materials to construct the roof so that your home remains safe for an extended period of time. Fire-resistant roofs are classified from Class A to Class C based on their ratings, standards, and materials.
Avoid using additional carpets and rugs.
Carpets and rugs enhance the appearance of the home. However, if you live in a high-risk area, it is best to use only the carpets and rugs that are absolutely necessary. When there are too many carpets, the risk of fire spreading increases. As a result, use fire-resistant rugs instead of carpets as much as possible.
Build as few wooden cabinets as possible.
The majority of wardrobes and cupboards are made of wood, which is more prone to immediately catching fire. To avoid this, choose fire-resistant storage products or have fire-resistant paints applied to wooden wardrobes and cupboards.
Fireproof Your Home : Keep chemicals at a distance.
If you have chemicals or flammable materials in your home, keep them away from common areas. To avoid disastrous situations, store chemicals and combustibles in an isolated area that is well covere.
Electrical failures can also cause house fires. In order to reduce the risk of an electrical fire, inspect all outlets on a regular basis. Furthermore, it is impossible to construct a fireproof house. However, taking precautions and remaining vigilant can help prevent major accidents. Combine your efforts to fireproof your home with cautious behaviour in the face of various types of fire hazards.
2 BHK Flat For Rent In Kharghar Sector 20
---
You're looking for Buy Home In Navi Mumbai we have the Best Buy Properties In Navi Mumbai Like Ready to Move & Nearby possession: https://navimumbaihouses.com/property/search/buy/navi-mumbai-all/
If you want daily property update details please follow us on Facebook Page / YouTube Channel / Twitter
Disclaimer:
The views of this expressed above are for informational purposes only based on the industry reports & related news stories.
Navimumbaihouses.com
does not guarantee the accuracy of this article, completeness, or reliability of the information & shall not be held responsible for any action taken based on the published information.
Also Read
Rent Properties in Kharghar