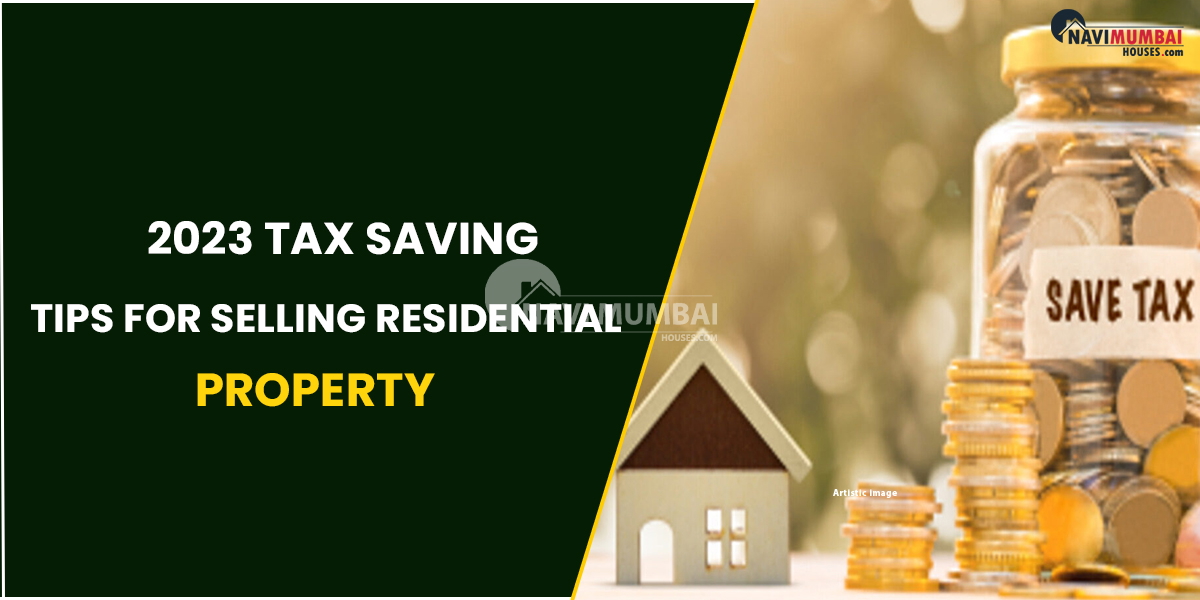 2023 Tax Saving Tips For Selling Residential Property
2023 Tax Saving Tips: Possession of real estate offers security and serves as a long-term investment. Selling a home for a lot of money is satisfying and profitable for the owner. Many people, however, are unaware that any profit produced through the sale of a property is subject to taxation, and the cost of paying taxes can be considerable in circumstances of high-priced property sales.
The following advice can help you avoid or reduce tax on the sale of a property. Let's first examine the methods for reducing taxes before examining the variables that affect tax liability.
---
Are you looking 2BHK flat for sale in Vashi?
---
Holding time for the asset
When evaluating your tax due on the sale of a property, a crucial determining element is how long you owned the property before selling it. Capital gain is the profit made by selling a piece of property. Short-term capital gains (STCG) and long-term capital gains (LTCG) are two categories for the capital gains tax based on the holding duration (LTCG).
Short Term Capital Gains (STCG) A property is considered to be STCG if you have owned it for less than 24 months. The tax that applies is the regular income tax that you are required to pay under your chosen tax band or tax slab.
Gains Over the Long Term (LTCG)
If you have owned the item for more than 24 months, it is relevant. In India, a seller must pay around 20% of the profit made from the sale of a property based on their income and tax filings. Under the LTCG system, taxpayers are eligible for a variety of reimbursements.
Tips for Reducing Taxes on Property Sales
You may be able to avoid paying tax on the sale of real estate if certain conditions are met.
When opposed to the STCG, the LTCG is subject to less tax. According to certain parts of the Income Tax Act of India, the seller can take advantage of capital tax advantages on LTCG.
| | | | |
| --- | --- | --- | --- |
| | Section 54 | 54EC | 54F |
| Type of property | Residential property | Any long-term asset | Plot/land apart from residential house |
| Holding period | Above 2 years | -2 years | Above 2 years |
| Who can claim an exemption? | Individual/HUF | Any person | Individual/HUF |
| Net property to be acquired | Residential house | Notified bond | Residential house |
| The time limit for new investment | Purchase property within 2 years or 1 year before selling and 3 years for construction | Within 6 months | Purchase property within 2 years or 1 year before selling and 3 years for construction |
| Exemption amount | The capital gain or investment in a new property, whichever is lower | The capital gain or investment or investment in the new property whichever is lower (max up to 50 lakh) | (Cost of new house x capital gains)/net consideration |
Exemption under Section 54
Individuals or Hindu Undivided Families (HUFs) who sell their old property in order to buy a new one are eligible for this exemption. According to a recent change. Only if the LTCG does not exceed INR 2 crore in cases of building or buyback will two residential properties be exempted forever under section 54. The following requirements must be satisfied in order to claim exclusions:
The building should be a residence and be covered by LTCG.
Any number of properties might be owned by the seller.
Within two years after selling the previous home or no later than one year after doing so, the seller must buy a new home. For construction, a 3-year window is provided.
The newly acquired home must be in India.
The exemption will be revoked and STCG taxes will apply to the sale of the newly bought property if you sell it within three years.
2023 Tax Saving Tips: Exemption under Section 54EC
Within six months of selling a property. A seller may be exclude under section 54EC provide they sell the building or the land and invest the proceeds in certain bonds. Among the bonds that fall under the purview of section 54EC are those issued by the National Highways Authority of India, Rural Electrification Corporation, and Railway Finance Corporation. The maximum investment allowed is INR 50 lakhs, and these bonds pay an annual interest rate of 5.25%. This bond has a five-year lock.
2023 Tax Saving Tips: Section 54F
For those who sell their property or plot in order to buy a new one, an exemption is available. Under Section 54F. Only one residential property may be exclude. The following requirements must be satisfy in order to qualify for exemptions under 54F:
It should be an Indian property.
There should only be one property own by the seller (other than the new one).
Prior to selling the property or within two years of doing so, the seller should buy a home. For construction, a 3-year window is provided.
If you sell the newly built or acquired home within three years, the exemption will no longer apply. After the sale of the original asset, the exemption will no longer apply if you buy another residential dwelling within two years or build a different type of house within three years. The sale of the asset will be subject to LTCG taxes.
Capital Gain Account Scheme (CGAS): Invest the capital gain. For that assessment year, you can invest in CGAS of public banks if you are unable to discover a suitable residence to buy, build, or find a bond to buy. You may request exemptions for funds in CGAS while submitting income tax returns.However, you must use the CGAS money you've placed within three years, or you'll have to pay taxes on it.
Set off losses and carry forward – To lower tax obligations, the seller may report a loss on the sale of other assets, such as gold or stocks, and carry that loss forward for a period of four or eight years.
You may still be eligible for tax breaks under the aforemention provisions even if you invest in projects that are delay and the developer is unable to give you ownership by the due date. In conclusion, if you are familiar with the provisions of the Indian income tax code, you may be able to receive a tax exemption on the proceeds from the sale of a property.
---
You're looking for Buy Home In Mumbai we have the Best Buy Properties In Mumbai Like Ready to Move & Nearby possession: https://navimumbaihouses.com/property/search/buy/mumbai-all/
If you want daily property update details please follow us on Facebook Page / YouTube Channel / Twitter 
Disclaimer:
The views of this expressed above are for informational purposes only based on the industry reports & related news stories.
Navimumbaihouses.com
does not guarantee the accuracy of this article, completeness, or reliability of the information & shall not be held responsible for any action taken based on the published information.
Also Read
Buy Properties in Navimumbai