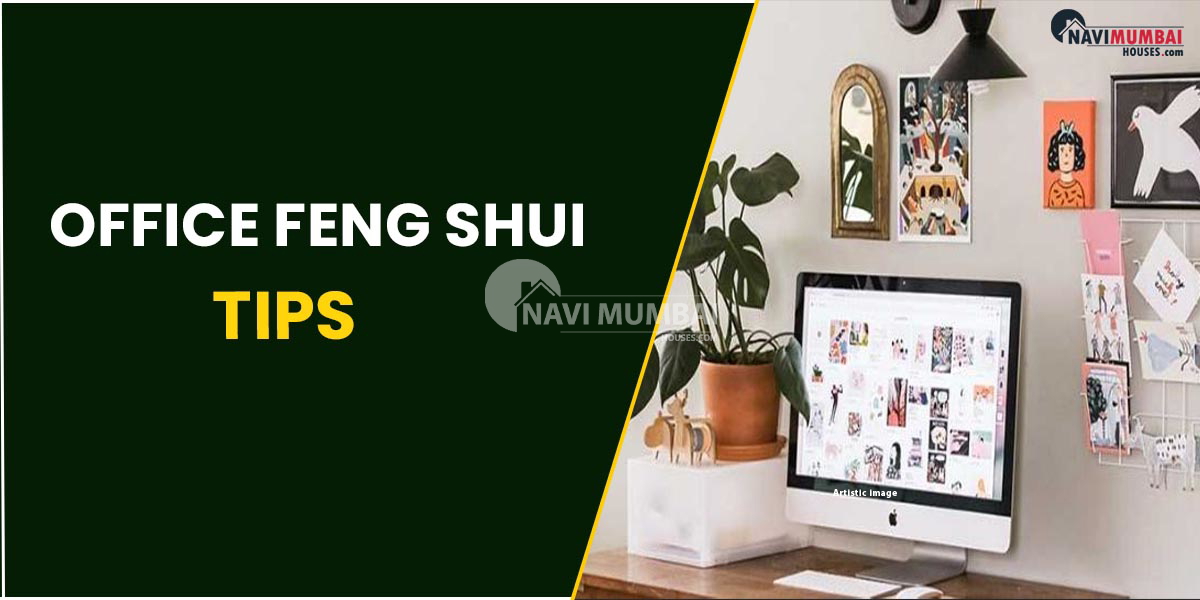 6 Office Feng Shui Tips To Attract Wealth & Abundance
Office Feng Shui Tips : We have all resorted to working from our home offices or workstations due to the pandemic and the indefinite work-from-home scenario. As a result, it is more necessary than ever to apply Feng Shui workplace ideas to advance our professions.
Unlike corporate office space, this is your domain, and you are free to turn it into a productive workspace. In this post, you will learn how to organise furniture in your home office and what kind of plants should be included. In a Feng Shui workplace, you will learn what to do and what not to do.
---
---
Office Feng Shui Tips
Feng Shui Office Tip 1: Workstation Position
The most significant portion of the workplace is the main desk. Because here is where all of the critical work is done, you must treat it with the respect it deserves. The primary work desk should be located diagonally opposite the office's entrance, with a wall behind it, according to Feng Shui. Anyone seated at such a workstation will have an excellent view of all the Feng Shui office's entrances and windows. This posture allows you to observe all of the possibilities from any space entrance point.
Feng Shui Office Tip: The Influence of Natural Light
Natural light helps the Feng Shui of any space, and your office should be no exception. Working in a dim environment may strain your eyes and sap your vitality. Natural light has the ability to keep you energised during the day and enhance productivity, so having a well-lit workplace environment is critical.
Feng Shui Office Tip #3: Include Feng Shui Plants in the Office
One of the greatest feng shui plants for the office is a jade succulent.
Plants provide vitality to a room, and Feng Shui Plants for Offices may benefit you and your job in a variety of ways. While there are many indoor plants that are suitable for a workstation, here are some suggestions for Feng Shui plants for the office:
Jade Plant: A Jade plant with round edges like coins is regarded particularly lucky for an office environment since it draws prosperity and fortune.
Rubber Plant: One of the greatest Feng Shui plants for the office, it increases your prosperity when planted in the Northwest corner.
Lucky Bamboo: A sign of riches and success, the lucky bamboo should be put in the office's north-east corner to ensure abundance. It requires little to no sunshine to survive and thrives in air-conditioned workplaces, when most other plants would perish.
Lily of the Valley: The peace lily is an important Feng Shui plant for the office because of its air-purifying properties. It improves both mental and physical wellness.
Office Feng Shui Tip #4: Keep Your Space Clutter-Free
A dirty, disorganised workplace attracts negativity, and you will notice improvements as soon as you begin to clear apparent clutter from your office and desk. Your desk should only contain goods that you use on a regular basis, as well as a photo of a loving family. All files and papers that are not needed on a daily basis should be stored.
A crowded office hinders productivity and creativity while also limiting good energy flow. A location like this might also be overwhelming and make it tough to achieve.
Feng Shui Office Tip 5: Inspiring Feng Shui Office Decor
A Feng Shui office should always be well-designed and inspiring. Posters featuring inspiring phrases, such as those featured above, should be part of your office design. Placing these quotations where everyone in the office can see them may help individuals stay focused and inspired, as well as create a sense of optimism to the workplace.
Office Feng Shui Tip 6: Consider Your Color Choice
Colors may be effective Feng Shui tools for attracting specific things in your surroundings and life. It is not always necessary to paint the entire room to add colour aesthetically; having a statement piece of furniture or a rug accomplishes the job just fine. The following are some colours that perform well in any workplace setting:
Use reds, oranges, and yellows to increase spatial inventiveness.
The colour black is related with the water element and is associated with good fortune and money.
Greens and blues are also good for persons who work in science and mathematics.
Earthy tones like as brown assist to decrease tension and maintain a quiet working environment.
Vastu Directions for Home Office
The most important thing to mind while setting up your home office is the direction. Working in the west or south-west is the best option. However, it is heavily dependent on the type of the activity. Working out in the south is meant to make you more forceful. Thus, if you work in industries such as sales, law, or property development, this is the ideal path for you. Alternatively, the west is a creatively stimulating direction, making it an ideal alternative for persons working in creative areas such as designers.
A home office might also be located toward the north or east of the house. Those in the banking, financial, and insurance industries can set up shop in the north. The east, on the other hand, is an excellent alternative for people working in administration, marketing, or social work.
Finally, Feng Shui Office Tips
Do you utilise any of these tips to increase productivity in your Feng Shui office? Please share your thoughts in the comments area.
More on Feng Shui and Vastu

Vastu tips for Business

Vastu tips for commercial office space

5 Feng Shui Office Tips to Attract Wealth and Abundance

Easy Feng Shui Tips for Business

10 Vastu Tips for Commercial Shops: Vastu for Shop Owners

Vastu Tips for Commercial Office Space to Earn Higher Profits

Lease deed versus rent agreement

20 Commercial Kitchen Design Ideas

Vastu Shastra Guide for Commercial Gym
---
You're looking for Rental Home In Navi Mumbai we have the Best Rental Properties In Navi Mumbai Like Ready to Move & Nearby possession: https://navimumbaihouses.com/property/search/rent/navi-mumbai-all/
If you want daily property update details please follow us on Facebook Page / YouTube Channel / Twitter
Disclaimer:
The views of this expressed above are for informational purposes only based on the industry reports & related news stories.
Navimumbaihouses.com
does not guarantee the accuracy of this article, completeness, or reliability of the information & shall not be held responsible for any action taken based on the published information.
Also Read
Buy Properties in Navi Mumbai