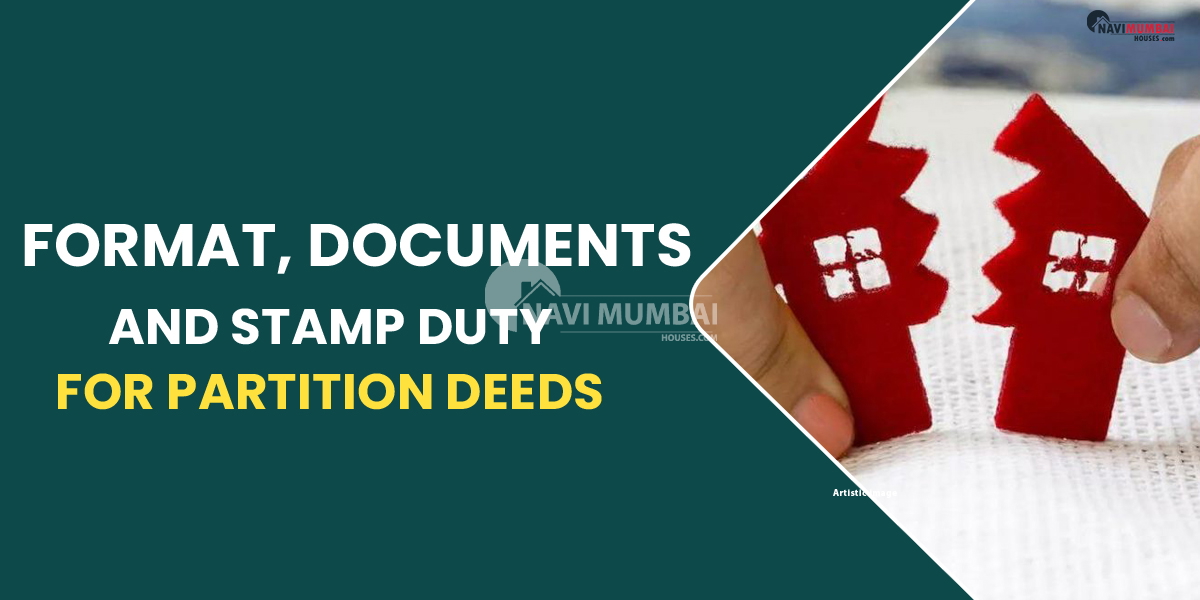 Format, Documents, And Stamp Duty For Partition Deeds
The majority of properties in India are co-jointly owned, which can lead to disagreements amongst the owners. You can solve this issue by having a partition deed drafted, a legal document that spells out the individual shares & rights of each owner. A verbal deed is also possible, but it is not significant unless it is record in writing. You can sue if you're dissatisfied with the action. In this post, we've covered the need for a partition deed, its format, how to register it, and the paperwork needed to complete it.
---
Are you searching flat for rent in sewari?
---
Partition Deed: What is it?
A partition deed is a legal instrument that divides up an owner's interests and rights. Once a deed is execute, the owner is free to sell, give away, or transfer ownership of the property to anybody else. The partition deed is typically create when a jointly own property is going through the distribution process. When the property is being divide, the scenarios below may be seen.
Mutually agreeable division: If all of the property owners agree to split the property, they can do so amicably by going to their local registrar's office. All of the owners will legitimately own their respective portions of the land after the deed is put in place.
Partition without mutual consent: If there is no mutual consent, you should file a lawsuit in court. Partition without consent. Once the legal dispute has been resolve, you should file a partition deed that includes all of the information about each owner. Obtain registration on stamp paper as well.
When it comes to inherited property: If the property is inherited, then all co-owners are eligible to inherit it and transfer it. You must have a division deed in place to prevent future disputes.
Property issues involving family members: If a property division turns into a family conflict, legal action is required. In this situation, one must initiate a lawsuit; once problems are settle, one must obtain the partition deed between siblings.
What does Hindu law define as property division?
According to the Hindu Succession Act of 1956, when a property is divide, it indicates that the owner's children will split it equally after their passing, or, if a will has been made, the property will be divide in accordance with it. Additionally, each of them has a similar claim to the land.
Why is a property deed for partition necessary?
In order to prevent disagreements between co-owners of a property, a partition property deed is necessary. A partition deed should be register so that everyone is inform of their parts and rights. You must pursue the partition deed registration procedure once all of the owners have approved the partition deed. Once completed, each co-owner has sole decision-making authority over their respective shares. If there isn't agreement between the parties, you can sue in court.
How is a partition deed registered?
Follow these steps to register a partition deed:-
According to Section 17 of the Indian Registration Act, the deed must be record in the sub-office registrar's in the same location as the immovable property.
Some states have websites dedicated to the subject. The partition deed can be register online.
The partition deed in full.
provide the necessary paperwork
In accordance with the Stamp Tax Act of 1899, pay registration fees and stamp duty.
The stamp duty fees range from 2% to 3% of a separated share's total property value.
You can get the receipt following payment if you registered the deed online.
Format of a Partition Deed
The format of a partition deed is as follows: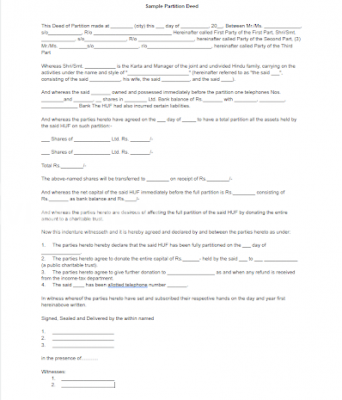 Required Documents for a Partition Deed
You will need the following paperwork to set up a partition deed:
introductory document
passport-sized photos of the co-owners
Duty and fees e-Challan fees and registration charges
Document handling fees, stamp duty
a sheet with PDE information
Records of Land Revenue as Khasra & Khatoni
Property transfer map
an image of the transferred property
Aadhaar cards, voter identification cards, kisan identification cards, PAN cards, licences, and passports are all photo identification cards.
Having a PAN card is require if the value exceeds Rs. 5 lakh.
What separates a partition deed from a partition lawsuit?
A partition deed is require by law for the division of property. You should record a partition deed if you and your co-owner(s) agree to a division. If not, you must launch a lawsuit and ask your other co-owner for a divide (s).
When you can't separate amicably, you file a partition suit. The courts file a partition suit in order to request a partition deed. The aggrieved party must approach the court within three years of the date the partition suit is file if they wish to oppose the lawsuit once it has been file.
Taxes on the partition deed
Obtaining a division deed does not require any transactions; hence there is no tax to be pay. The deed that results from the property division does not require a beneficiary to pay taxes, but depending on the type of property, capital gains tax may be owe.
Should a partition deed be registered?
In compliance with Section 17 of the Indian Registration Act of 1908, your partition deed must be record. The deed may be record for Rs 1,000 in stamp fees. Keep in mind that unregister deeds can't be use as proof of anything.
Spacious2 BHK Flat For Rent In Mumbai | 
---
You're looking for Buy Homes in Matunga we have the Best Properties In Mumbai Like Ready to Move:https://navimumbaihouses.com/property/search/buy/matunga/ 
If you want daily property update details please follow us on Facebook Page / YouTube Channel / Twitter
Disclaimer:
The views of this expressed above are for informational purposes only based on the industry reports & related news stories.
Navimumbaihouses.com
does not guarantee the accuracy of this article, completeness, or reliability of the information & shall not be held responsible for any action taken based on the published information.
Also Read
Buy Properties in Bhayander