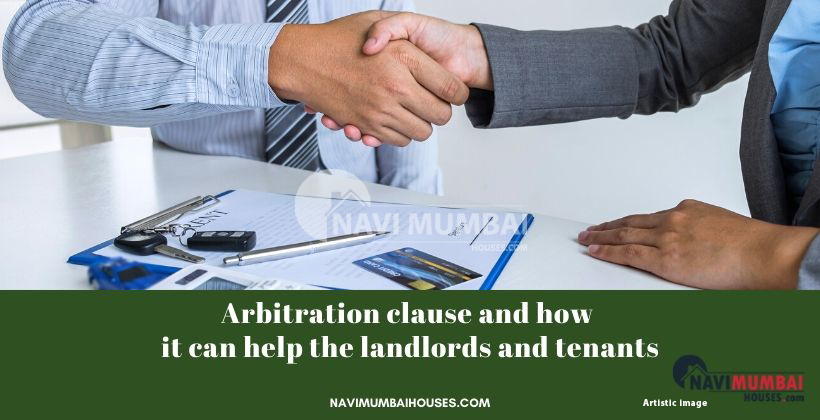 Arbitration Clause and how it can help the landlords and tenants
While litigation between landlords and tenants is common, we look at how an arbitration clause in the agreement can help both parties resolve the issues in a friendly manner, while also avoiding costly and time-consuming litigation
Leave and License Agreements are widely used for property rentals. For instance, most people who graduate from college and join a new town are bound to rent a house. To rent a house in Kharghar, a 'Leave and License Agreement' has to be signed with the landlord (or licensor). This agreement stipulates the amount, period, and other essential conditions for the rental.
Although legal terminology allows the terms 'licensor' and 'licensee' to be used instead of 'landlord' and 'tenant,' we will use the latter for convenience purposes, respectively. For the same reason, leaving and licensing agreements may often be referred to as 'leasing agreements.'  It may be noted that the words 'landlord' and 'tenant' would generally imply creating tenancy rights that are avoided in rent agreements. However, for simplicity reasons, those terms will be used in this article.
Common disputes arising from lease agreements
While many property brokers claim Rent Agreements is an easy business, this is not the case. At the end of the rental period, when the tenant has to vacate the premises, legal complications often arise. In such cases, landlords tend to adopt the unhealthy practice of forcing the tenant to forfeit or make unreasonable deductions from the same deposit. Rent Flats in Kharghar Navi Mumbai while this leaves the tenant short-changed, India's civil litigation system's winding nature gives him no incentive to sue.
In the following areas typically disputes are observed between landlords and tenants:
Safety deposit return or forfeiture.

Damage caused to its premises, fittings, or misuse.

A leasing agreement is prematurely terminated.

Delay in lease payments.

Duties and utility bills unpaid.
Given that landlords tend to keep a security deposit ranging from two to six months' rent, parties see no incentive to take the matter to court. As a result, several cases in which landlords exploit tenants do not see the light of day as tenants consider it easier to forfeit the security deposit and move on, rather than being caught in an extended legal battle.
Arbitration as a means of resolving leasing disputes
However, the rise of arbitration can provide a new avenue for dispute resolution. An arbitrator is a person (usually a lawyer or retired judge) whom the parties can appoint to hear and decide disputes between them by mutual consent. 1 bhk Flats on rent in Kharghar if the parties insert an arbitration clause into the contract and specifically designate a person to act as an arbitrator, that clause will be valid and binding under the 1996 Arbitration and Conciliation Act (also known as the Arbitration Act).
Fixed fee arbitration to deal with rental contract issues
The security deposit will amount to rent for six months in high-value rental deals. In this situation, it might seem possible to name an arbitrator at a fixed rate. Section 29B of the Arbitration Act provides for a fast-track procedure, in which the arbitrator shall decide the cases on the basis of the parties' written pleadings and submissions. He can then call for additional information if needed. Finally, an oral hearing may only be held if the parties make an application, or if the arbitrator considers it necessary to do the same. Property in Kharghar the case is then closed for the arbitral award or judgment to pass. The entire procedure has to be completed within six months in a time-bound period.
The fast-track arbitration procedure may be useful for settling disputes between landlord tenants. Once the arbitrator's fee is fixed at a rent of one month, he will be encouraged to hear and dispose of the matter in due time. Furthermore, under Section 35 of the Arbitration Act, the arbitral award shall be true and binding on the parties and may be implemented by lodging an application for execution and compliance before the local civil court under Section 36 of the Statute.
Alternative settlement of disputes: A way forward
The new changes to the Arbitration Act in 2015, under which Section 29A and other clauses were added, opened opportunities for individuals to take advantage of the advantages of arbitration, which was historically considered the protection of large companies with deep pockets to spend on sitting fees and legal batteries. The step can be taken by owners, tenants, and brokers, by providing arbitration clauses in rental agreements. The government and the judiciary can also take the lead by setting up panels of seasoned lawyers and retired judges who would be willing to timely take up an alternative dispute resolution. Such measures will go a long way in alleviating the problems that landlords and tenants face, and in fulfilling the constitutional mandate that provides for justice for all and not for a few.
Buy, Sell, Rent Properties in Navi Mumbai Houses
Navi Mumbai Houses are the biggest real-estate property portal (website) in Navi Mumbai, Mumbai, and Thane. Do you want Buy / Sell / Rent a house, flats in Navi Mumbai our portal helps you to find a home (Flat) to your budget so please visit n find.
If you want daily property update details please follow us on Facebook Page / YouTube Channel / Twitter
For more information visit: https://navimumbaihouses.com/
Disclaimer:
The views of this expressed above are for informational purposes only based on the industry reports & related news stories.
Navimumbaihouses.com
does not guarantee the accuracy of this article, completeness, or reliability of the information & shall not be held responsible for any action taken based on the published information.
Also Read
Buy Properties in Navimumbai